Overview
When there are several tasks whose attributes need to be updated at once, you can utilize the Batch Edit feature within the Kanban board to quickly facilitate the changes.
Note: This does not apply to leaving task comments in multiple tasks at once; it pertains specifically to the task attributes, such as title, priority, start/end date, etc.


Platform: Web version
Subscription Level: Any (Basic, Pro, Business, Business Plus)


Table of Contents

How to batch edit Task Attributes
Step 1:
Go to the Tasks tab in Fieldwire.
Step 2:
Hover your cursor over each task you want to edit, and click the checkbox that appears to select it.
Alternatively, you can use the following keyboard shortcuts:
1. Click on one task, hold down the 'shift' key on your keyboard, and then click on any task above or below the selected task to include multiple tasks at once.
2. Hold down the Mac 'Command key' or 'Windows key', and then click on each task you wish to select.
Step 3:
Click on the 'Actions' button at the top of the page (it will turn red once you've selected multiple tasks) and choose 'Batch edit' to update the Task Attributes. You should see the pop-up window shown below:
Step 4:
Update the task attribute(s) for your desired tasks, and then click the blue 'Save Changes' button at the bottom of the pop-up window.
Note: If you see a red "Conflict" for an attribute while in the pop-up window, that means that all of the selected tasks have different attributes currently set (for example, the tasks might all have unique assignees or titles).
Editing those conflicting attributes with the Batch Edit function will change all of the selected tasks to contain the attributes of your choice.
Moving Tasks to a Different Plan Sheet
If a group of tasks have been associated with the wrong plan sheet, you can use the Batch Edit feature to easily transfer them to a different plan sheet. The tasks will retain their original XY coordinates/positioning after they have been moved.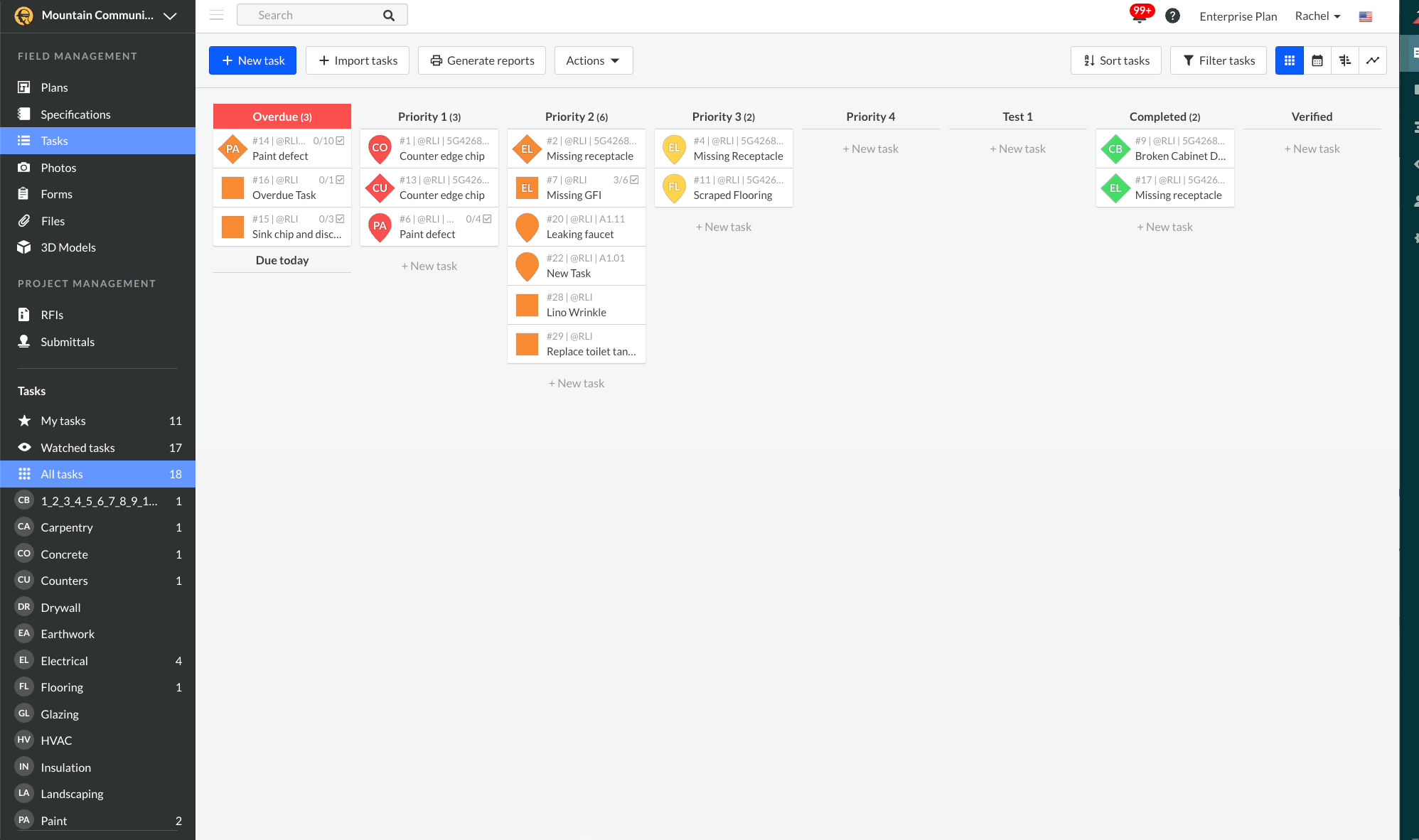 What about Custom Task Statuses?
If your project utilizes these, Project Followers or Members may not be able to see tasks whose statuses have been changed. This is because custom statuses may be associated with specific permissions (such as Admins Only, Admins & Members, and All Users). You can learn more about Custom Task Statuses in this linked article.

More information
How to Create Tasks


Advanced Task Features