Overview & background
You can update the task attributes for multiple tasks at once from the Kanban Board through the 'Batch Edit' feature.
Note: This does not mean that you can leave task comments in multiple tasks at once. You can only update the task attributes, such as title, priority, start/end date, etc.

How to batch edit Task Attributes
Note: Batch editing is available on the web version only
Step 1:
Go to the Tasks view
Step 2:
Hover your cursor over each task you want to edit and click the checkbox that appears.
Keyboard shortcuts to select multiple tasks:
1. Click on one task, hold down the 'shift' key on your keyboard, and then click on any task above or below the selected task to select multiple tasks at once.
2. Hold down the Mac 'Command key' or 'Windows key' and then click on each task you want to select and the tasks selected will be included in the multiple tasks selected:
Step 3:
Click on the 'Actions' button at the top of the Tasks page (which will turn red once you've selected multiple tasks) and select 'Batch edit' to update the Task Attributes. You should see the pop-up window below: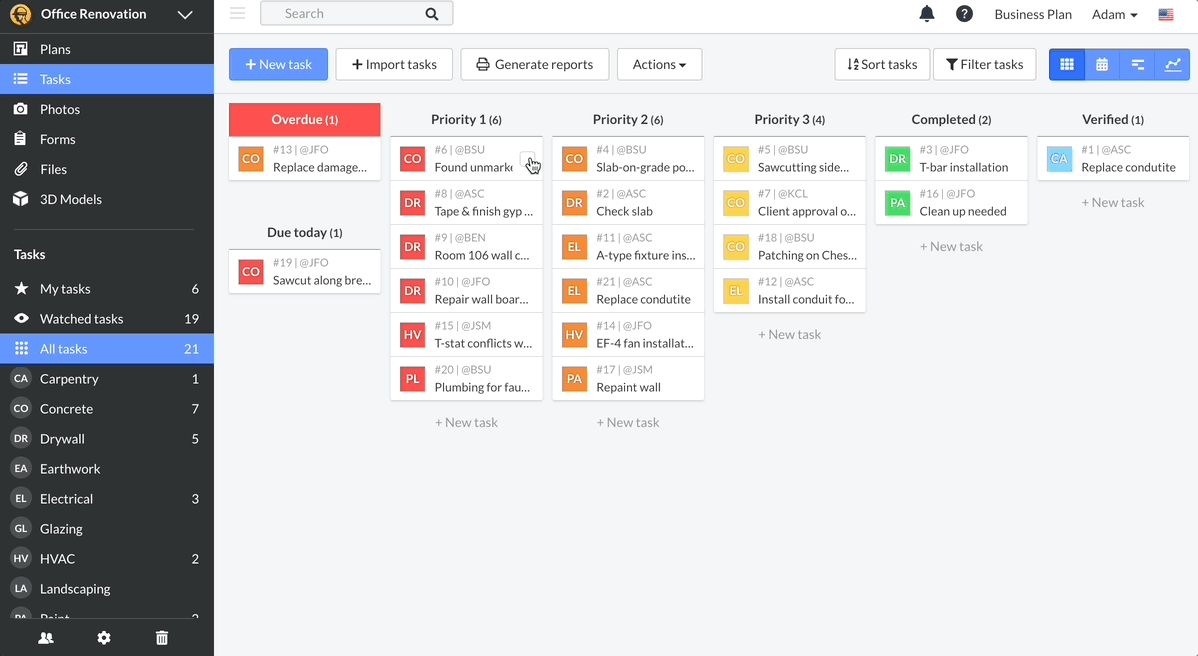 Step 4:
Update the task attribute(s) for the selected tasks and then click 'Save Changes' at the bottom.
Note: If you see a red "Conflict" for an attribute in this "Edit" screen, that means that all of the selected tasks have different attributes currently set (for example, the tasks might all currently have different assignees or titles).
Editing those conflicting attributes will then affect all of the selected tasks and give all of them the same assignee or title.
Does the project use Custom Task Statuses?
If so, Project followers or members may not see all of the Statuses if the project uses Custom Task Status. This is because custom statuses may be associated with specific permissions (Admins Only, Admins & Members, and All users). Read more about custom task statuses in this article.
To add a Watcher to multiple tasks:
On the Web version of Fieldwire, you can edit (add/remove) watchers on multiple tasks at once by using the 'Batch edit' feature.
More information
Video Tutorial on Creating Tasks


Video Tutorial on Advanced Task Features