Overview & background


You can duplicate tasks on both web and mobile. This is particularly useful if you are on-site and need to document repeated issues such as a slab with multiple cracks. Rather than manually creating many tasks one by one, you can simply duplicate the task as many times as you need. This will create new tasks with the same title, category, assignee, priority, checklists, start/end dates, and hashtags.

Duplicating tasks on the plan on the web
Step 1:
Simply right-click on a task and press duplicate.
Step 2:
You can then drop an identical task anywhere on the plan.
Tip: If you'd like to create multiple duplicates, just press the shift key before you drop the first new task on the plan, and hold shift to create as many duplicated tasks as you need.


Duplicating tasks on the task view on the web
You can also duplicate a task in the task dashboard.
Step 1:
Select the task
Step 2:
Select the red 'Actions' button
Step 3:
Select 'Duplicate' from the Actions drop-down menu


How to select then duplicate task using the Actions menu on the web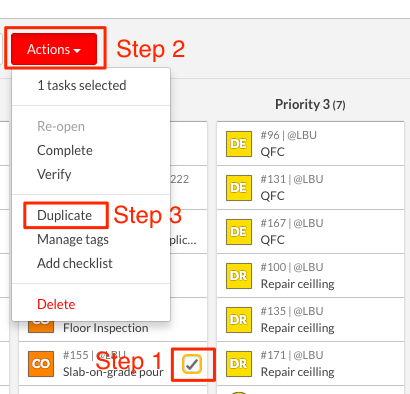 Duplicating tasks on mobile
Step 1:
Hold down the task until an option to duplicate appears
Step 2:
Then simply click on the location to drop the duplicated task on a plan


What you see after holding down the task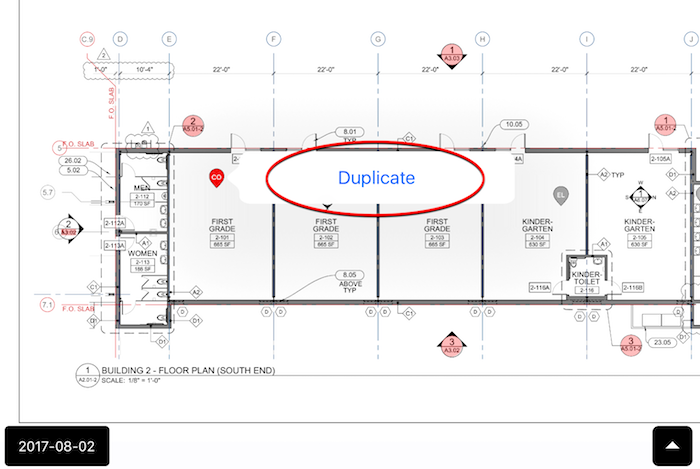 More information
Tutorial on Exporting and Importing Tasks

Video Tutorial on Creating Tasks


Video Tutorial on Advanced Task Features