Overview & background
In Fieldwire, you have the option of inviting people to your account (and all the projects therein) or only to a specific project(s). Open any Project in your Account and head to the People tab in the lefthand menu to add, remove, and/or change permissions for your project users: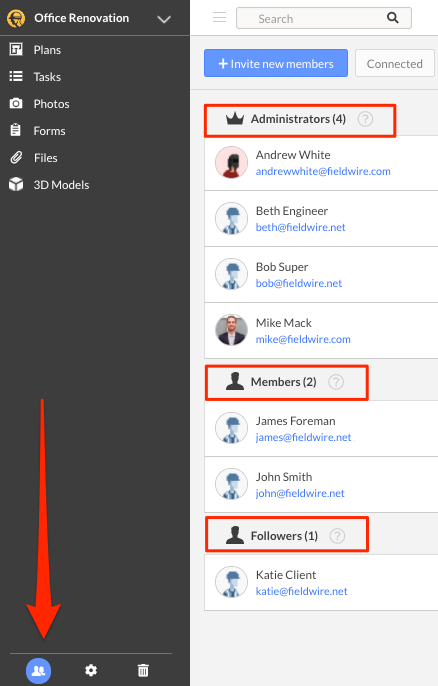 For more information on project user permissions, check out our article explaining the differences between Project Administrators, Members, and Followers.
If you're looking to add or manage users for your Account, head to our instructions for adding and managing account users instead.
Inviting new users
Click here to invite people to your project. Just type in a user's email address and hit 'Send' to invite someone new to your project. You can also import your Gmail contacts here as well, to make inviting new users quicker and easier:
Note: Users can send no more than 100 invitations per day. If you exceed this limit, you will not be able to send another invitation until 24 hours have elapsed since the 100th invitation:
How to add a user(s) to your projects
You can add users to specific projects or all the active projects.
1. Login on www.fieldwire.com and head to the People tab.
2. Click Invite, and 'To a project':
3. Click on Project name, choose each project individually, or invite the user to all projects by click 'All Active Projects':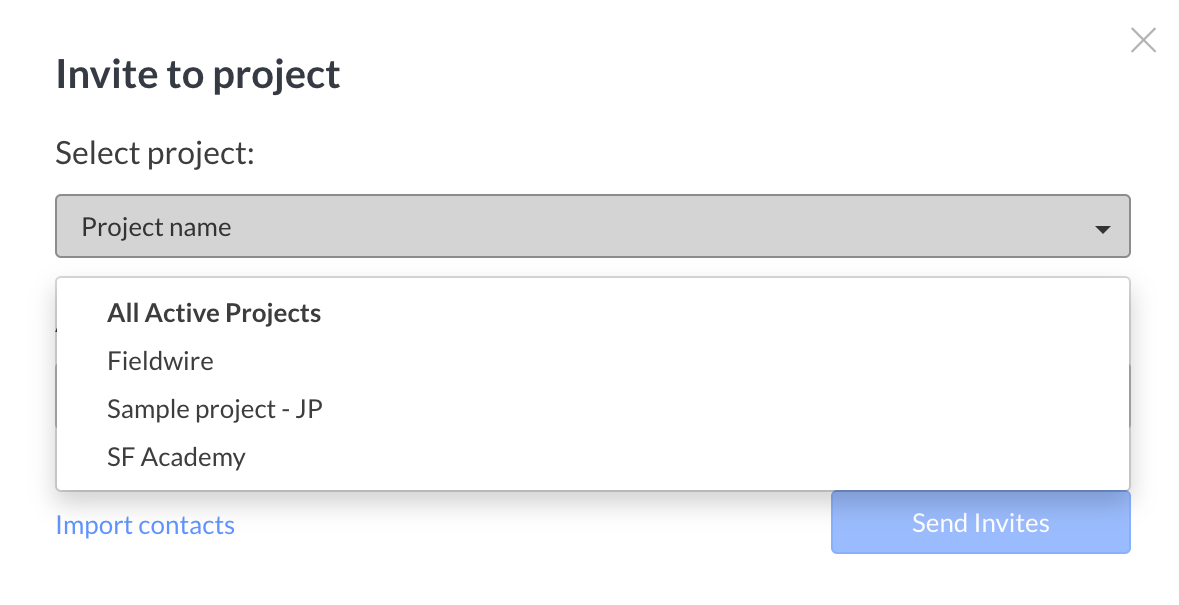 4. Add the user or users email address and choose their projects permission level: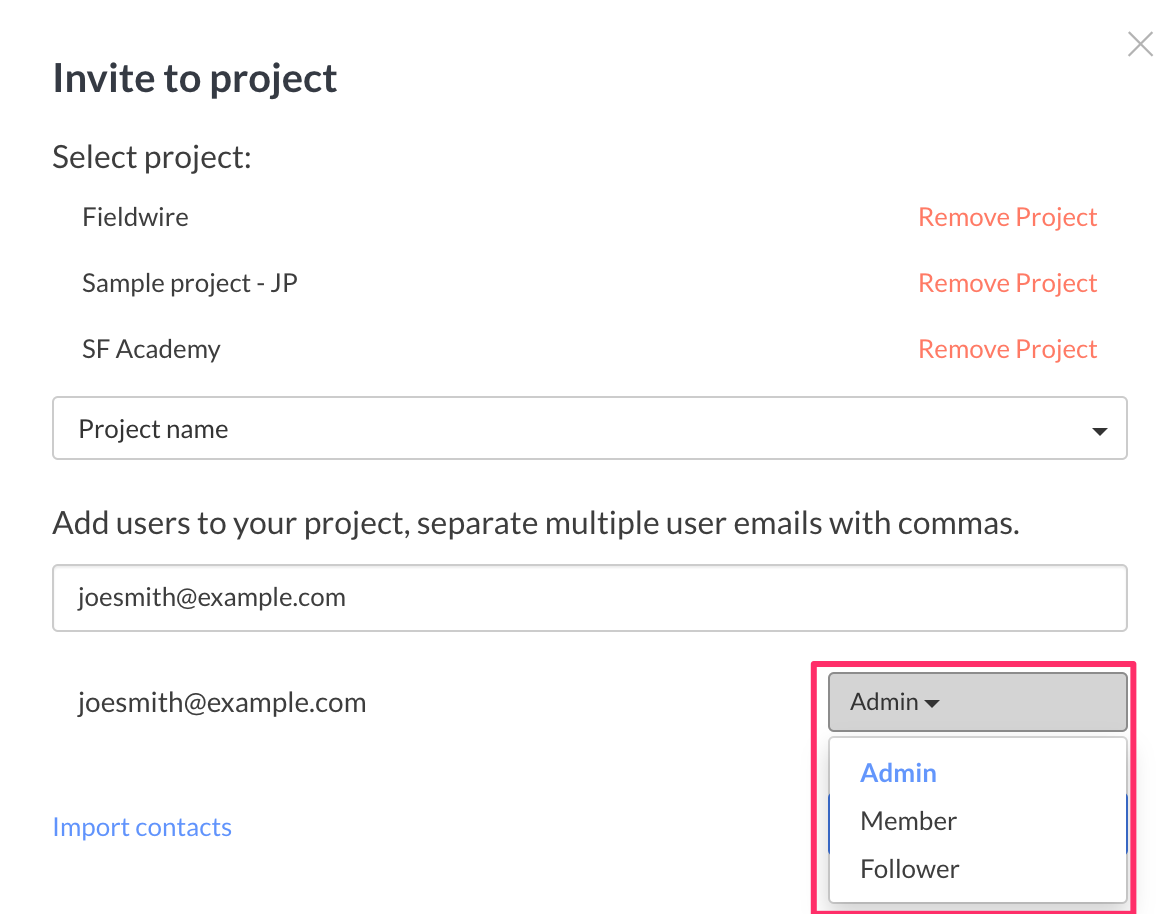 Note: You can add a new user(s) or existing users.
Note: If the user's project permission needs to be changed based on the project, you can do this on the project's people tab.
5. Once you have added the email and permission level, click Send invites: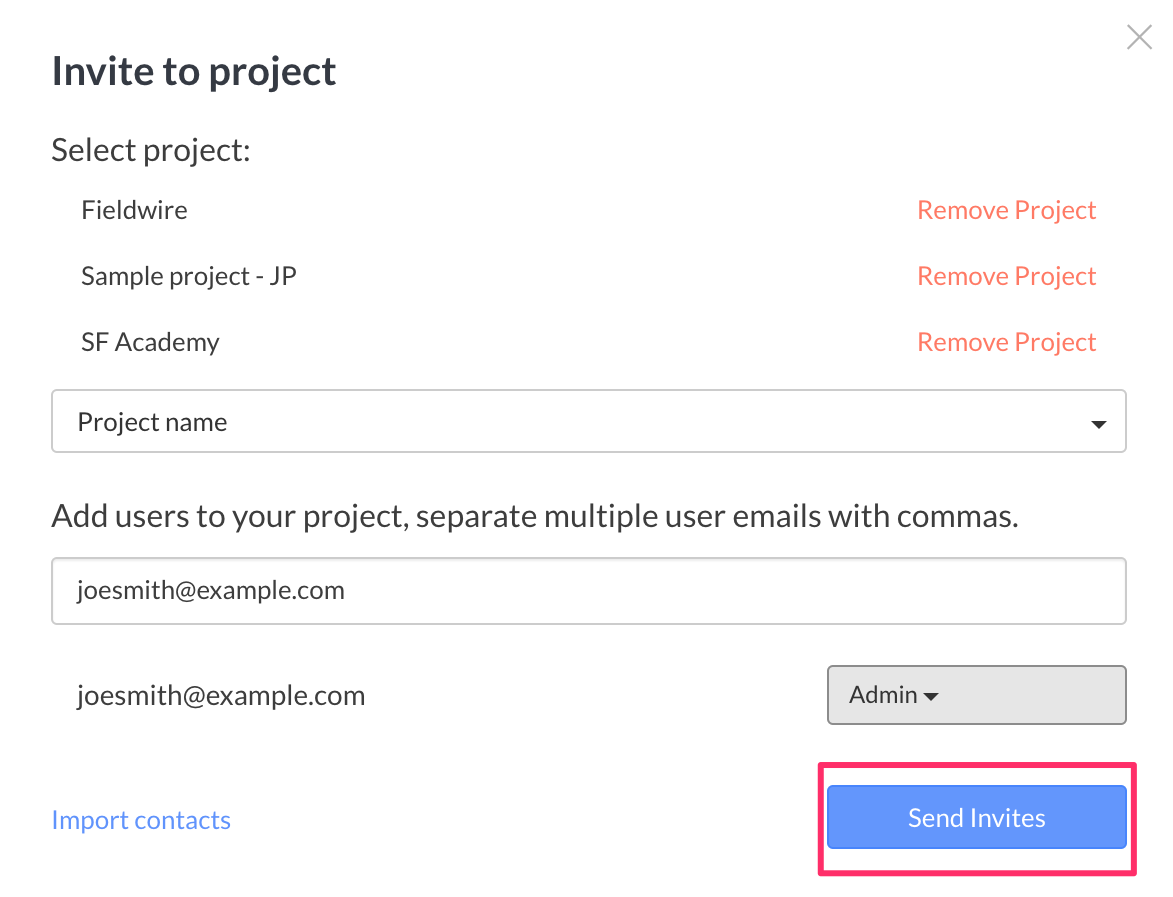 Project permission levels
There are 3 project permission levels: Admin, Member, and Follower:
| | |
| --- | --- |
| Admins | They have full access and control of the project. They are also the only people that can mark tasks as verified. |
| Members | They can do most of the things as Admins, except they cannot add or delete plans, they cannot invite new users without Admin approval, and they cannot delete tasks that have content. They also can only mark tasks as completed, not verified. |
| Followers | They can only see tasks currently or previously assigned to them. They can create tasks, but they cannot edit, add or delete plans, tasks, categories, users or generate reports. They also cannot add markups, hyperlinks, or attachments. |
Note: You may have multiple Admins on a project. Depending on how you prefer to manage your team, you can make everyone an Admin if you like (only a current Admin can grant this permission to another user). However, most folks prefer to set their PMs and Supers as project Admins, and most other users as Members.
Tip: For more information on user permissions, check out our FAQ article.
Removing people from a project
To remove users from a project, any project Admin just has to click on the red 'Remove' button next to the user's name:
Note: If you remove a user, you will see them appear in a new section further down on this page:
See who is "covered" (I.E. Who you are paying for)
Any project permission level can see which users are currently covered under the account and which users have subscriptions of their own.
If a user has a Blue Dollar sign next to their name, they will be charged through your (the Project Owner's) account:
If a user has a Grey Dollar sign next to their name, they have a premium subscription of their own, so the Project Owner will not be charged for them.

Note: If you do not see the Blue and Grey Dollar Signs, you may need to expand your browser window, or make it full screen.
Ex: A condensed browser window:
Ex: The expanded, or full-screen, browser window:
More information
Account level permissions are relevant to who owns the account associated with the project and are highly relevant to managing project ownership

Managing your Team on Fieldwire