You can access the Graphs tab to view your project analytics dashboard. If you have a Pro, Business, or Enterprise account plan, you can also generate project reports here (this feature is not available on free accounts). You can see the scope of your project by owner and category, as well as the open / fixed rates on your project. 
1) You can generate reports by clicking the "Generate Reports" button. You can also view all metrics for your tasks (active tasks, priority, completion rate, etc.) in some helpful graphs on the main Graphs page as well.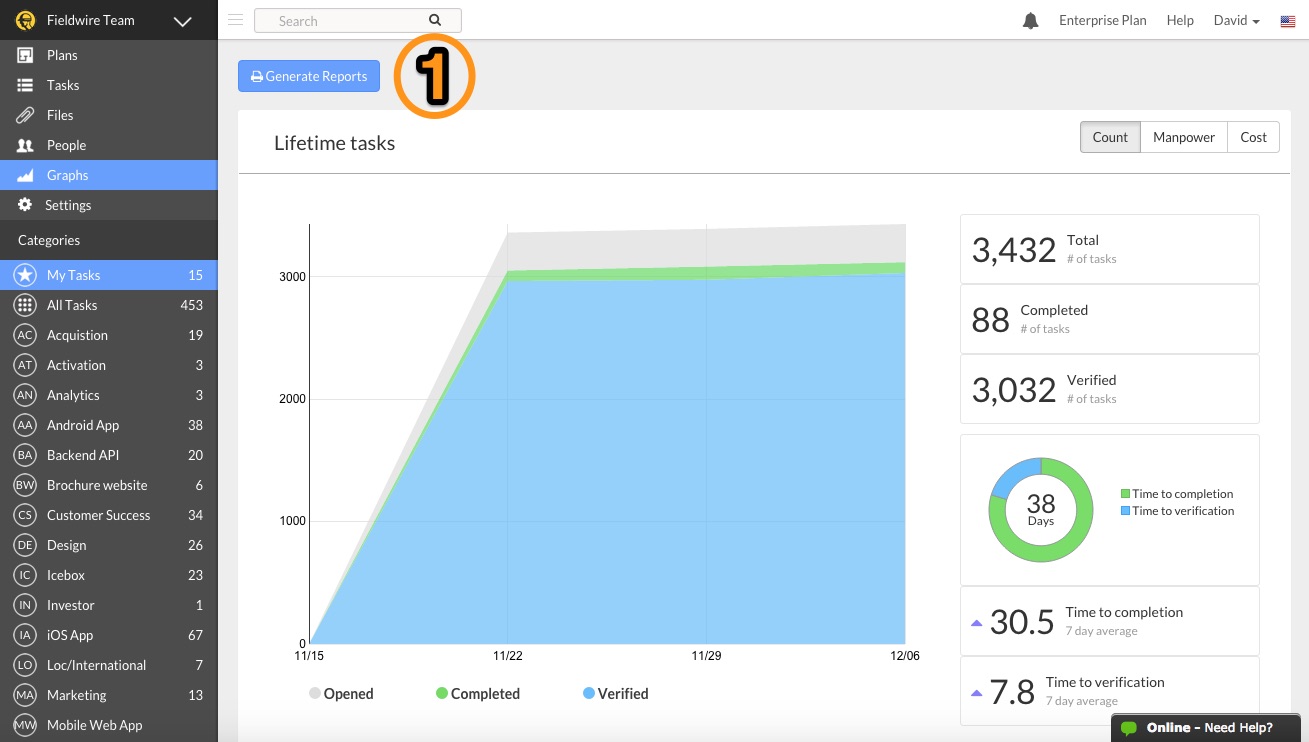 Upon clicking "Generate Reports," you will see the option to create a new report form appear. Once you've given your report a name, you can then:
1) Write a description of the report contents.
2) Choose your type of report. The options include:
PDF Summary - This is more of a bullet point list (good for simple punch lists).
PDF Detailed - A detailed report that can include all of the project's content: images, annotations, etc. (good for daily foremen meetings). 
CSV (Excel) Export - An Excel data sheet that has all of the information from your project (good for documentation purposes when a project ends - alternatively, good if you want to run custom analytics or reports for your crew).
3) Choose what task content you want to include in the report.
4) Sort By filters allow you to decide which order you want the tasks to be displayed in for the report. You can arrange these attributes in any coherent order you like.
5) There are various task filters you can use:
Assignee - choose which person's (or people's) tasks are included in the report.
Category - choose which tasks from specific categories are included in the report.
Hashtags - choose which tasks associated with specific hashtags are included in the report.
Status - the default is to only include open tasks in the report, but you can include all tasks from the project by adding Completed and Verified tasks.
6) You can choose which tasks from specific plans you want to include in the report.
7) Time Filters allow you to choose which tasks are shown based on when they are created, updated, start/end, overdue, completed, or verified. You can also select from every task ever created within the project or those tasks from a specific time or date range. Tailor each of these time filters to your own liking. 
8) The Recipients section allows you to input the email address of those you would like to send the report to. Each recipient will receive an email with a link to download the report in whichever format you selected.
9) Schedule your report to automatically be sent out weekly, monthly, or just the one time. You can set up a report to be sent out the day after a foremen meeting or team meeting, and reoccurring reports allow you to never have to send them out manually again from then on.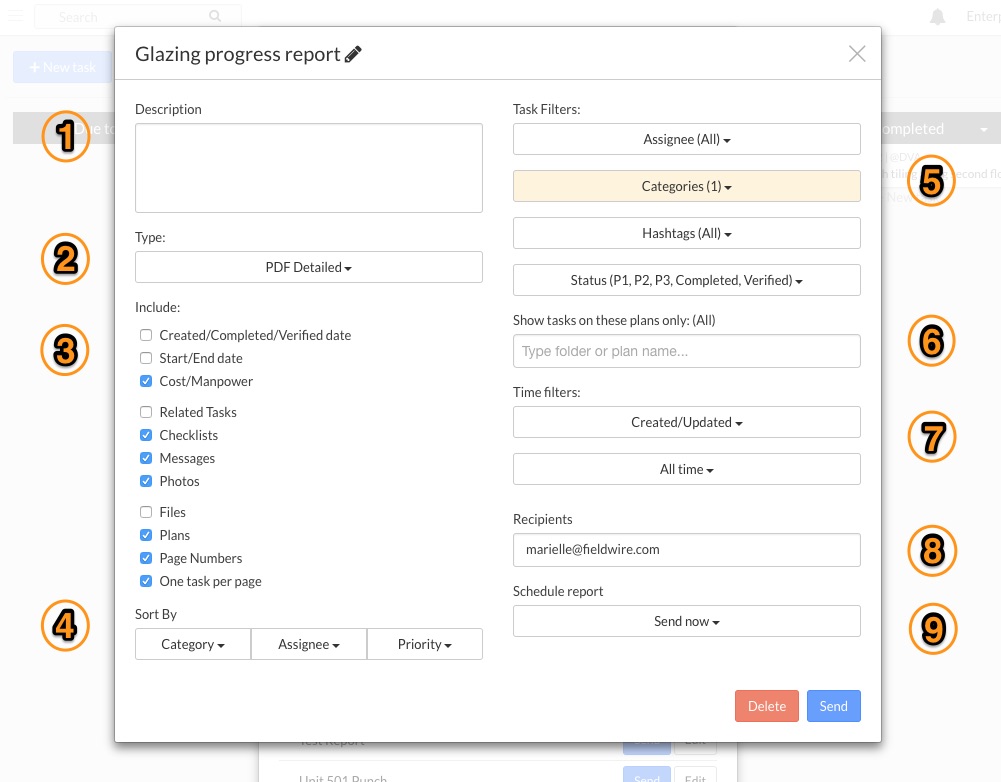 If you study the graphs on this page, they can give you useful information regarding the total count of tasks you create, as well as the manpower or cost metrics included in tasks once they've been completed and verified. These are great tools to measure the general progress and completion statistics for your project tasks.