Overview & background

Plans are the backbone of Fieldwire. Once you have uploaded plans to Fieldwire, you have access to numerous functions, including mark-ups, creating and assigning tasks on plans, and ensuring that your team can access the most relevant version of your plans.

How to upload plans


Note: Only Project Admins are able to add or delete plans.

Step 1:

From the "Plans Tab", select the "+New Plan" button, then select where you would like to upload plans from. You can choose your computer, but we also offer Box / Dropbox / OneDrive 2-way Syncing for Premium Users.


Uploading plans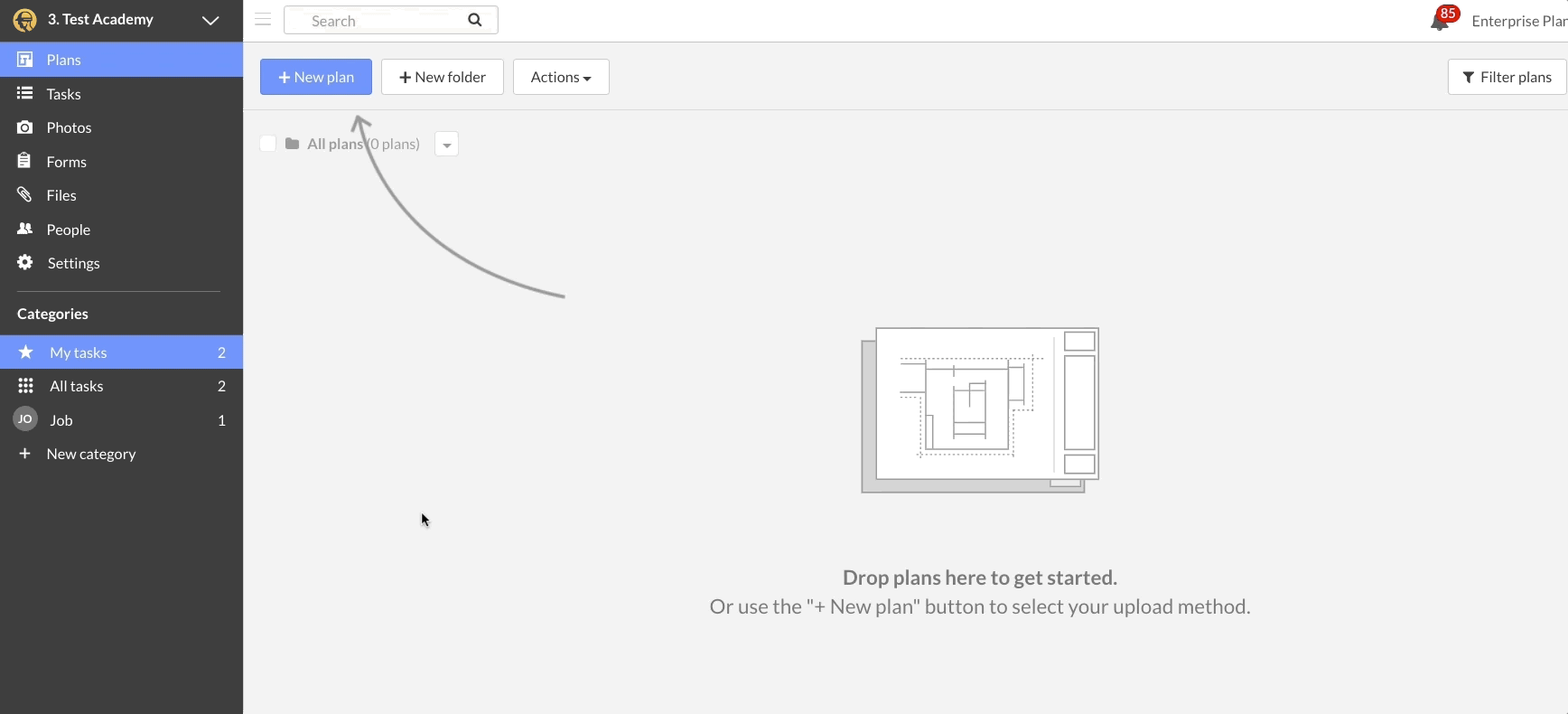 Note: You can also upload plans from Google Drive, OneDrive, OneDrive Business, Gmail, or a Link (URL).

Note: The OCR (Optical Character Recognition) Technology that scans, names, versions, and hyperlinks plans often works best with PDF files with a TrueType readable font. However, you can also upload JPEG and PNG files.

Step 2:

Select (or drag) the pertinent Plan file(s) in the upload window, and select 'Upload'.


Tip: If you are uploading a multipage PDF, make sure the orientation is correct before uploading it, as rotating each sheet afterward can be tedious.

Tip: If you are using the Box / Dropbox / OneDrive sync method for individual sheets, please note that we import the name of the file as the name of the sheet. If you name it correctly before syncing it, you won't have to edit the name once it appears in your project.
Dragging and dropping plans from the 'My computer' option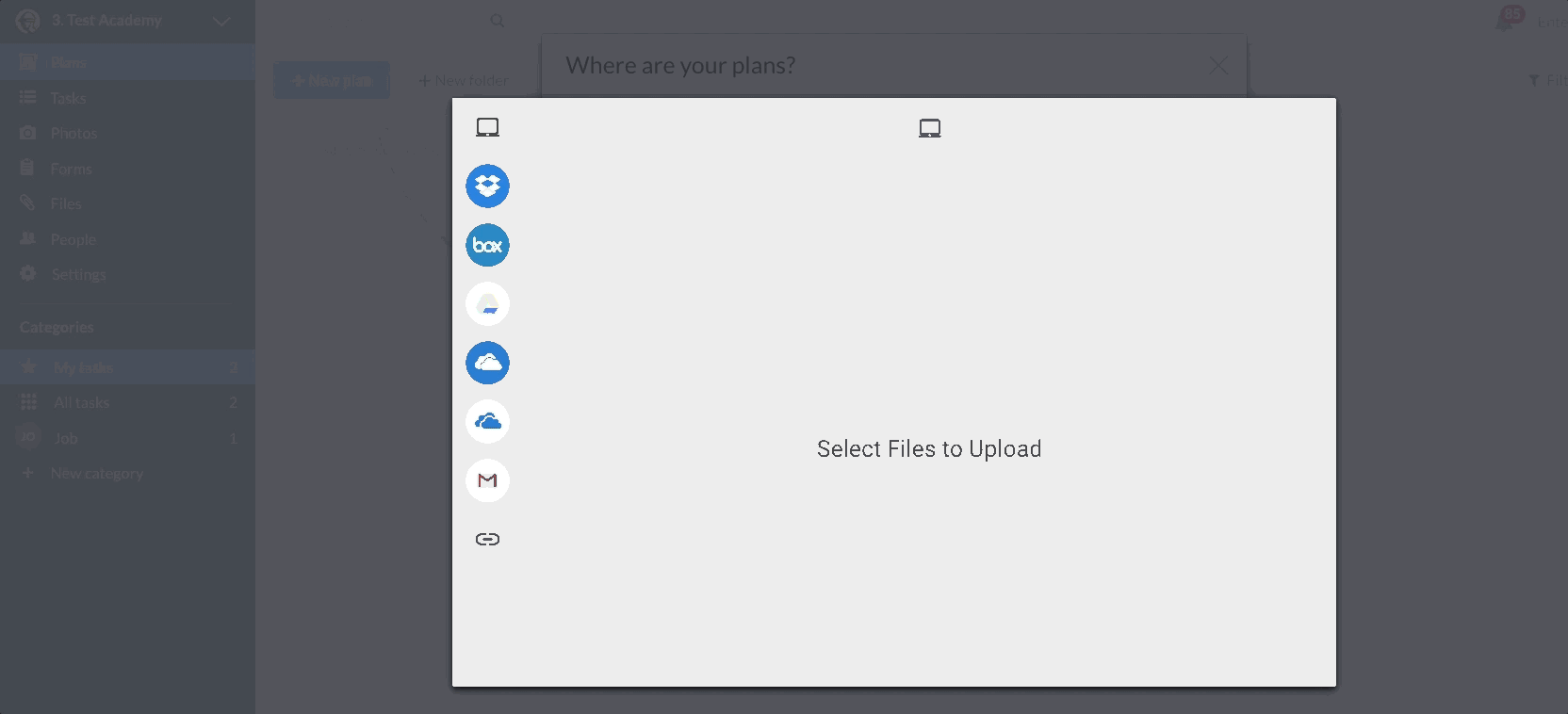 The plans will then begin to Process-- When the plans are processing, there will be a spinning circle. This is when the OCR is naming, versioning, and hyperlinking your plans. Please note that this could take a few minutes if you have uploaded a large volume of plans.


Plans are processing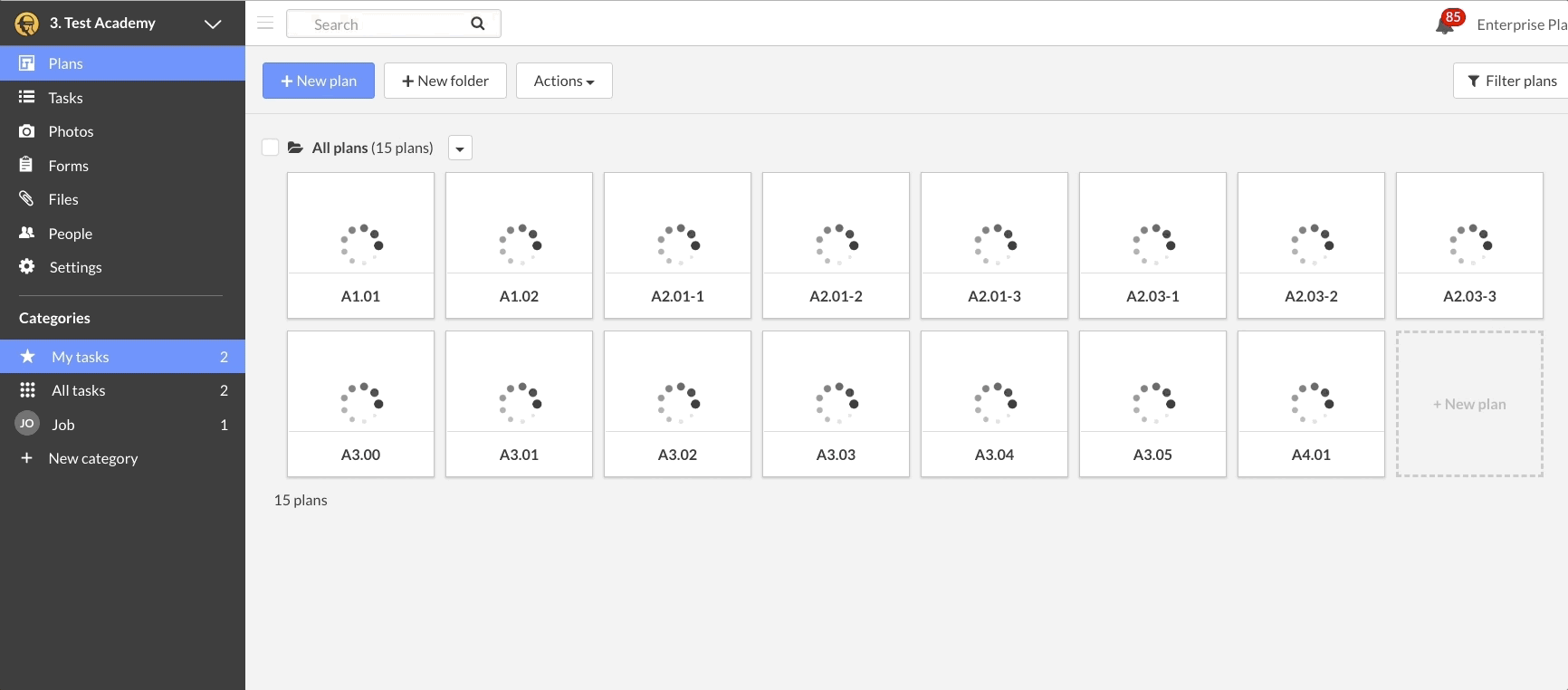 Once Plans have uploaded successfully, you will see a small tile containing a preview of the plan, along with the plan names, and the contingent descriptions (if there are any). After your plans are uploaded, we process them so that they can be viewed quickly on the mobile app. You may notice that the plans appear to display as smaller tiles at first. This again is done purposefully to allow for better viewing and zooming.
Plans tab view with thumbnails of all uploaded plans


Bulk Upload Plans


You can also upload multiple plans at once if they are in a multi-page PDF document (The current threshold for plan uploads in Fieldwire is 1GB). Fieldwire will automatically split and name each of the pages in the document. Keep in mind that you may still need to manually reorganize the Plans through folders.

Tip: Take a look at this article for other specifications about the different File types you can upload to the 'Plans' tab.
Resolve Version Conflicts


If you upload a multipage PDF, or if you upload new versions of a plan, you may need to approve the names of the plans. If so, there will be a red confirmation warning at the top of the page that asks you to confirm your plan names. You are not able to view the plan before resolving the conflicts.

To begin approving your plan names, click the 'Resolve Individually' button.
Resolving plans individually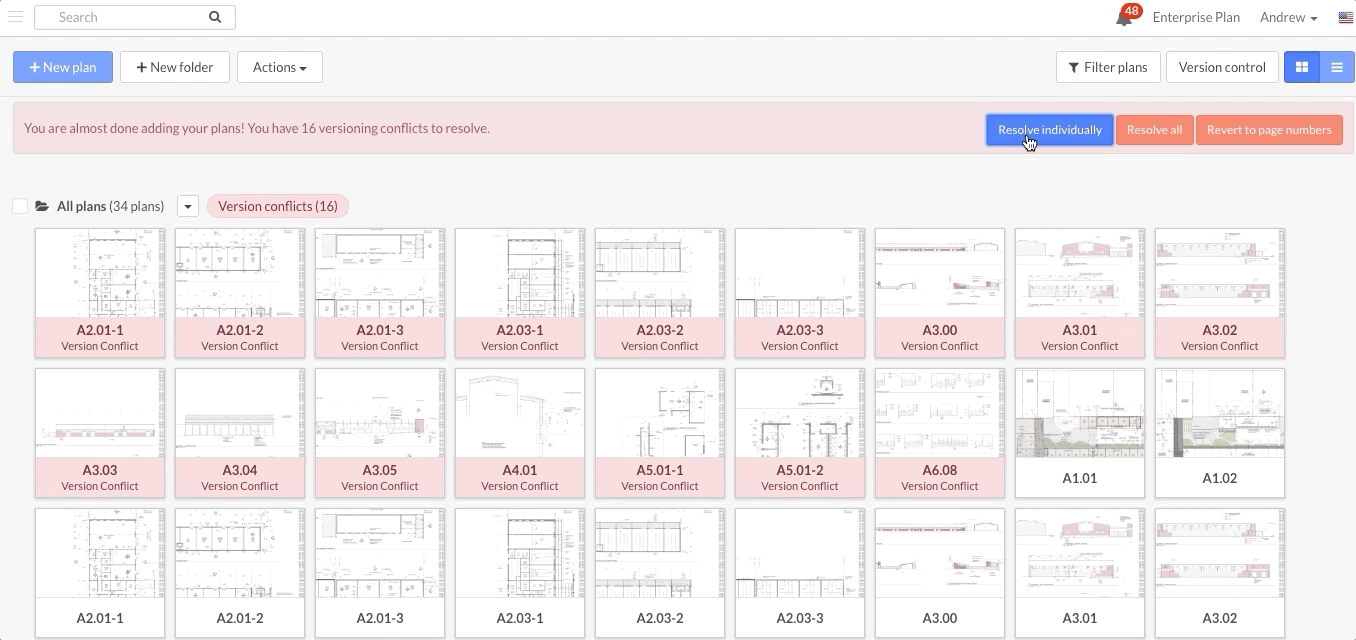 After you click on the 'Resolve Individually' button or the plan itself, a new screen will appear.
Here you can view a crop of your plan, including the area where we located the presumed name. We automatically attempt to get the plan name from the sheet, but sometimes this fails or isn't possible due to the type of PDF you upload. In either case, you will need to edit the name and/or approve each sheet. You can also add a brief description of each sheet.

Note: If you do not want the sheet to version, you can elect to alter the Sheet name from the 'Resolving Conflicts' window, then select 'Confirm'.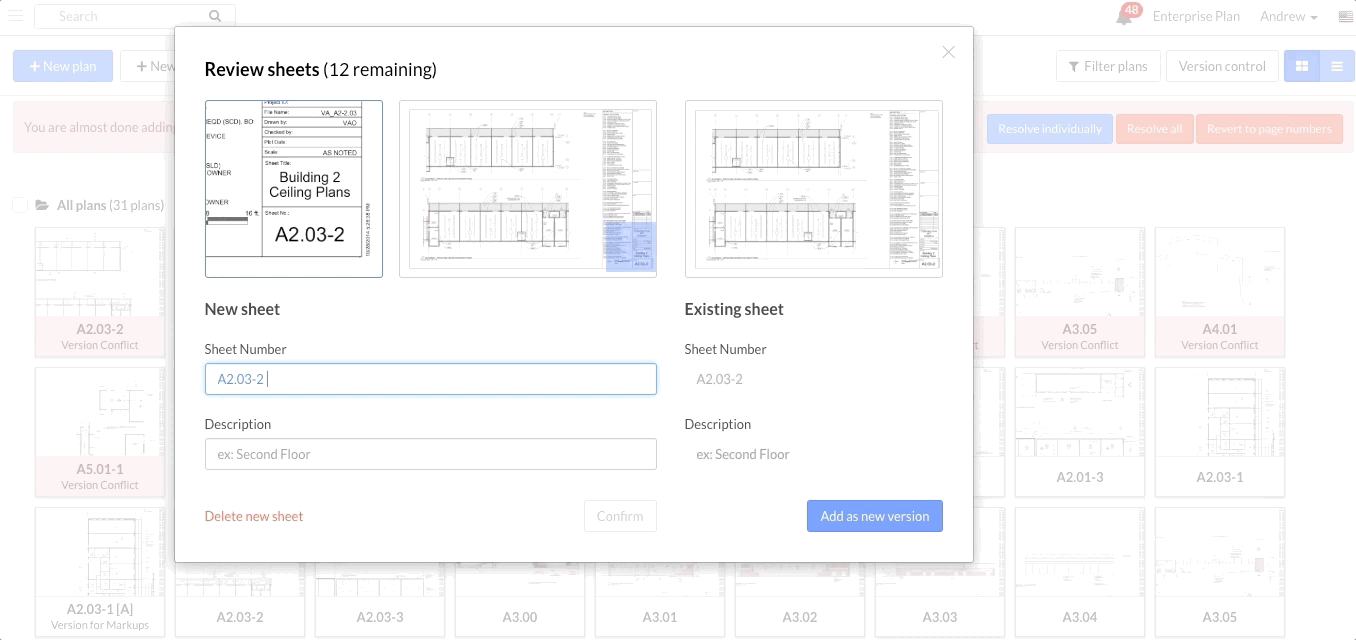 Revert to Page Numbers


After the Fieldwire OCR has named several plans, you always have the option to revert the names of these plans to chronological page numbers. Simply select the 'Revert to Page Numbers', then specify a naming convention.
Note: This is an extremely useful feature if you do not want the plans to automatically version.
The Plans uploaded to the Civil Drawings folder will revert to page numbers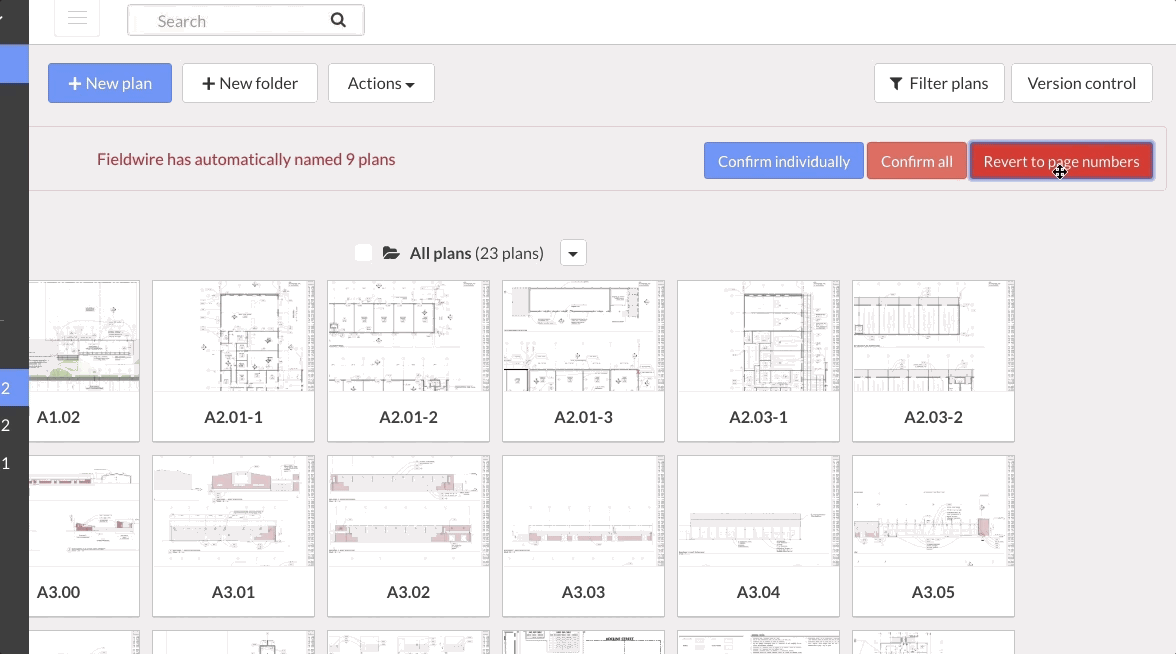 The Plan names will be page numbers instead of plan numbers

More Information
These articles look further into managing your Plans in Fieldwire.
Tutorial on Uploading Plans

Tutorial on Version Control