To add new plans to a project, you click the large "+" button. Remember, only project Admins are able to add or delete plans.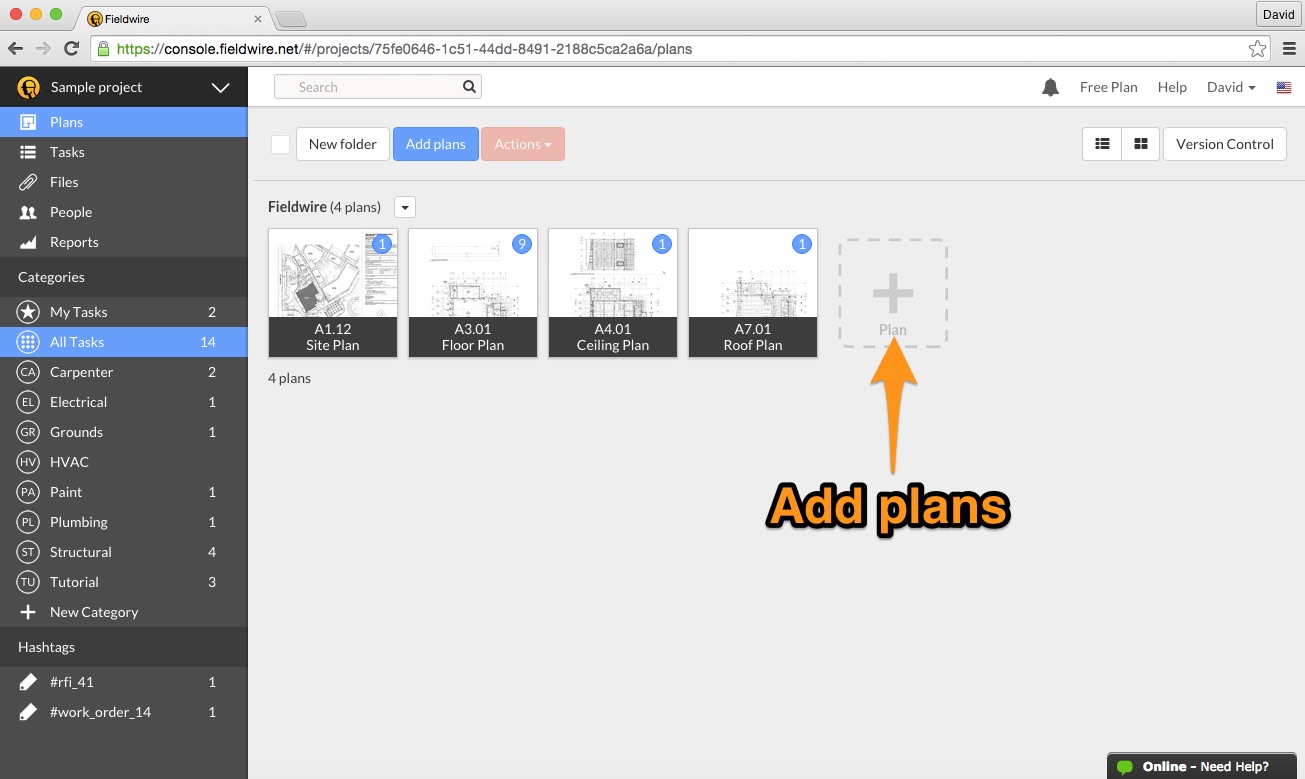 After you click the "+" button, a screen will appear asking which method you'd like to use to add the plan: Upload manually from your computer, or sync Fieldwire with your cloud storage on Box or Dropbox.
Manually uploading plans from your computer is pretty straightforward. You can upload individual sheets, or a multipage PDF. 
We've integrated with Box and Dropbox to allow you to sync your files and folders from cloud storage to Fieldwire. If you elect to sync them with Fieldwire, we will crawl your account throughout the day to look for updates, which will often appear in your project within several minutes. When we find an update, we will automatically version the new sheet. The next time people are connected to the app, it will download the most recent version.
This only works for individual sheets. We can't version entire PDF packages as we won't be able to tell what is changing effectively. 
If there is a conflict between versions, such as a change in the dimensions of the plan, we will both send the project Admin(s) an email as well as display a warning on the Plan tab that there is a conflict that requires them to resolve or confirm.
Users will not be able to access unconfirmed plans, and will be required to work off the old versions until they're approved.
If the dimensions of a plan change (and the plan is approved), we will try to adjust the placement of tasks, hyperlinks, and markups accordingly. However, you must still confirm the placement of this content, or else move the pins to their correct locations. 
You can make updates on your cloud storage by saving a new file over the original file.
When adding a new version either manually or via cloud sync, Fieldwire will automatically transition the tasks, markups and hyperlinks to the new sheet.  
Two tips for uploading plans:
If you are uploading a multipage PDF, make sure the orientation is correct before uploading it, as rotating each sheet afterward can be tedious.  
If you are using the Box or Dropbox sync method for individual sheets, please note that we import the name of the file as the name of the sheet. If you name it correctly before syncing it, you won't have to edit the name once it appears in your project.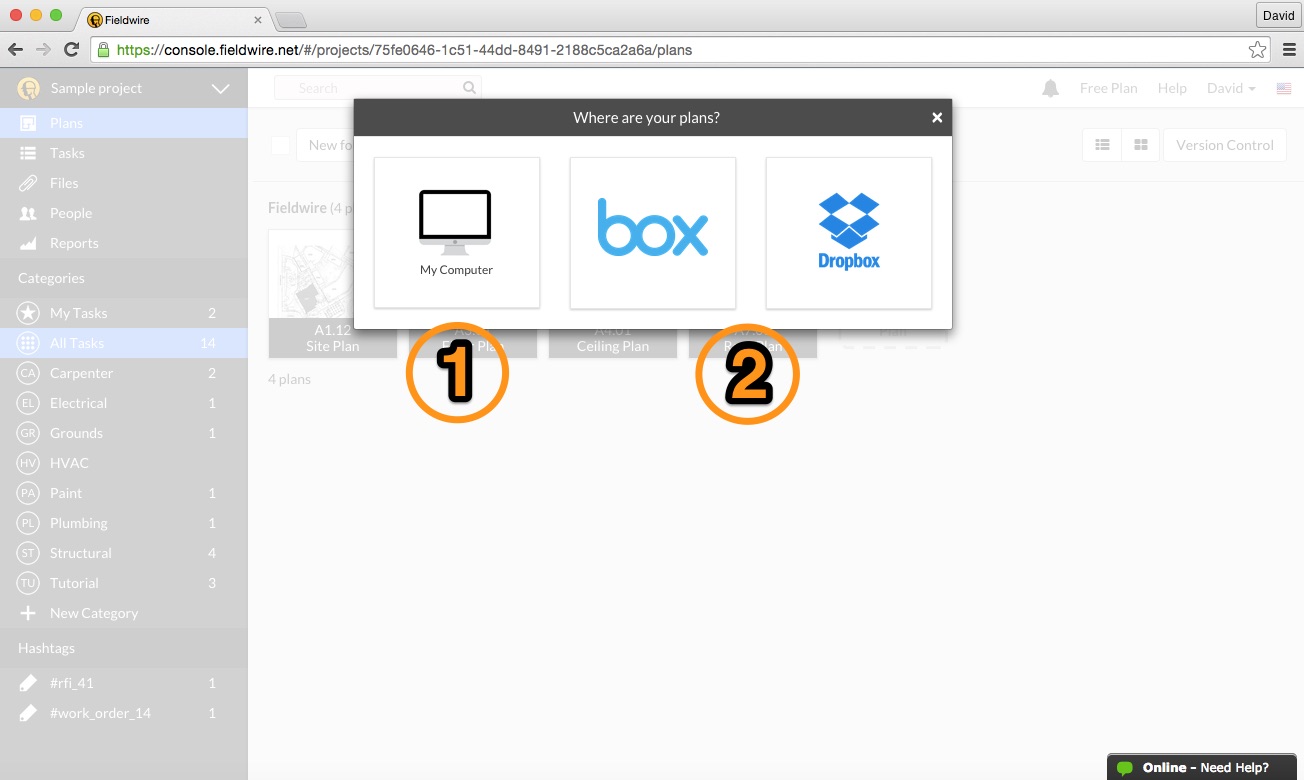 If you choose to manually upload plans from your computer, a new screen will appear. Here, you'll still have the option to pick files from Box or Dropbox, but many other sources also become available. The complete list is as follows: Your Computer, Dropbox, Box, FTP, Google Drive, OneDrive, WebDAV, Gmail, and Link (URL). You can also drag and drop files into the window to the right.
Please note that, if done manually, you can only upload files that are 250MB or smaller. If you need to upload a larger doc, please either sync with Box or Dropbox or contact us.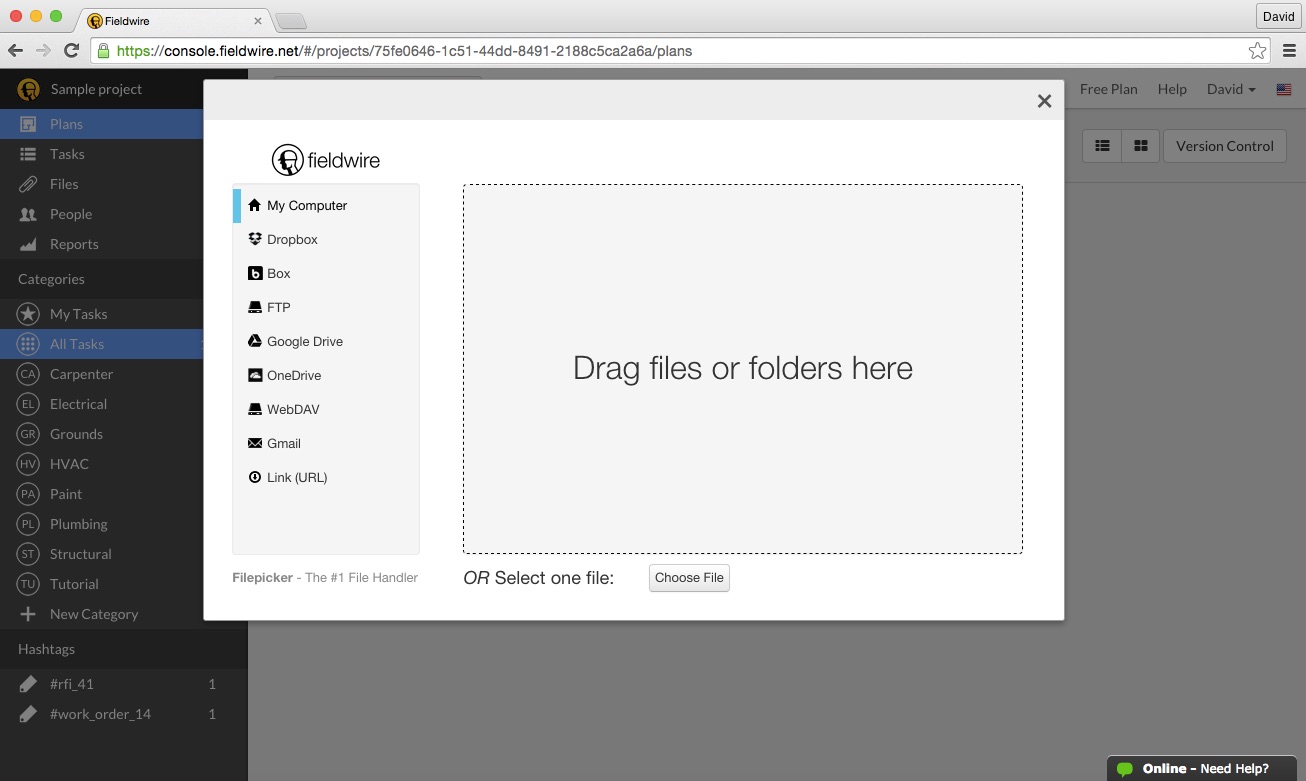 After your plans are uploaded, we process them so that they can be viewed quickly on the mobile app. You may notice that the plans appear to display as smaller tiles at first. This again is done purposefully to allow for better viewing and zooming. 
If you upload a multipage PDF, you will need to approve the names of the plans before mobile devices will be able to download them. You will notice a red confirmation warning at the top of the page asking you to confirm your plan names. You will not be able to view the plan before doing so. Project Admins will also receive an email telling them they need to confirm the names after the plans have finished processing. 
To begin approving your plan names, click the "Confirm Individually" button or just click on the plans themselves. You can also revert the sheet names to page numbers instead by clicking the appropriate button.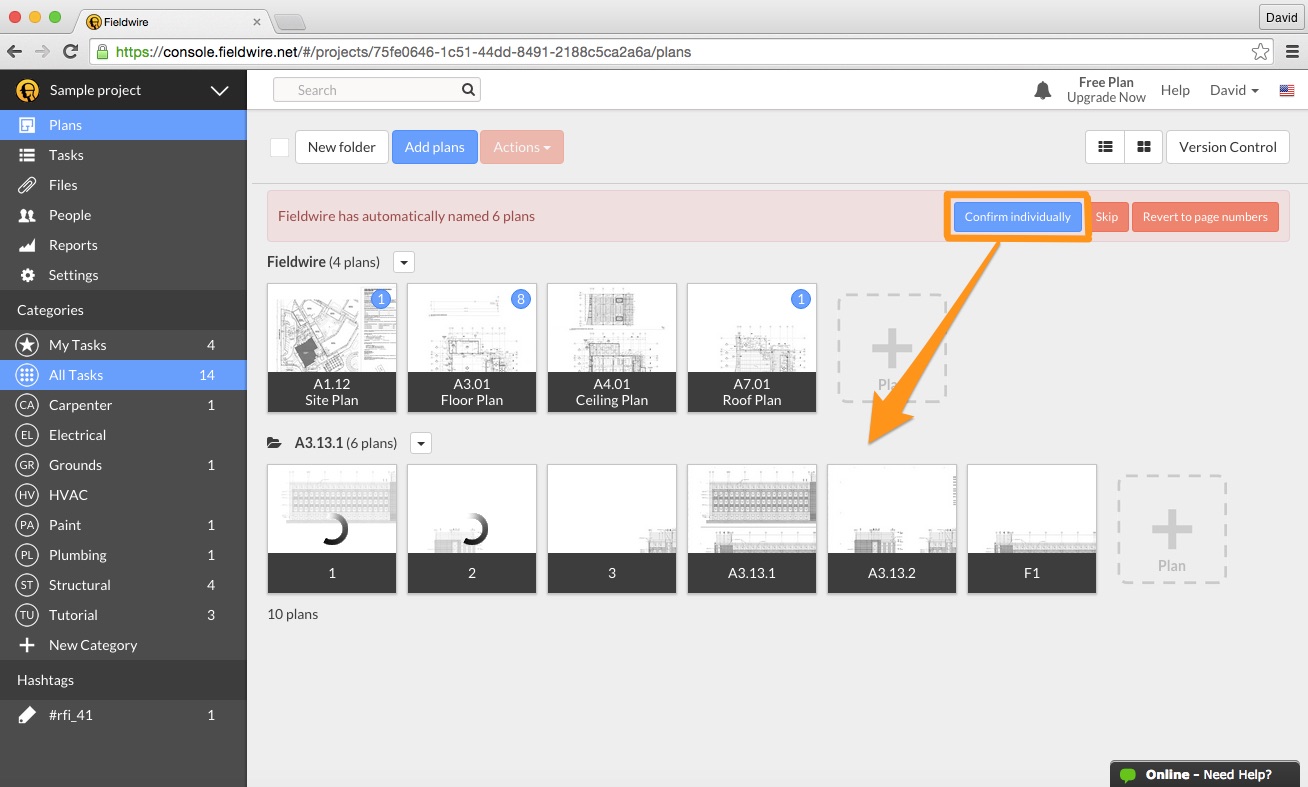 Fortunately, we make this process as painless as possible. After you click on the confirmation button or the plan itself, a new screen will appear.
Here you can view a crop of your plan, including the area where we located the presumed name. We automatically attempt to get the plan name from the sheet, but sometimes this fails or isn't possible due to the type of PDF you upload. In either case, you will need to edit the name and/or approve each sheet. You can also add a brief description of each sheet.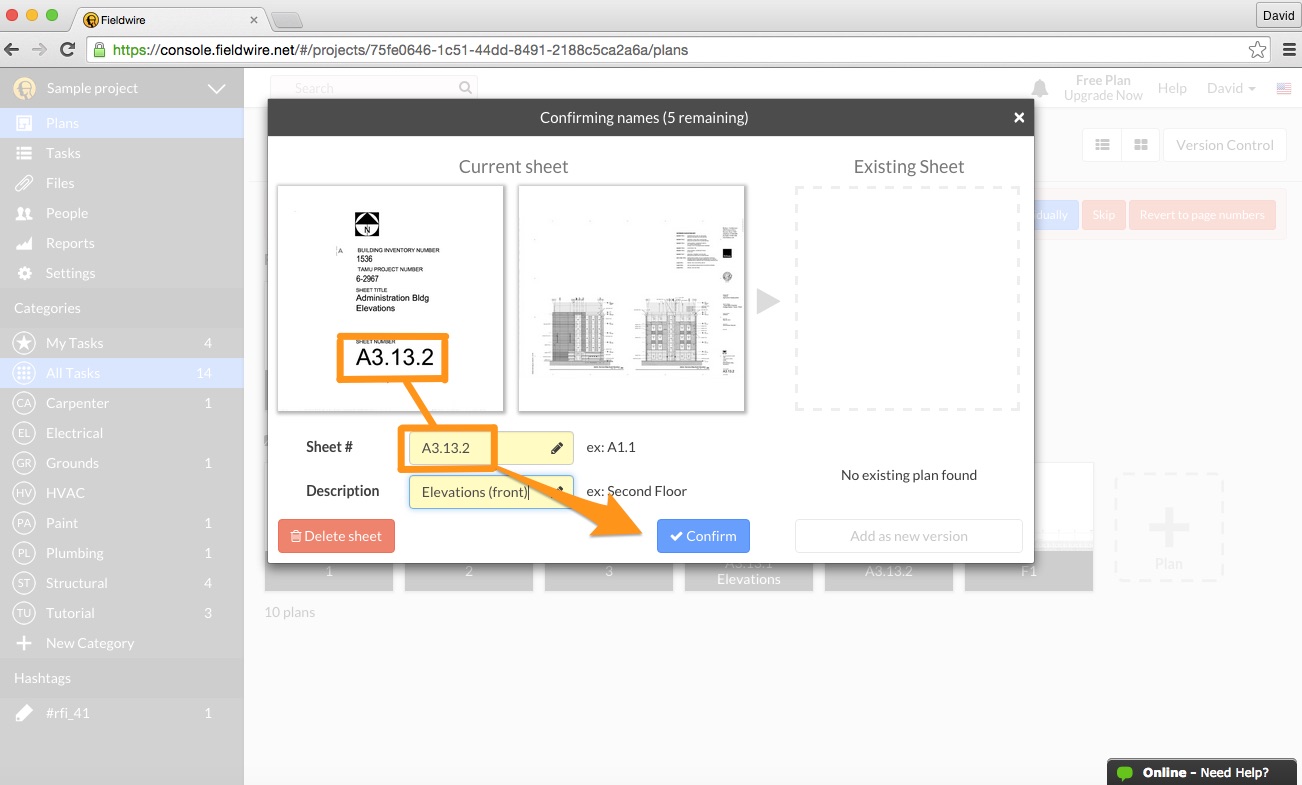 If your uploaded plans are not in a multipage PDF and in need of name confirmation, your mobile device will automatically sync to Fieldwire and download the latest sheets whenever you have connectivity and the app is online. This way you can be confident knowing you are always looking at the master set.