Overview & background
 
Version control lets you decide which version of your drawings you would like to view.
When you upload a new version of your sheets, Fieldwire slip sheets the new version on top of the old version and transfers all of the markups, annotations, and attachments over to the new version. Each version is stamped with the date it was uploaded.

You can rename this version title to reflect the revision name (e.g. "70% DD" or "IFC"). Refer to the 'view version history' section below for more information.
Note: Older versions of the plans will also have a red watermark in their center to make it clear that you are not viewing the current versions. The latest version will always display first.


Plan view on the web. Select the date in the bottom-right corner to see all versions of a plan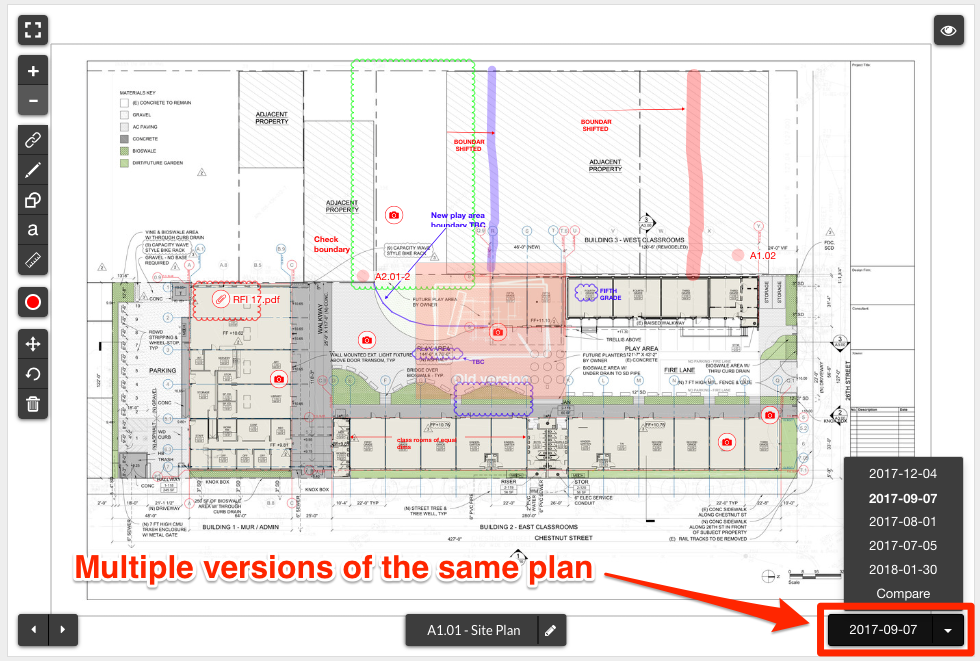 Troubleshooting Tip: In order for version control to work, every sheet version needs to have identical names. Ensure that the names or numbers of the new versions of your drawings do not deviate from their original name when you upload them otherwise, the software will read these as different sheets. 

Resolve versioning conflicts


When you upload new versions with identical names as the old versions, you are prompted to confirm each new sheet as anew version to ensure everything is accurate. If you select "Resolve Individually" you will need to confirm each new version of your plan. If you select "Resolve all" all of the plans will automatically version.

If you choose to "Resolve Individually" you are prompted to confirm each of the Plans as new versions of existing plans or separate plans.
You can select "Add as new version" to confirm that the sheet is a new version. If the sheet is not a new version, you can re-title the sheet and select "Confirm" to split the sheets.  






Sheet Numbers
Plans need to have the same plan name for version control to work. You can avoid versioning (or force your plans to version) by editing the sheet number.

There are several ways to Bulk Edit multiple sheet numbers, see this article on Batch Editing.
You can also edit single sheet numbers-- click on the plan title to edit it.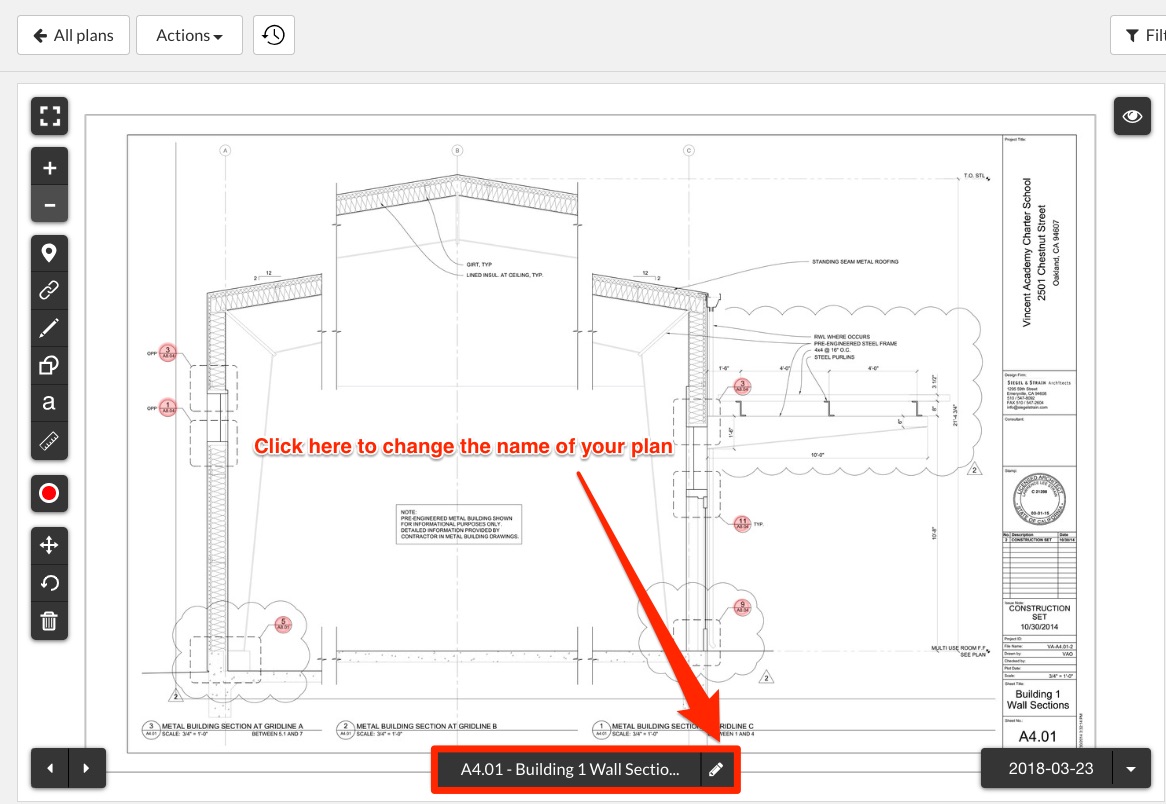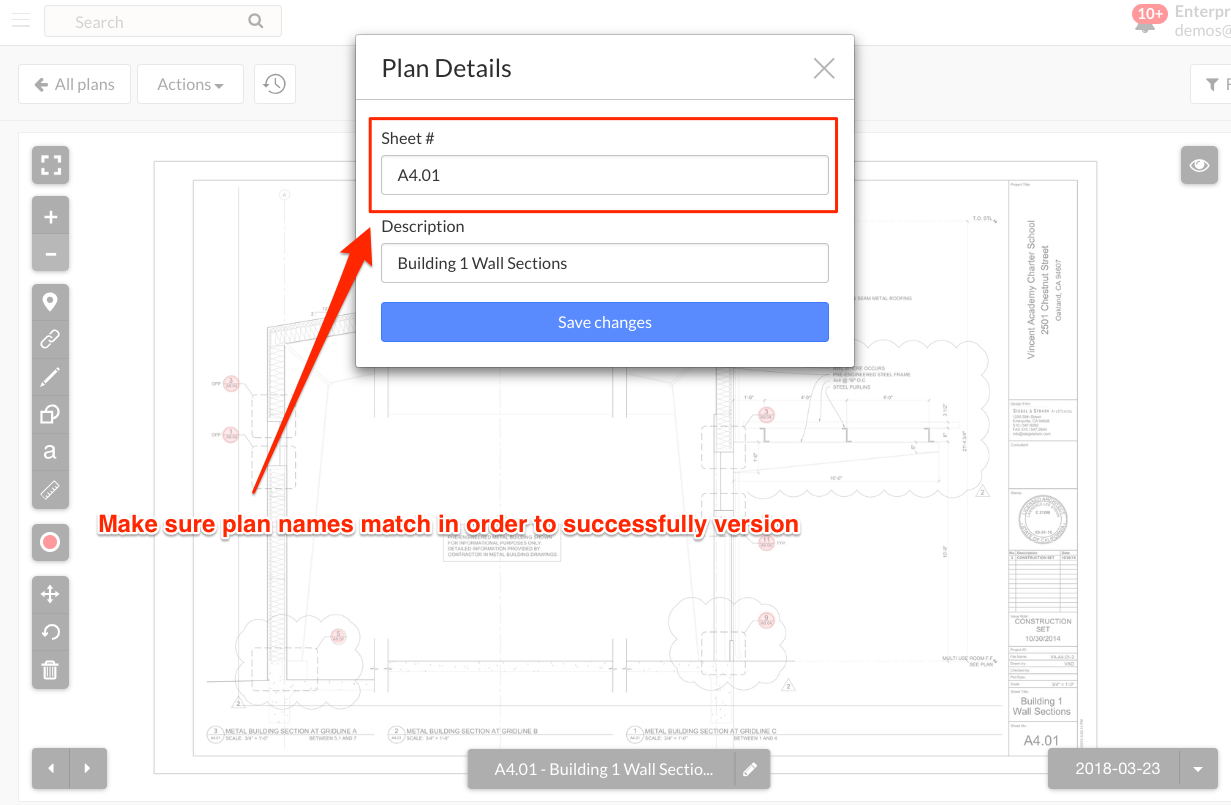 Note: To auto-sync versions through Box or Dropbox, your sheets must be separated into individual files. The file names (the sheet numbers) must be identical for plans to version. You can read more about box/dropbox syncing in this help center article.


View Version History

You can also edit the file descriptions. You can edit the description for a multipage PDF you've uploaded by clicking on the "Version Control" button in the top right corner of the Plans page. Then locate the entire set that was contained in that multipage file and click the "Edit" button to edit the description for every sheet.
 

From the "Plans" tab



This will bring up the history of all plans that have been updated. Please note that only Project Admins have access to the "Version Control" feature. 

If you have uploaded a multi-page document, or multiple individual sheets at once, you can select 'Expand' to view each sheet, or 'Edit' to adjust the description of each sheet. 
If necessary, you can also delete recent uploads all at once.  
Note: If these plans have already versioned, then you will lose the markups attached to those plans. 


From a plan


Troubleshooting Tip: You can change the order in which sheet is displayed first by clicking on the "Version Control" button right above the plan you are currently viewing.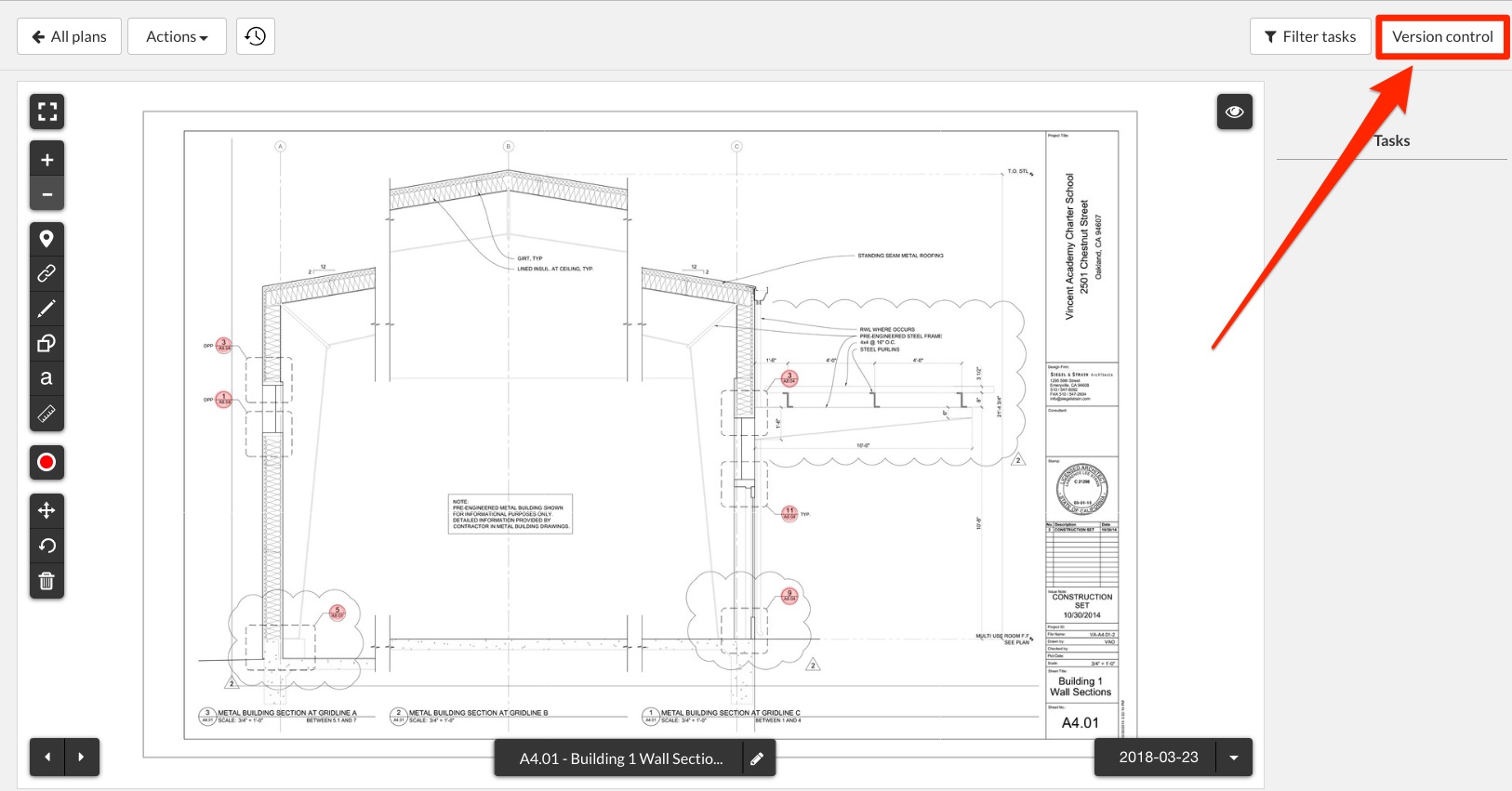 Once you've done that, hover your cursor over a specific version and you should see some arrow buttons appear that will change the order that this version is displayed in. This comes in handy if you accidentally upload the sheets in the wrong sequence the first time around.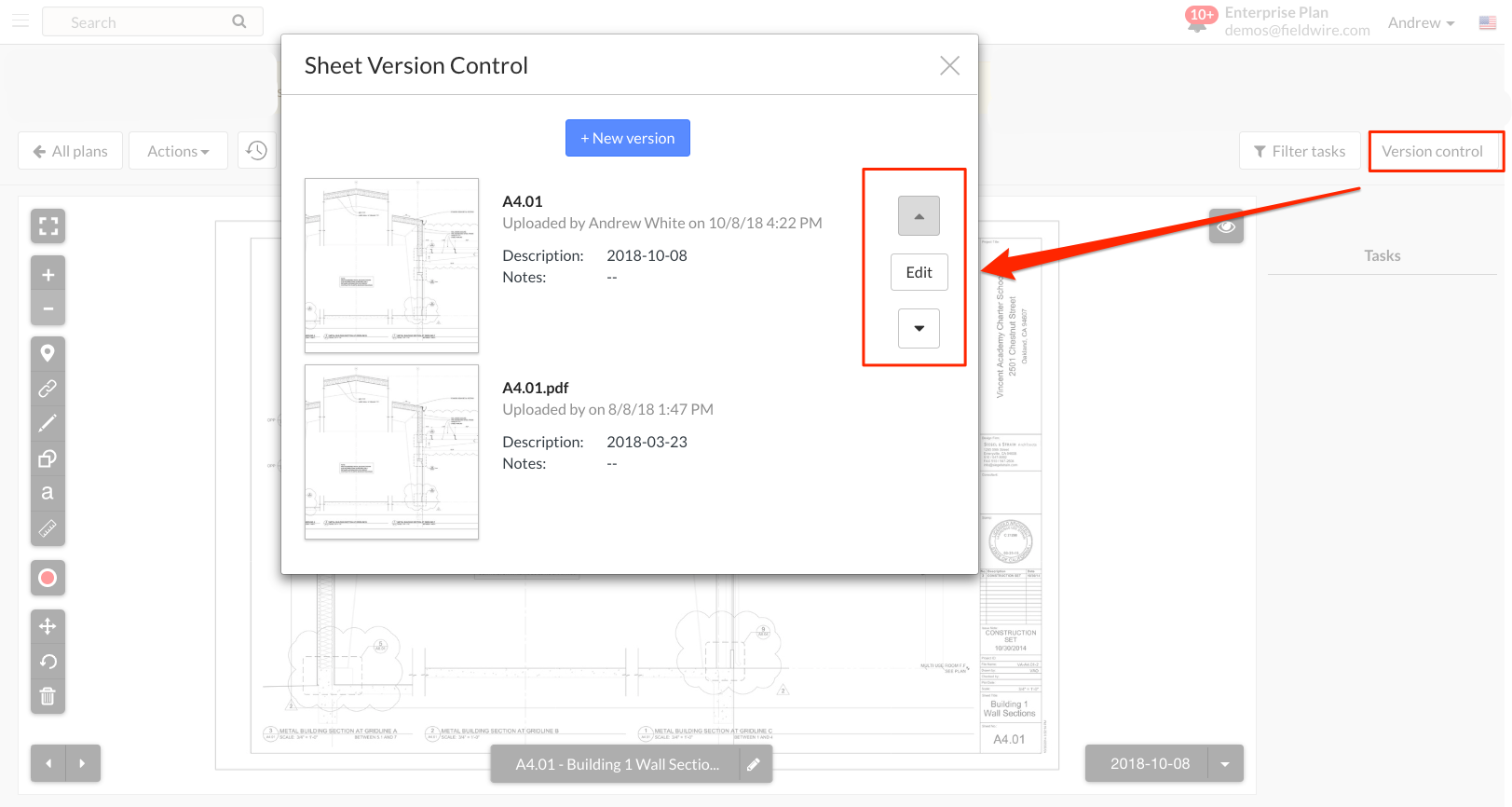 Note: You can also click the "Edit" button to update version information or delete it entirely.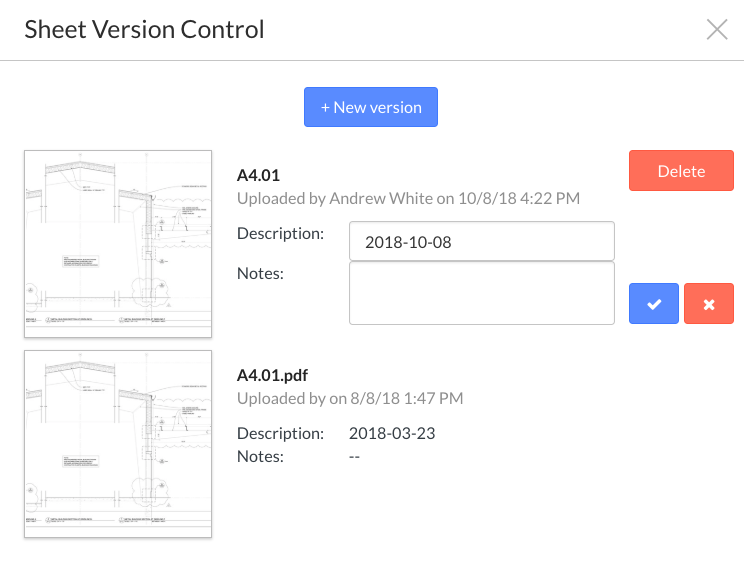 More Information
Tutorial Video on Version Control