Overview & background

Fieldwire gives you the option to invite users to individual projects, and/or your entire account. You can add Account Managers or Account Users to your account so that others are associated with your Pro, Business, or Custom plan. Please reference the differences between permission levels in this article.


1. Login on www.fieldwire.com and head to the People tab.
2. Click Invite, and 'To the account':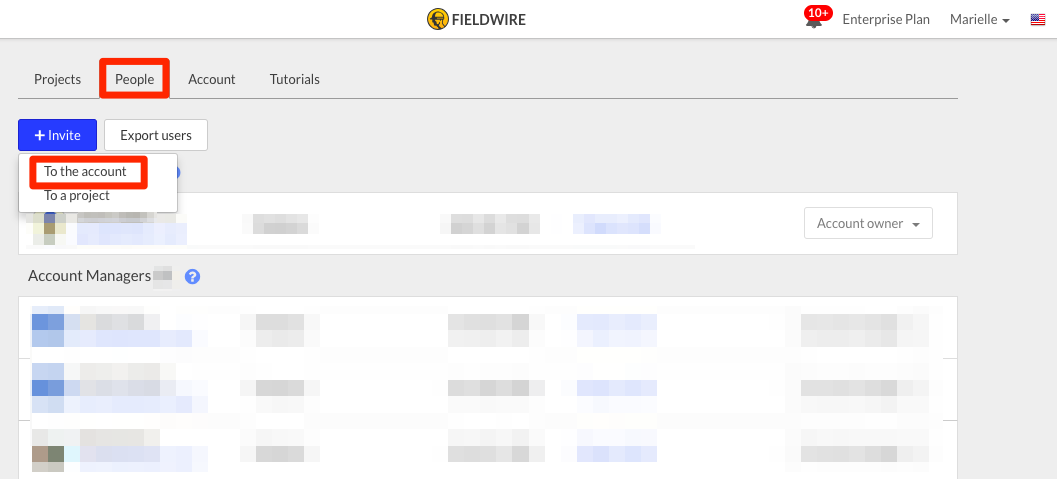 3. Add the email address(es) of the people you want to add as Account Managers or Account Users and click 'Send Invites':
4. That sends an invite to their email address. Make sure your recipients know that they need to open that email and click the invite link to establish their access to your account. Then you're all set!
Note: Users can send no more than 100 invitations per day. If you exceed this limit, you will not be able to send another invitation until 24 hours have elapsed since the 100th invitation:
Export users feature
On the 'People' tab, of your Account Home page, you can see the 'Export users' feature:
Clicking this button sends a Fieldwire email to your login email address with a simple CSV file that shows who is in your account, their login email addresses, their role on the account, and their role in each project. For example:
| | | | | |
| --- | --- | --- | --- | --- |
| Name | Email | Account Role | Role in project | Role in project |
| John Smith | jsmith@eagle.com | account manager | admin | member |
Tutorial Video on Account Management



Managing your Team in Fieldwire