Overview & background
Fieldwire has three project permission levels-- Project Admins, Members, and Followers. If you have been added as to a project as a 'Follower', then you can perform the following actions:

View plans and files
Within the "Plans" tab, you'll be able to view all of the plan sheets that have been uploaded to the project, including all of the individual plan versions. Notice that all superseded versions will show an "old version" watermark on both web and on mobile. You are not able to upload or delete plans.
The Plan View on Web: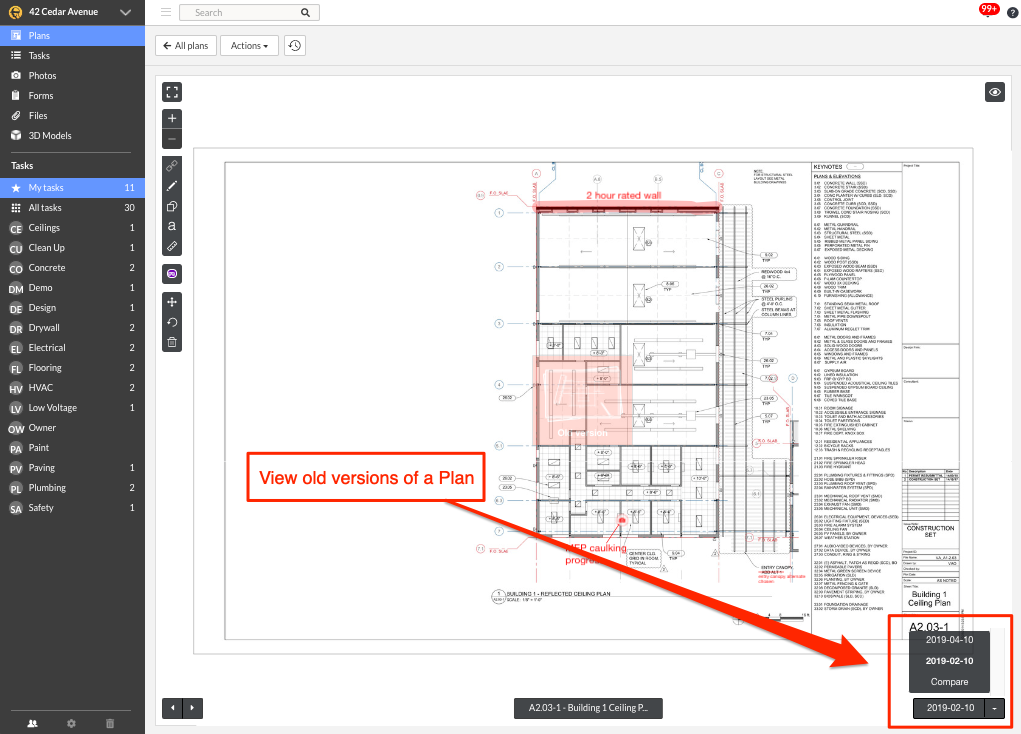 As a project follower, you are able to add private markups for yourself on the plan. You can view, as opposed to edit, the markups made by project members and project admins.
Under the "Files" tab, you can view and download the project files. You'll also be able to see the Plans these files have been hyperlinked to. You cannot upload or delete files.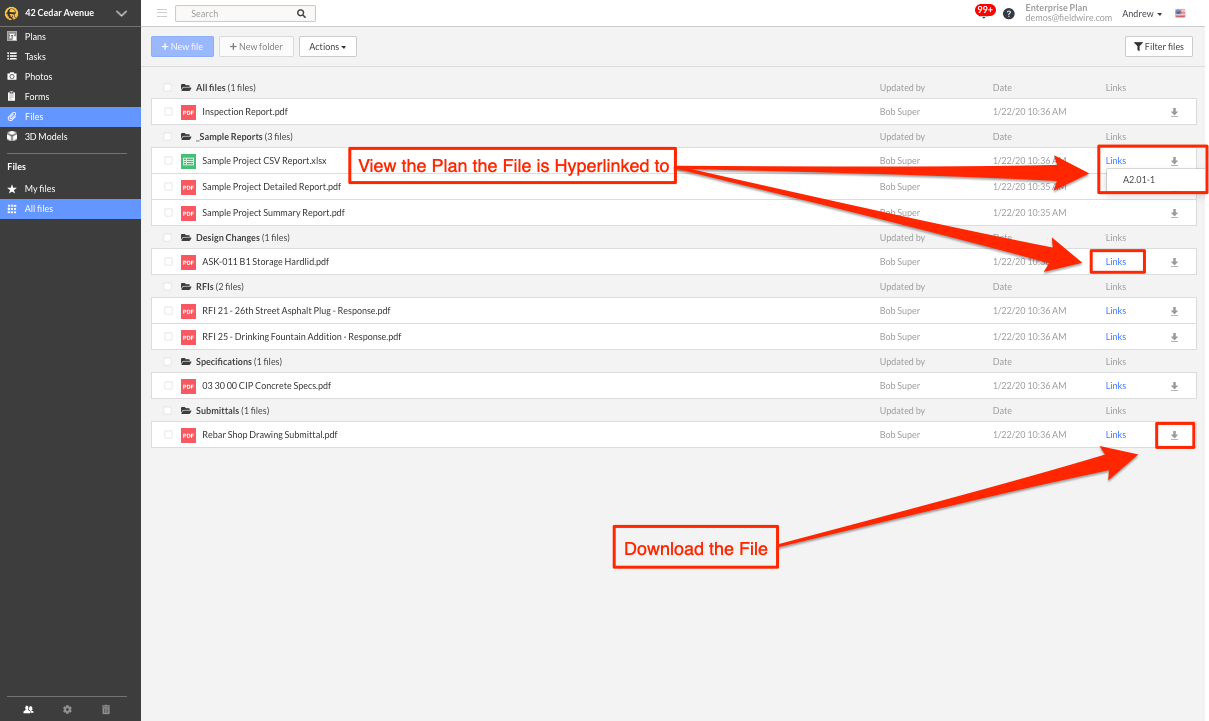 Access specific Photos
Followers will be able to see photos if:
The follower is assigned to, or is a watcher on, a task with photos.
The photos are hyperlinked directly to a plan.
The photos were added via the Photos tab.
Note: If you change an Admin or a Member to a Follower, photos in tasks that they are not assigned to, or a watcher on, will be automatically hidden from the 'Photos' tab.

In some cases, photos on your project can be restricted from followers. The best way to restrict photo access from followers is to take photos within Fieldwire tasks that are not assigned to followers nor have followers as 'watchers'.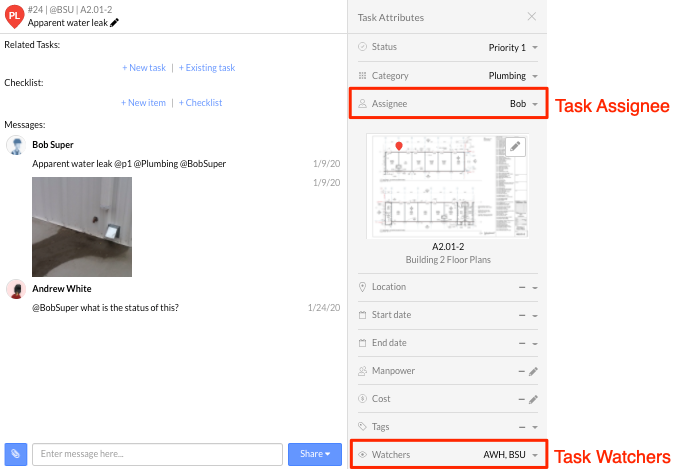 Note: Followers can add photos to tasks that they are assigned to, or watchers on. So, Project Followers are encouraged to add progress photos via Tasks.

View tasks you are watching or are assigned to
Select the "My tasks" category to view all of the tasks you have been assigned to, or are a watcher on. In the tasks, add photos, messages, checklists, crop plans, files, or any other information you need to document the work at hand:
View 'My Tasks' (Tasks you are assigned to):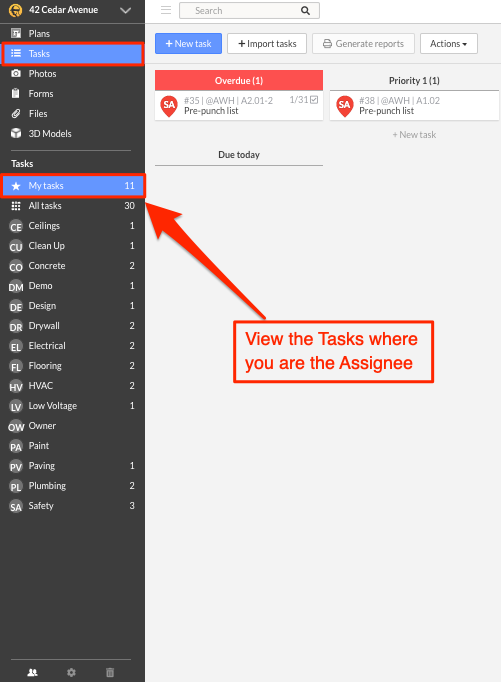 Create tasks
As a project follower, you can create tasks from the 'Tasks' tab, or directly on a Plan. You can add messages, checklists, photos, files, crop plans, and even Form Templates and unique Tags to the Task. While you cannot create or delete categories, you can choose from existing categories for your task. You can also assign the task to any user on the project (or add them as watchers).


Create a Task on a Plan: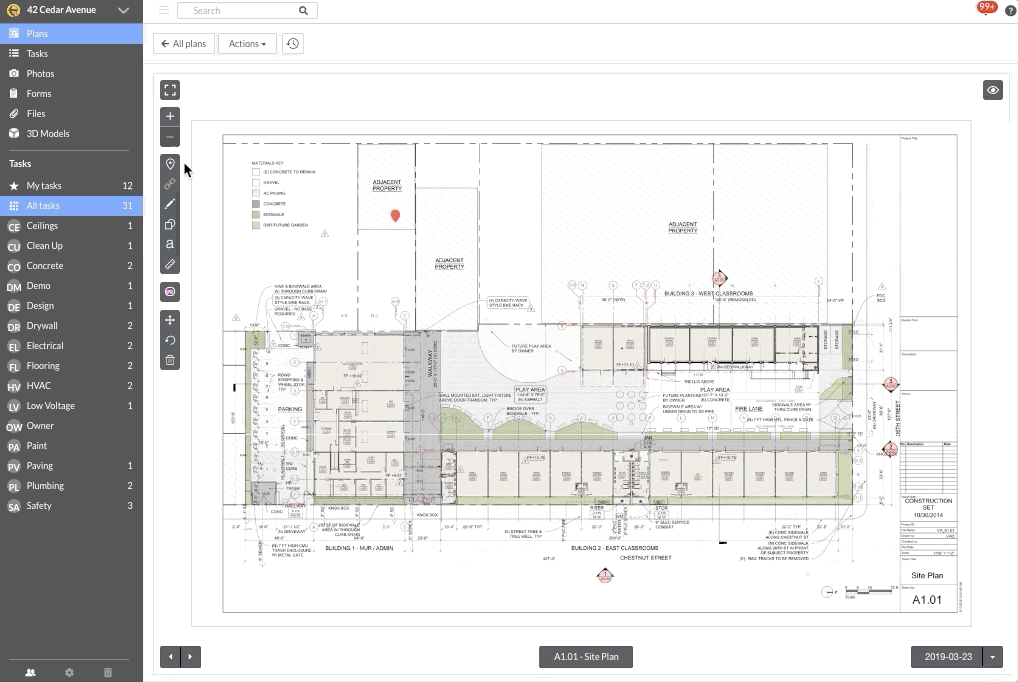 Note: A project follower can only delete tasks that they have created and are 'empty'. An 'empty' task has no content and the task attributes have not been adjusted.
"Complete" tasks
When you are finished with a task, you can mark it as "Complete", then assign it to a project admin for Verification. The watchers on the task will be notified that the task is complete and the Assignee has changed.
Mark a Task as 'Complete' and Change the Assignee:

More Information
These articles provide additional information on the Product areas followers will contribute to: