Overview & background - Forms

The "Forms" module in Fieldwire is a way for users on the Business and Premier subscription to document information, alongside the existing plans, tasks, and files modules.

Forms tab

Tip: There is a 'batch export' option for Forms. When you navigate to the 'Forms' tab you can select multiple forms, then select: Actions > Export and all the selected forms are emailed to you.
Bulk selecting and then exporting forms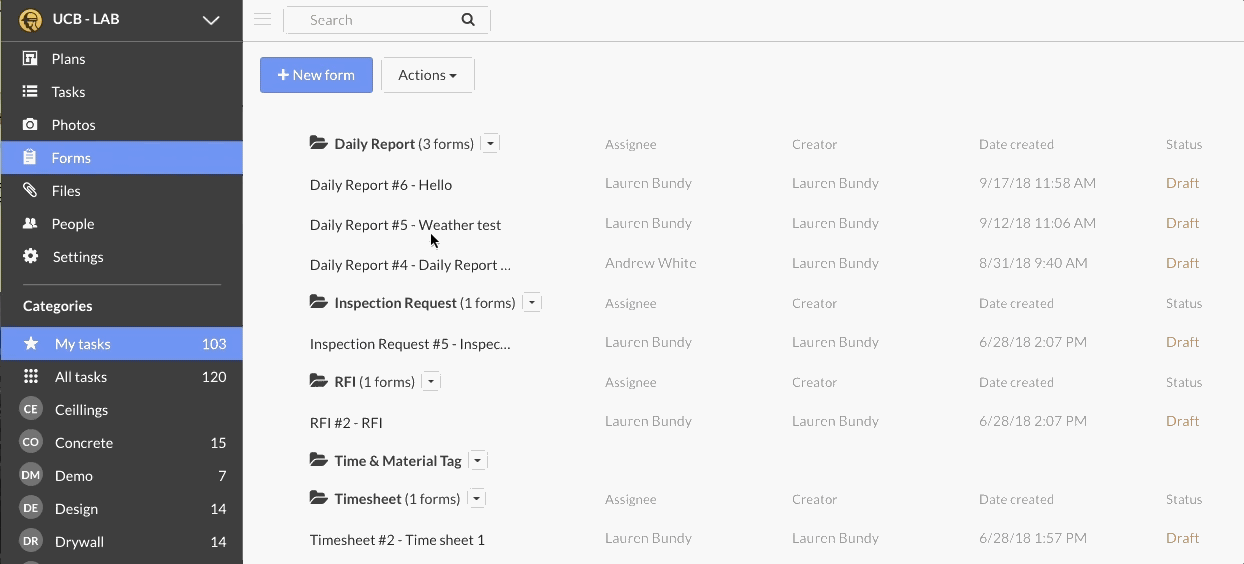 Custom Forms


The Custom Form Template Builder allows users to build and edit their own forms. This module allows for nearly limitless possibilities-- where you once had to fill out and print a paper form, you can now build and have access to your own form through Fieldwire!


Forms FAQ
These articles can help answer and address more intricate questions about using Forms.
Form types
By default, there are six types of form templates. Each can be tailored to suit the needs of your company through the Custom Form Template Builder.
Submitting forms
Forms in action: Daily Reports

This Tutorial Video explains how to create Daily Reports, our most requested form!
Forms in action: Custom Forms


You can adjust and create new forms through the Custom Form Template Builder.
More information

The "Introduction to Forms" webinar demonstrates the Daily Report, RFI, Inspection Request, and Timesheet Forms offered in the Forms Module.
The "Custom Forms" gives more information on the Safety Audit and T&M Form and gives quite a lot of information about the Custom Form Builder.

FAQs & troubleshooting