Table of Contents
Overview & background
Fieldwire 'Forms' is a premium module that allows users with Business and Premier subscriptions to replace paper forms with digital versions that are fast to create and distribute, easy to fill out in the field on our mobile apps, and housed permanently in a searchable Fieldwire database for improved accountability.
With transparent tracking of who did what, when, and why; five industry-standard but customizable templates; and the ability to create completely custom forms, you can use this module to streamline all your processes that require standardized documentation. Forms can be assigned in real-time and embedded seamlessly within our plans, tasks, and files modules, all of which reside in our left menu in any project*:

*If you don't see forms in your menu, we'd love to give you a demo of exactly how they work so you can decide if you'd like to upgrade to business or premier to add this module to your Fieldwire account.

How to Filter Forms
If you need to search for a certain type of form template, or if you'd like to isolate groups of forms by assignee, creator, or creation/last modified dates, click the 'Filter forms' button in the upper-right corner of the page: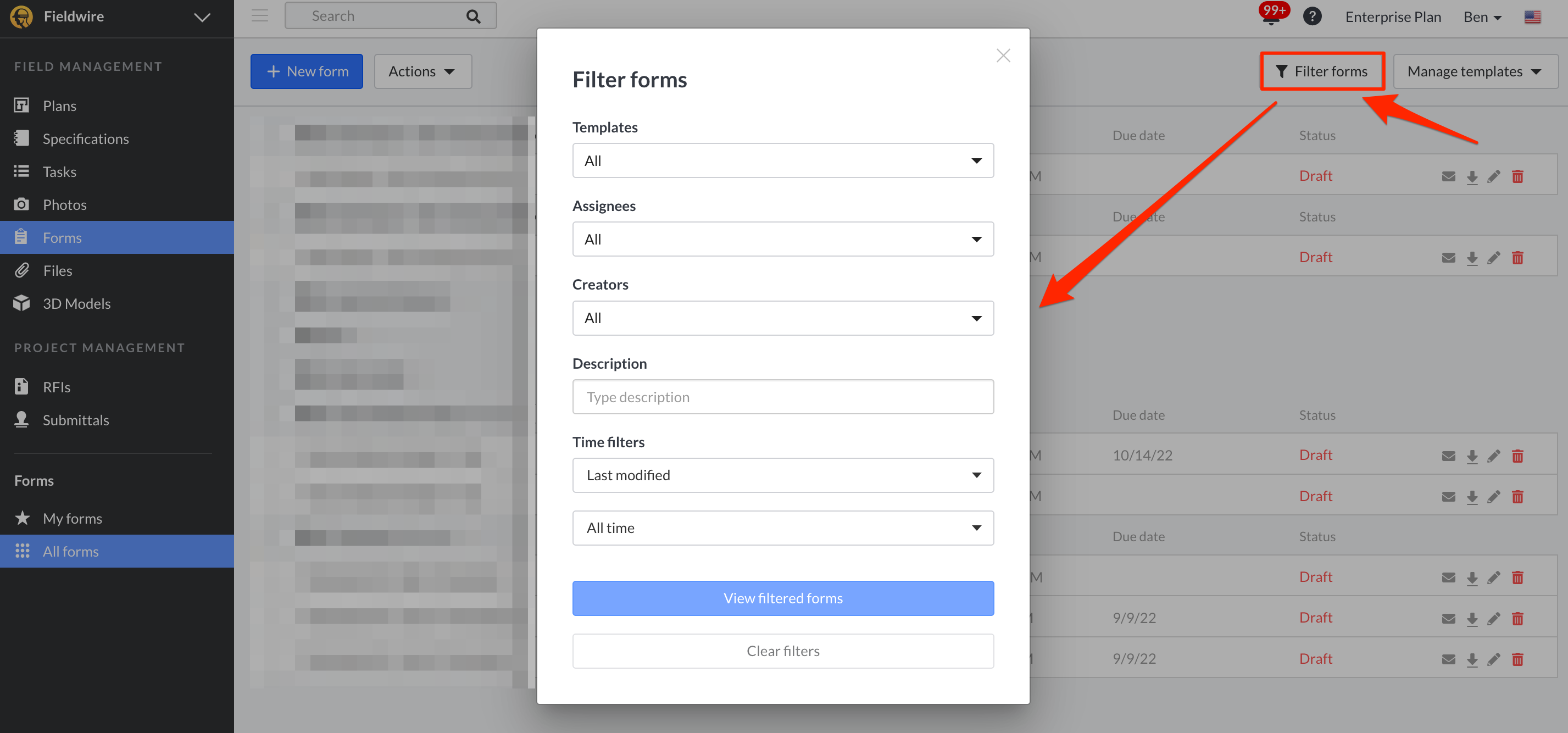 Templates: Filter by the specific form template
Assignees: Filter by who's assigned to each form
Creators: Filter by who originally created the form
Description: Filter by each form's description field
Time filters: Filter by when the form was Last modified, Created, its Due date, or the date listed on the form (Form date), itself. This can be broken down even further to All time, Today, Last week, Last month, or a Custom date range.
Tip: You can export (to store in your own records, share with folks outside your Fieldwire account, print, etc.) as many completed forms and/or form templates at once as you like! Just navigate to the 'Forms' tab, use the checkboxes on the left to select multiple forms, then select 'Actions' > 'Export' as a 'PDF' or 'CSV', and all the selected forms are then emailed to you: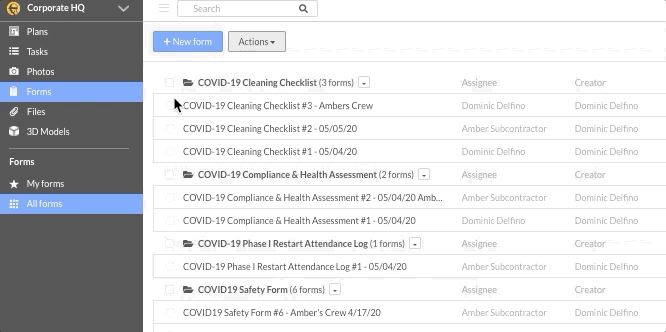 Note: Any forms you export from Fieldwire will include the Logo and color header a Project Administrator has specified under the Project Settings tab:


Forms on Mobile
The form templates you leverage on the Web have parity on the Mobile version of Fieldwire. On both the iOS and Android versions of Fieldwire, when the 'Forms' tab is selected, you have the option to view All of the Forms on the project, or just view the Forms you've created.
iOS:


Android: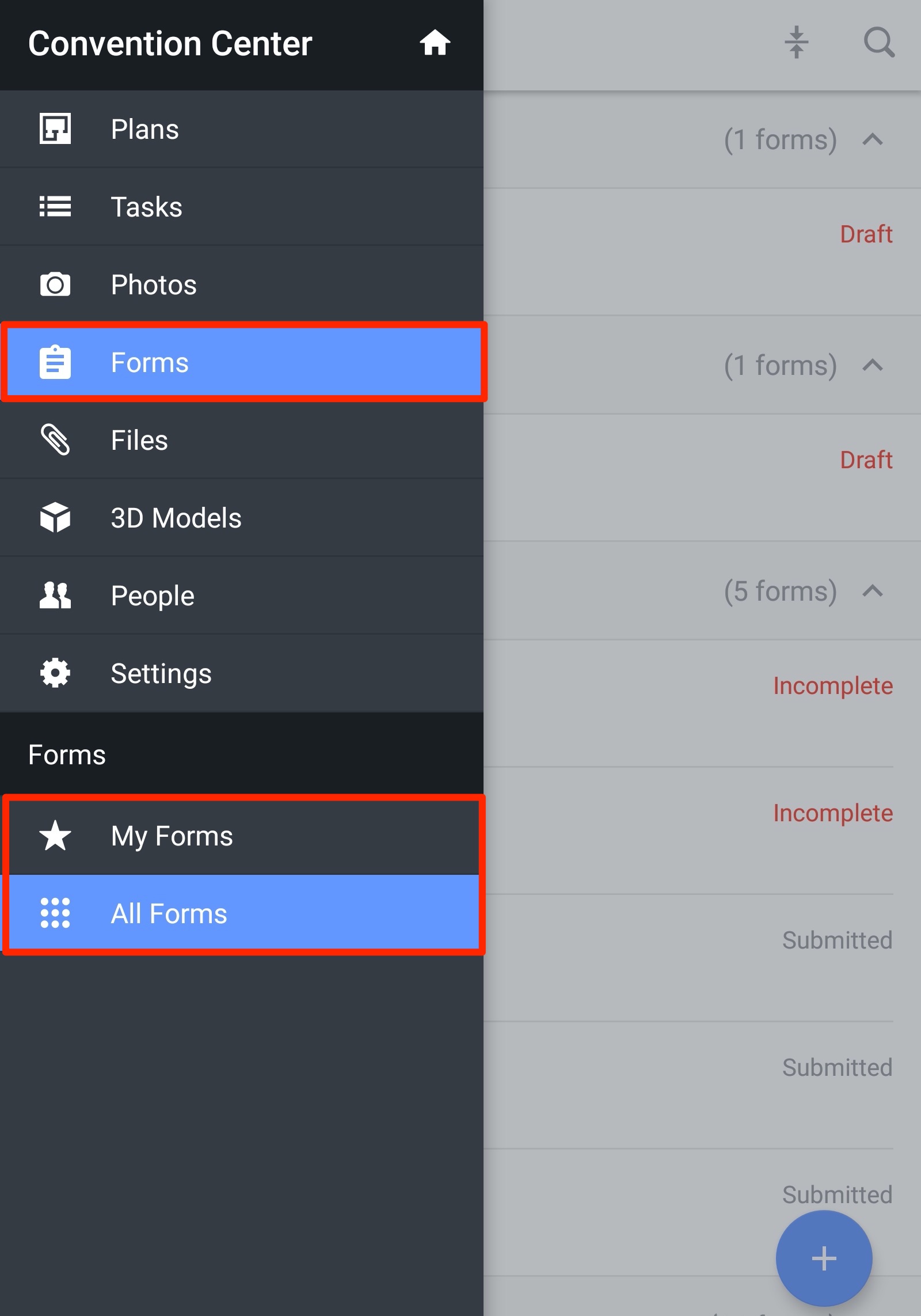 This article provides more information on: How to Filter and Duplicate Forms on iOS and Android
If multiple users will be creating or editing a particular form on mobile, they should make sure to close the form when they are finished editing it, prior to closing the app or putting the device to sleep.
Types of Default Form Templates
Fieldwire provides five standard account form templates. Each can be customized to suit your company's particular needs and preferences for documentation:
Custom Forms
The Custom Form Template Builder allows you to build your own completely custom forms from scratch:
Video Tutorial: Custom Forms
Form Folders
When clicking on the Forms tab, each folder will be open, showing all of the forms listed within that folder if there are less than 100 forms. To hide or collapse the forms, click on the folder name.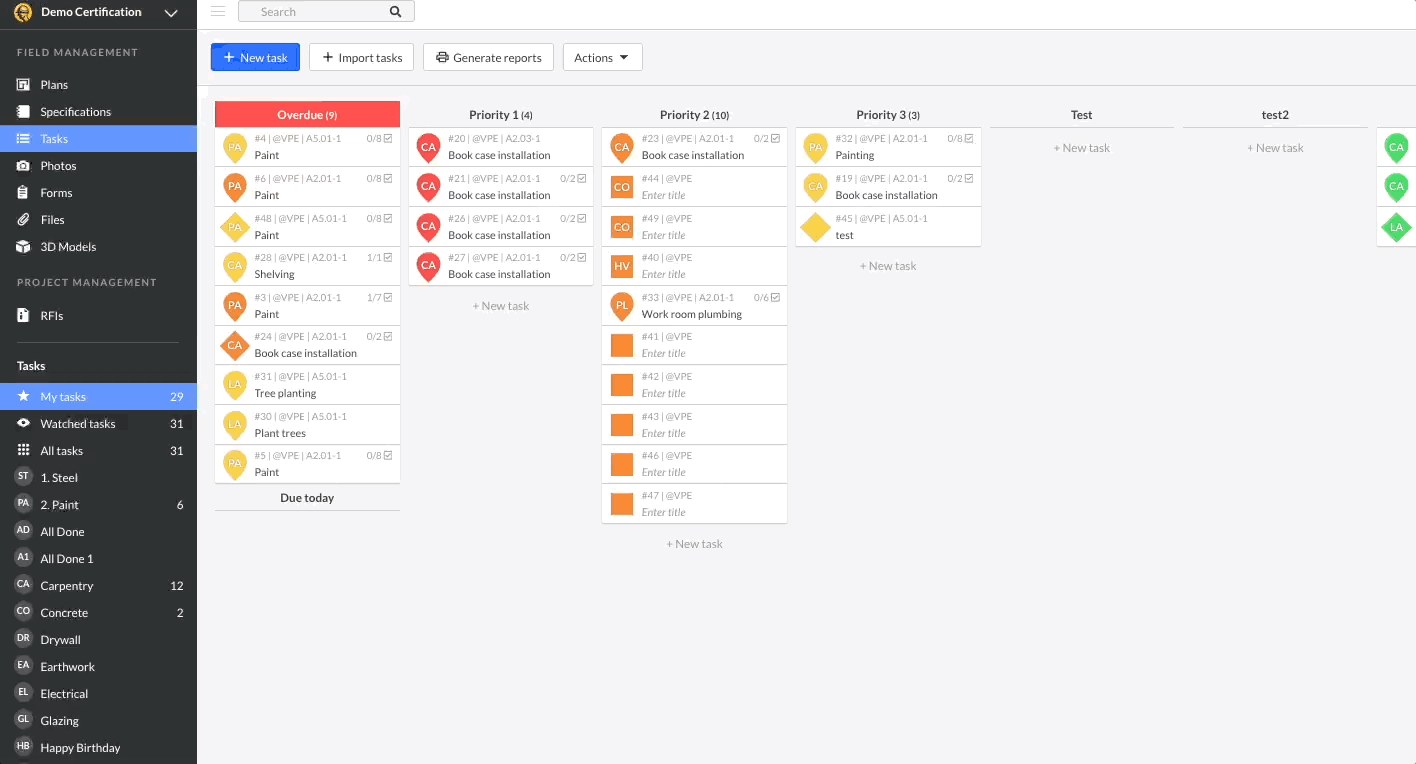 If there are more than 100 forms within a folder, the forms will be collapsed when you click on the Forms tab
Submitting & Downloading Forms
Once you've customized your form templates, you can use them to create and assign as many individual forms as you like with the click of a button. These articles detail how form assignees can fill-out and submit forms, as well as download them when completed:
When the status of a form is changed, the form creator, assignee, and last editor will all get notified on the web and will receive a push notification on any mobile device associated with a Fieldwire account.
Due Date Notifications
Email and in-app notifications are sent to the Form Assignee 48 hours prior to the due date.
In order for the Form Assignee to receive the Email and in-app notifications, the form must have an 'Assignee', a 'Due Date', and be in the 'Draft' or another 'Editable' status.
If the Status of the form has not been changed to 'Submitted', or another non-editable status, 48 hours prior to the Due Date, the assignee will be sent an Email and In-App notification to inform them that their assigned form is approaching the due date.
Note: If the Form Due Date is changed, then the notification resets, and will be sent 48 hours prior to the new Due Date.
Note: If the assignee changes then a new email is sent.
Account form templates
Account form templates allow the Account Owner and Account Managers to easily standardize the Forms their Fieldwire Projects will leverage. Project Admins can pull forms from the Account to projects. Project Admins can also choose to 'push' form templates from the Project-level to the Account level. Take a look at this article for more information about account form templates:
Forms FAQs
These articles dive into more specific features and workflows you can use to get the most out of Forms:
Forms in action: Daily Reports
This Tutorial Video explains how to create Daily Reports, our most-used type of form!
More information
The "Introduction to Forms" webinar demonstrates the Daily Report, RFI, Inspection Request, and Timesheet Forms offered in the Forms Module:
The "Custom Forms" webinar gives more information on the Safety Audit and T&M Form and gives quite a lot of information about the Custom Form Builder: