Overview & Background


Fieldwire offers a "Forms" module for the Business and Premier tiers. Within this module, we do offer pre-made Form templates such as Time & Material Tag, Daily Report, RFI's, Inspection Request, Safety Audit, and Timesheet forms as well as the option to create your own Custom forms on the account.
The Time & Material Tag Form is designed to document the time spent by the contractor's subcontractors to perform the work, and for materials used to complete the work on-site.
Through Fieldwire, you can fill out a Time & Materials tag very quickly and conveniently on mobile or on the web. Within the template, you can:
Populate information about the time spent on labor, equipment, and materials used.
Attach photos or relevant files.
Sign the T&M form assign the form to the relevant person, then change the status to "Submitted".
The Time & Material Tag Form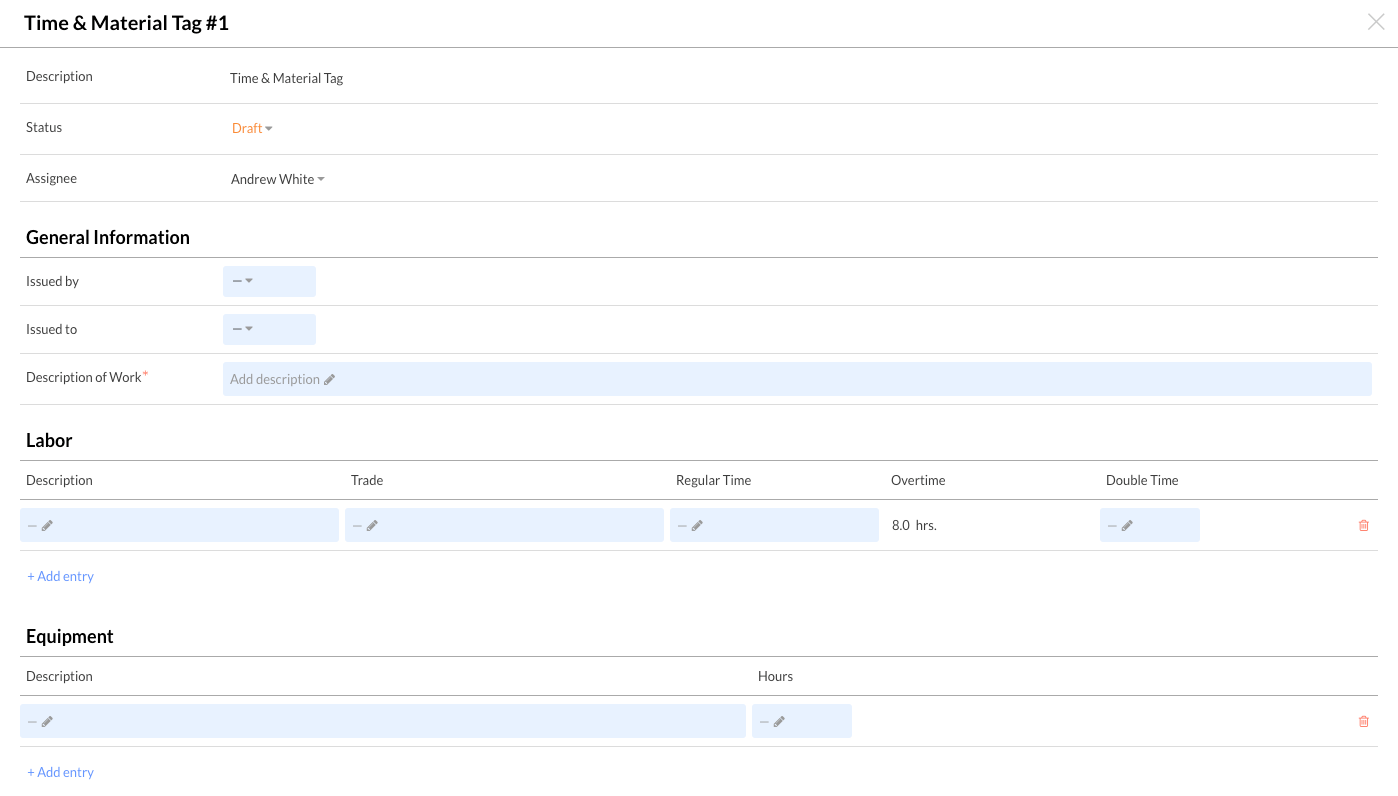 Form attributes

Form Number (#) - Fieldwire automatically generates a form number that cannot be edited.
Description - A freeform section that allows you to customize the Time & Material Tag title. For example, if you would like to label your Time & Material Tags by date and crew, you could enter the date and crew (e.g. "6/15 Concrete Crew") as the description.
Assignee - The person responsible for filling out the Time & Material Tags at a given time. You have the option to re-assign a daily report to someone you may need input from. The assignee receives a notification when the report has been submitted.
Status - When creating a daily report, the status defaults to "Draft". Once complete, the Time & Material Tag can be submitted by selecting "Submitted" from the drop-down menu.
Logs
General Information - Here you designate who the Time & Material Tag should be issued to, and who it has been issued from. You can also designate the Description of Work.
Labor - This section allows you to document the labor that was performed onsite. There are sections to record the Trade, a description of the tasks performed, and sections to document the hours of labor taken by the Trade.
Equipment - This Section allows you to document the Equipment that was used on-site, as well as the number of hours spent using the equipment.
Material - This Section allows you to document the Materials that were used on-site, as well as the number of hours spent installing those materials.
Attachments
Photo / File - Here you can upload a photo or file related to the day.
Existing file - This option allows you to link a file that has been uploaded into your project.
Crop plan - Here include a cropped section of the plan to highlight the exact location in question.


Note: You can upload files and photos up to 50mb.
Signature


The signature section prompts users to provide an electronic signature on the Web or a free-hand signature on mobile. Fieldwire will automatically include the timestamp of when the form was signed to help ensure accountability.
On the Web, you, or someone who does not have a Fieldwire Account, can add sign your form:
| | | |
| --- | --- | --- |
| | The name of the user that is logged in will populate as the first signature option. | Choose 'Sign as someone else' to have a user who does not have a Fieldwire account sign the form. |
Any signature will be accompanied by a date, time, and device-stamp to show when exactly the form was signed and which individual signed it. The user who is logged into Fieldwire on the device where the Form was accessed will be listed as the device owner:

'Sign as Andrew White'

'Sign as someone else'

More Information
Refer to this article for information about notifications
If you're experiencing error messages due to unsynced or missing information, refer to this article
If you're interested in learning about Fieldwire's other Form options, refer to this article