Overview & Background


Construction teams, especially subcontractors, often plan their work on available manpower. Including Manpower on the Gantt chart helps construction teams sequence the work that will be completed on-site. This article will help give an overview of the feature and provide examples of how the feature can be used effectively.


Table of Content
How to Download the Gantt Chart View?
How to use Manpower on Gantt

You can add manpower to Fieldwire tasks to capture the expected and actual duration of a task.
This provides more detail-oriented information aside from the start and end dates.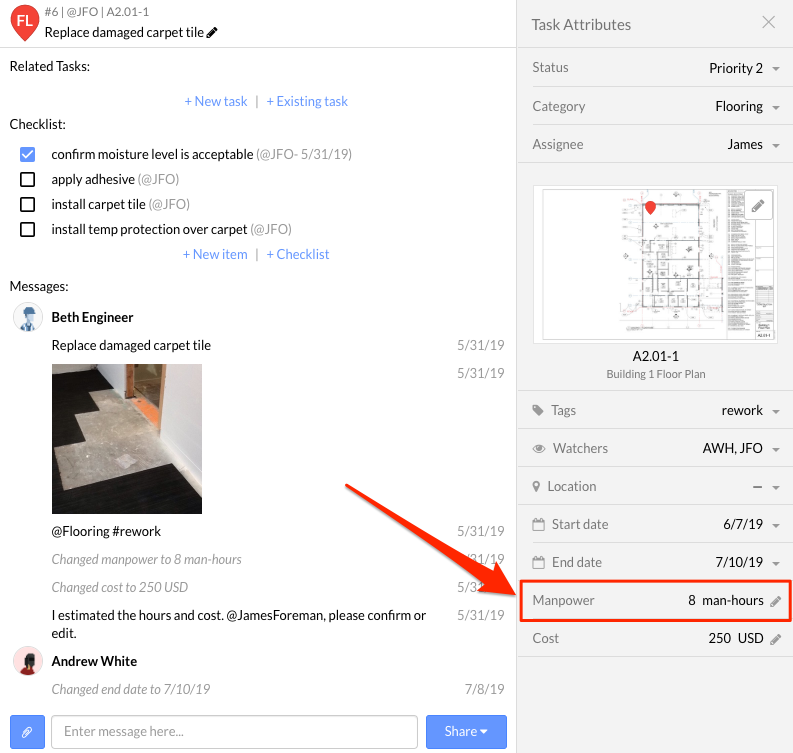 How Manpower is calculated

Manpower is calculated by either Man-hours, Man-days, and Man-Months-- You can adjust these at any time under the "Project Settings" tab.


| | | |
| --- | --- | --- |
| One Man-Hour | equals | 1 hour |
| One Man-Day | equals | 8 hours |
| One Man-Month | equals | 30 Days |

The determination of how the manpower the tasks are dependent on the scope of the project. This will also affect how content is displayed and calculated. Non-Working Days can be denominated under the 'Settings' tab.
Navigation on the Gantt Chart
You can access the Gantt Chart from the 'Tasks' tab-- select the 'Gantt' view in the top-right corner.
The default date range will be the previous, current, and next week, but you can adjust this to view other weeks.






The red, vertical line indicates Today's date.
When you hover over a task on a day, you will see a blue vertical line. The pop-up window directly above the taskbar indicates the start and end dates.




In the example above, the 'Tape & finish gyp board' task is 30 man-hours.
30 man-hours / 8 man-hours = 3.75 man-days.
The task is from 7/27 - 8/9, or 12 days. 3.75 man-days / 12 days = 0.3 man-days each day.
On the top graph, you'll see the total manpower for all tasks that day.
The total = 0.6 + 0.3 + 0.3 + 0.8 = 2.0 total man-days.
This means that I need a minimum of two workers on-site to complete the tasks.

Note: Any Non-Working Days, denominated under the 'Settings' tab, will be excluded from the manpower calculations.


How to Download the Gantt Chart View?
As a Project Manager, it is essential to produce a look ahead of your schedule to distribute to others. As a foreman, you need to keep your crew informed of upcoming due tasks. For this purpose, you can export your Gantt Chart view as a PDF.

The PDF file can be marked up using your PDF viewer software or by uploading the file to the Files tab. Furthermore, you can share this file with any non Fieldwire users.
Navigate to the Gantt Chart View:

Click on the Download icon: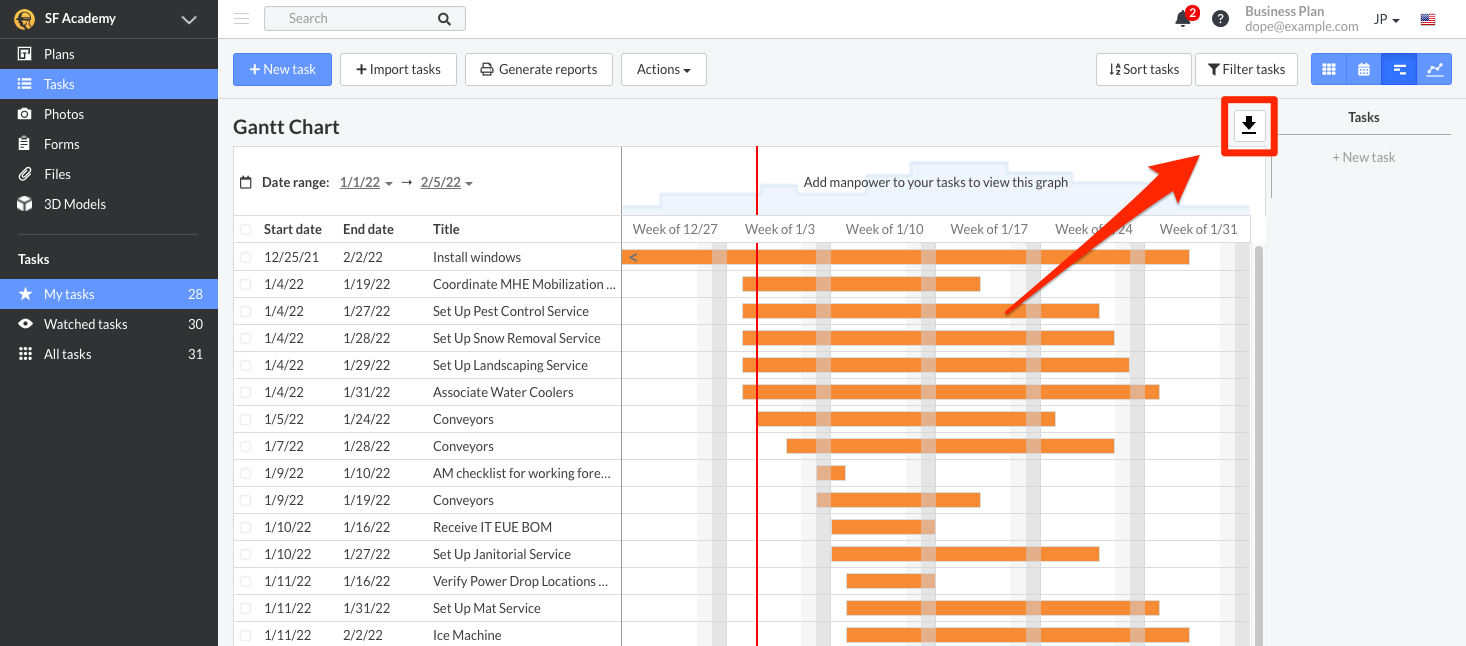 More Information
Both of these articles provide more context about how to effectively schedule tasks in Fieldwire and use the Gantt view.