Overview and Background
Business subscribers can use Ricoh Theta cameras to capture 360° photos and post them directly to Tasks or Hyperlinks on plans. These photos have a gyroscopic viewer where you can scroll and pan throughout the photo.
However, 360 x 180 panoramic photos captured through other 360° cameras, can still be uploaded to Fieldwire. If it is uploaded as a '360 photo',  it will have a gyroscopic viewer. Using 360° photos in Fieldwire is a great way to give more depth and detail to your photos. 

How to upload a 360° Photo
On a Plan: 
Open a plan on the 'Plans' tab. Choose the 'Hyperlink' tool, and choose the 'Camera' option. 
Place the camera link on the plan, then choose '+Add 360 Photo':




Note:  360° photos will remain accessible via hyperlinks in plans that are exported from Fieldwire.
In a Task: 
Open a task from the 'Tasks' tab or from a plan, and choose the attachments icon.
Then select the '360 photo' option: 


From there, upload your 360° photos to the task! 

Note: 360° photos are included as live-links in task reports!
These will lead to the gyroscope viewer. 
On the 'Photos' tab: 
Go to the 'Photos' tab, then select '+New photo'. Then choose to add a '360 photo'.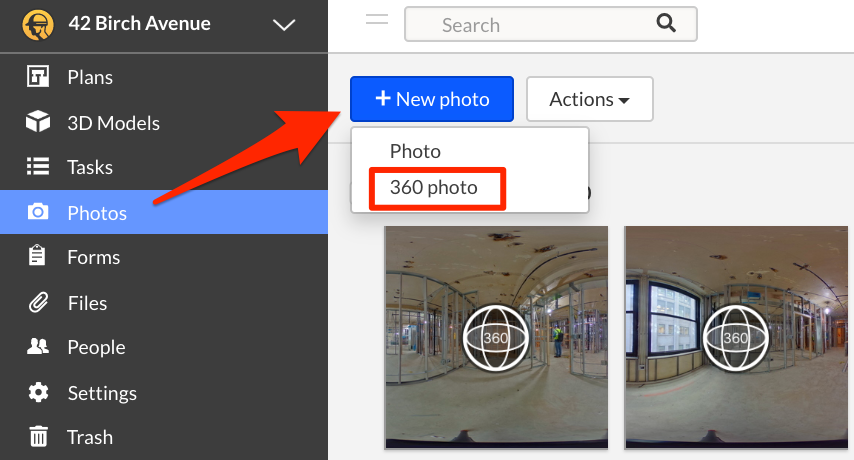 Tip: You can retroactively add your 360° photos to tasks. Select a photo, then choose 'Actions', and 'Attach to a task'. Enter the task title and choose 'Attach photo(s)' or add the photo directly to the task itself using the 'Existing Photos' option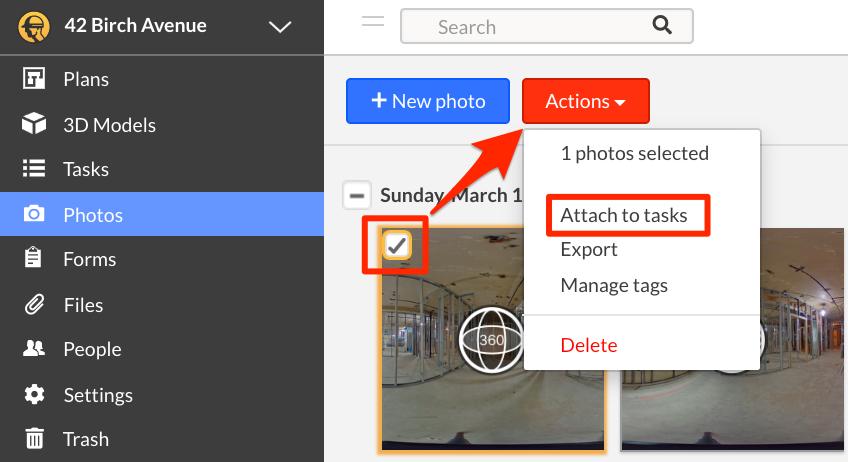 To ensure your Ricoh camera firmware is up to date and to connect to the camera's Wifi, you can opt to install the Ricoh app from the Google Play Store or Apple Store.
More Information
This help content will give more information about using 360° photos in Fieldwire: