Question
I took some progress photos and uploaded them to the photos tab of Fieldwire. I noticed that the photos are organized by the date I uploaded them to Fieldwire, rather than the date(s) I actually took them. Can I edit the 'date' of photos in Fieldwire?
Example: I took some photos on May 8, but I didn't upload them to Fieldwire until May 11. When I view them in the 'Photos' tab of my Fieldwire project, they're in a folder under May 11:
Answer
Photos are always organized into folders by the date they were uploaded to Fieldwire, and there is no way to modify that dynamic. This is because there are multiple ways to add photos to Fieldwire and reasons to do so, so in most cases it's most critical to know when they entered your Fieldwire system/were added to relevant tasks and plans. However, there are two easy ways around it if you want to also organize your photos by the dates they were taken:
1. If you take the photos from within the Fieldwire mobile apps (as opposed to in the camera app on your smartphone or tablet), then the upload date and date taken are always the exact same.
2. You can apply tags to photos or sets of photos you upload to Fieldwire, which allow you to search for and isolate groups of photos, as if they were in the same folder (more details below).


How to apply and manage photo tags
You can group-select and then tag your uploaded photos with the date the photos were taken, or any other text you'd like to use to define that group of photos.
Back to our example, I've tagged all three photos uploaded on 5/11/20 with a tag of 5/8/20 and filtered by this tag: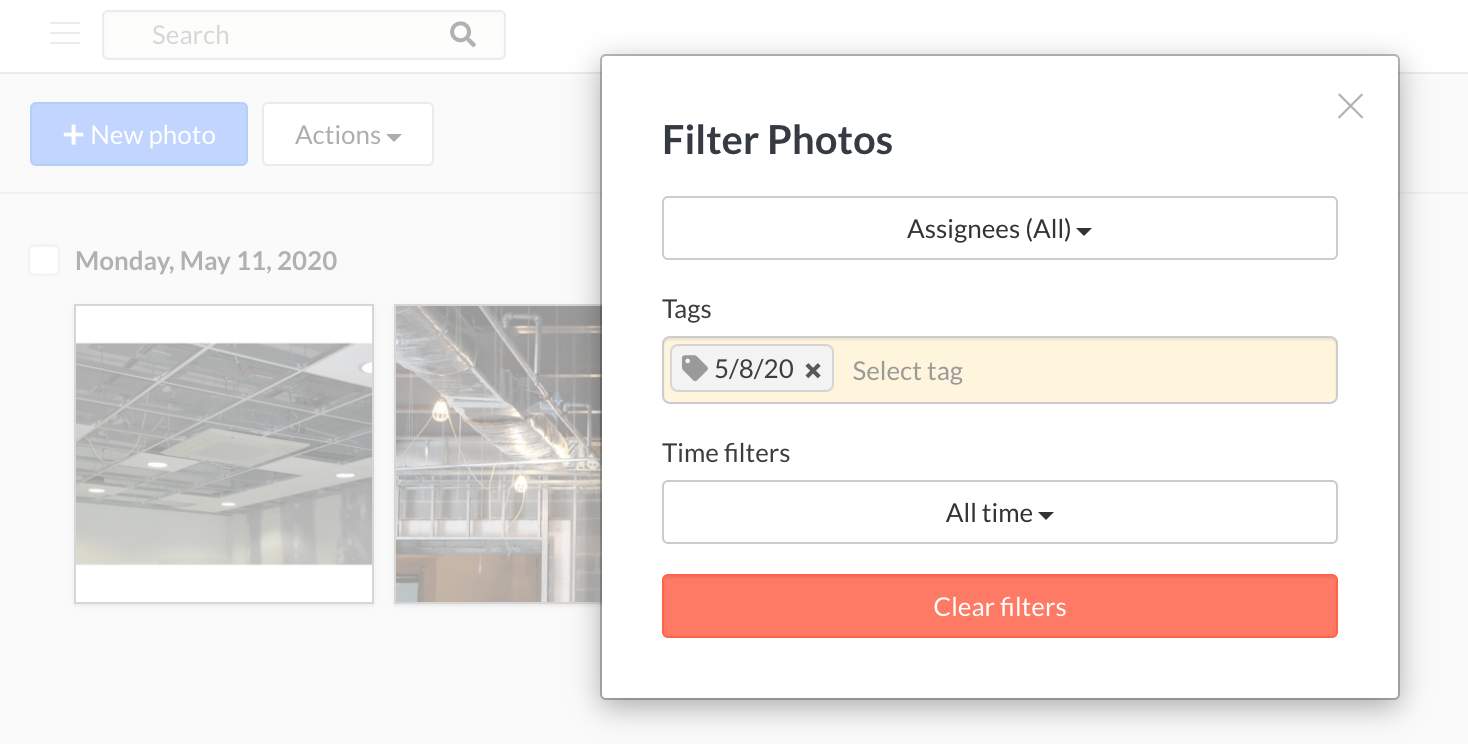 Steps:

1. Select the photos you want to tag:

Tip: Select the checkboxes to the left of the dated folder names to select every photo in that folder with a single click. You can then de-select the checkbox of any individual photo you don't want to tag.

2. Click on the Actions button, and choose 'Manage tags':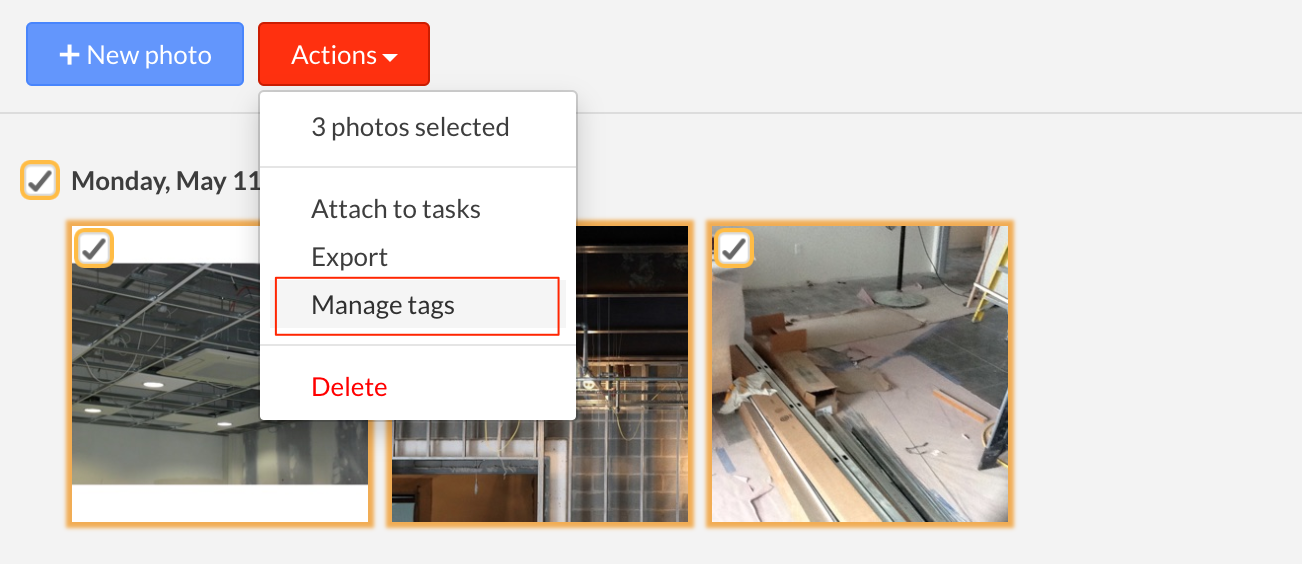 3. Tag the photo with the date [taken] in either format MM/DD/YY or DD/MM/YY: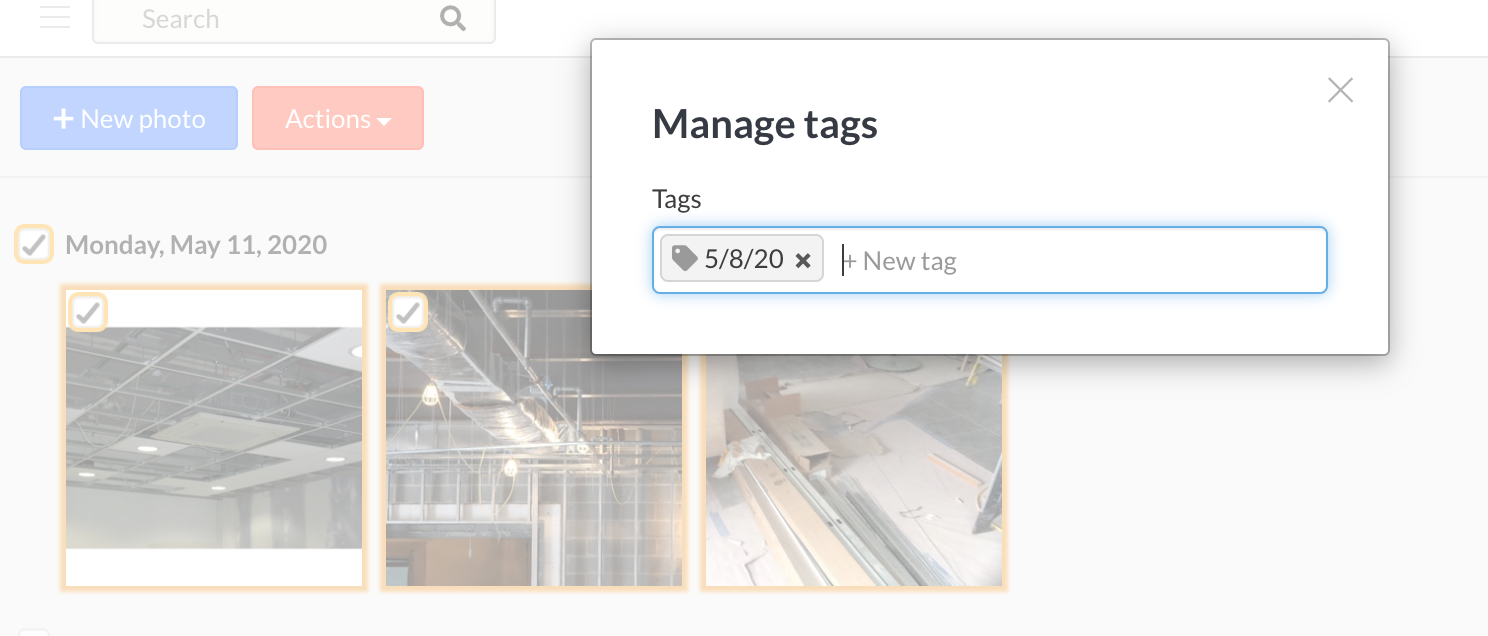 Note: Commas aren't allowed in the tag section - if a comma is used, it will end the tag you were working on. For example, if you wanted to tag a photo on May 8, 2020, it will not work because as soon as you type a comma, it will create the tag 'May-8' and be ready for another tag.
Once you've tagged any set of photos, from then on you can click on the filter button in the upper-right of your photos tab and filter by the date or other tags you want to search for: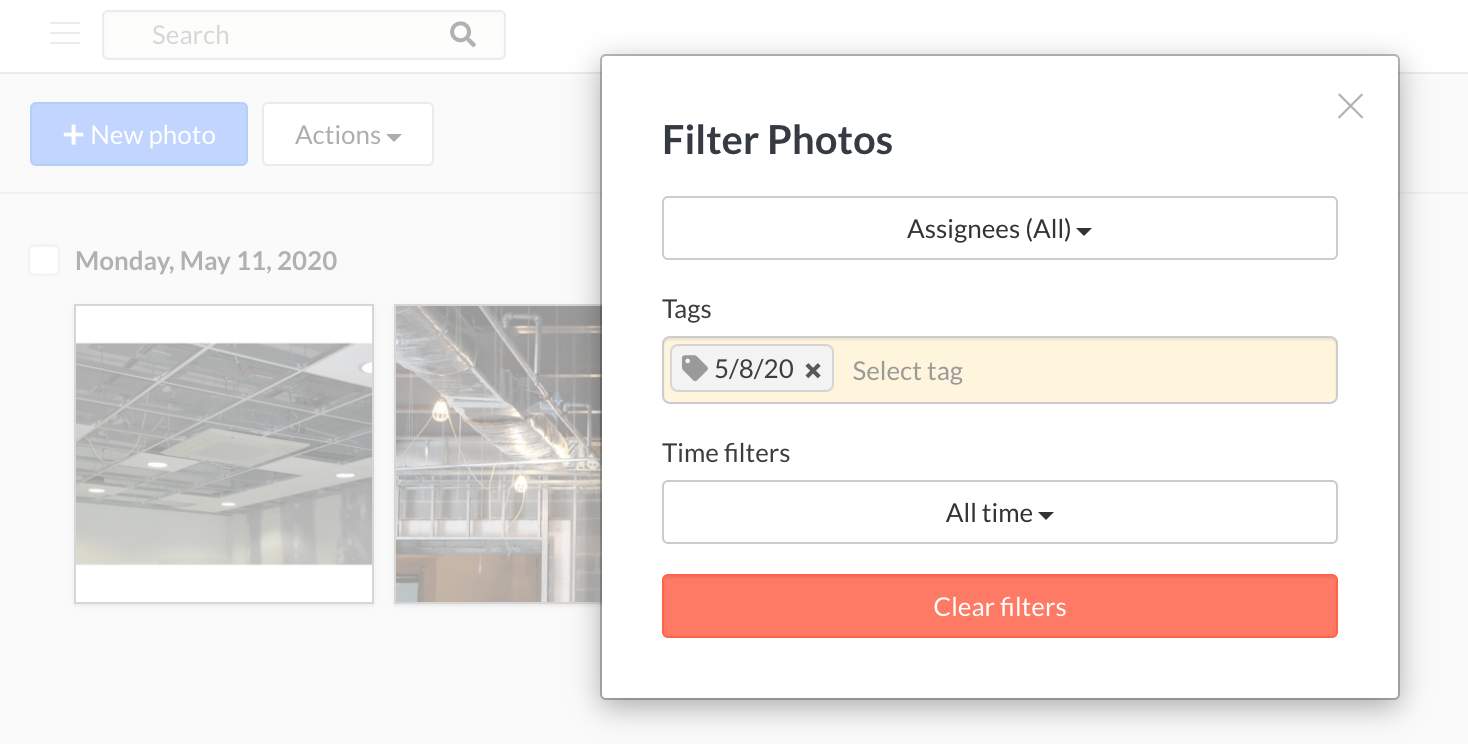 More Information
Here are a few additional articles that go into tags: