Overview & background
Fieldwire strives to be the most intuitive and powerful field management solution in the construction industry. We pride ourselves on continuously expanding our platform with both innovative designs you won't find in any other application and by responding to our most consistent customer feedback with improvements to our existing products.
We also value radical transparency, so this article includes a running list of the new and improved features we most recently released. Please let us know your own feedback on these updates as well as what you'd like to see us build next at support@fieldwire.com!
Jump To:
Home (Projects)
Display Full Project Name on Dashboard & Dropdown (March 2021)
Do you have long project names or use job code nomenclature to name your Fieldwire projects? Previously, those titles would be tricky to view from the sidebar Project dropdown and Fieldwire Projects dashboard. We now show the entire project name in both location when you hover your mouse over any Project title. Another simple way we're making it easier to locate and select your projects in a practical way, thanks to feedback directly from our customers!
Resources:
Project Search on Mobile (February 2021)
If you have dozens or even hundreds of projects to manage on Fieldwire, you can easily search and find them using our new Project Search function on mobile. No more scrolling through your project list to find the right one, the one that you want to remove from your mobile device now that your phase is complete, or the next one you want to download to start your work, as you can jump to the exact one you're after as fast as you can "Google" it!
Resources:
Tasks
Manage Watchers on Mobile (February 2021)
Previously, you could only add, remove, or view the full list of Watchers on Tasks via our Web App. Now, all those same great features have been added to Tasks on our iOS and Android Mobile Apps! You can view the list of current Watchers, remove existing or add new ones, and even search for specific users, all in just a few strokes of the thumb (or any other preferred finger).
The next time you're adding messages, photos, markups, or even just updating the status of a Task and realize there's someone new who should get a notification of what you've done or what you need (or someone old who doesn't need to get them anymore), you can find and add (or remove) them in a matter of seconds right from your mobile device.
Resources:
Manage Tags on Mobile (February 2021)
You're now able to create new Tags; add, edit, ore remove existing Tags; and even search for Tags on any Task from our iOS and Android Mobile Apps. Whether you're tagging a damaged carpet Task that needs #rework or a safety walk Task for a #client in #building2, you can now easily manage your Task Tags on the fly in the Field!
Resources:
Shift Task Dates on Web (December 2020)
You can now select multiple Tasks and adjust their starting dates forward or backward depending on your schedule's needs on both the Calendar and Gantt Chart Task Views. Let's say there's an unforeseen condition that's popped up on your project: if you need adjust the next few weeks of all existing planned activity to make room for it, you can do that in one fell swoop with the Bulk Shift Dates function.
Resources:
Custom Task Statuses (December 2020)
Our top customer request for 2020, the ability to customize your Task Statuses is a huge leap forward in your ability to configure Fieldwire to perfectly match your existing workflows in the Field and the Office. With custom names, colors, ordering, tracking and verification, and more for your Fieldwire Task Statuses, you can now transform Fieldwire like never before to match exactly how you're getting your work done, not the other way around.
Resources:
Forms
Duplicate Forms on iOS (January 2021)
Everyone's favorite shortcut feature for Forms on our Web App - duplicating filled forms - is now available on mobile too! This is particularly helpful if you're filling out a form like a Daily Report, where the inputs are largely unchanged from day to day (same man count, similar activities and equipment log, etc.). Just duplicate it to keep the inputs from the previous day and be on your way!
Signatures and photos don't carry over for duplicated Forms, so make sure you still obtain any necessary signatures or pictures to close it out.
Resources:
Account-Level Form Templates (January 2021)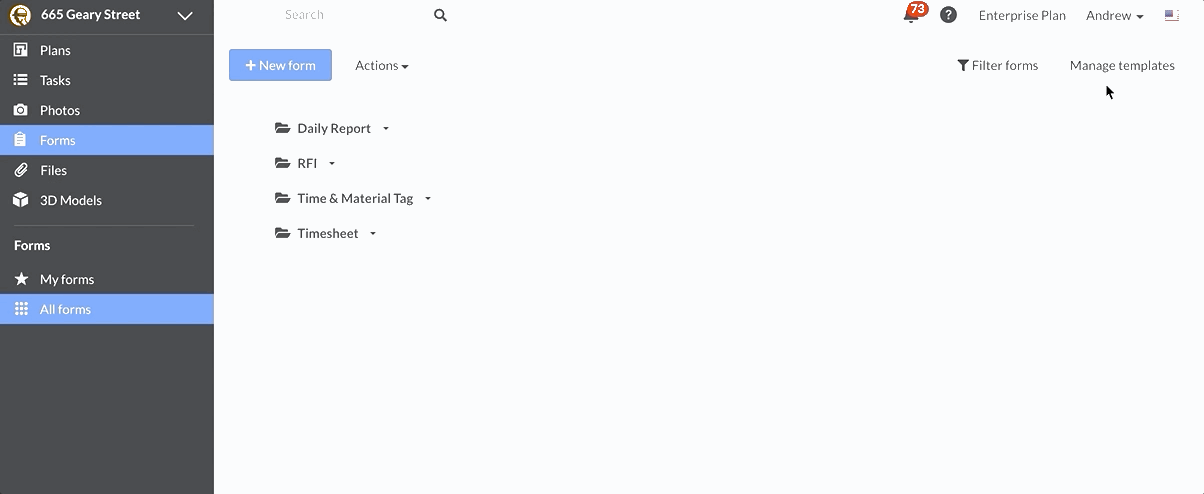 A huge game-changer for even more time-savings, Account Level Form Template management allows you to customize Forms once and copy them to any other Project in your Account with the click of a button! Account and Project Admins can add any Form and/or Custom List (to be added to any Form) to any Project from the new Account-Level "Templates" manager. If you've already built great Forms and/or Lists in one Project, you can also "push" those up to the Account manager so they can then be added to any other project. Now you need only customize a perfect form for your teams' Daily Reports, RFIs, change orders, or anything else you need to record with standard consistency once to bring that efficiency to all of your projects!
Resources: