Question
Can I invite a Basic user to a project covered by my Pro or Business Subscription for free?
Can I purchase both Pro and Business licenses for my users?
Example 1: We are a small business and only want to purchase 1 Pro license. Can I invite 3 basic users to my projects without paying an extra fee?
Example 2: I have bought a Business license, but would like to buy 2 Pro licenses for some of my employees, how do I do this?
Answer
Subscriptions are priced on a PER USER basis, this means any user one invites to a project covered under a Pro or Business plan will require a Pro or Business license. It is likewise not possible for the account owner to buy both Pro and Business licenses at the same time - all users on the account will need to be covered under the Pro or Business subscription.
Example 1: When you upgrade to a Pro or Business Subscription, on the Monthly cadence and invite users on the Basic plan (or who do not have an account), your account will be charged for those users at the monthly rate.
If you are on the Pro or Business Subscription, on the Annual cadence, you'll need to ensure that the number of annual licenses you have matches with the number of users you have - if your total number of users exceeds your total number of annual licenses, your account will be charged for those users at the monthly rate, prorated by the amount of time the users are on the account.
If the users you invite to your projects have already purchased their own Fieldwire Subscription, you will not be charged for adding these users to your project.
Project admins can check to see which project users are covered under the account by clicking on the people icon in your project:

If a user has a Blue Dollar sign next to their name, they will be charged through your (the Project Owner's) account: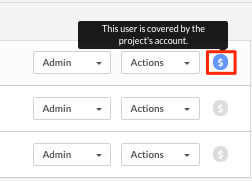 If a user has a Grey Dollar sign next to their name, they have a premium subscription of their own, so the Project Owner will not be charged for them: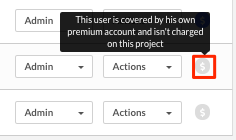 Example 2: It is not possible to have one Business license and two Pro licenses on the same account - all of your covered users will have to be on the same subscription tier.
Account owners can only checkout for one subscription type and any extra user (who does not have his or her own Premium license) who is added to the account after checkout will also be added to the account as a monthly user at the same subscription tier.
Example: Cody's construction business buys 3 annual Pro licenses. Cody invites his general contractor and a foreman, who do not already have their own paid subscription, to his Fieldwire project. The general contractor and the foreman are automatically given the two remaining annual Pro licenses. The general contractor then invites a subcontractor without a premium subscription to Cody's project. Cody will be charged an overage fee at the monthly rate for a Pro license for this subcontractor. The foreman then invites two more subcontractors to the project. One subcontractor has his own Pro license and the second has his own Business license. Cody will not be charged for these additional users. While there are two different subscription types using this project, they are not paid for by the same account and the user with a Business subscription will not be able to use Business features such as 360° photos or forms on Cody's project since it's covered under the Pro account.
It is possible for the same credit card to be used to pay for different accounts. If you have a larger business and some projects require a Business level subscription, but other projects only require Pro features, you can provide two different employees with separate accounts. Each account owner will need to go through the checkout process. They can input the same email address as the billing contact for their separate accounts (for example, the company's accountant) and add the same credit card information for both accounts. These account owners can then invite the necessary employees to their projects or accounts.
Once all your employees have their own licenses (ie. they are account users or managers), they can be invited to other Pro or Business projects at no extra cost.
Note: Be aware that if you invite your employees as project users, both the Pro and Business account owners can be charged for inviting the same user to one of their accounts' projects. To avoid being charged twice for the same user, consider inviting the users who need to leverage Business features as account users on the Business plan and users who need to leverage Pro features as account users on the Pro plan.
How to determine which Subscription will work for you
Here are a few tips and tricks you can use in order to save costs when using Fieldwire:
Consider buying annual licenses instead of monthly licenses.
For Pro, you pay $468 per user for the whole year ($39 per user per month), or $54 per user per month ($648 for the year) if you pay monthly.
For Business, you pay $708 per user for the whole year ($59 per user per month), or $74 per user per month ($888 for the year) if you pay monthly.
I.E. you save $15 per user per month ($180 per year) if you pay for the year up-front, rather than paying month-to-month.
Annual licenses are not assigned to specific users, so if you have one employee who needs to work on a project for several months and a second employee who has a project the following months, you can remove the first user from your account when the project ends and invite the second employee. The annual license used by the first employee will automatically be used to cover the second employee.
Upgrade when you need Premium features and downgrade when you don't
If you would like your users to complete a few tasks and upload progress photos, but do not make regular reports, or create forms, consider leveraging a Basic account.
As a reminder, those who have Basic Fieldwire subscriptions can have up to:
3 total projects
5 unique users
100 total plan sheets
If, at the end of the project you need to make a task report or export your plans as a PDF, consider upgrading to a monthly plan for one month, or transfer the project to a Pro plan in order to export the project content.
At the end of the day, our software is designed to save our users time, so they can concentrate on increasing productivity in the field. We hope the benefits of our reporting, file, and document sharing outweigh the costs for your business.
More Information
Our billing is transparent and we'd like to ensure that you are empowered to find a subscription that will work for your team - please refer to these additional articles on how to manage it for your teams' needs, and please email support@fieldwire.com if you have any questions: