Question
I'd like to upgrade from a Pro to a Business license or switch from the Monthly to annual plan -
how do I do this?
Answer - Switch from Pro to Business or Vice Versa
If you'd like to switch from a Pro to a Business license or vice versa, please follow the instructions:
Note: Only the Account Owner or an Account Manager can switch from Pro to Business, or vice-versa.

1. Go to app.fieldwire.com on your computer or on your mobile browser (you CANNOT reach these pages via our iOS and Android mobile apps), log in to your Fieldwire account, and click where we list your current 'Pro/Business Plan' in the upper right corner of the screen:

2. You will be directed to the 'Account' page. Next, select 'Click here to manage your subscription':

3. Click on the subscription you wish to obtain. If you are on a Pro subscription, you will need to click on "BUY BUSINESS" to continue to upgrade to the Business subscription.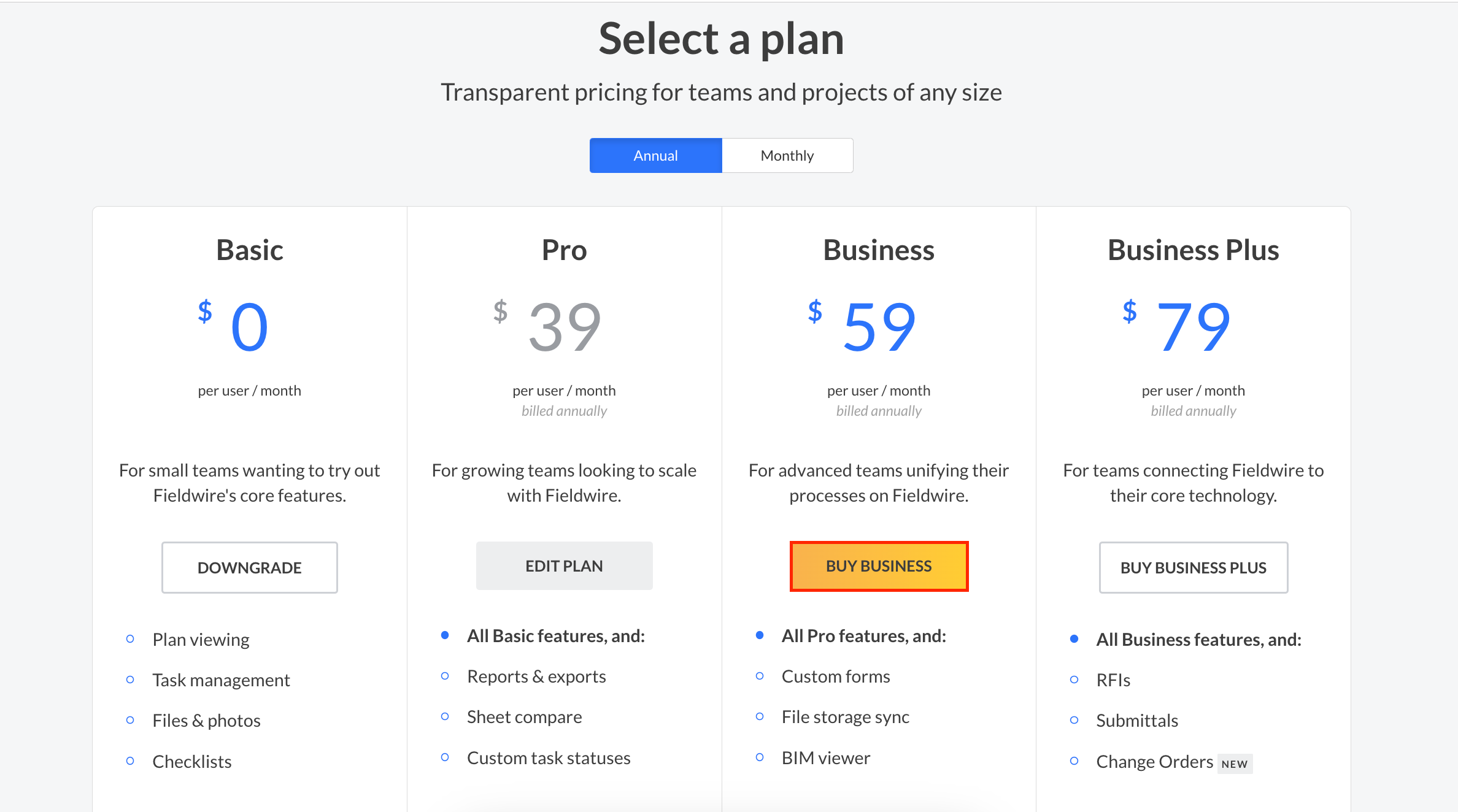 If you are on the Business subscription, and you'd like to switch to the Pro subscription, select 'Downgrade' under the Pro section: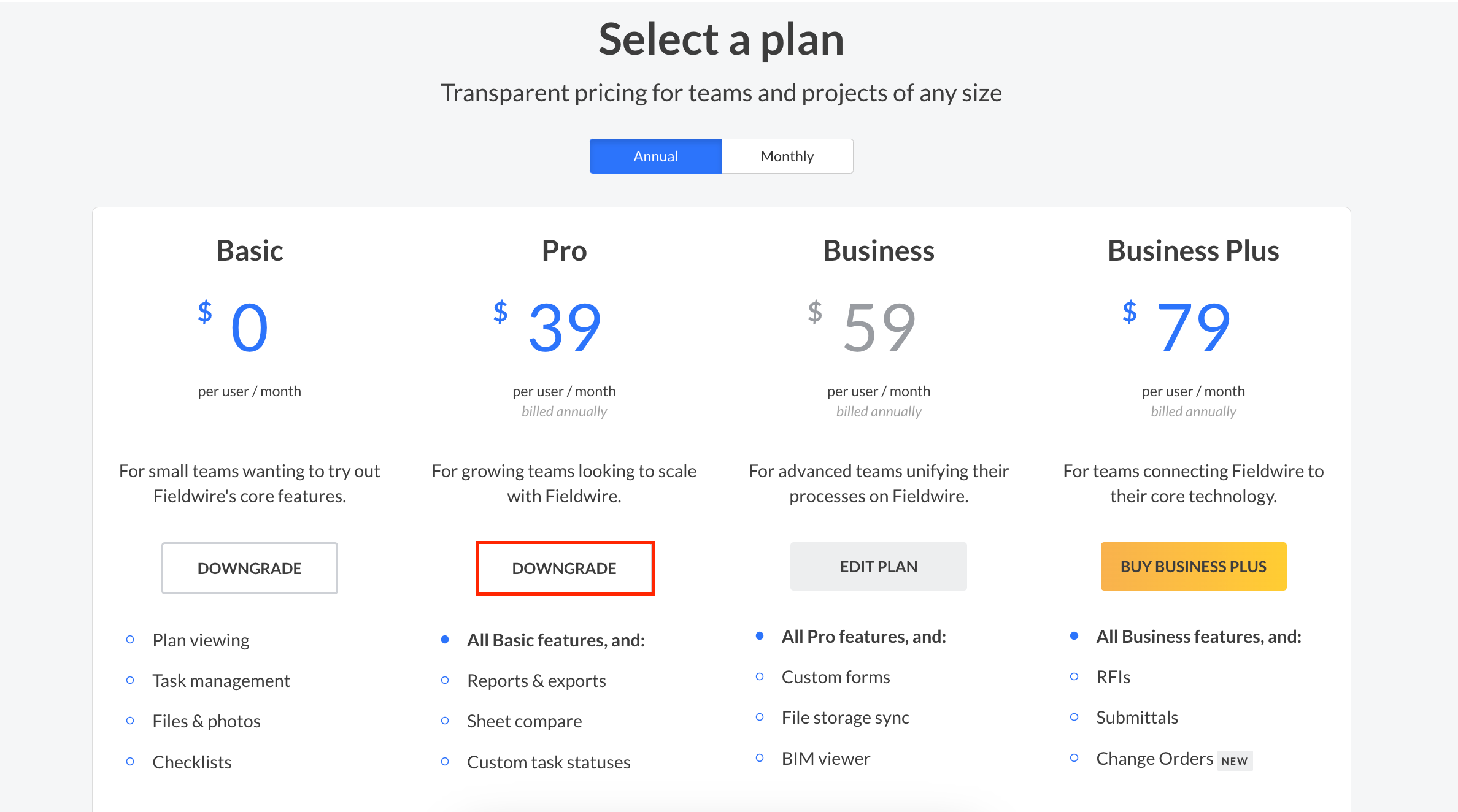 4. Select Monthly or Yearly billing cycles. We recommend annual billing for any user that will be using Fieldwire for an extended period of time. Paying for the year in advance saves you $15 per user per month versus paying at the monthly cadence.
If you have additional users that will only use Fieldwire on certain projects for less than a year at a time, then simply invite them to your account or projects as additional users (above your annual license count) and you'll be charged for them month-to-month. Whenever they're done contributing, simply remove those users from your account to stop being billed for them.
Tip: Be sure that everything is to your liking before clicking the "Subscribe" button. Once you do click that button, your subscription will be updated based on your checkout selections.
Note: If you have a Pro subscription and are switching to a Business subscription, you'll be pro-rated on the remainder of your billing term to make up the difference in price. If you have a Business Subscription and are downgrading to the 'Pro' subscription, you'll receive a credit on your account for the unused time. This credit will automatically be deducted from your upcoming Fieldwire charges until it is fully used up.
You can preview the amount you will be billed by reviewing the 'Invoice total'.
Tip: Please look for an 'Invoice' email from Fieldwire confirming the subscription change. The email will be sent to the email address listed as your 'Recipient' under the 'Invoice Information' section of your Account Settings.
Answer - Switch from Annual to Monthly or Vice Versa
You can also change the payment cadence for your plan from Annual to Monthly (and vice-versa) at any time. Here are the steps to do so:
1. Go to the "Account" tab on the Account page.

2. Choose "EDIT PLAN".
3. Choose whether you want to update to the Monthly or Yearly cadence:
Note: Like with swapping between Subscription Tiers - Only an Account Owner or Account Manager can make the switch between the Annual and Monthly cadence.
More Information