Overview & background
Fieldwire strives to be the most intuitive and powerful field management solution in the construction industry. We pride ourselves on continuously expanding our platform with both innovative designs you won't find in any other application and by responding to our most consistent customer feedback with improvements to our existing products.
We also value radical transparency, so this article includes a running list of the new and improved features we most recently released. Please let us know your own feedback on these updates as well as what you'd like to see us build next at support@fieldwire.com!
Jump To:
Specifications
The Specifications Tab (July 2022)
All Projects created after July 26th will automatically have the Specifications tab! This tab will allow Project Admins to upload and organize their Specification files all in one location. When you upload your specifications document, our system will divide the document into sections and version them so that both the field and the office teams have the most up-to-date information!
Resources:
Tasks
Swipe to Change Task Status (August 2022)
Android: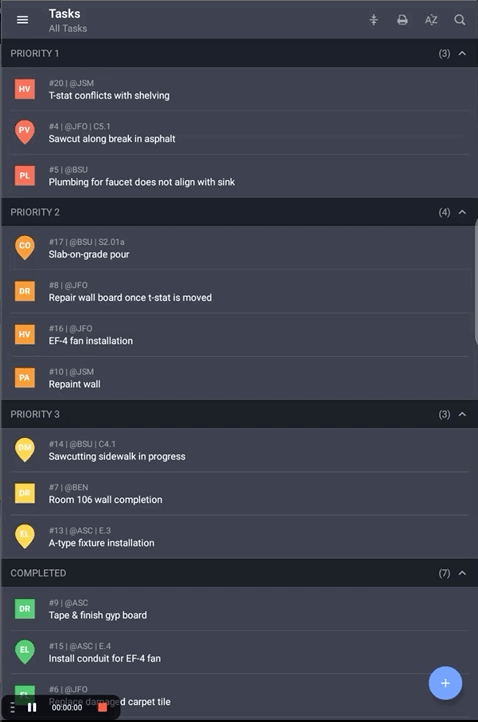 iOS:
The ability to swipe to change task statuses is here! This will save you a few clicks on mobile and speed up your process when working on multiple tasks per day.
When swiping to the right (-->), you will be changing the task status to "Completed" or your version of it if you are utilizing Custom Task Statuses. When swiping to the left (<--), you'll see a pop-up where you'll be able to choose which status you'd like to change that task to.
Resources:
Submittals
The Submittals Workflow in Fieldwire (July 2022)
Submittals, a new tool in Fieldwire, streamline the process of requesting confirmation on the type of materials that will need to be ordered. Submittals can be integrated with your project's Specs in the new Specifications tab as well as in other areas of the Fieldwire app. Along with RFIs, Submittals are a part of Fieldwire's Project Management.
Resources: