2-Way syncing with your Box or Dropbox account allows any changes you make in Fieldwire to automatically sync back to a saved folder in your Box or Dropbox account, and vice-versa. In other words, anytime you make changes to your files in one program, those changes will update in the other program as well. This will keep a constant and complete record of your project files in your preferred cloud storage program.
Box/Dropbox 2-way syncing is available to all Business and Enterprise level users who have upgraded since April 12, 2017. For all Business or Enterprise users that upgraded prior to that date, please contact us at support@fieldwire.com if you wish to enable 2-way syncing on your projects. Please also note that once you switch to 2-way syncing, you cannot switch back to 1-way syncing.
2-Way Syncing Set-Up:
To first enable 2-way syncing, click the "+ New Plan" button on the Plans page and choose either Box or Dropbox. Then connect to your cloud storage account and you will see a new button reflecting that connection at the top of your Plans page.

If you check in your Box/Dropbox account, you'll see a new "Fieldwire" folder appear there, and it's in that folder that all of the files in your synced projects will be stored. There will be a folder for each project you connect to Box/Dropbox, and within each project's folder will be 4 other folders: Plans, Photos, Files, and As-Builts. You can create one layer of subfolders within each of these 4 folders, and doing so in the Plans or Files folders will automatically duplicate that subfolder within Fieldwire (and vice-versa).
If you would like you can rename the "Plans," "Files," "Photos," and "As-Builts" folders in Box and Dropbox. 
If you rename the project folder, it will subsequently change the project name in Fieldwire.
Do not rename the root "Fieldwire" folder to preserve syncing between Fieldwire and Dropbox.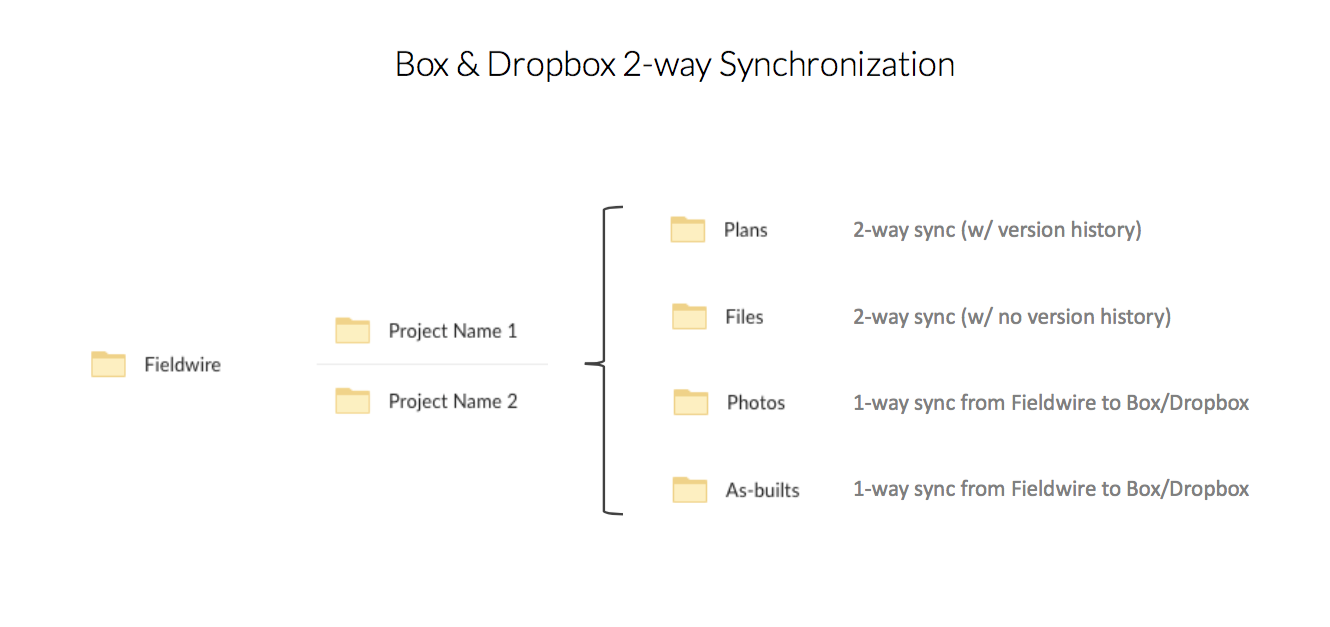 When you add new plan sets (we recommend single sheets, not multipage files) to the Plans folder of the project in Box or Dropbox, they will automatically sync to Fieldwire. If you upload them to Fieldwire, they will then appear in the Plans folder in cloud storage.
Since this is a 2-way sync, any name edits or plan deletions in one program will occur in the other program, so be careful before doing so. The same is true for the Files folder of the project in Box or Dropbox as well.
The Photos folder and the As-Builts folder are only 1-way sync, which means that you cannot add new photos or as-builts directly to Box or Dropbox and have them show up in Fieldwire. Only photos added in Fieldwire, or as-builts created in Fieldwire, will sync over to Box/Dropbox. Subfolders made in these folders in Box/Dropbox will also not sync over to Fieldwire.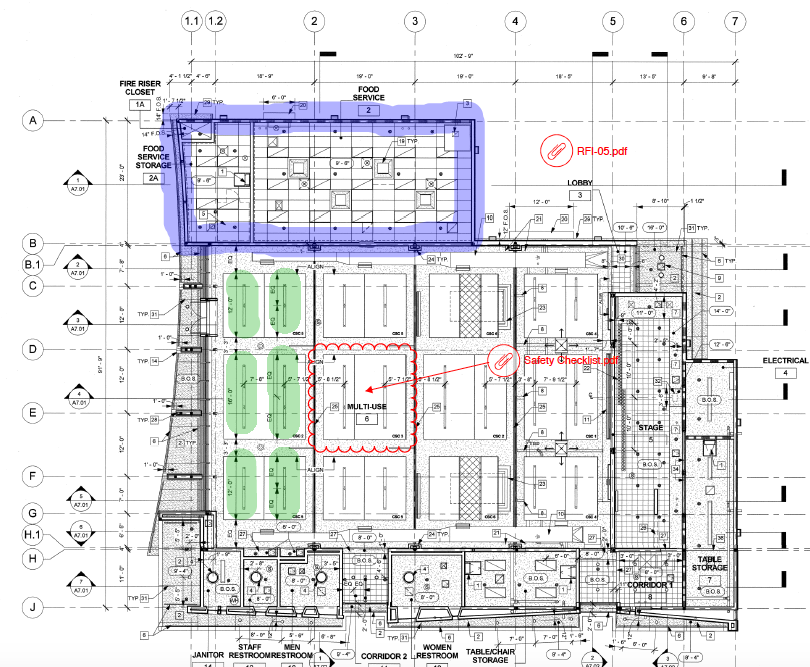 Should you ever decide to disable the syncing connection between Fieldwire and Box or Dropbox, just click the syncing button at the top of the Plans page and select the "Disconnect" option. Please note that if you later decide to reconnect to Box or Dropbox again in the future, all of the existing data in Fieldwire will replace whatever data was previously stored in the "Fieldwire" folder of your Box or Dropbox account.
For a better example of Box/Dropbox 2-way syncing in action, please watch our tutorial video on the subject: