Overview

& background
After logging in to Fieldwire on your mobile iOS or Android device, you'll arrive at the Projects page where you can view all of your active projects.
Table of Contents
Project dashboard on iOS:

Project dashboard on Android: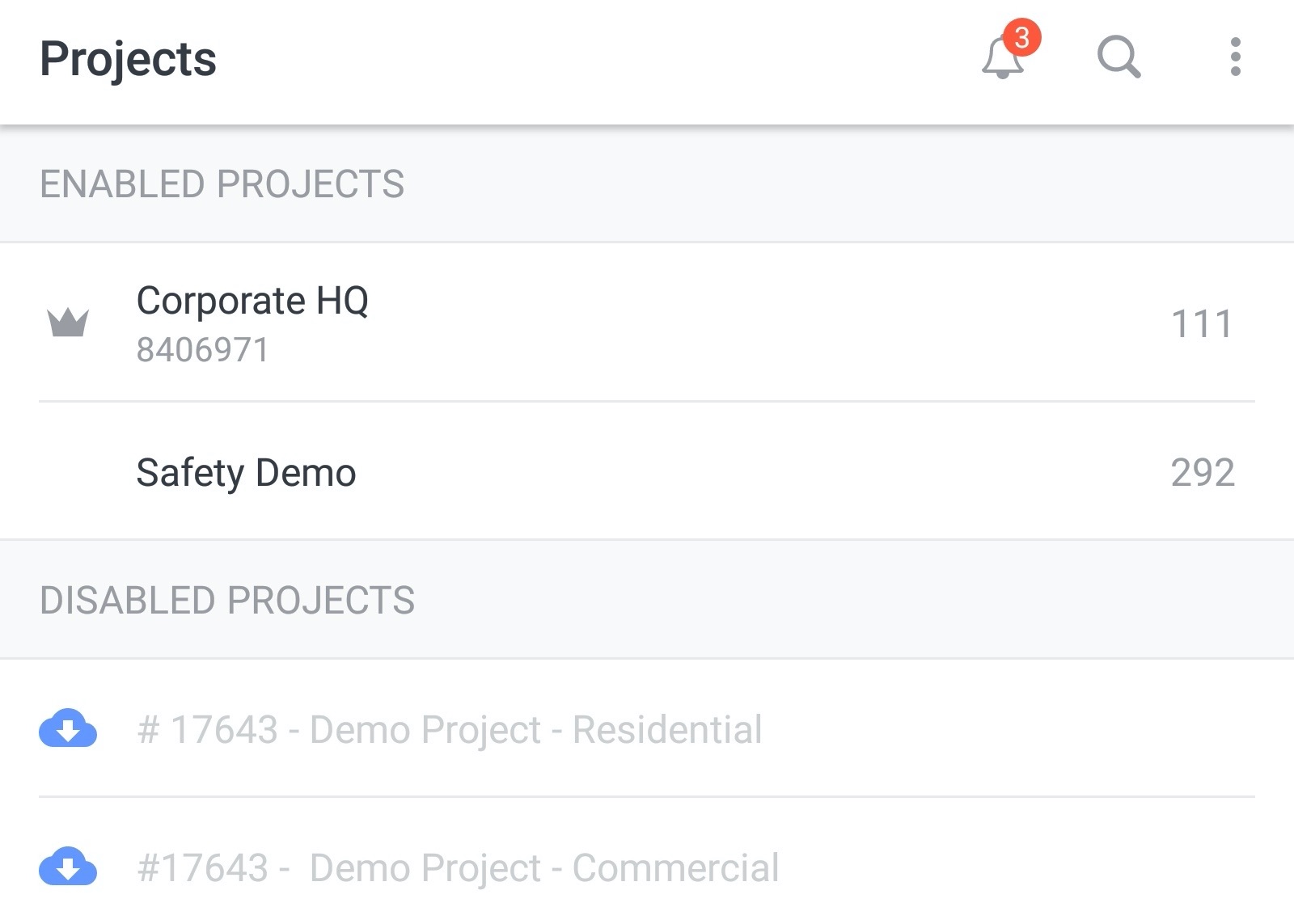 Note: From the Project dashboard, you may see and receive a message that some of your projects are "Blocked". This is due to one of two reasons:
Search for Projects in your Account
Select the magnifying glass icon to search for any Project(s) in your account by name. This is a great shortcut for determining which are currently downloaded on your mobile device ("Projects on device" on iOS, aka "Enabled Projects" on Android), which you may want to disable to save storage space when you're done using them, versus those that are not downloaded currently ("Other Projects; on iOS, aka "Disabled Projects" on Android) that you may want to activate in order to start using them in the Field. Jump down to Selective Syncing for more information on that .
New Project
Though it's often easier to start and set up projects on the Web Version of Fieldwire, you can create new projects from the mobile version of Fieldwire.
On iOS, to create a new project, click the "+" button in the top right corner of the screen: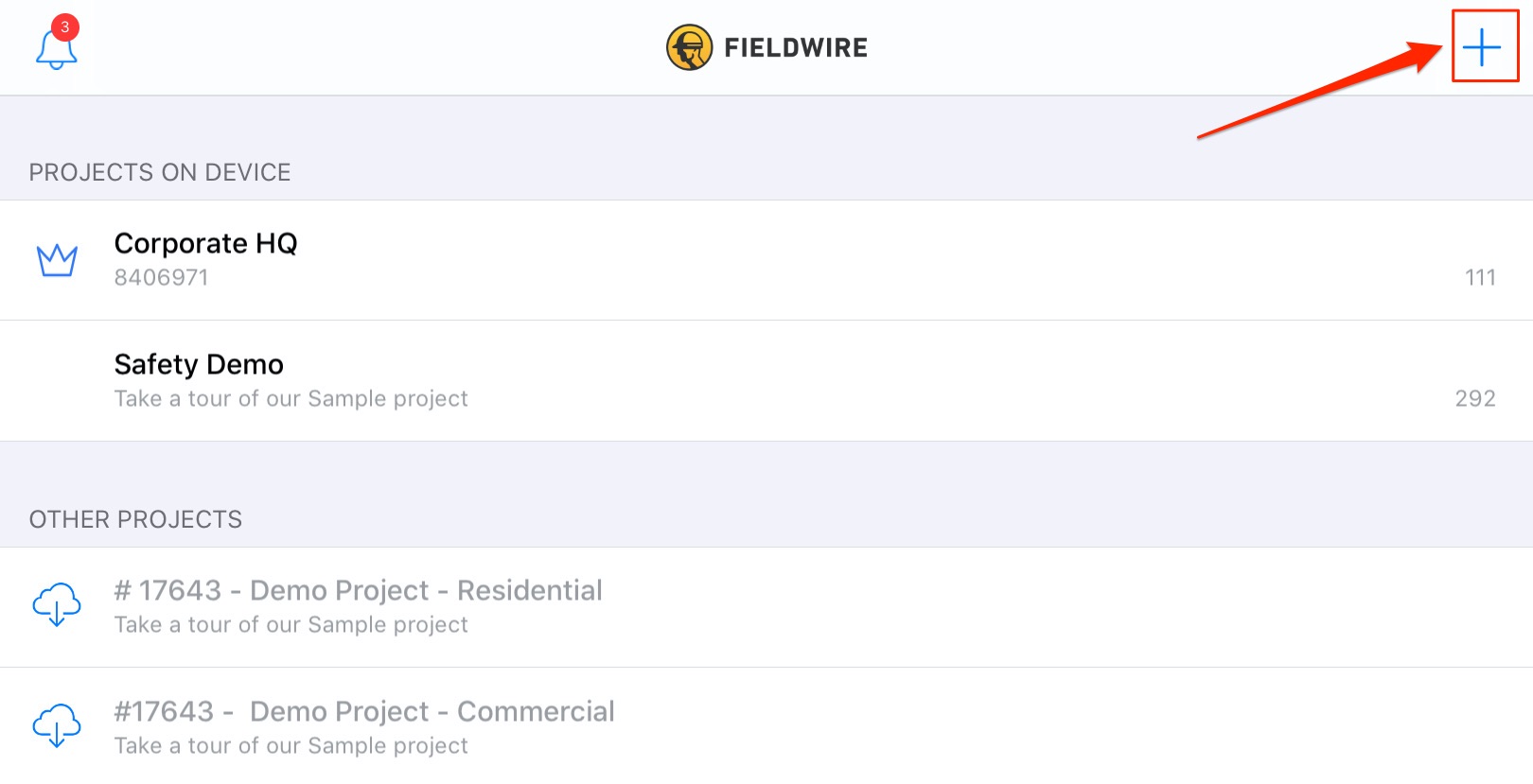 On Android, to create a new project, click the "+" button in the bottom right corner of the screen: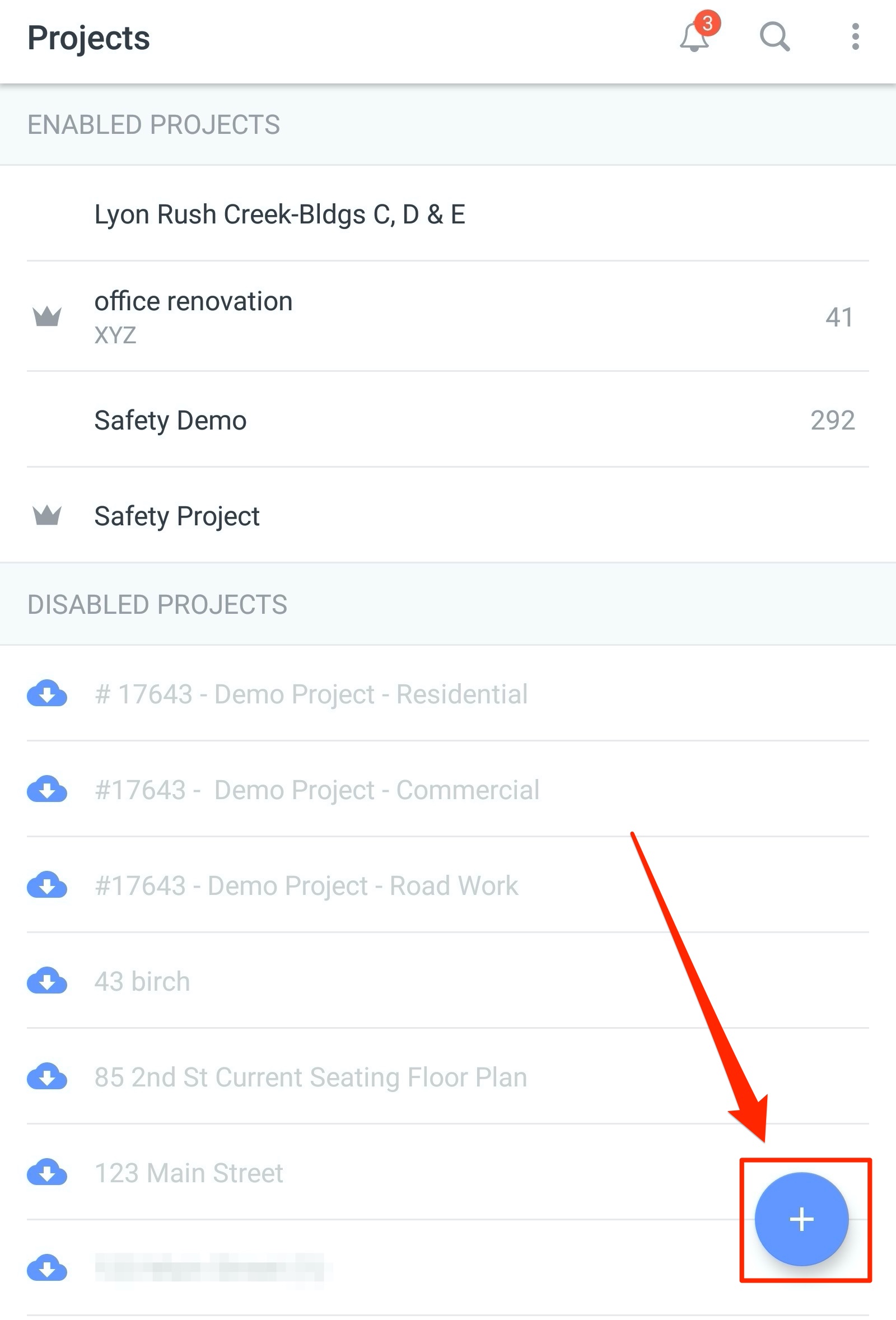 Selective syncing
Fieldwire defaults to 'Selective syncing'. Selective syncing allows you to choose which projects you want to view on your mobile device. Projects will default to 'Disabled' to save data for projects that you are not actively working on. Just click on the project if you ever want to enable it.
If you have not turned off selective syncing, then you can see the 'Projects on Device', or 'Enabled projects' and the 'Other Projects' or 'Disabled projects.'
The projects you've enabled will appear at the top of the dashboard page, separated from the remaining un-synced projects. Projects with a crown icon next to the title indicate that you own and/or are an Admin. All other projects that you have been invited to (that were created by others) will not have this icon.
On iOS: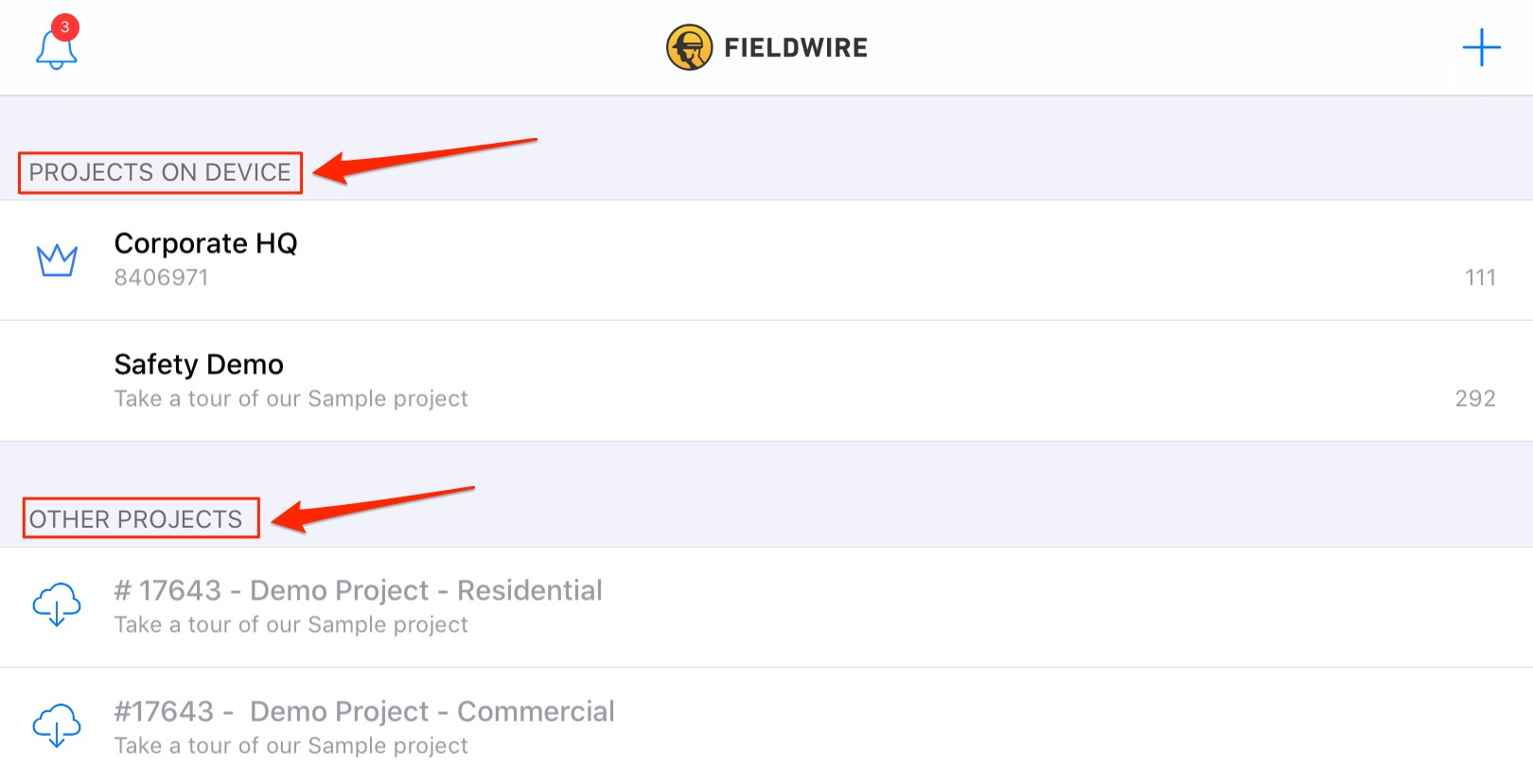 On Android: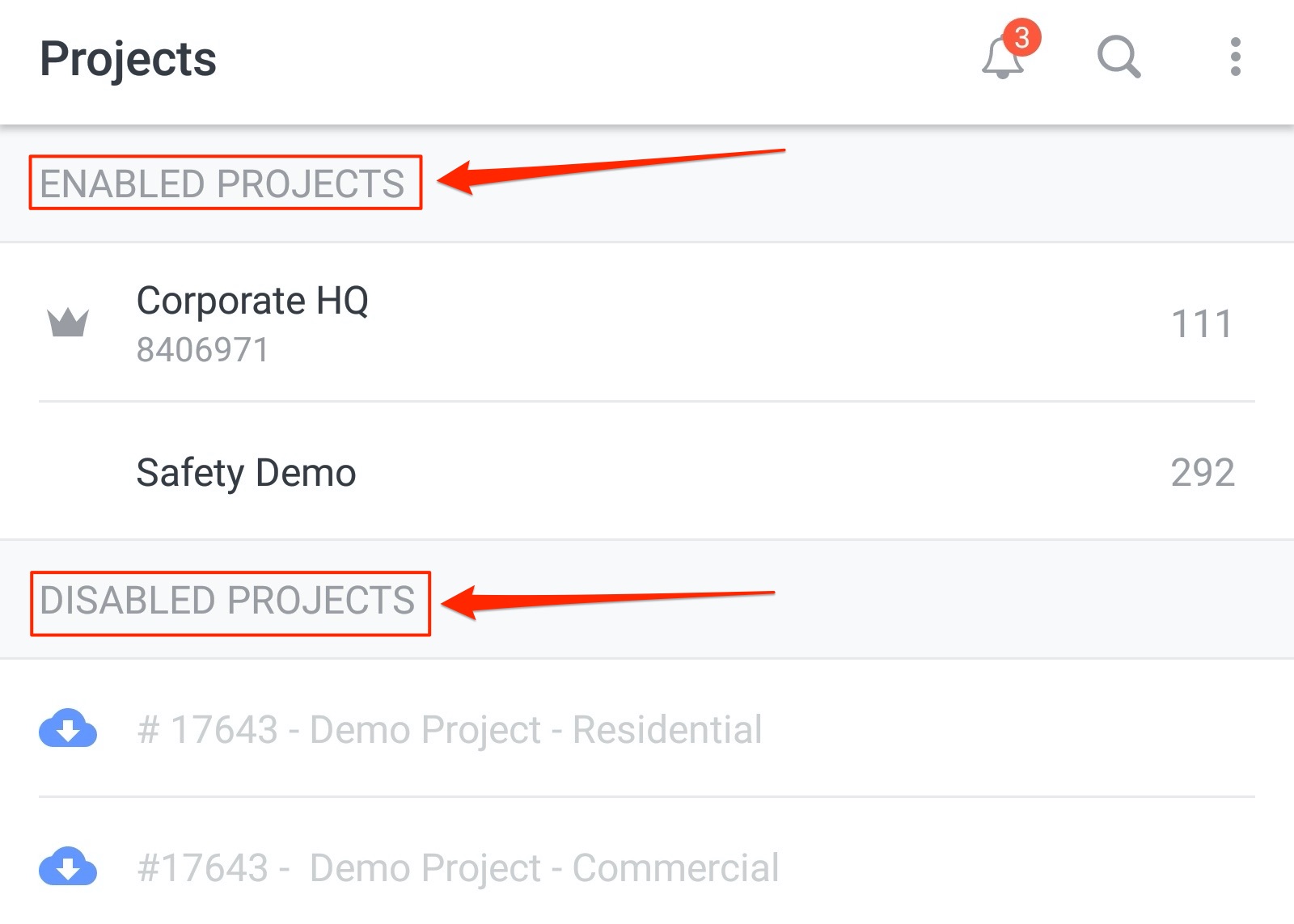 Tip: Make sure that you are connected to WiFi when you select the cloud icon to enable it. Once the project downloads to your device, you can select the project title to open the project.
Profile settings
On Android, select the three vertical dots to open the profile settings, view the amount of storage Fieldwire occupies, request help, refresh the page, or sign out of Fieldwire: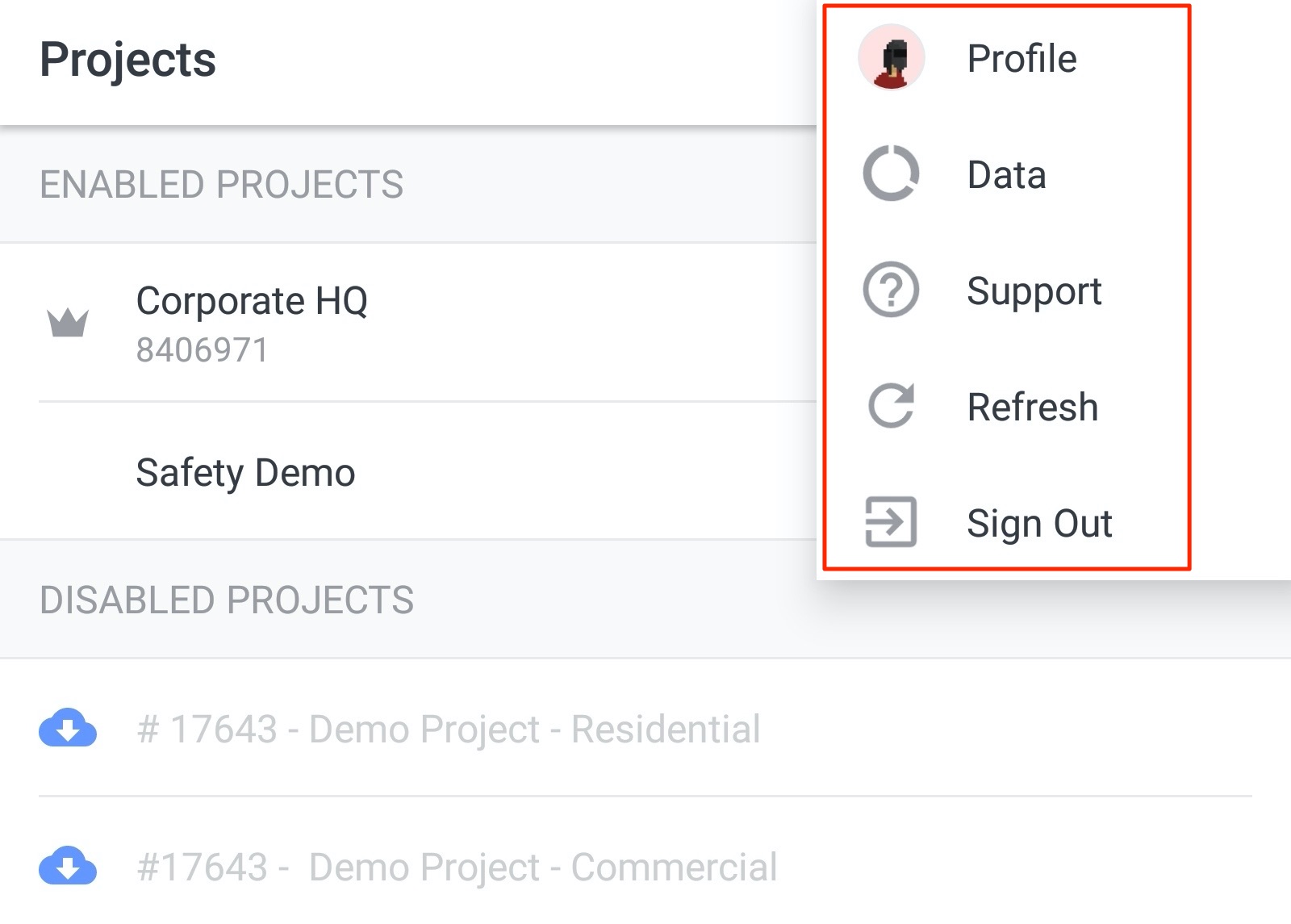 On iOS, at the bottom of the dashboard page, you can change your profile settings, request help, or log out of Fieldwire.


Under "Profile" you can edit your name, company, contact information, email notification settings, and (iOS only) request Basic tier account deletion.
Under "Support" you can view tutorials, report bugs, request features, or contact Fieldwire Support. You can also see the 'Version' of the app.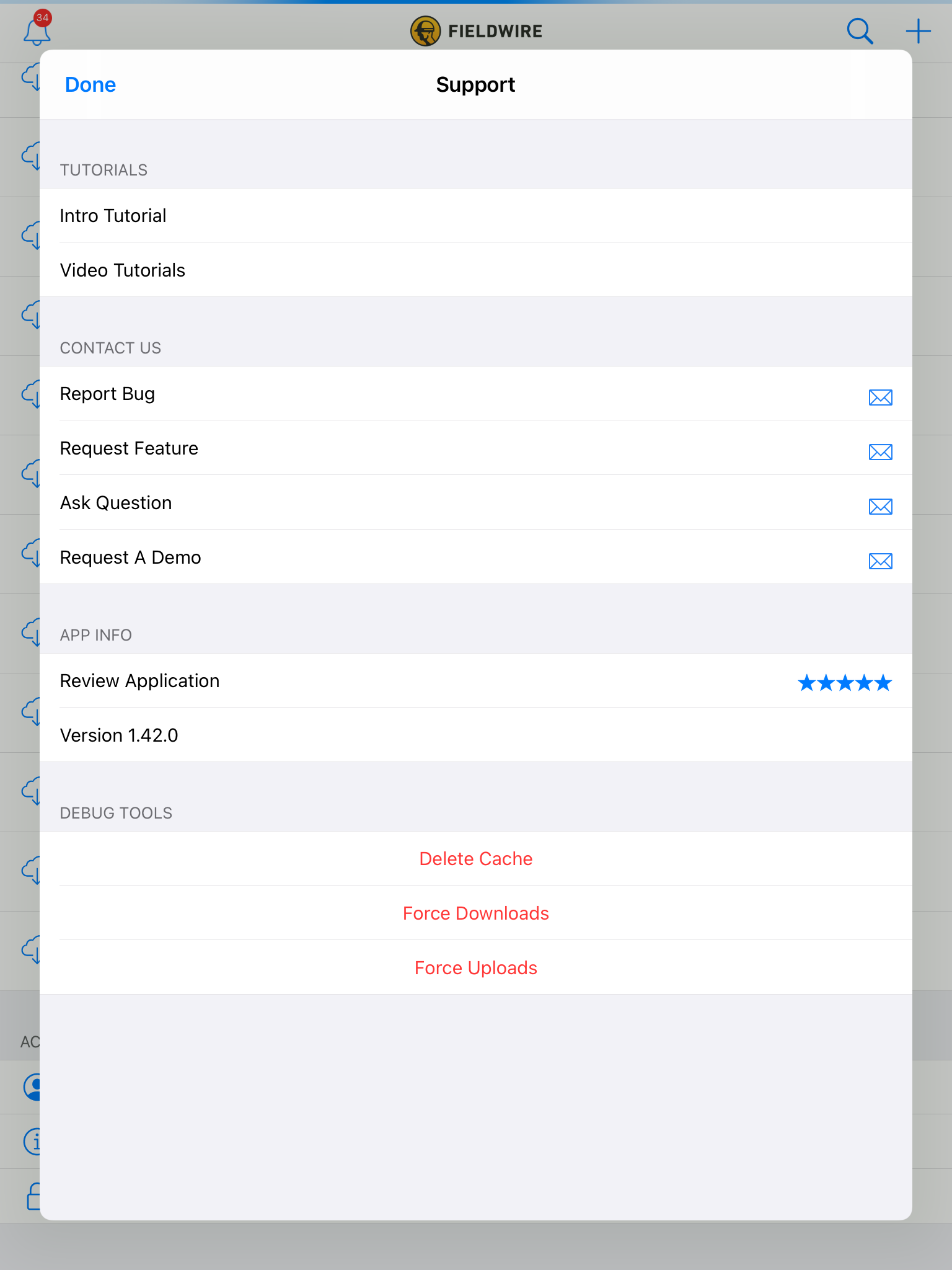 On iOS, if you ever have issues with downloading content, you can select 'Force Downloads'. Alternatively, if the content on your iOS device does not push to the Web, choose 'Force Uploads'.
Note: Both of these options are considered de-bug tools. If you have any trouble with synchronization, please refer to either article on syncing:
More information