After you've uploaded your plans, all detail, section and elevation callouts on the plans should automatically activate, creating red hyperlinks.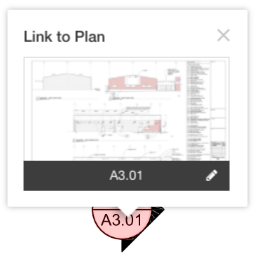 If your hyperlinks have not automatically activated, please check the following:


1. Time
If you've just uploaded the plans, it may take several minutes for the hyperlinks to be enabled. Uploading a high volume of plans at once can increase the time it takes for the hyperlinks to populate.
Solution: Wait 24 hours for your hyperlinks to load. 


2. Plan name
The sheet number within Fieldwire needs to match the callout exactly. If this is not the case, you can very quickly scan the sheet numbers and descriptions in bulk.
For example, for the following callout, Fieldwire will search for a sheet numbered "A1.01":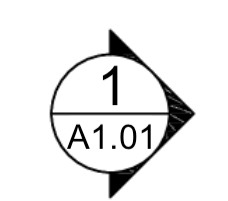 CORRECT

    sheet # matches callout,

    description on second line

 
INCORRECT

    sheet # does not match callout

    sheet # contains description

 
INCORRECT

    sheet # does not match callout   

    sheet # contains version

Solution: If your sheet names are incorrect, you can very quickly scan the sheet name and description in bulk.


3. Obscured callout or sheet number
Your plans may have been uploaded with errors or blurred areas, which prevents the OCR from recognizing the plan names. This can also happen if lines or markings from the plans themselves are overlapping the hyperlink details.
Solution: Correct the plans and try uploading again.


4. Scanned documents
Scanned PDFs tend to have inherent hyperlink problems because the PDF tends to be lower quality. The OCR will not read lower quality PDFs as effectively. Fieldwire's OCR works best with text (readable) PDFs, so be sure to export your plans from AutoCAD to PDF in text format.
Solution: Upload readable (text-based) PDFs of your plan sets, i.e. select vector PDFs as the format that is exported from CAD or REVIT model.


5. Font type
If the font used to print your hyperlink details is not a TrueType font i.e. a typical, readable font. SHX fonts and AutoCAD for Mac are not currently supported by our software. You can read this article for more information on the subject.
Solution: Ensure your plans use a TrueType font and re-load into Fieldwire.


If you have eliminated these possibilities and your hyperlinks have still not activated, please contact us at support@fieldwire.com so we can assist you.