Overview:
The Tasks tab allows you to manage and keep track of every task on your project. No matter what work is being undertaken, there are always questions, observations and/or issues which need to be addressed in a visible and straightforward manner. Fieldwire tasks replace haphazard phone calls and emails, and are a catch-all way of documenting the following:
QA / QC issues
Inspection observations
Punch items or deficiencies
Safety issues
RFI's and change orders
Work progress
Delays
Design and pre-con coordination
Variations
General communication and instant messaging between team members
And more!
Table of Contents
What is a task?
To create a task directly on plan, simply open any individual plan from the 'Plans' tab and select the pin icon on the markup toolbar: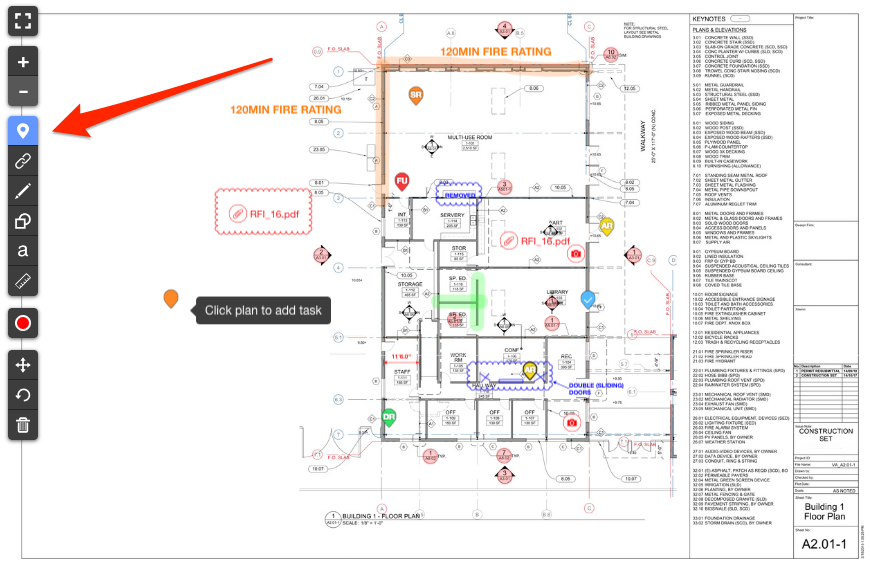 It looks slightly different, but you can also do this in our mobile apps: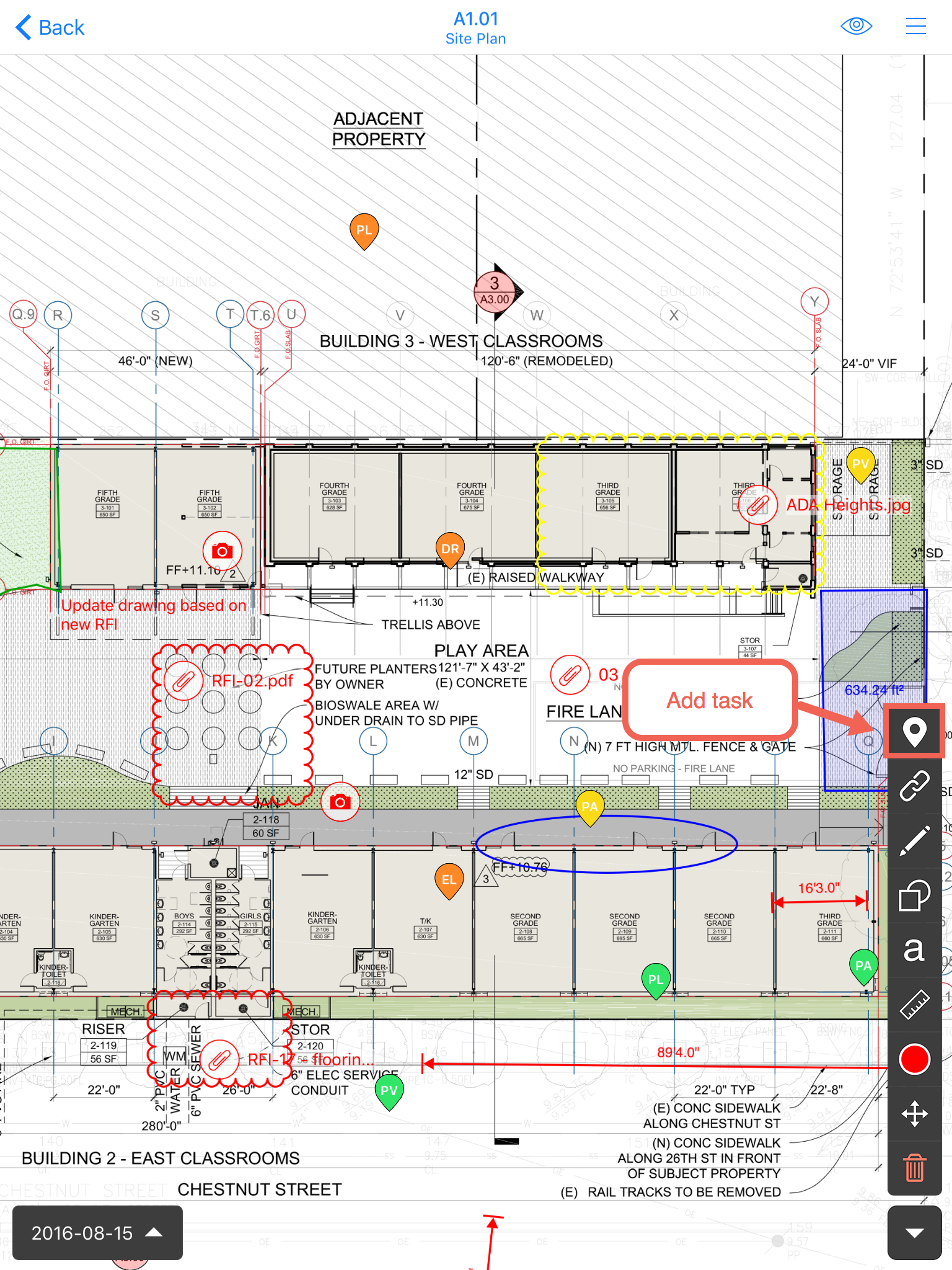 Once you've created a task, you can then quickly fill out the fields most relevant to your team and workflows. Here's an example of a task with all its attributes (right side) filled out and a few examples of messages and attachments you can add at any time (left side):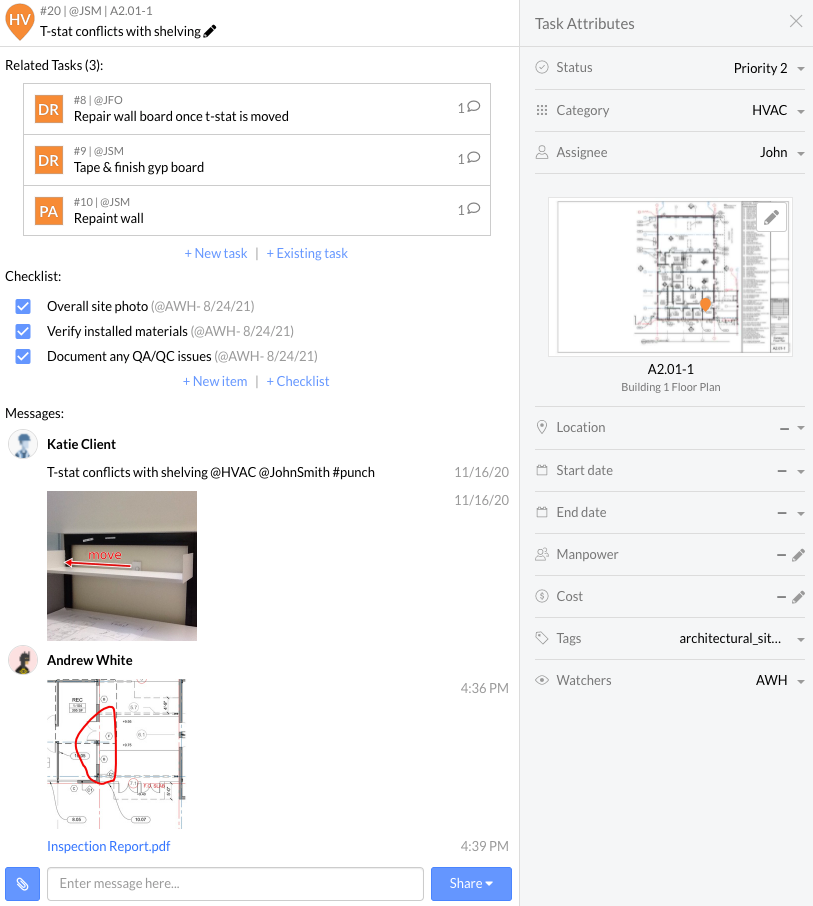 Task Content
You may have noticed that our example task above is tracking a construction activity: T-stat conflicts with shelving. On the left, you can see the correspondence (instant messages and attachments) between Katie, Andrew, and John, including:
Task Title ("T-stat conflicts with shelving" in the example) - give your tasks practical titles that will be easy to search for later on. Titles have a 255 character maximum, and the first message you add to the Task automatically becomes the title if you haven't already set the title field directly.  
A related task, which is simply a linked task
A checklist, which tracks the initials and date that each item has been checked off
These checklists can be inserted from templates, making the task set-up very quick
Time and date stamped correspondence
A detailed plan mark-up (referred to as a Crop Plan), added by selecting the paperclip attachment button
A link to a PDF file
A marked-up photo that Katie took on her mobile device in real-time
Task Attachments
The following items can be added to tasks through the 'paperclip icon':
Photo / File - Upload a photo or file related to the Task
360° Photo - Users on the Business Subscription can add 360° photos taken by a Ricoh Theta or other 360° camera. 
Existing Photo -  The "Existing photo" option allows you to attach any photos stored under the "Photos" tab to your Task. 
Existing file - This option allows you to link a file that has been uploaded into your project.
Form - Attach an existing Form, or create a new Form Template in the task. 
RFI - Create a new or attach an existing RFI to a task. If you choose to create a new RFI, you can choose to copy the photos from the task directly onto the RFI.
Link (URL) - Hyperlink a webpage to the task. 
Google Drive - Upload any Docs, Sheets, or Slides to your task. 
Crop plan - Here you can include a cropped section of the plan to highlight the exact location in question.
Task attachments are extremely useful as they allow users to insert progress photos, pertinent forms and files, as well as crop plans that show the exact location of the task on the plan sheet all within the task itself.
Task Attributes 
On the right, you'll see task attributes, which allow you to manage and filter your task data. These attributes are the backbone of Fieldwire's task management capabilities and are the mechanism by which you can improve the efficiency of your projects, allowing you to:
Adjust the Task Status.

You may either use the default statuses (on the Basic plan) or you may leverage Custom Task Statuses (if the project is on a Pro plan or above). Read more about custom task statuses in this article

Categorize tasks
Assign the task to a user you've invited to your project. 
Adjust the location of the task. 
Adjust the Start and End date to schedule the task. 
Add the Cost. 
Add Watchers who will receive updates on the task. 
Custom Task Attributes
Custom Task Attributes (CTAs) allow Business tier users to add attributes to track project-specific data and disable unneeded attributes. They allow users to customize their tasks to track project-specific information, whether it's estimated man-hours vs actual man-hours, task completion percentage, or something entirely different.
Note: If you have access to the Fieldwire API and would like to access CTAs through the API, please see our developer page for more in-depth information.
Note: You can clone custom task attributes from one project to another during the project cloning process.
Project Admins can create and edit Custom Task Attributes under the Project Settings tab. In order to create CTAs, Project Admins will click on 'Manage attributes' under the "Task customization" section.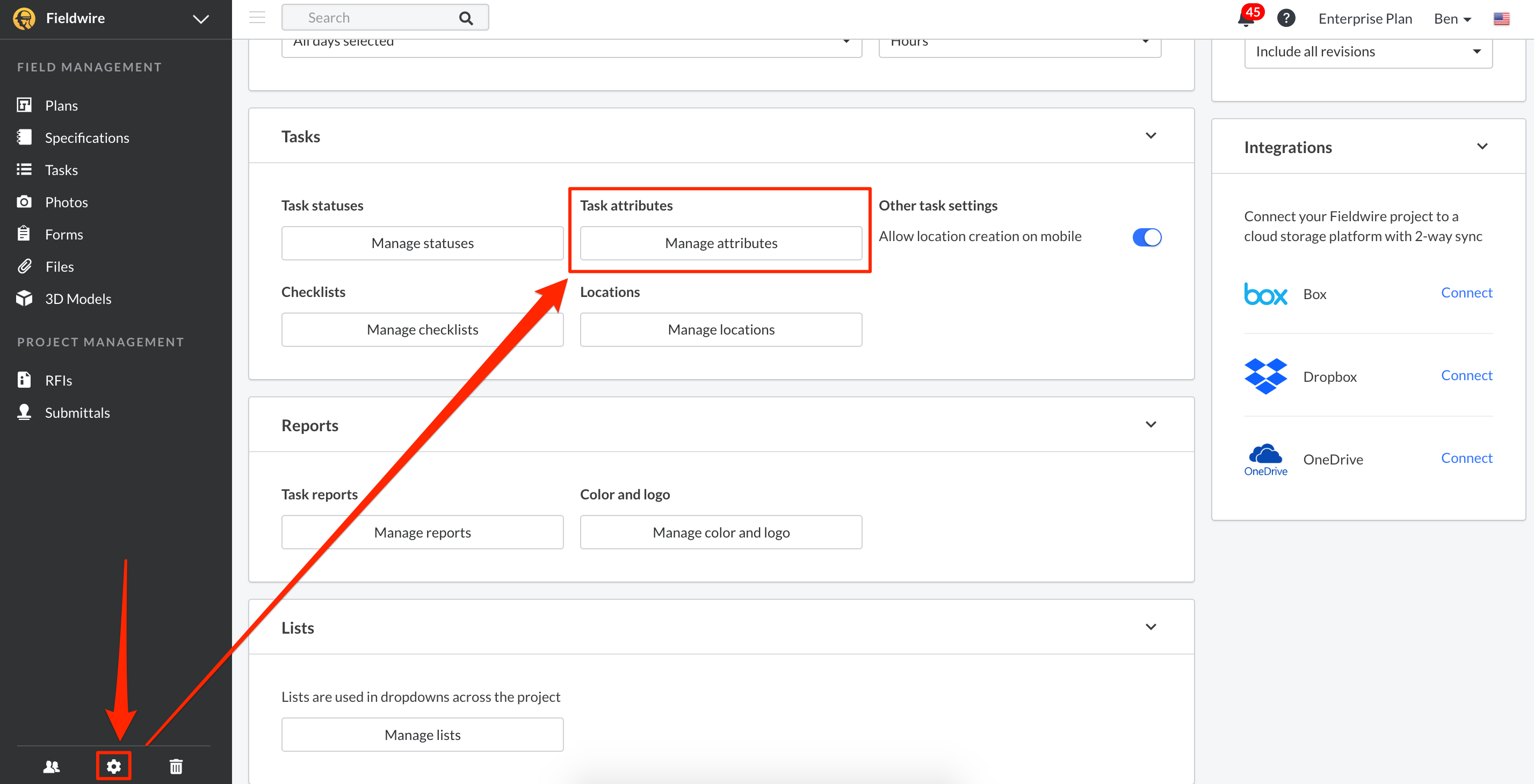 From there, the Admin will click on "+ Add custom attribute" then choose the "Short text", "Number", or "List" attribute type and name the attribute. Attributes must have unique names. Finally, the Admin will select "Create" to create a new Task attribute. Currently, a maximum of up to 20 Custom Task Attributes can be created per project.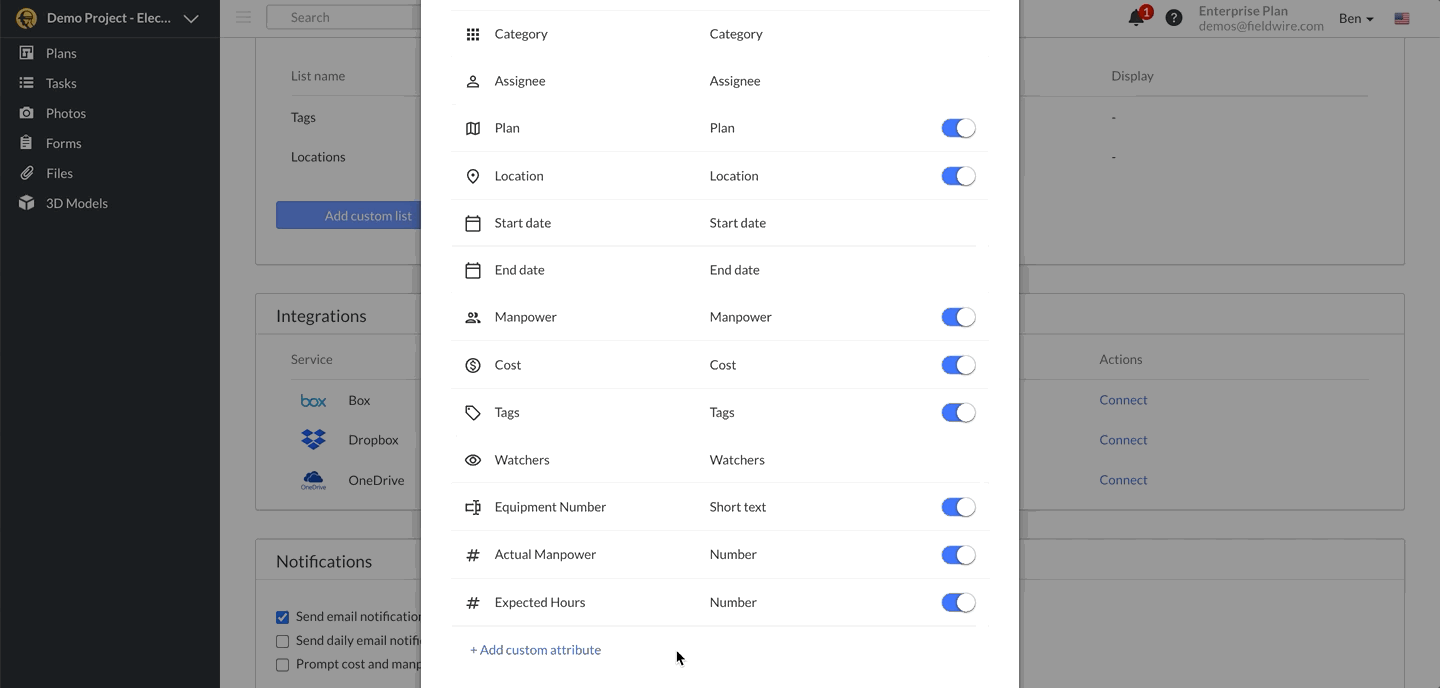 To add or remove the Custom Attributes on Tasks, Project Admins can toggle the attributes "on" or "off" as showcased by the box in the screenshot below next to "1.". Toggling attributes on and off will add or remove those attributes from all tasks, whether they are newly created or already existing. You can also toggle off certain default attributes: Plan, Location, Manpower, Cost, and Tags.
Additionally, the text and number type attributes can be edited/renamed by clicking on the Pencil icon next to the name as shown in the screenshot below in the box next to "2."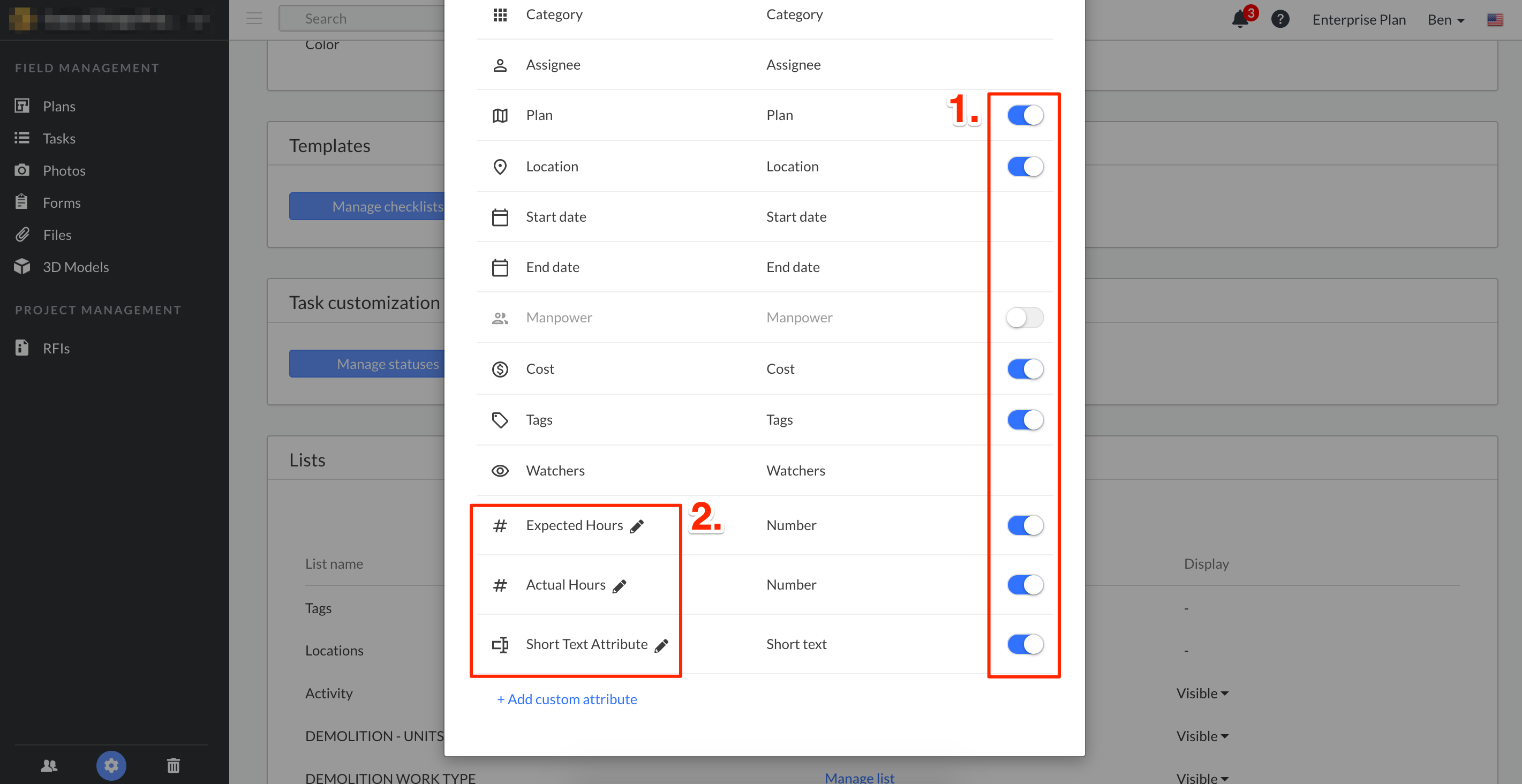 Once the task attributes have been updated, the tasks in the Tasks tab, may look something like this: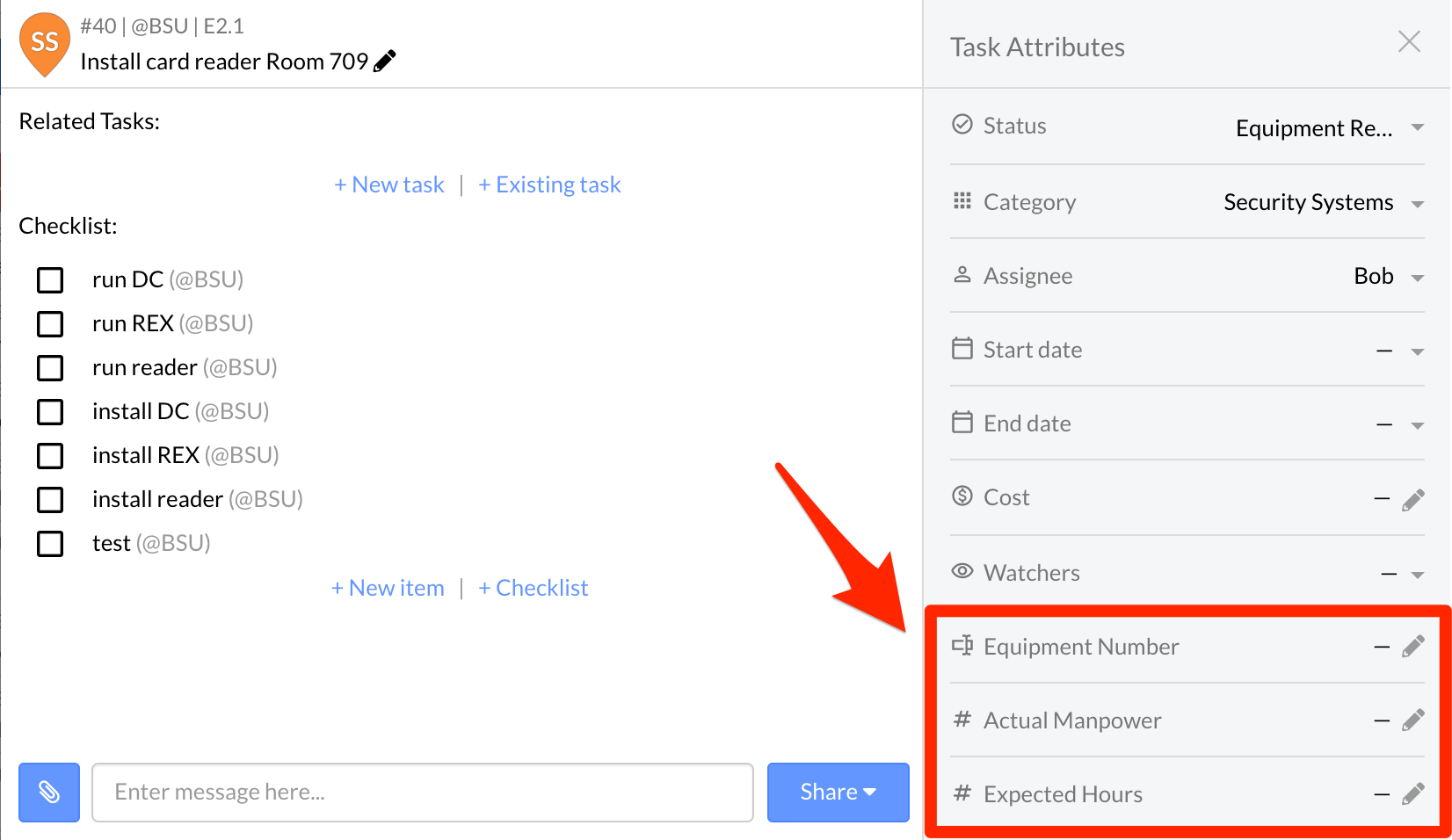 This is how the task will look on mobile:
Android: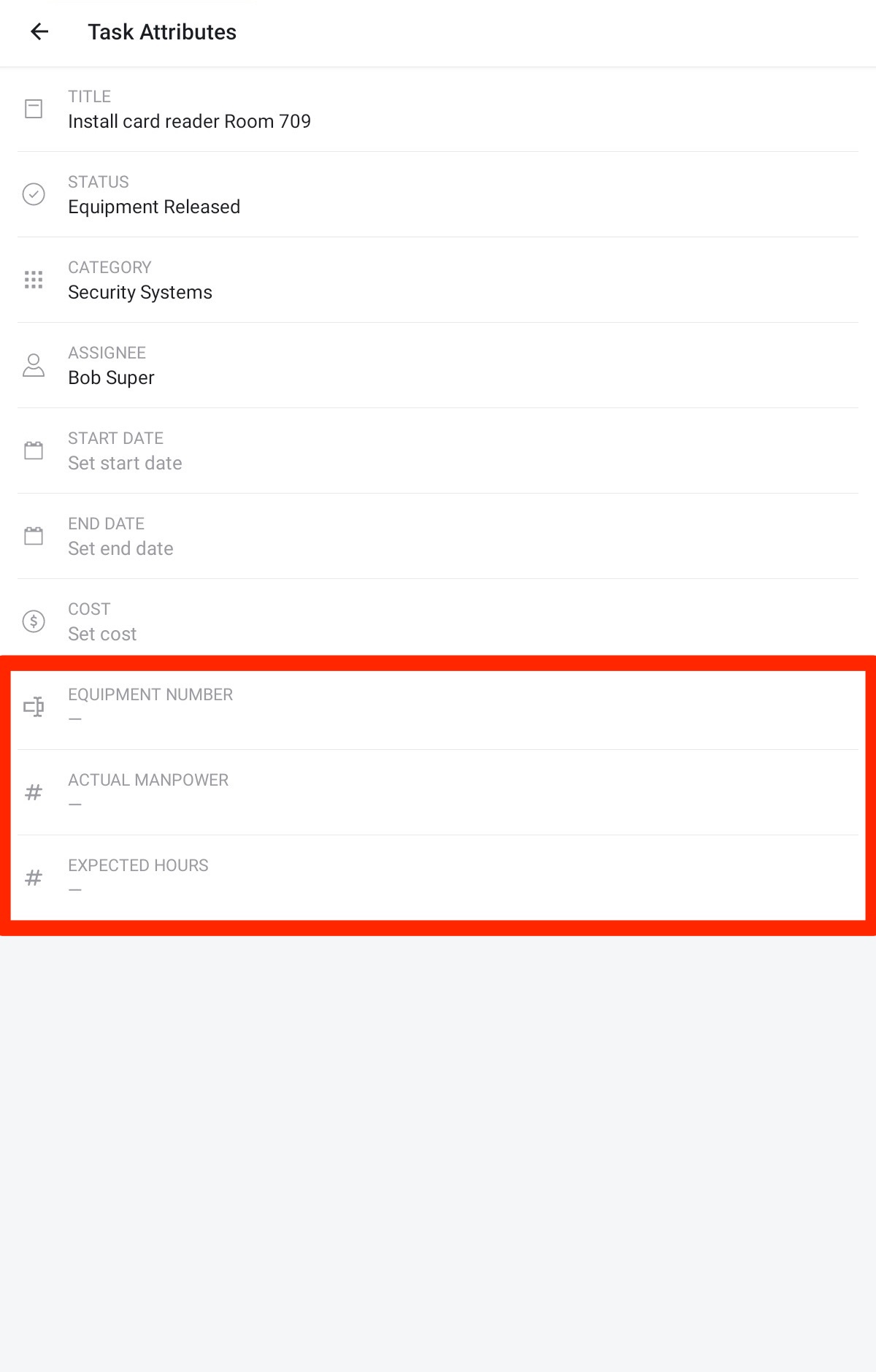 iOS: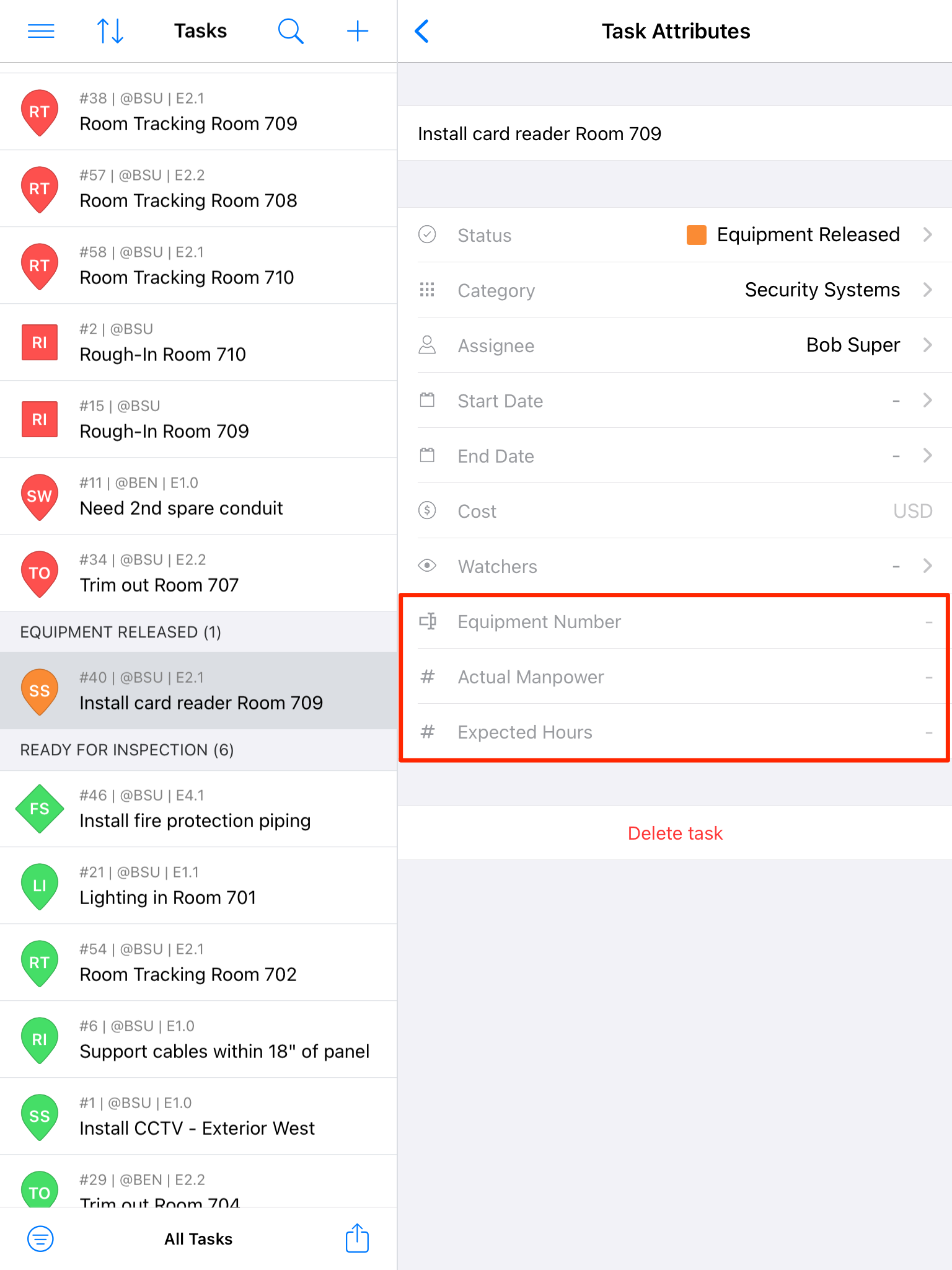 Filtering with CTAs
Custom Task Attributes can now be used when filtering tasks! To do so, you'll navigate to the Tasks tab, and click on the "Filter tasks" button. From there, you'll notice that any Custom Task Attribute that is toggled "on" will show up as an option by which to filter tasks.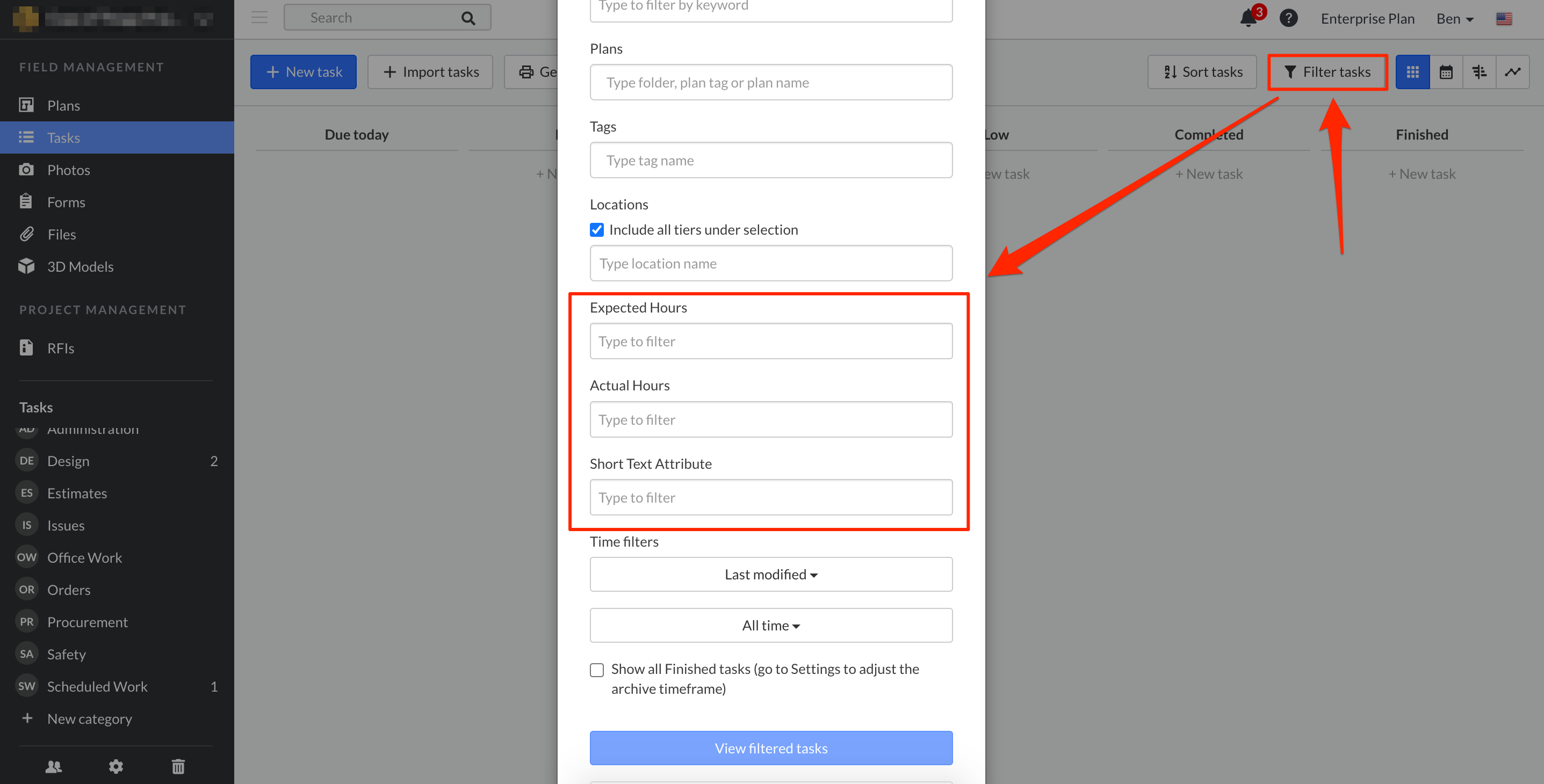 Distributing Tasks
No matter the stage of your task, you can distribute it in 3 different ways: email it directly from Fieldwire, copy & paste the information, or export it as a PDF. This is useful to inform project members who are not utilizing Fieldwire: 

Note: Each user can send no more than 50 Task Emails per-day. If you exceed this limit, you will not be able to send another task email until 24 hours have elapsed since the 50th email was sent: 


Advanced Task Features
As your projects expand and you build up more and more tasks, we have developed a number of advanced features that allow you to manage tasks in a very time-efficient manner, such as:
 

More information
Tutorial Video on Creating Tasks


Tutorial Video on Managing Tasks
Video Tutorial on Advanced Task Features




Tutorial on Exporting and Importing Tasks