In July 2018, Fieldwire released a "Forms" module in beta for all Business and Enterprise users. This is a new way of using Fieldwire, alongside the existing plans, tasks, and files. Below is an article which describes Fieldwire's RFI Forms.


Overview & background 
RFIs are designed to formally communicate questions with the design team, client, or general contractor that will likely affect the contract scope, drawings, and/or specifications. Using the Fieldwire app, you can quickly and conveniently create, discuss, and close RFIs on mobile or web.
Whether you are online, offline, in the office or on site, you can use the Fieldwire app to generate an RFI form. Within Fieldwire's RFI form you can: 
Populate general information such as date, where the RFI is occurring, and how it may impact the cost and schedule. 
Ask your RFI question, often from the field, take photos and make suggestions. 
Answer and close the RFI.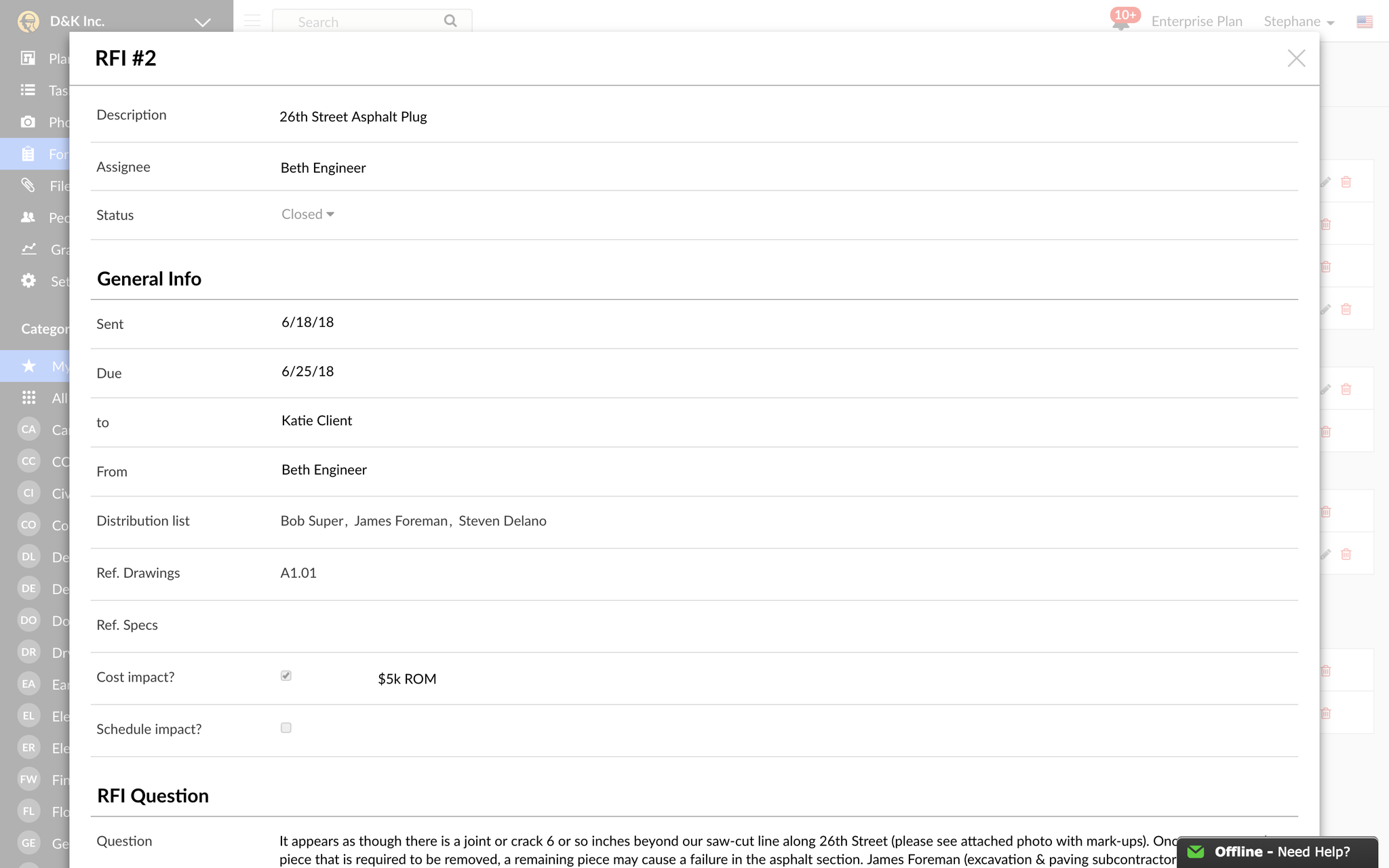 Completing an RFI Form

Form attributes
RFI Number (#) - Fieldwire automatically generates a Form number which cannot be edited.
Description - A freeform section which allows you to customize the RFI title. You could use this section to describe the RFI (e.g. "Footing clash with existing pipe"), or you could include an internal RFI number.
Assignee - The person responsible for filling out the RFI at a given time. You have the option to re-assign the RFI to someone you might need input from.
Status - When creating an RFI, the Status will default to "Draft". Once the RFI question has been included in the form, the status should be changed to "Pending". Once the RFI response has been provided, its status should be changed to "Closed". The status can also be changed to "Void" if this RFI is no longer applicable.
General Info
Sent / Due / To / From - Mandatory fields to document when the RFI was sent, when there needs to be answer by, who will be sent the RFI, and who is sending the RFI.  
Distribution List - Here you can add project members who need access to the RFI. 
Ref. Drawings - Plan drawings that are related to the RFI.
Ref. Specs - Open field to identify relevant section from spec book. 
Cost Impact / Schedule Impact - Estimate of what the RFI might cost and how it will affect the schedule.
RFI Question 
Question - Mandatory field where the question and all additional information should be entered. For example, "The client requests to change the carpet color to navy blue in room 101." 
Suggestion - Optional field to add in a suggestion of how to handle the RFI. 
Attachments - Option to upload photos, new files, existing files, and crop a plan in reference to the RFI.
Submitted by - Drop down list to communicate who filled out and submitted the RFI Question. 
RFI Answer
Response - Open field to answer the RFI Question. For example, "Yes, we can change the carpet color to navy blue in room 101."
Attachments - Option to upload photos, new files, existing files, and crop a plan in reference to the RFI.
Answered by / Answered date - Drop Down list to communicate who actually answered the RFI and the date they did it. 
Submitting Forms
Once the mandatory fields have been entered and the RFI has been completed, you can submit the form by changing the Status to either "Void" or "Closed." After the form has been submitted, it cannot be edited unless a project Admin changes the status back to "Draft" or "Pending". 
The form creator, assignee, and last editor will receive a notification when the form has been submitted. If you would like to send the completed RFI as a PDF, you can download the form on web. If you need more information on submitting forms take a look at this article.  


Notifications


Refer to this article for information about notifications.


Error messages


If you're experiencing error messages due to unsynced or missing information, refer to this article.


More forms

If you're interested in learning about Fieldwire's other Form options, check out this article.