Overview & Background


It is often helpful to make a form duplicate if you know your forms will have a lot of duplicative entries. It can also be helpful to clone your form templates across different projects so you won't have to recreate a form in every new project. This Help Article explains both processes.

Note: Only Project Admins and Members can duplicate forms.

How to Duplicate a Form on the Web


Duplicating a Form is helpful if there will be overlap across your forms - i.e. repeat entries. To duplicate a form on the web version of Fieldwire (app.fieldwire.com), follow the steps below:
| | |
| --- | --- |
| Step 1: | Select the Form(s) you'd like to Duplicate. |
| Step 2: | Select the 'Actions' button. |
| Step 3: | Select 'Duplicate'. |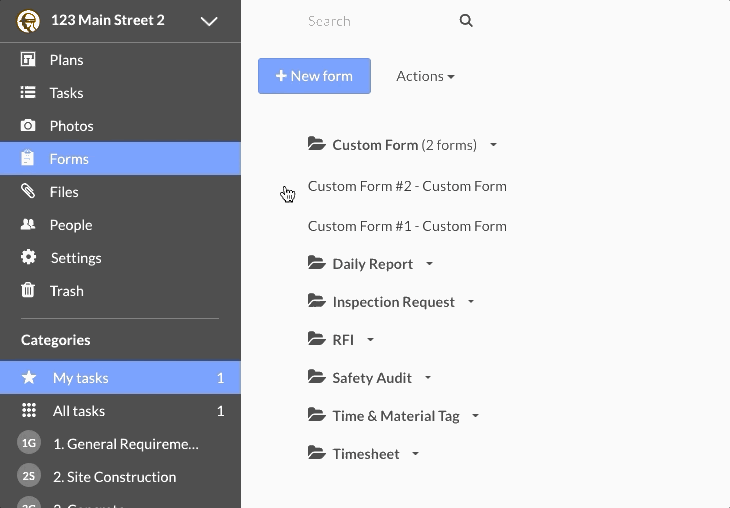 Note: Once you duplicate a form template, it will become available on the mobile version of Fieldwire. This is the best workaround if you want to have multiple copies of a form available on your mobile app.
How to Duplicate Forms on Mobile
In addition to duplicating forms on the web version of Fieldwire, you are able to duplicate forms on the iOS and Android versions of Fieldwire:
1. Select the 'Forms' tab: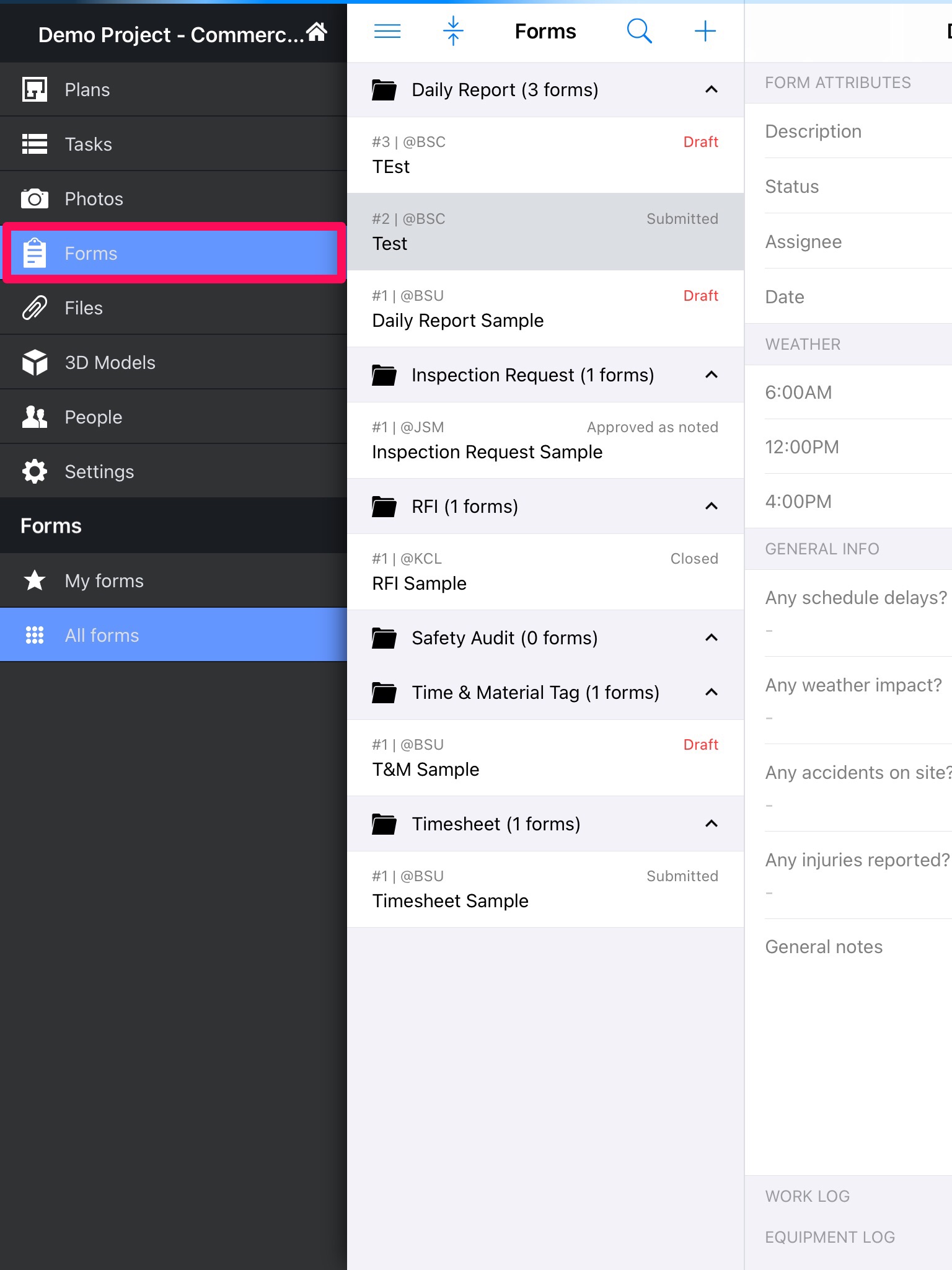 2. Select the Form you would like to duplicate and then select the "..." option: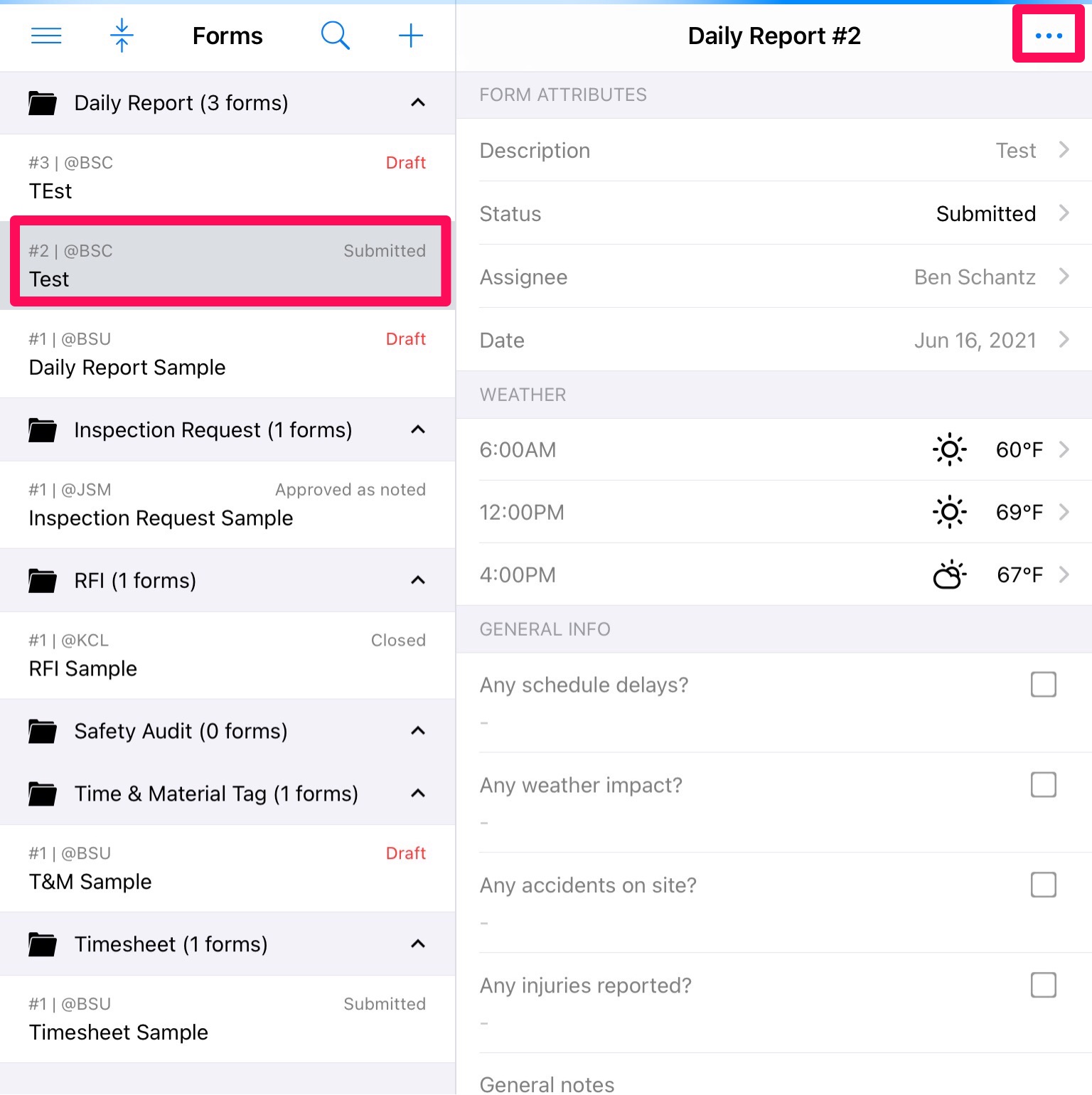 3. Select "Duplicate":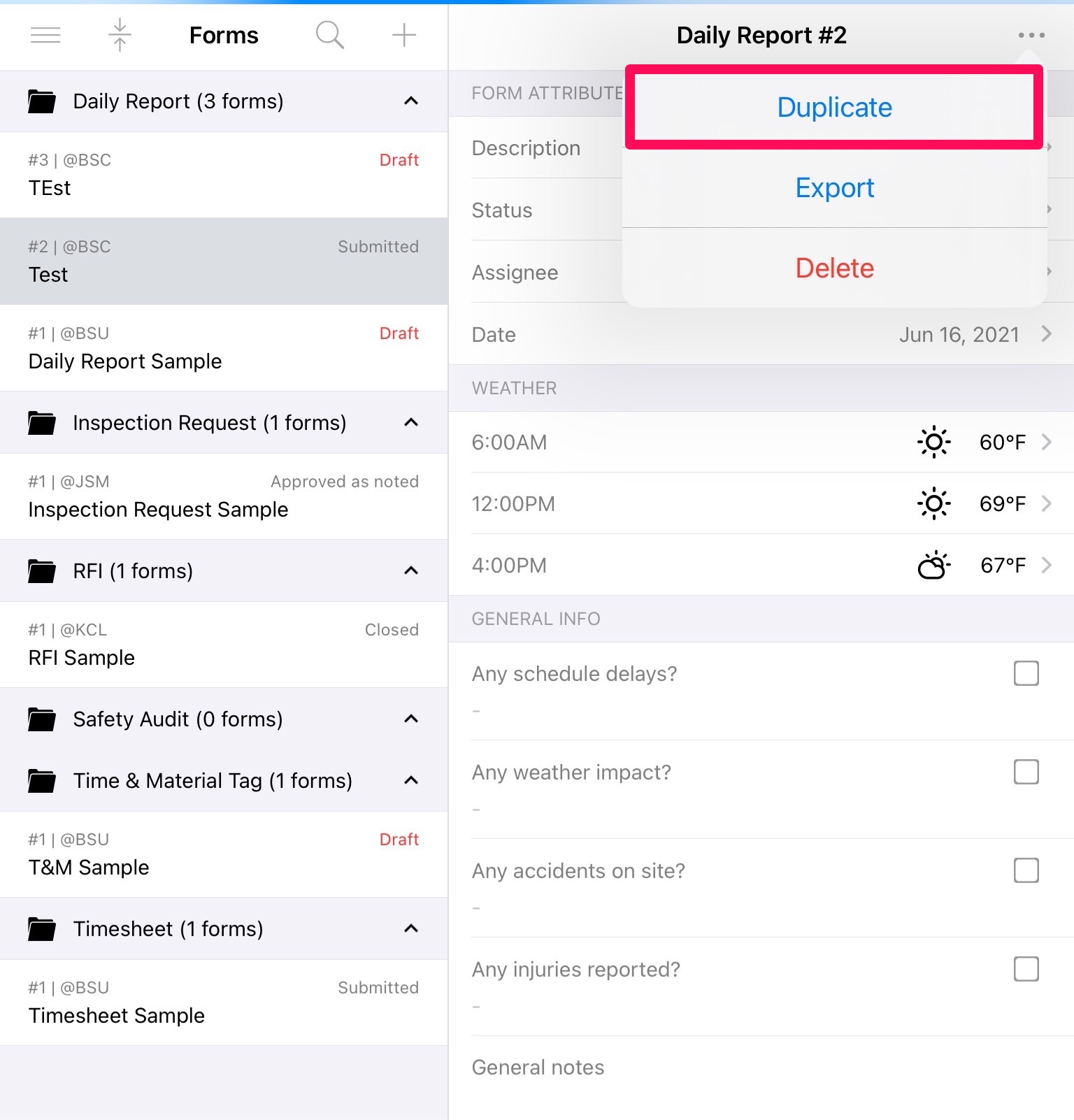 If you are using an Android device, it will look slightly different, but the process is essentially the same - Open the form you'd like to duplicate, select the three dots in the top-right corner, then choose 'Duplicate':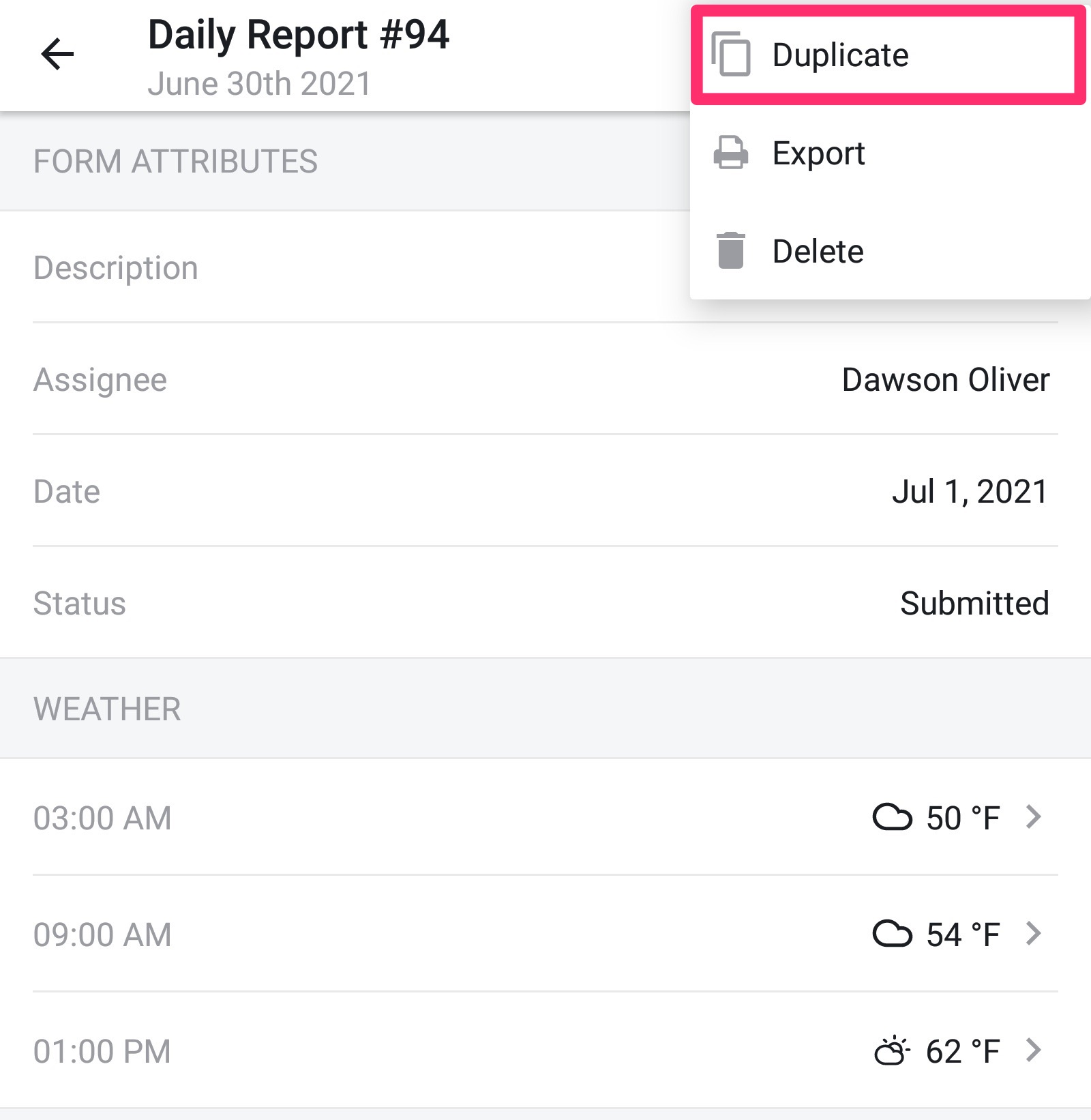 How to Clone your Custom Form Templates


You are able to clone your custom form templates for any new projects you create.
This helps avoid any sort of duplicate work you may have to do.
| | |
| --- | --- |
| Step 1: | Select '+New Project' from the Project Dashboard |
| Step 2: | Select the project you would like to clone. |
| Step 3: | Choose to 'Copy Form Templates'. |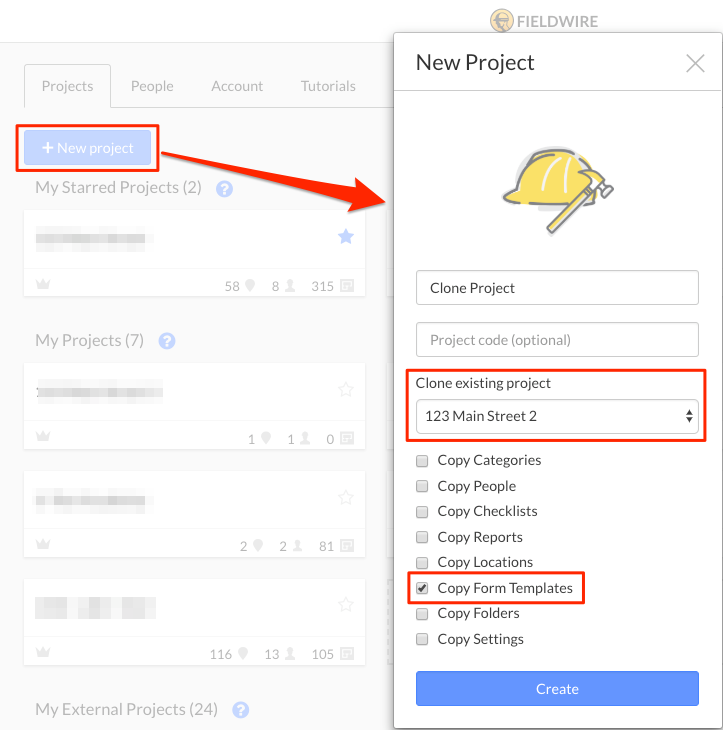 Note: Currently, Form Templates can only be cloned to new projects. Custom Form Templates cannot be retroactively cloned to existing projects.
Note: Ensure that you are the Account Owner, or that you are covered under a Business Account to ensure that you can clone form templates. Please reference this article on Account Permissions for more information.

More Information