Overview & background
Fieldwire offers a "Forms" module for the Business and Premier tiers. Within this module, we offer pre-made, customizable Form templates for Daily Report, RFI's, Inspection Request, Safety Audit, Time & Material Tag, and Timesheets, as well as the option to create your own custom forms.
The Custom Form Template Builder allows Fieldwire users to customize Fieldwire's existing forms, or create customized forms, tailored to their specific workflows. Once the form template is created, users are able to fill out, sign off, and submit their forms on both the Web and Mobile Versions of Fieldwire.
You can use the Custom Form Builder to edit Fieldwire's daily reports, RFIs, timesheets, inspection requests, Safety Audits, and Time and Material Tags, or create brand new types of forms like job hazard analysis, change orders, QA/QC inspections, and many more!
Create a Custom Form

On the Forms tab, select +New Form, then Select +New Template. If you want to edit an existing Form template, select the template and then 'Duplicate' under the 'Actions' button.

Template Types
The Default type includes a description, assignee, and status. You would create a Default template if the form requires multiple, unique date entries, rather than one overall date. For example, Fieldwire's RFI form has sent and due dates for the form, rather than 1 creation date. This can be useful if multiple people need to view and approve of the form.

The Dated type will include a description, assignee, status, and a date. You would create a default template if your form requires information generated on, or pertinent to, one specific date. For example, Fieldwire's Daily Report form contains automatic weather based on the date selected on the Form.

Note: Only the 'Dated' template type will allow you to add a 'Weather' section.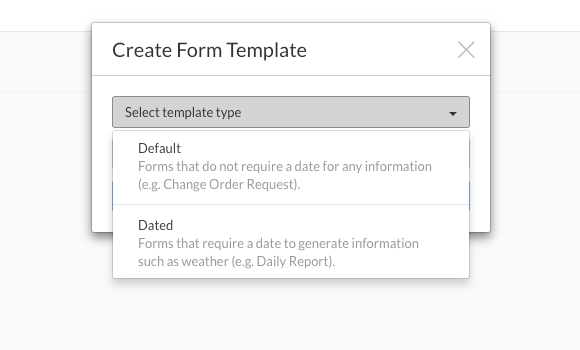 Statuses

After you select the type of Form, you can adjust the different Statuses the form can be in. This is especially useful if different parts of the form need approval (E.G. an RFI)
By default, there are two statuses: Default and Submitted. However, you are able to add more status' as you see fit by selecting the +New status option.
Can enter status and Can exit status is a way to designate which permission levels are able to change the status of the form at that given moment. By default, only Admin level users can set the Form as Submitted.
Note: You can customize at which stage of a form it is editable or not in the Form is editable column. All required fields must be filled before the form is moved into a 'non-editable' state.

Note: When the status of a form is changed, the form creator, assignee, and last editor will all get notified on the web and will receive a push notification on any mobile device associated with a Fieldwire account.
Adding New Sections
After you designate the Statuses of your Form, you can now start to build out the form. Select '+New section' to add a new section. There are five different sections you can add to a Form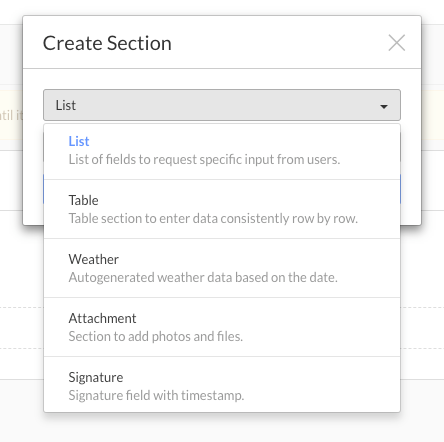 List and Table Sections

The List is organized as a list of Fields designed to request specific information from users.


The Table section is organized in a more compact manner and allows users to combine different entry types.

There are several different entry types for both Sections.
Short Text

Free-form text Field

(A few words)

Useful for Short Descriptions and quick thoughts.

Available on both List and Table

Long Text

Free-form text Field

(A paragraph)

Useful for long descriptions and more detailed notes

Available on both List and Table

Integer

A whole number

Designate the amount of material or hours.

Available on both List and Table

Decimal

A decimal number

Designate a price or more precise hours.

Available on both List and Table

Date

A date

Indicate the date of when work was completed

Available on both List and Table

Date & Time

The Date & Time

More precise documentation of when work was completed.

Available on both List and Table

Checkbox

A box, with 'yes', 'no' and 'n/a' options. This mirrors the checkbox in a checklist

Useful for inspections and documentation.

Available on both List and Table

Checkbox & Notes

A checkbox with 'yes', 'no' and 'n/a' options, and a section for notes

Allows for more precise documentation.

Available on List Section
| | | | |
| --- | --- | --- | --- |
| Attachments | Allows users to attach files and photos. | Easily reference files. | Available on List Section |
| Users | A list of users on the project. | Useful to document all necessary parties. | Available on List Section |
| Plans | Attach existing plans from the project to the form. | Helpful in designating specific locations. | Available on List Section |
| + New entry type | Create different fields in a drop-down list. | Useful for custom entry fields not listed above. | (custom lists) |
You're able to make any of the fields in this table required or not required (aside from the 'Checkbox', and 'Checkbox & Notes') when creating your form. That way, you can ensure that users are recording the necessary fields on your job site.
You're also able to add hints or default values to any text or integer field to save time or communicate to team members what the field should contain
Attachment


The attachment section allows users to upload various types of files, including PDFs, Photos, etc. You are able to designate the minimum and maximum amount of attachments to include. You can also add a description to indicate any pertinent information about the attachment.
Note: You can upload files and photos up to 50mb.
Weather
The Weather section of the Form automatically pulls weather information to the form. This is based on what is entered in the 'Address' section of the 'Settings' tab of the Project.

A form's weather data is set based off the timestamp of the "Date" of the form (when the user first makes the form this is set to the created date, but it can be changed). If they are creating it in the morning, the weather data shown on that form is a prediction, and we update the form with the actual weather after about 24 hours.


Signature


The signature section prompts users to provide an electronic signature on the Web or a free-hand signature on mobile. Fieldwire will automatically include the timestamp of when the form was signed to help ensure accountability.
On the Web , you, or someone who does not have a Fieldwire Account, can add sign your form:
| | | |
| --- | --- | --- |
| | The name of the user that is logged in will populate as the first signature option. | Choose 'Sign as someone else' to have a user who does not have a Fieldwire account sign the form. |
Any signature will be accompanied by a date, time, and device-stamp to show when exactly the form was signed and which individual signed it. The user who is logged into Fieldwire on the device where the Form was accessed will be listed as the device owner:

'Sign as Andrew White'

'Sign as someone else'


On the iOS and Android Versions of Fieldwire, you can also have another user sign the form:
| | | |
| --- | --- | --- |
| | The name of the user that is logged in will populate as the first signature option. | Choose 'Someone else' to have a user who does not have a Fieldwire account sign the form. |

After you determined who will sign the form, you'll be prompted to add a freehand signature to the Form if you are signing. If someone else is signing the Form, they'll be prompted to type their name before they add their freehand signature.

Any signature will be accompanied by a date, time, and device-stamp to show when exactly the form was signed and which individual signed it. The user who is logged into Fieldwire on the device where the Form was accessed will be listed as the device owner:
Sign form as 'Andrew White'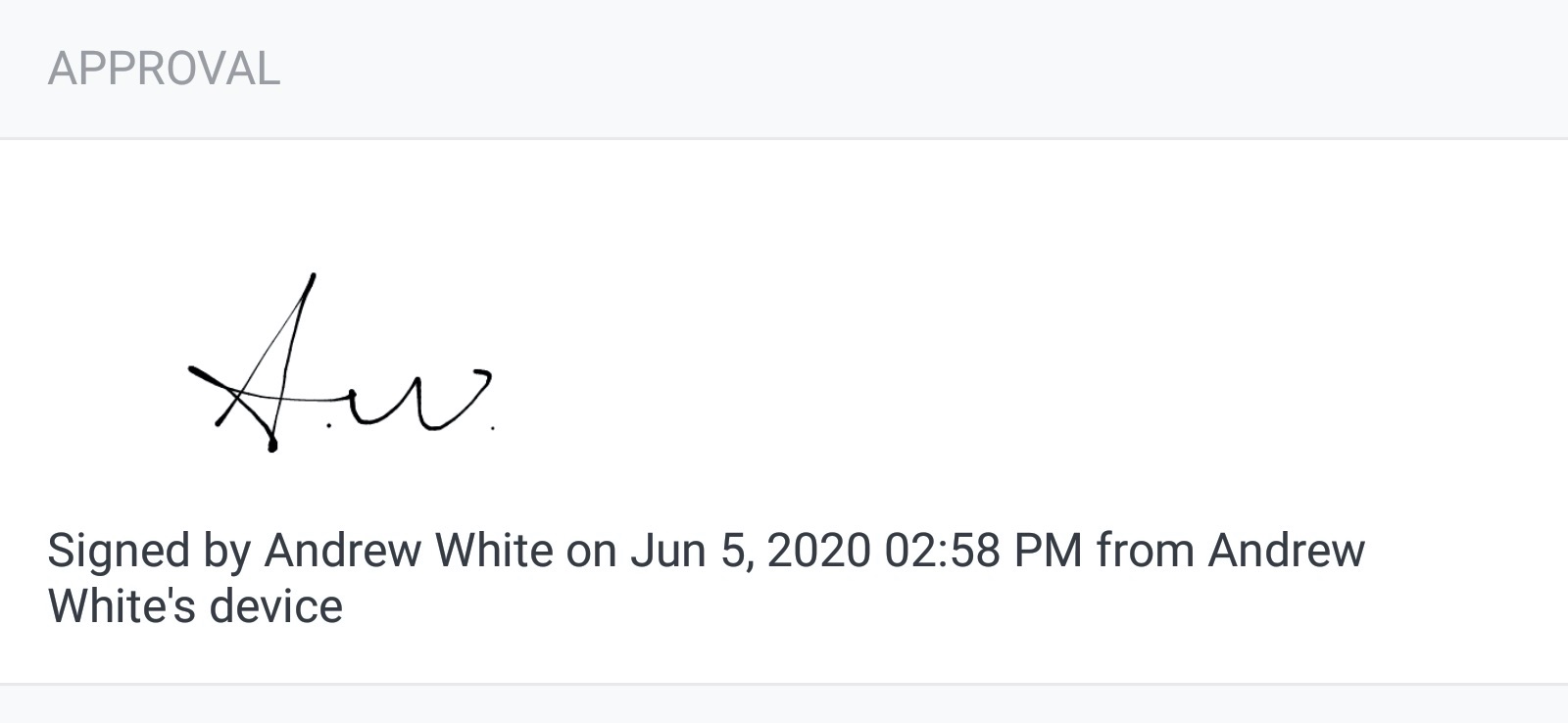 Sign form as 'Someone Else'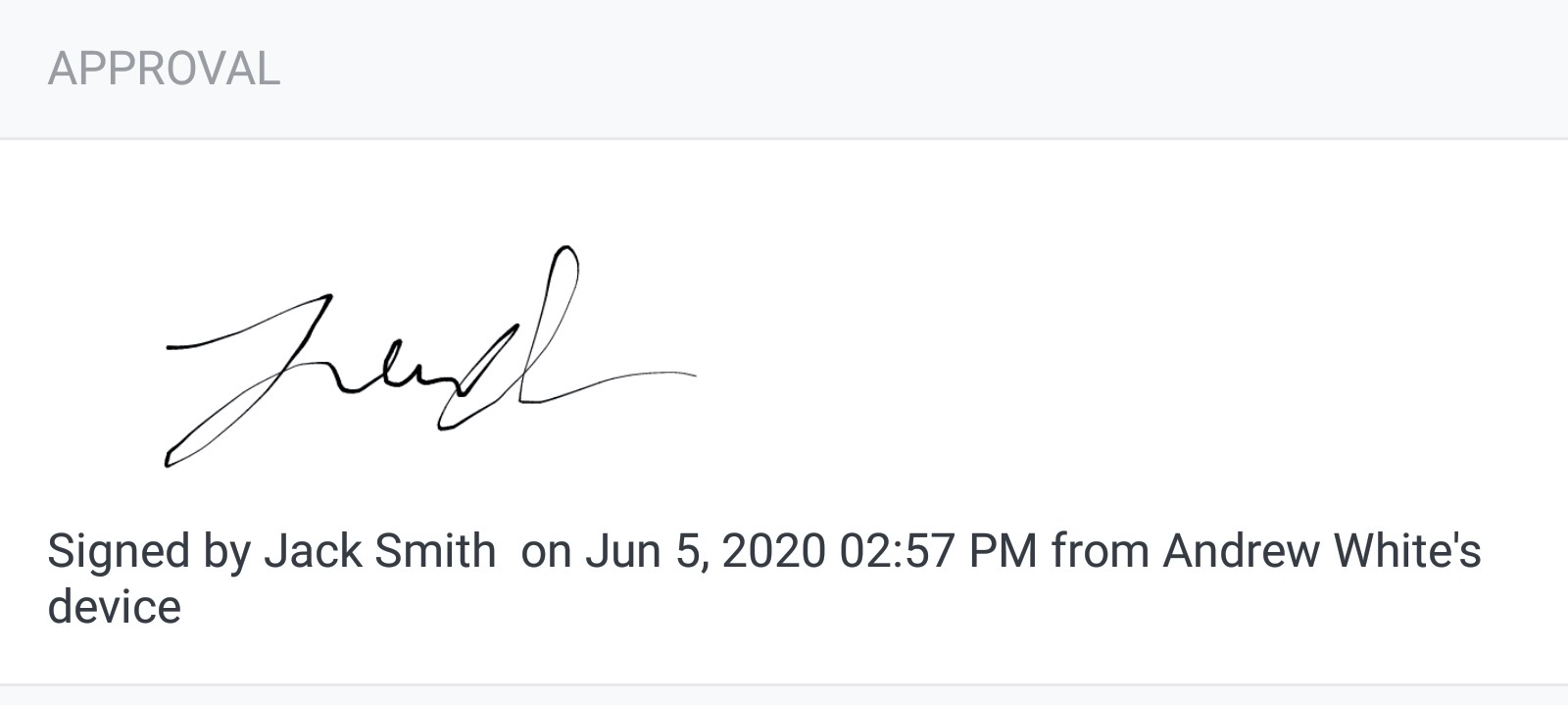 After all required fields on the form are completed, you can choose to 'Update [the] status and close'. This is similar to submitting a form. The statuses one creates on the form determine the state the form can be moved to:
| | |
| --- | --- |
| Default Statuses on the 'Daily Report' form: | |
| Default Statuses on the 'Inspection Request' form: | |

Video on the Custom Forms Builder




More Information