Question
How can I export my project content (Plans, Photos, Files, Forms, and Tasks) upon completion? We'd like to provide the exported project content to our client.
Answer
Exporting project content is an excellent way to save additional copies of your data when a project is complete or when you need to provide project content to a stakeholder. You can export all the information by downloading all the plans, photos, and files. You can export forms on a business plan. Also, you will generate a CSV report that will include all of the tasks.
Note: The project will need to be covered under a Pro plan, or above, in order to export project content. Any Project Admin can export multiple pieces of content at once, so be sure that a project Admin goes through the process outlined below. (For more information about project permission levels, check out this article: Introduction to Project Permission Levels: Administrators, Members, and Followers).

Note: You are not currently able to export 3D models from Fieldwire.
The files will be sent via email as a downloadable link. Once you download the project content, you'll have individual plan, photo, form, and files folders to your computer; you'll also have a .csv file of all of your tasks. You can then add these folders to a centralized project folder on your computer.
How to Export Project content:

1. Start by Exporting all of your plans from the 'Plans' tab.

Tip: You can select every plan in the project by selecting the 'All Plans' folder.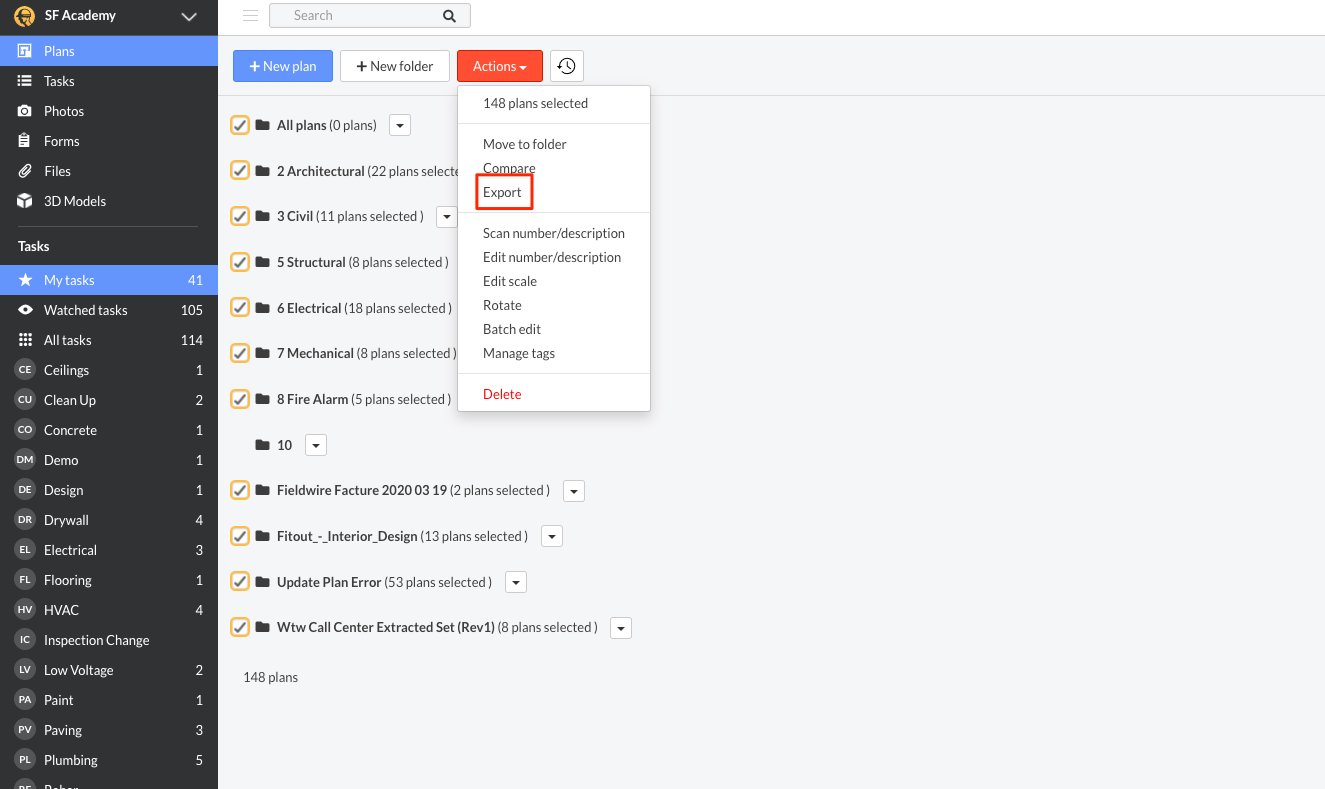 Note: There is a limit of exporting 1000 plan sheets at a time. If you try to export more than 1000 plan sheets, you'll receive the following email notification: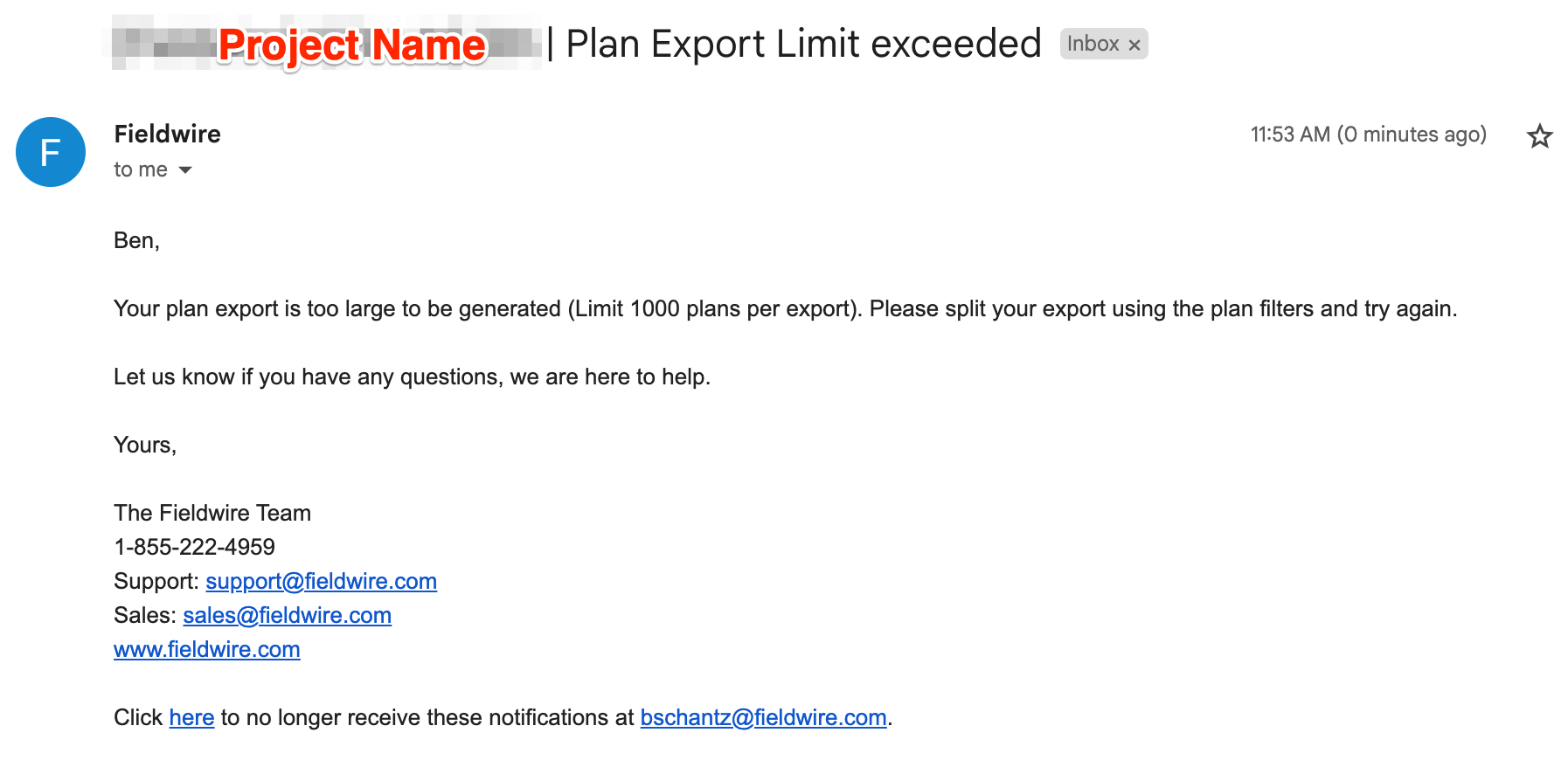 When you export plans, you will be asked what layers you'd like the plan to include. This selection now includes the option to include task pins on your plan exports! Be sure to check all of the contingent boxes that you would like to include on your plan exports. Notice that Private markups are not automatically selected.
You'll then be sent an email with a link to download the plans-- select the link to download a .Zip File of the selected plans:


Note: Live links, (hyperlinks) plan exports remain active when they are exported from Fieldwire. You'll need to ensure that you open that content in Acrobat Reader in order to access the content in the link.
2. Continue to export the contingent photos, forms (if on a Business plan), and files.
Photos: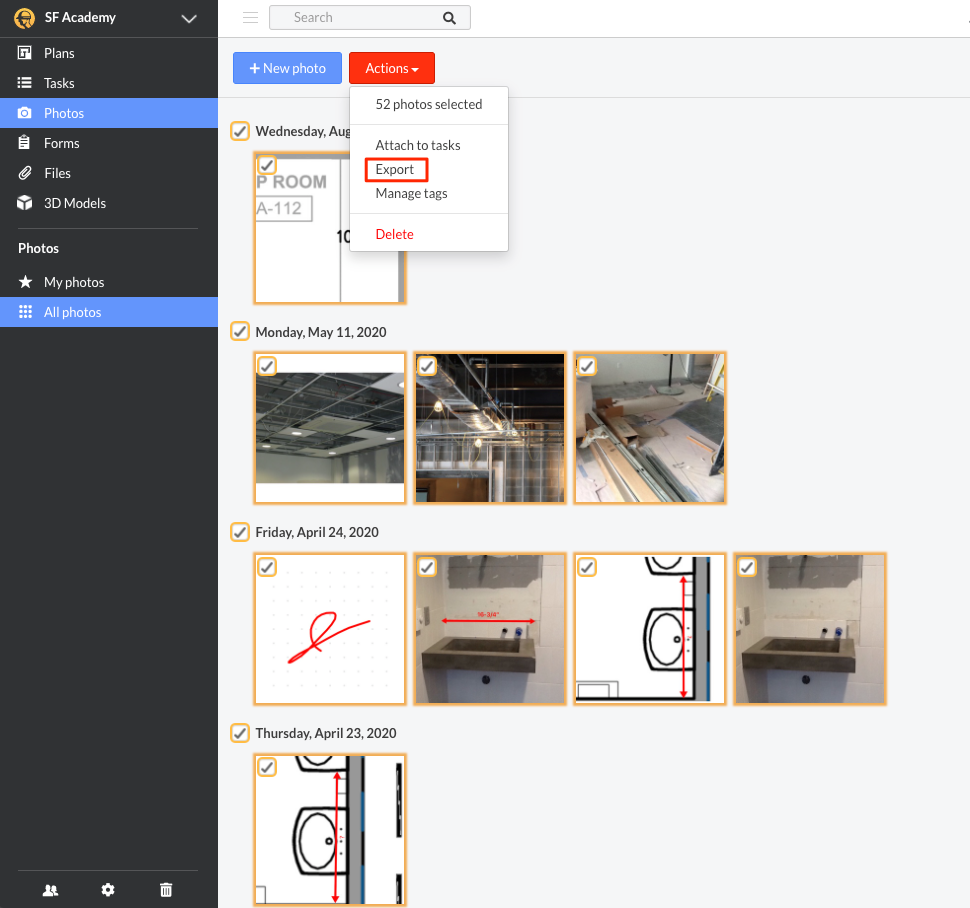 Forms: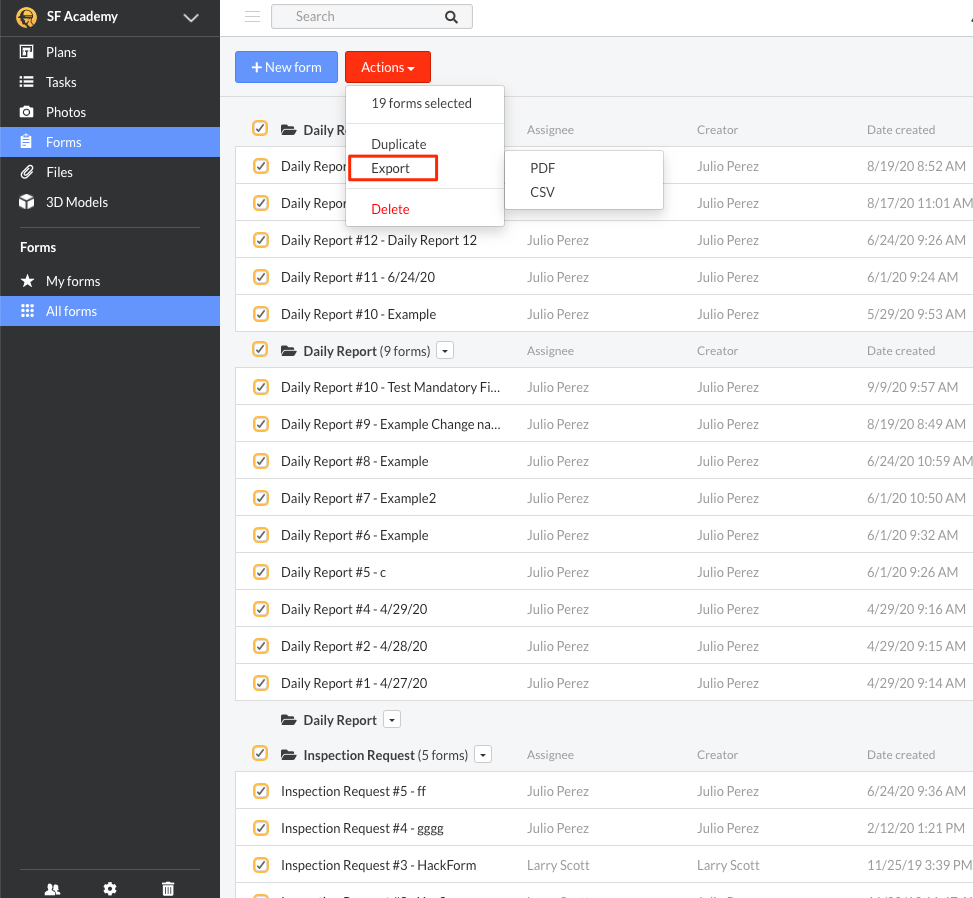 Note: When exporting forms, you will have the option to export them in a PDF or CSV format. If you select the PDF format, then it will export each form individually as a PDF. In contrast, a CSV format will be a single CSV with all the information from the forms.

Files: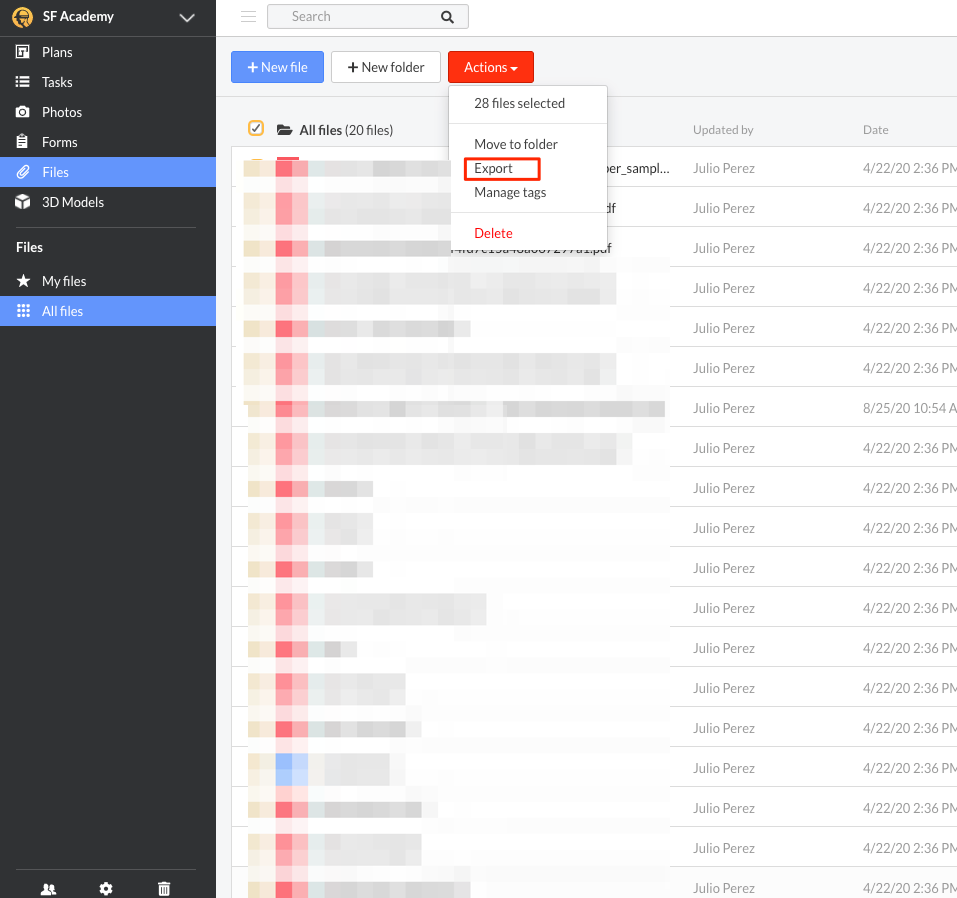 3. To export your tasks, navigate to the 'Tasks' tab and choose to 'Generate Reports':

Choose to generate a .CSV report with all project tasks: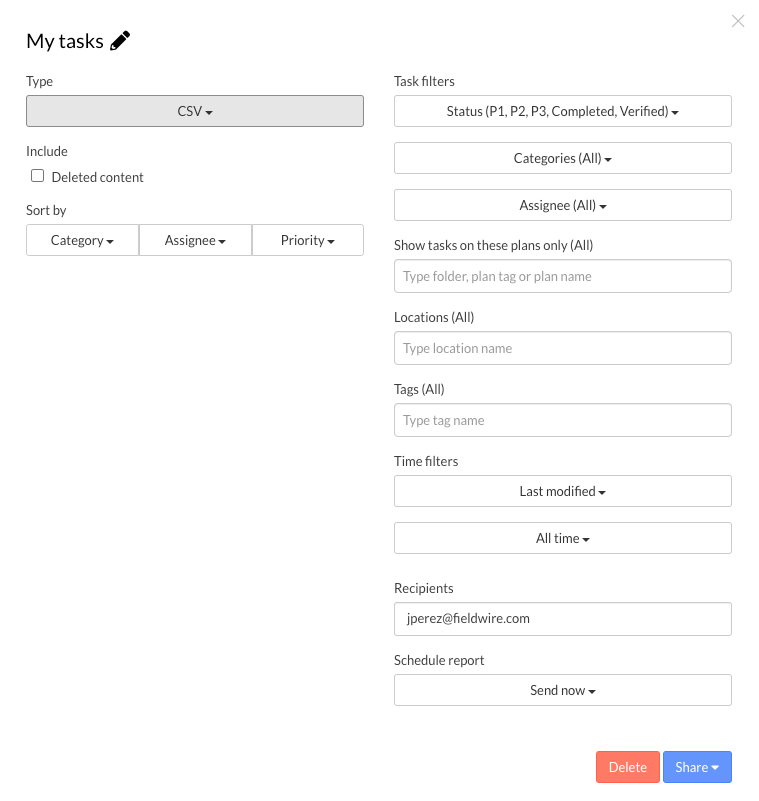 Note: Make sure that the report type is .CSV, and all attributes are set to all. Also, if you wish to include deleted content, make sure you have that box checked.
4. The Plan, Photo, Form, and File exports, along with the Task Report, will be sent to your email. You'll select the link to begin to download a .zip file of the content: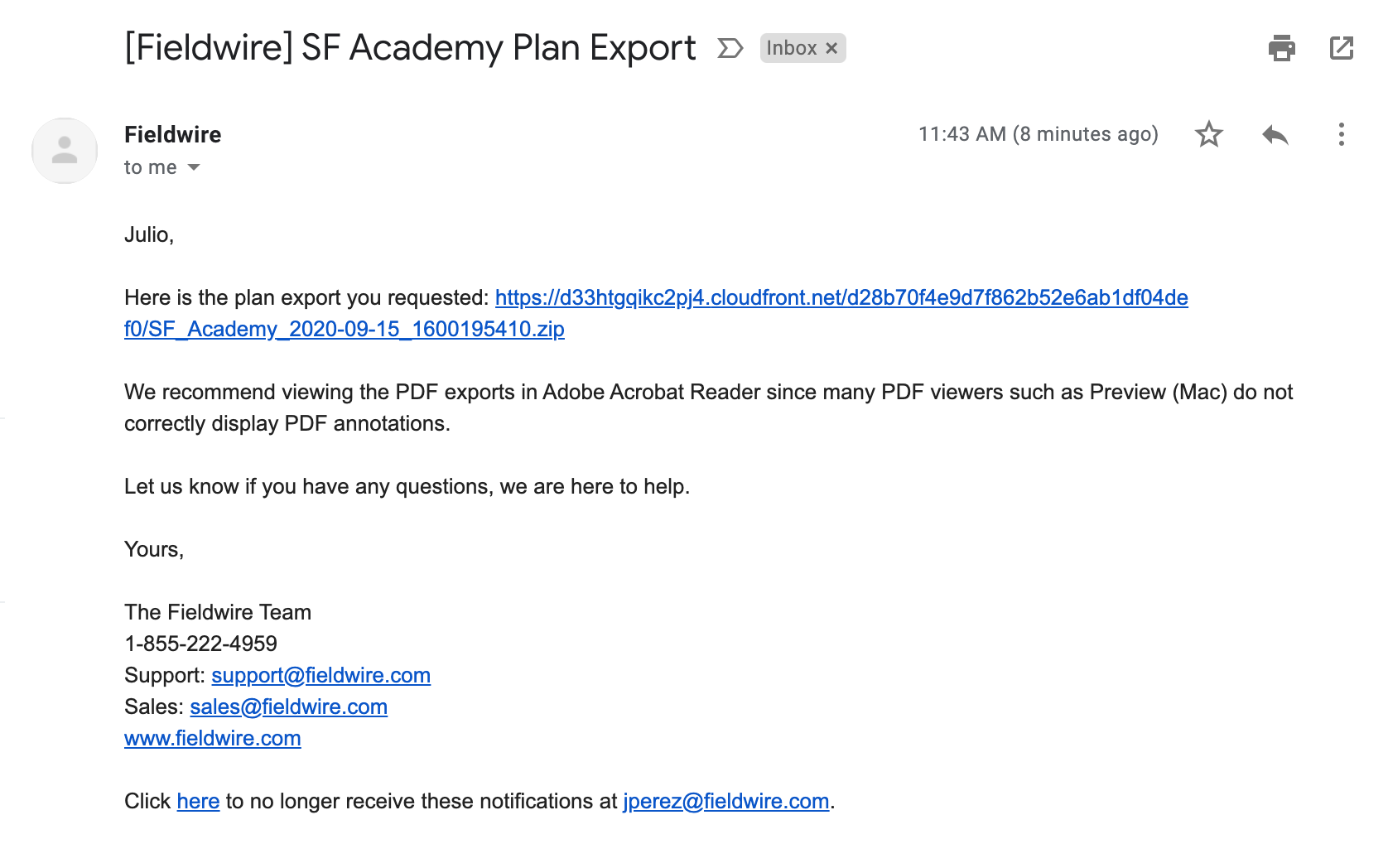 Note: The project content will be sent as a .zip file. Most devices will automatically unzip the folders, but this is something that you might have to manually complete.
Refer to the contingent links for information on how to 'unzip' a file:
5. Once unzipped, the plans, photos, forms, and files will be saved as unique folders. The .CSV task report will be saved as a .CSV file. You can rename the folders based on what information they contain and move them to a new folder you created for the project: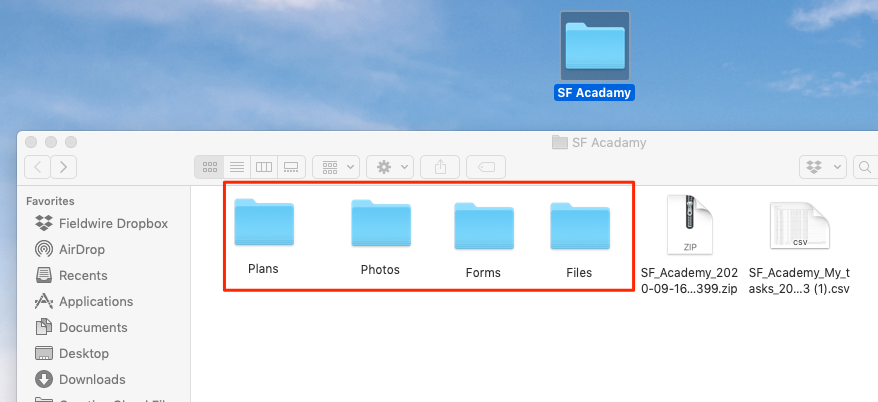 From here, you'll have an additional copy of the project content for distribution outside of Fieldwire.


More Information
Here are a few additional articles that go over how to manage projects and save project content: