Overview & background
Fieldwire users with Pro, Business, and Business Plus subscriptions can export plan PDFs, including whatever photos and other hyperlinks/markups they've added in Fieldwire. This feature is especially useful for locally storing backups of your files, sharing them with any recipients that don't have access to your Fieldwire project(s), or even printing hard copies. 
Note: To be able to view and access your plan markups, hyperlinks, and annotations, you will need to open the exported PDF in Adobe Reader or a comparable PDF-reading software. Due to how the file is generated, you will not be able to open the file and hyperlinks properly with a browser (preview) viewer.
If you want to print or share the exported PDF with someone else, click "Save As"in Adobe Reader (or whatever PDF reader you prefer) and save the document with a new name. This automatically ensures the file is fully "readable", which ensures you're seeing all your markups and that your hyperlinks will work.
Table of Contents
Export plans from the 'Plans' tab
Export a plan from the 'Plan View' 
Export plans from the 'Plans' tab
With any premium Fieldwire subscription, you are able to export multiple as-built plans from the 'Plans' tab at once. To do this, simply roll over and select the checkbox(es) for the plan(s) you would like to export. You can also select the checkbox next to any plan folder to select all of the plans within that folder. Then click on the 'Actions' button, and select 'Export'.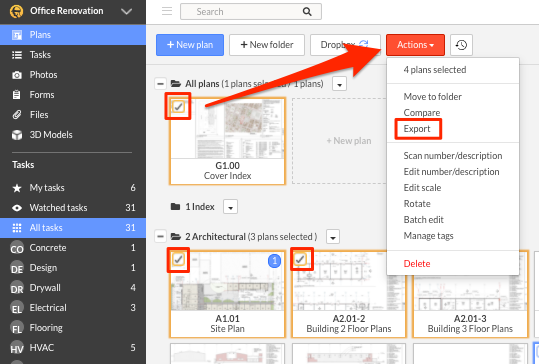 After you select 'Export', you're prompted to choose the 'layers' that you would like to include in the export. You have the option to include/exclude each of the different colors of markups and/or hyperlinks, and since all of your photo and file hyperlinks remain clickable in the export, also be sure to select only the types of attachments you'd like to include as well: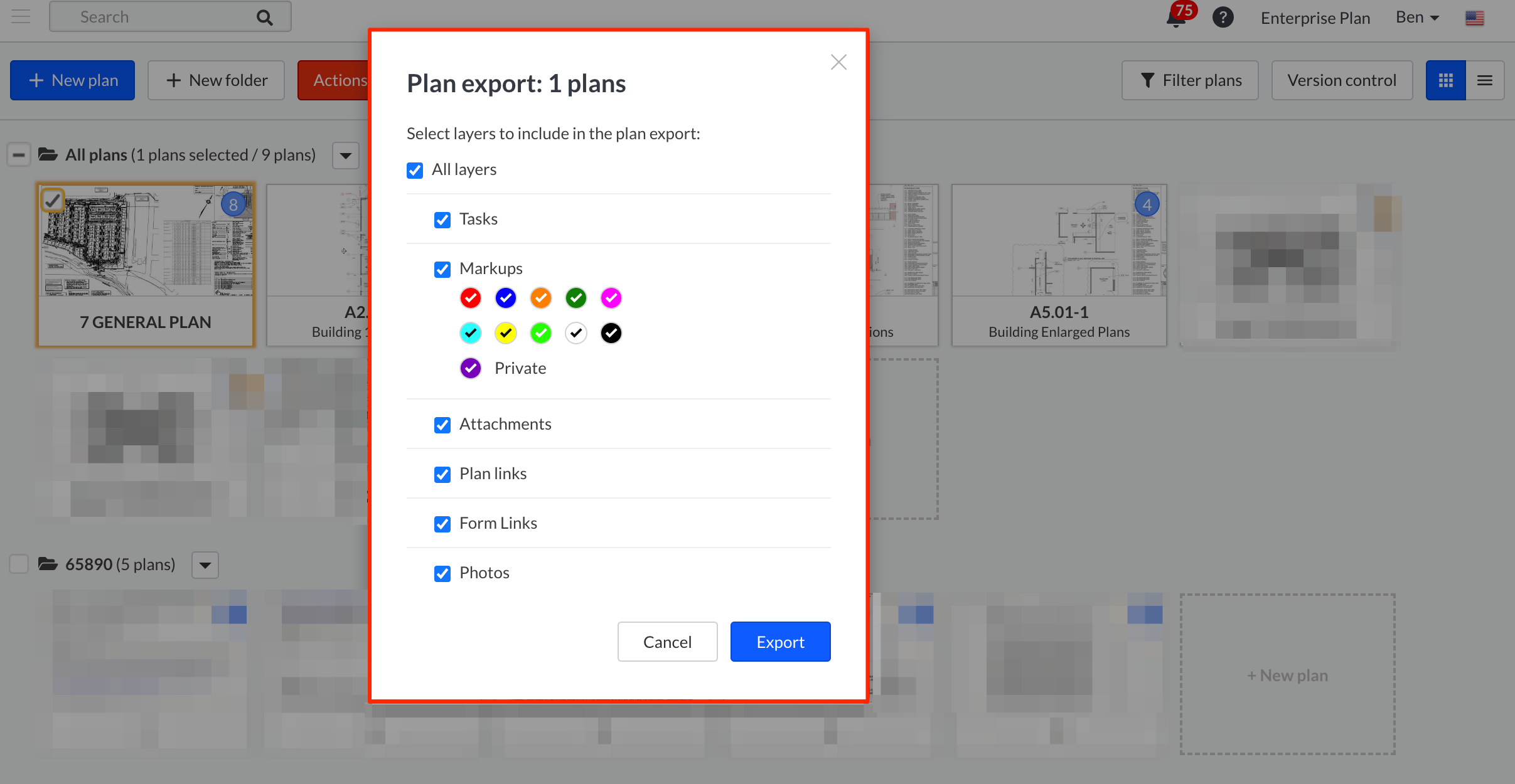 Once you click 'Export', the PDF file will be processed and sent to the email associated with your Fieldwire account as a .ZIP file. Click the link to open the .ZIP, and then you are able to download the plans as .PDF documents: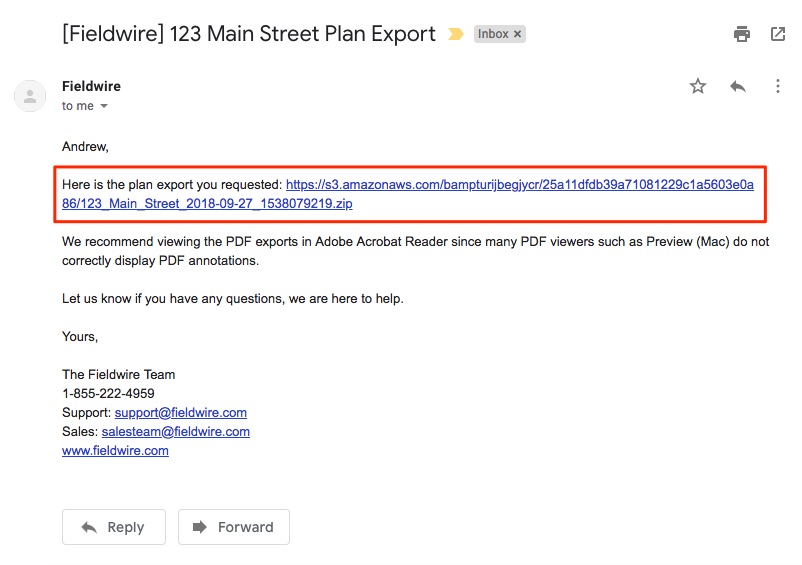 Note: There is a limit of exporting 1000 plan sheets at a time. If you try to export more than 1000 plan sheets, you'll receive the following email notification: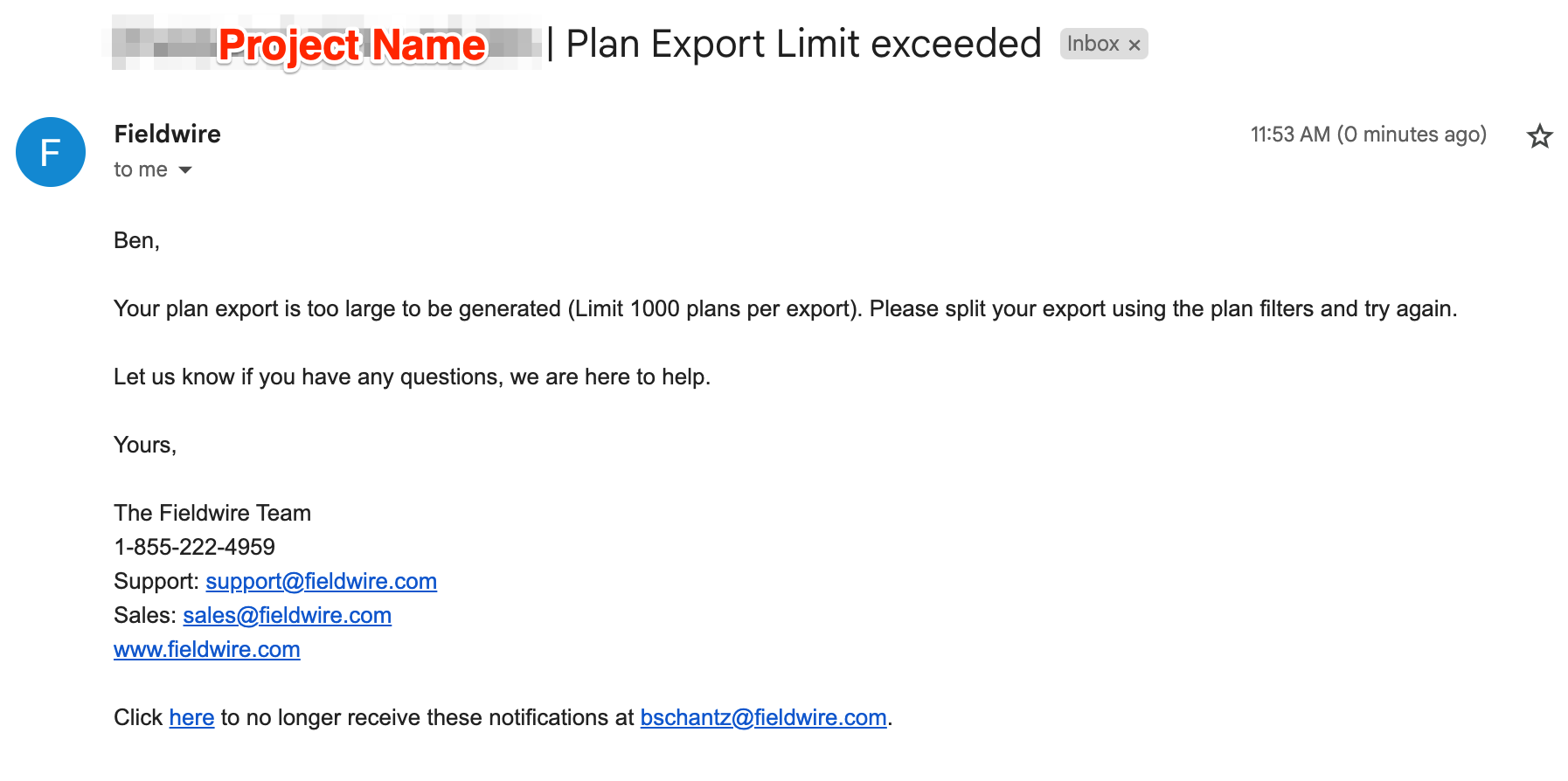 When you then open the PDF in a PDF viewer, like Adobe Acrobat, you will be able to view the markups and open all the hyperlinks on the plan.
Note: Other PDF viewers, like Bluebeam or the browser preview, will not open all of the hyperlink's progress photos; they will only open the most recent. Adobe Acrobat will open all progress photos as individual browser tabs.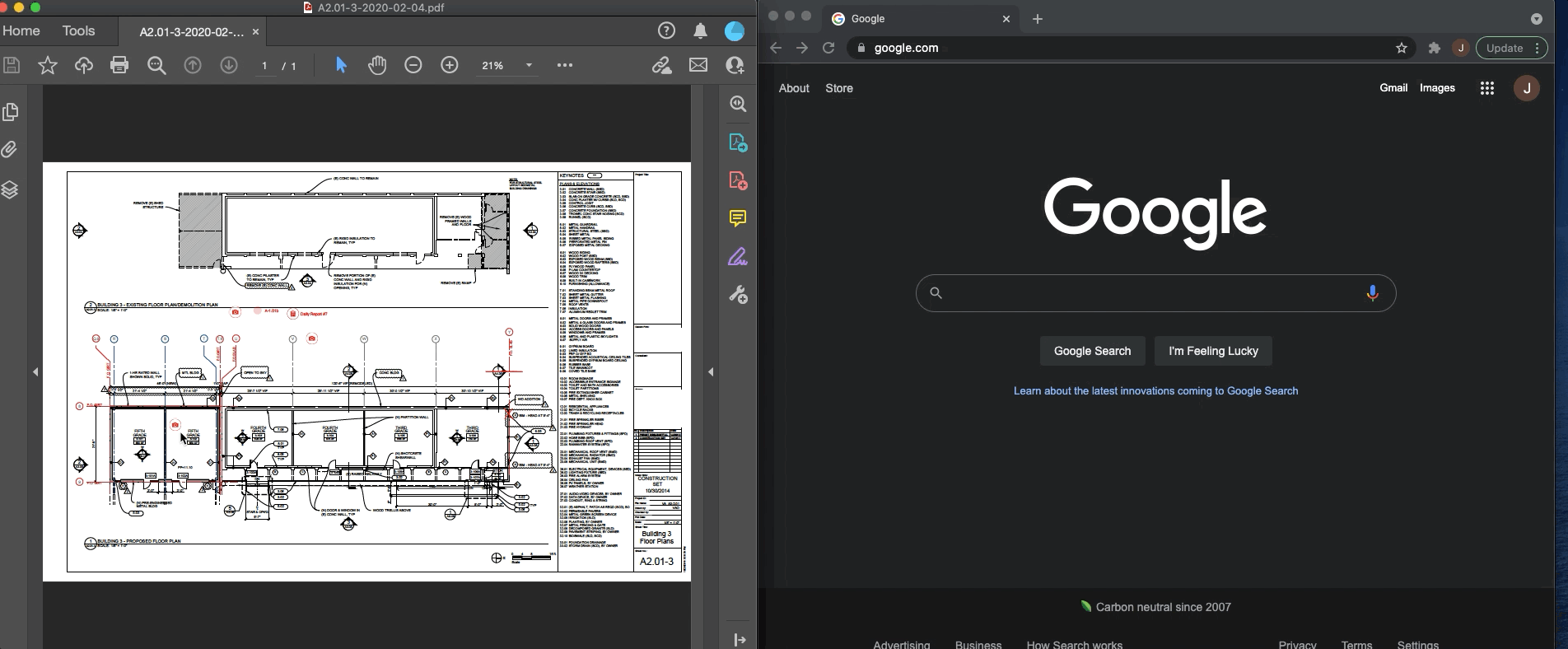 Export a plan from the 'Plan View' 
You can also click to open individual plans and export from the single plan viewer.
Prior to exporting a Plan, leverage the Markup Filter tool and determine the layers and hyperlinks you want to include in your export: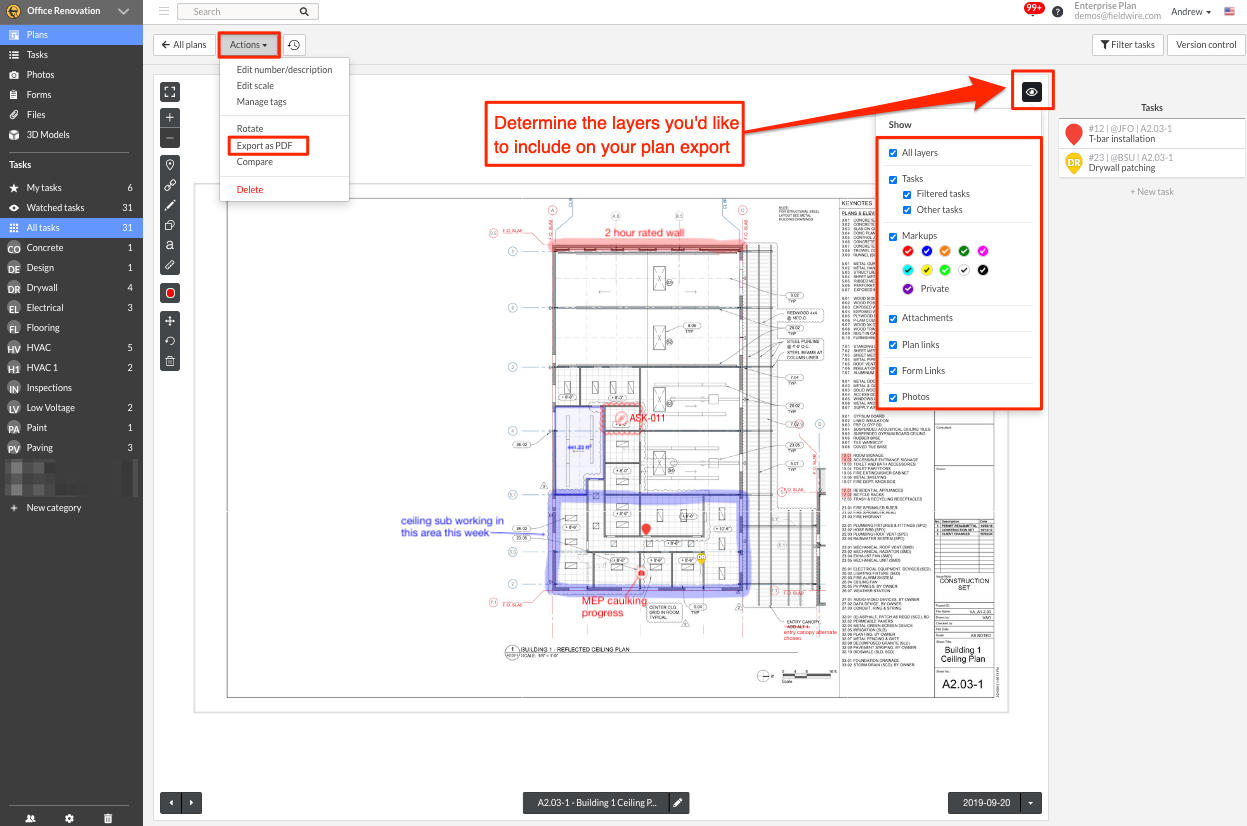 Then select 'Actions', and 'Export as PDF' - the PDF plan will open in a new window in your browser, and you will be able to download it or print it to share with project stakeholders: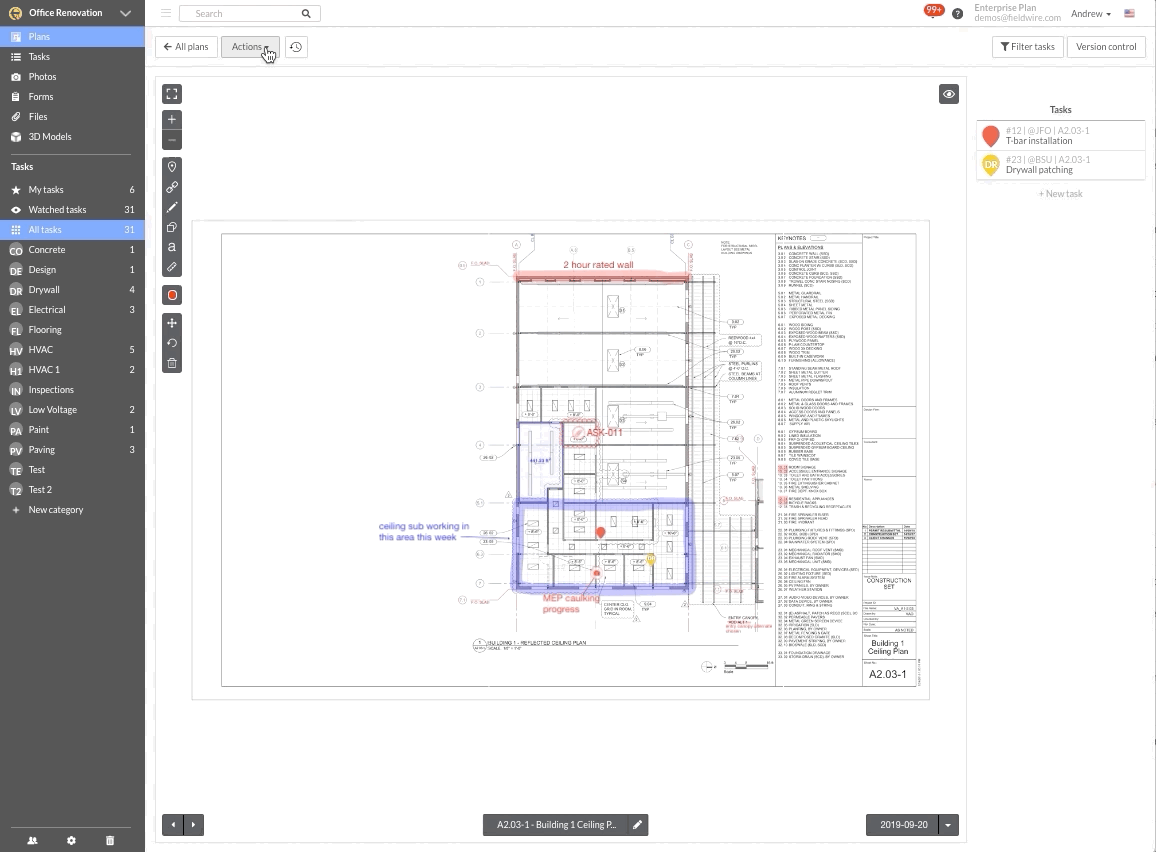 If the plan does not start to download automatically, click the 'Download' option: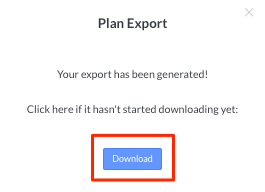 Note: Plans over 100 MB cannot be exported from the plans view. They will have to be exported from the All Plans view. 
Export plans in a report
Plans that are associated with Tasks can be included at the end of 'PDF Summary' or 'PDF Detailed' reports. Plans included at the end of these reports display task pin icons with task numbers that reference tasks in the report.
To include Plans at the end of your 'PDF Summary' or 'PDF Detailed' report, make sure to check the 'Plans' box.  You can also leverage the 'Show tasks on these plans only' box to isolate specific plans you'd like to have the PDF exports of: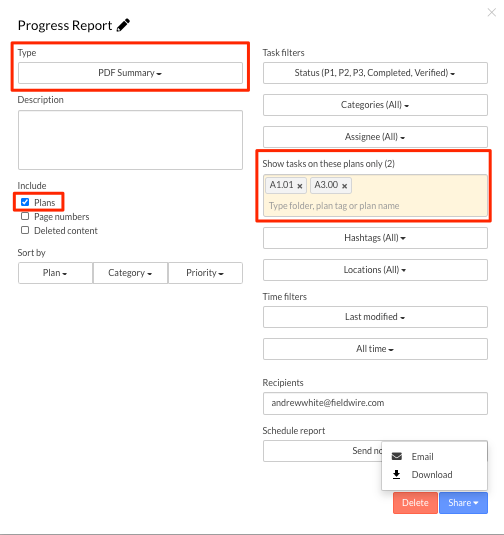 After you download the report, open it in a PDF viewer, and scroll to the bottom of the Report and you'll see the plans you chose to include: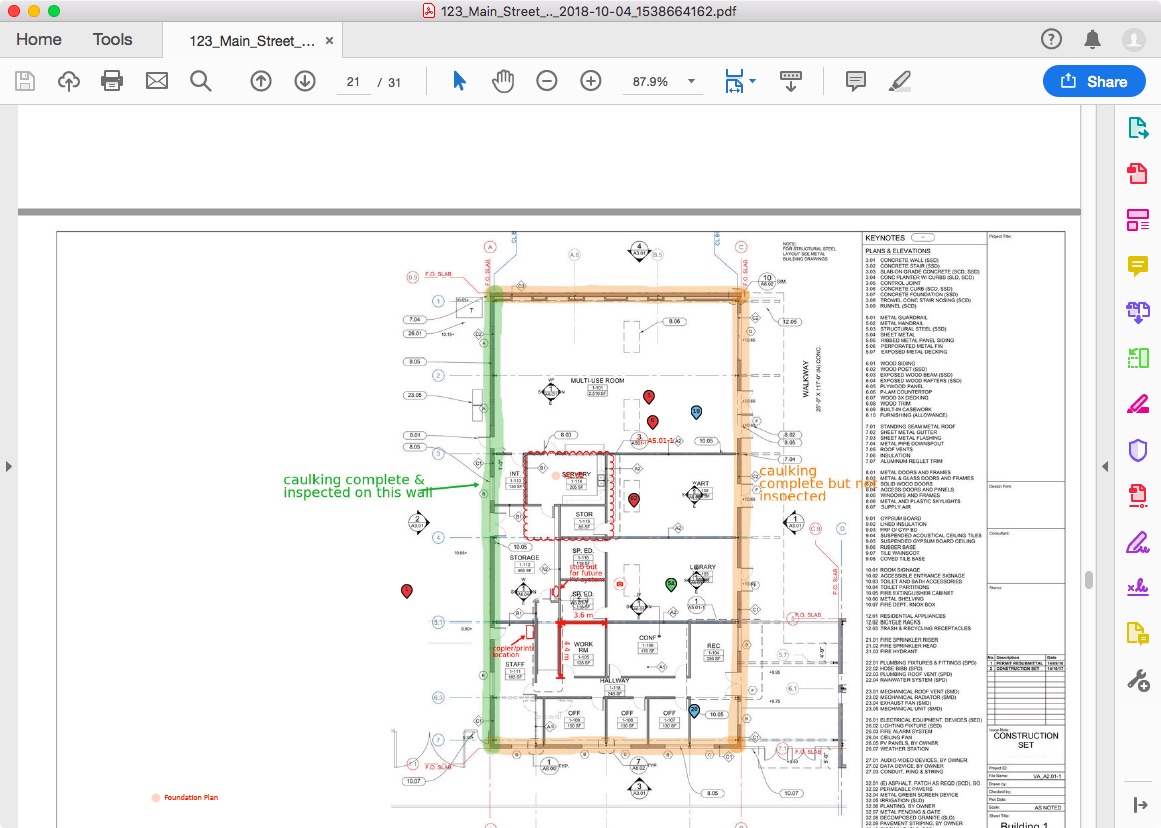 Export Drawing Log 
You can obtain an export list of your plans. 
1. Navigate to the Plans tab and click on Version Control: 

2. Click Export drawing log:

​
​
3. You will receive an email with a link to download a CSV file that contains your export drawing logs.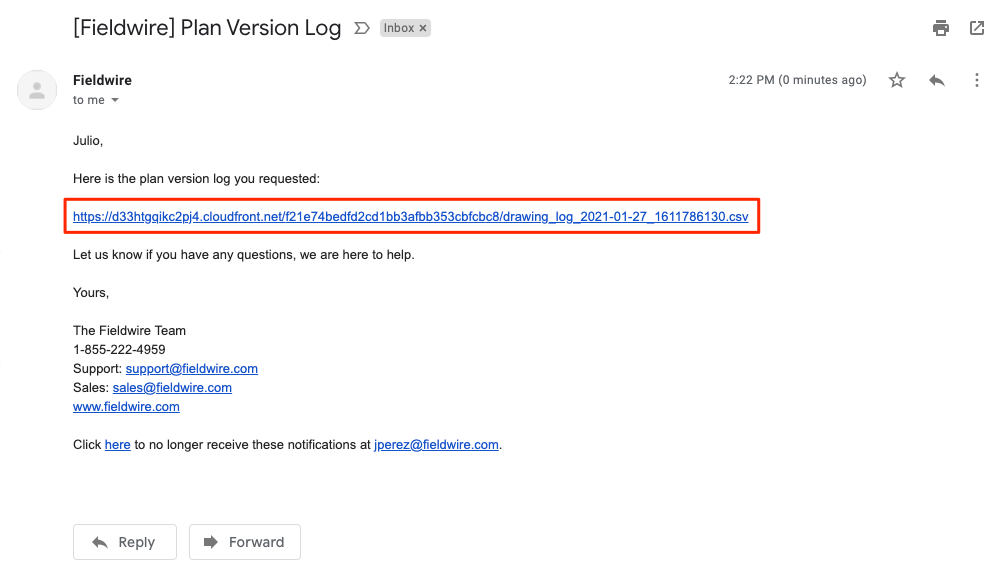 Common Issues with Exports
As indicated in the sections above, exporting your plans is a relatively straightforward process with only a couple of steps.
However, there are certain instances where you might run into an error message when trying to complete a single plan export. Typically, this message is indicating that your single plan export is larger than 100MBs.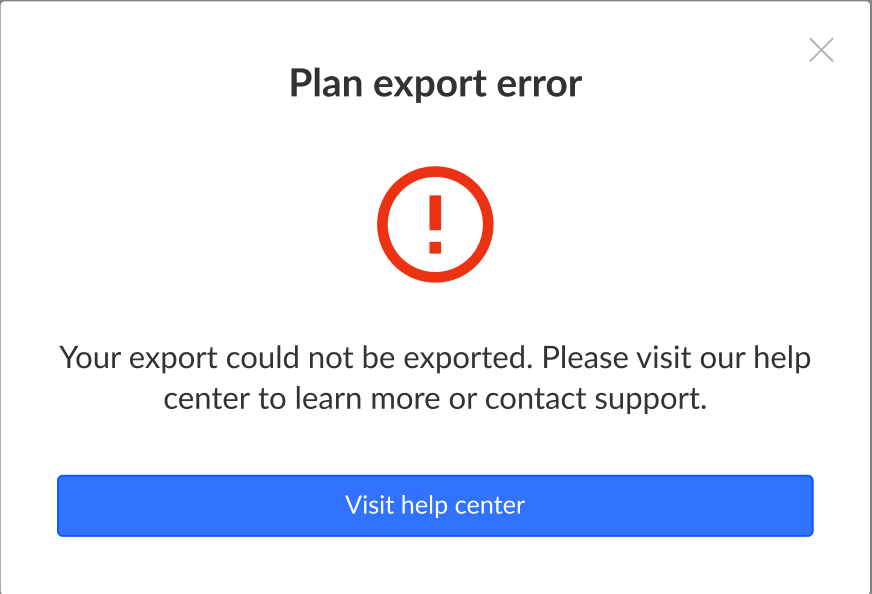 If your single plan export is, indeed, larger than 100MBs, you will need to decrease its size. In order to decrease the size of your export, you need to compress the original plans down to less than 100MBs. For steps on how to compress your PDFs, please read this article.
If the plan sheet in Fieldwire has tasks and markups on it, please follow these steps in order to make sure that all pertinent information can be exported:
Compress the original plan(s) to less than 100MBs
Upload them as new versions (so the tasks/markups push to the top)
Then export these newly compressed versions of the plan sheet(s)

More Information
The following help articles go into how to gain access to, and leverage, plan exports and reports:
 

Video Tutorial on Markup Tools
Video Tutorial on Uploading Plans