Overview & background
In the Tasks tab, you can generate reports if you are on a premium plan. Please review this Help Center article for more information.
'Sort by' and 'Filter by' options allow you to customize the information you want to be displayed in your report. 
PDF Summary and CSV Report filter options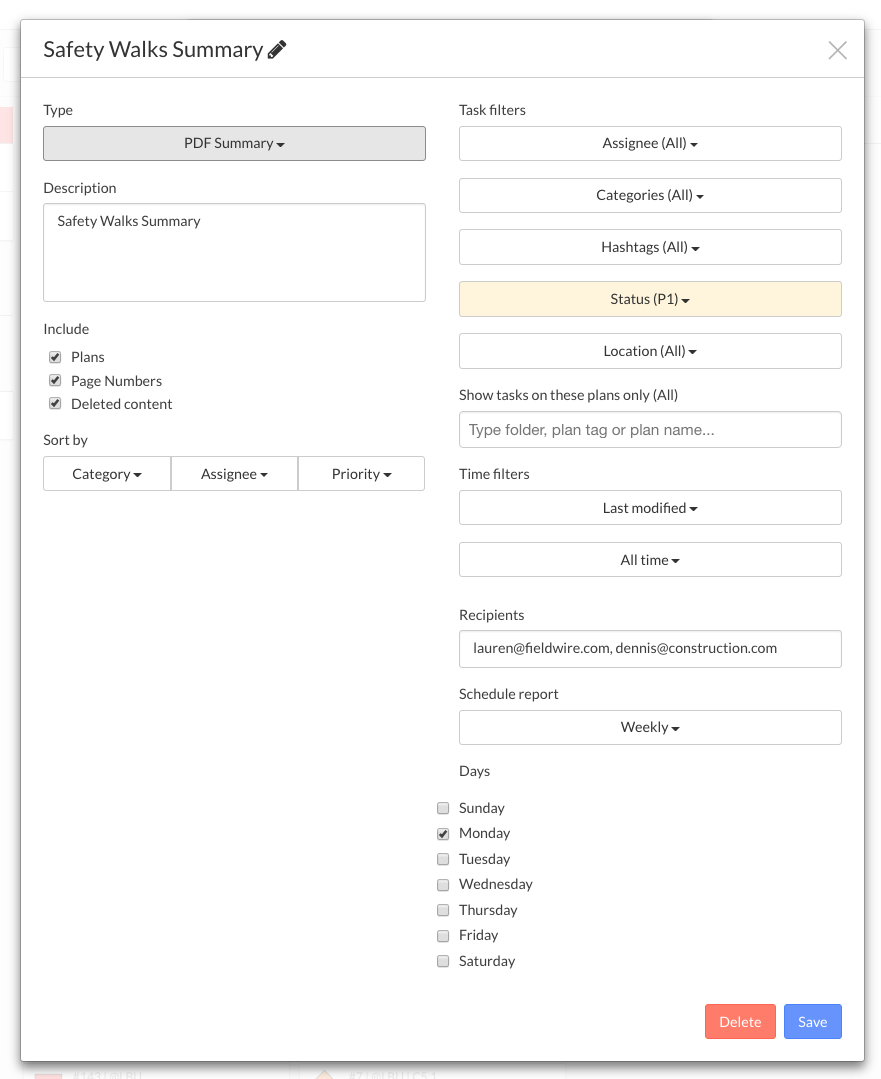 PDF Summary and CSV Report filter options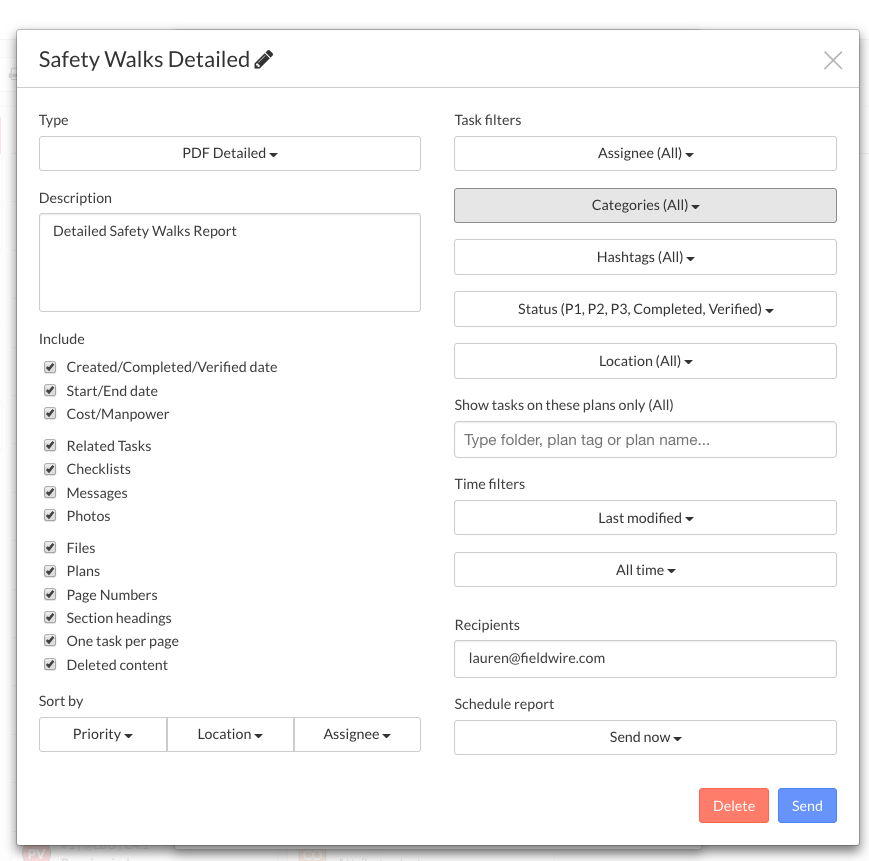 Report Types
Click on the links below to view and/or download examples of each report type.
CSV

 - will automatically download to your computer
Report Features
The following features can be utilized when generating all report types.
Example use case for Sorting and Filtering: If you want to highlight which tasks a certain subcontractor is doing who is out of town for a week, you can Sort By Category, then Assignee and then Priority to determine which tasks are assigned to him/her and the status of those tasks.
'Sort by' options
You can choose to sort how information appears before you generate the report. The benefit is that you can ensure the information is presented according to your preference. You can decide in which order the information is displayed.
There are three 'Sort by' sections for all reports: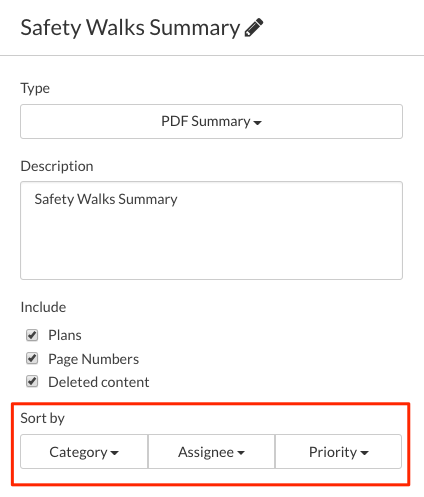 They default to Category, Assignee, and Priority, though there are 8 sorting options for all reports within each 'Sort by' section:
Troubleshooting Tip: If you select 'Task #' in the first 'Sort by' section other 'Sort by' options will not display. The reason is that each 'Sort by' option is dependent on the 'Sort by" option before it, and 'Task #' overrides all 'Sort by' options. 
'Task Filter' options


You can select to display specific information from tasks and omit others. The six Task filters Fieldwire allow you to filter by:
Specific Assignees
Select Categories
Certain Hashtags
Select by task Status
Choose specific locations
Select certain plans only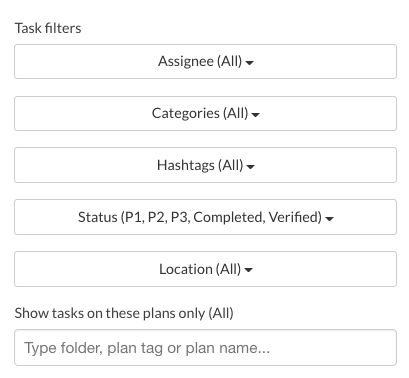 Troubleshooting tip: Once you select a certain Filter, be sure that there is content for the filtering option you select. Meaning, once the filters are selected the criteria will automatically only search for the filters selected. If there is no content under the filters selected, then no content will display in the report.
     Example: I select Assignee > Bob, Categories > Electrical, Status 'P1' and 'P2'. If Bob does
     have Electrical tasks, but all Bob's Electrical tasks are 'P3', 'Completed' or 'Verified', then no
     data will display because only 'P1' and 'P2' tasks were selected.
'Time Filter' options
You can select the report options by:
A. Time filters - Based on Task time-related statuses.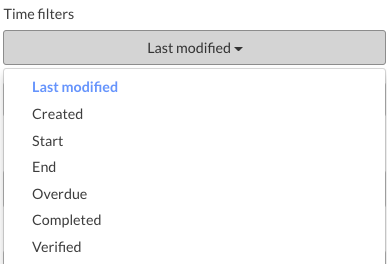 B. A date range based on a custom date ranges relating to date ranges based on all time, days, weeks, months, or a specified date range.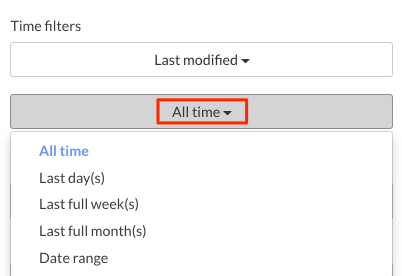 Tip: You can see how tasks have changed in recent days, and the report can act as a record of expenses and hours worked. For example, you can filter by tasks updated within the last day for a report on daily progress. Alternatively, filter for any tasks updated within the last week.
'Recipients' options


You can select specific recipients of the report by entering their email address. 

Tip: Recipients can be Fieldwire users and external parties. You do not have to be on Fieldwire to receive a Fieldwire generated report.
'Schedule Reports' options
You can select when to send the reports and even schedule the report to be automatically sent on a daily, weekly or monthly basis. The report will be sent at 5am based on the project's specified time zone.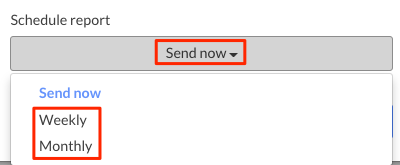 Step 1: Select 'Weekly' or 'Monthly'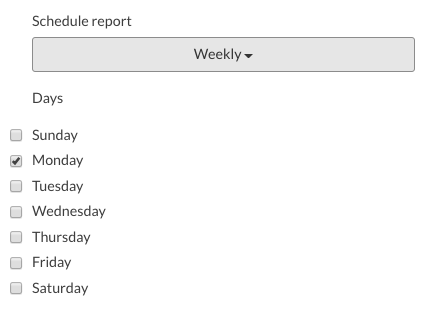 Step 2: Select a specific time
Tip: Great to use when providing weekly client updates.