Overview & background
Generating reports is a step by step process that ends with receiving a URL in an email from support@fieldwire.com. Reports in Fieldwire can be used in many ways, including for Punch Lists.
Tip: Keep in mind that you designate who will receive the report in Step #3. You can send the report to any email address - the recipient does not need to have a Fieldwire account or be invited to your project.

Note: Reports themselves can only be generated ten times in a one-hour window. The hour starts to count down as soon as the first report is generated. This logic only applies to on-demand reports, ex: emailed or downloaded reports; scheduled reports do not count towards this limit.

How to generate a report
Step 1:
Go to the "Tasks" tab and choose to "Generate reports".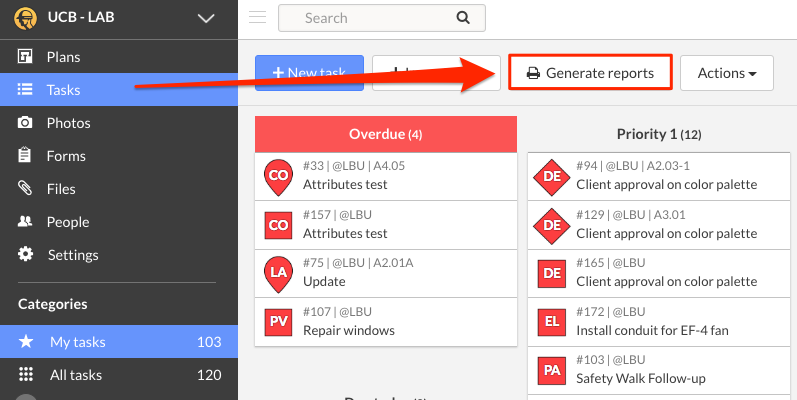 Step 2:
Select 'Sort by' and 'Filter by' options to ensure you are including the relevant information in the report.
Reports tab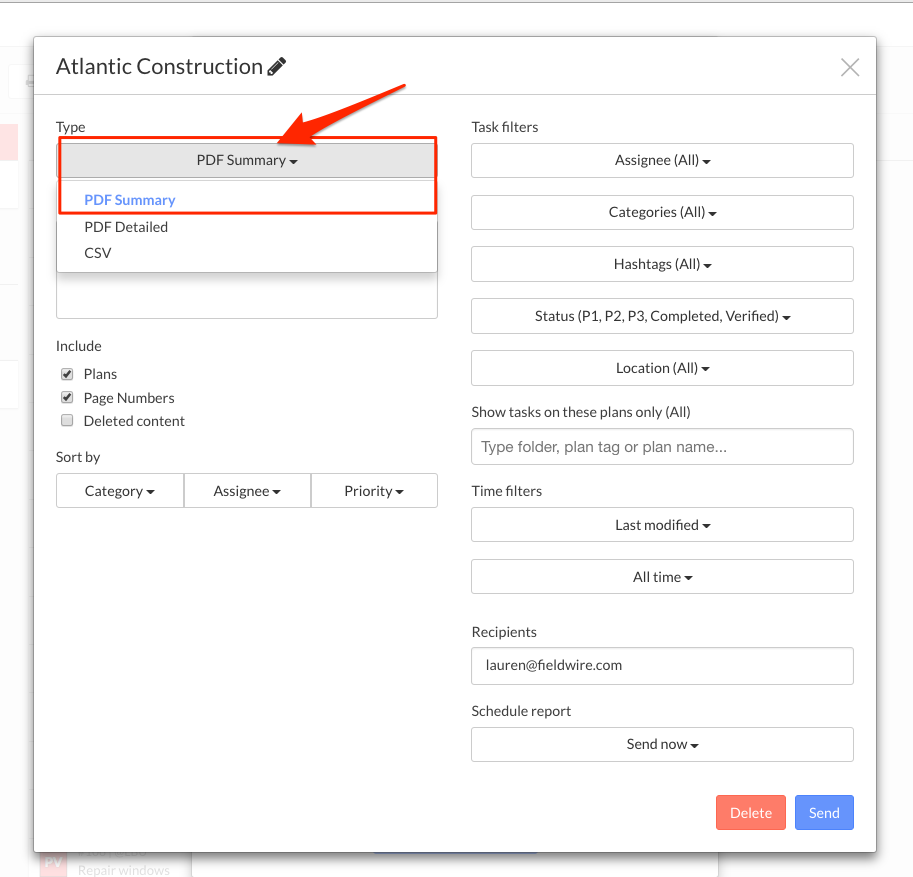 Step 3:
If you'd like to email a copy of the report to several individuals at once, you can add their emails under 'Recipients', then select 'Share' and 'Email'.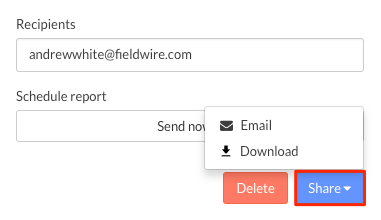 Alternatively, select the 'Download' option to download the report directly in your Browser.
Tip: The recipient does not need to have a Fieldwire account or be invited to your project to be added as a 'Recipient'.
Step 4:
If you opt to email the report, the 'Recipients' will receive an AWS link in an email from Fieldwire. Click on the link to download the report.


Step 5:
Open the downloaded report on your local device using a PDF viewer or a CSV viewing software - depending on the type of report.


What does the 'Report Generation Failed' pop-up mean?
If you attempt to email or download a report and you receive the message 'Report Generation Failed' it means that the report has been generated too many times in a one-hour window:


The limit is 10 reports, per report template, per hour.
The hour starts to count down when the first report has been generated.
There might be a few different reasons as to why you might receive this message. This chart details a few common reasons as to why you may run into this message:
| | | |
| --- | --- | --- |
| Reason: | Resolution: | How-To: |
| A report template is generated more than ten times in a row under an hour; each report has new filters applied to it. | Clone the report template, and adjust the filters on the cloned report. | |
| Several users generate the same report template at the same time. | Add more emails under the Recipients section. | |

Typically, you should not hit this limit. Just keep in mind what specifically you'd like to report on, and to leverage the 'Recipients' field to send the report to the appropriate stakeholders.
More information
Tutorial video on generating reports