Overview & background


Jobsite safety should be every construction team's number one priority. Establishing safety standards for your project is one of the most effective ways to protect your most valuable asset: your workers! Losing workers to injury, even for a short time, can cause significant disruption and costs; not just on the job, for workers and their families at home too.
The best safety programs foster proactive approaches to finding and fixing job site hazards before they cause injury. Rather than reacting to an incident, everyone on your team can work together to identify and resolve potential issues before they occur. This collaboration builds trust, enhances communication, and often leads to improvements in business operations.


How does Fieldwire assist with safety on the Jobsite?
Track on-site safety observations with photos and comments in Tasks on plans.

Store and access safety and health resources, even while offline.

Assign tasks to responsible parties; leverage task notifications and due dates to track an issue to its resolution and hold team members accountable.

Use the Graphs view to analyze safety trends on your project to increase preventative measures.

Send project-wide notifications for emergency alerts.

How to use this Practical Guide for Safety

Let's say you're on a ground-up project for a middle school that includes 20+ subcontractors, and you need to ensure the project requirements are safely completed. To do so, you'll need documentation of hazards and safety incidents as well as a trackable way to hold responsible parties accountable. This guide will walk you through setting up a Fieldwire project for Safety, so your team can focus their time on pushing the project over the finish line!


Table of Contents

1. Configure your Project for Safety Tracking
1a. Create Categories that reflect hazard types
1b. Create Tags for Subcontractors
1c. Upload Project site Plans to help add location context
2. Track and Resolve Safety Hazards
2a. Create Tasks on Plans to identify issues where they need to be addressed
2b. Assign responsible parties and add necessary context
2c. Confirm with OSHA standards and other resources
3. Identify trends in Safety issues and prevent them proactively
3a. Use Task Dashboards and Graphs to see trends in Categories and Tags
3b. Use Project-Wide Notifications for a Safety Stand-down


1. Configure your Project for safety tracking
In our middle school project example, we have dozens of subcontractors on-site working at the same time around various parts of the site. With all those craftsmen hard at work, we need to be able to identify and resolve safety hazards as soon as possible while, of course, preventing future ones. This section goes through setting up the simple but effective tracking information you'll use to identify the types of safety issues that may occur on-site.

1a.

Create Categories that reflect hazard types
To begin setup, configure Task Categories: these are used to keep Tasks organized throughout your Fieldwire Project. You can add more Categories any time during the duration of your project, but creating a good set on day 1 saves a ton of time. You can clone your customized Categories when creating any new safety Project in the future, so getting them right the first time pays extra dividends.
Create categories for distinct types of hazards - descriptive task categories automatically expose trends in the types of safety issues being reported onsite.
Examples:
Access/Egress

Cranes

Environmental

Fall Protection

Impalement

Electrical (Lock Out Tag Out)

Hot Work

PPE

Silica & Dust Control
To add a new category, select the '+New category' option at the bottom of the category menu on the web version of Fieldwire (our mobile apps leverage categories but don't include the option to create them):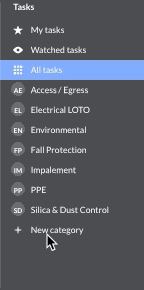 More information on setting up Categories:

1b. Create Tags for Subcontractors

Task Tags are used to associate groups of similar Tasks within and across your Categories; with hazard-type Categories established, create tags that will help you filter for and report on more detailed cross-sections of onsite safety issues.

For safety tracking, tags are most often used to indicate the subcontractors on your project. If you already have a list of these subcontractors in a spreadsheet, shortcut the process by importing several tags at once. If you create your Tags list from the start, your team can easily add subcontractor tags to each safety Task they create, tracking the responsible party efficiently and consistently.

From the 'settings' gear, click 'Manage tags', then choose 'Import'. Paste the list of subcontractor companies or add them one-by-one and click 'Import tags':
You can always come back to the 'Manage Tags' option to add more tags or edit existing ones at any time.

More information on creating and using Tags:

1c. Upload Project site Plans to add location context
Upload all of your project site plans into the Plans tab of your Fieldwire Project. You'll only need the plans that show the areas of the site, as these will help add location context. You don't need to upload any elevations or details, since those are less relevant for the sake of safety incident tracking.
Simply head to the 'Plans' tab, click '+New plan' and load your relevant drawings from your source of choice: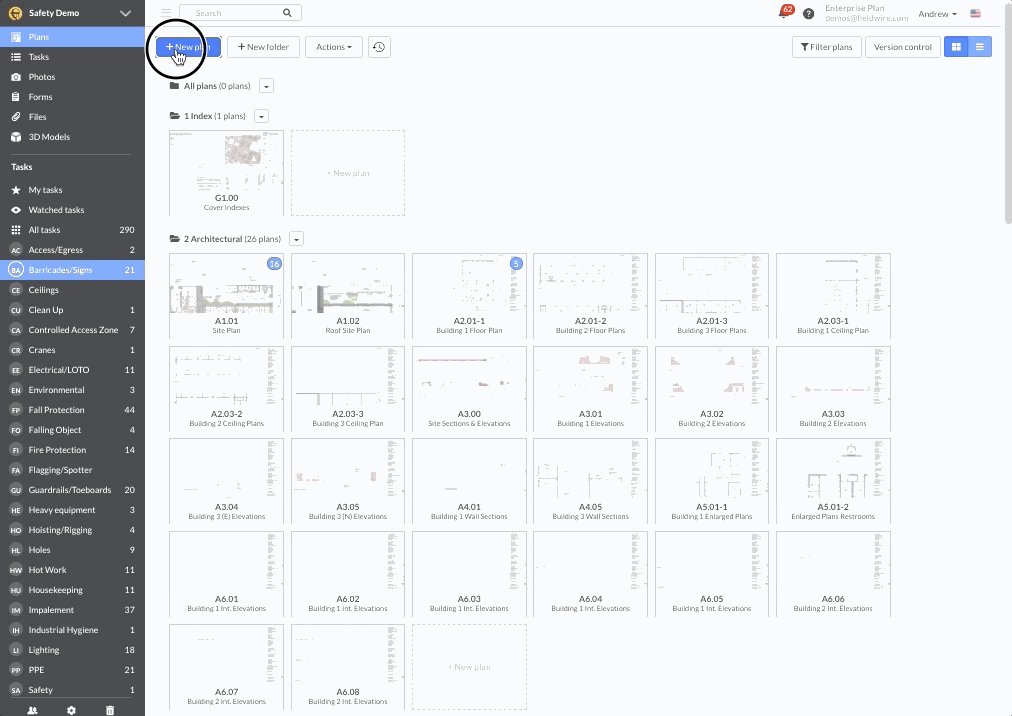 More information on how to upload and format your plans to take advantage of all the shortcuts we provide:
1d. Upload MSDS sheets and other safety/health standards into Files
Upload all relevant health and safety documents to the Files tab to create a centralized repository. Start with your MSDS sheets so they can be easily accessed by your whole team on their mobile devices, both online and offline.
In addition to MSDS sheets, upload any commonly referenced safety documents such as OSHA regulations, crane rigging plans, site safety protocols, etc. Anything uploaded to 'Files', can then be added directly to Fieldwire Tasks, or as hyperlinks directly on relevant Plans, for even more context on the specific issue.
Navigate to the 'Files' tab on Fieldwire Web, click '+New file' and upload your documents (in bulk, if you like):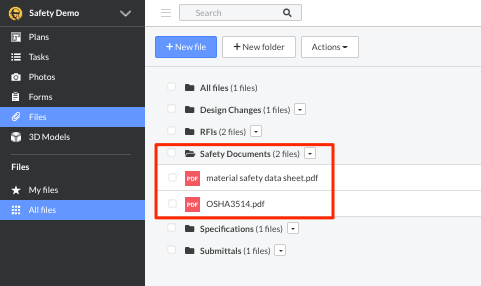 More information about how to add and organize Files:

2. Track and resolve safety hazards
Now that your Project has been set up for a safety tracking, it's go time! Let's say you're on a site walk and notice an impalement risk. Create a Task to document the "where and what" of the issue and ensure that a cover is placed over the hole in a timely manner.


2a. Create Tasks on Plans to identify issues where they need to be addressed

As your project kicks off, leverage Tasks to document and resolve onsite safety incidents or observations. Simply drop a Task pin on the area of the Plan corresponding to the issue: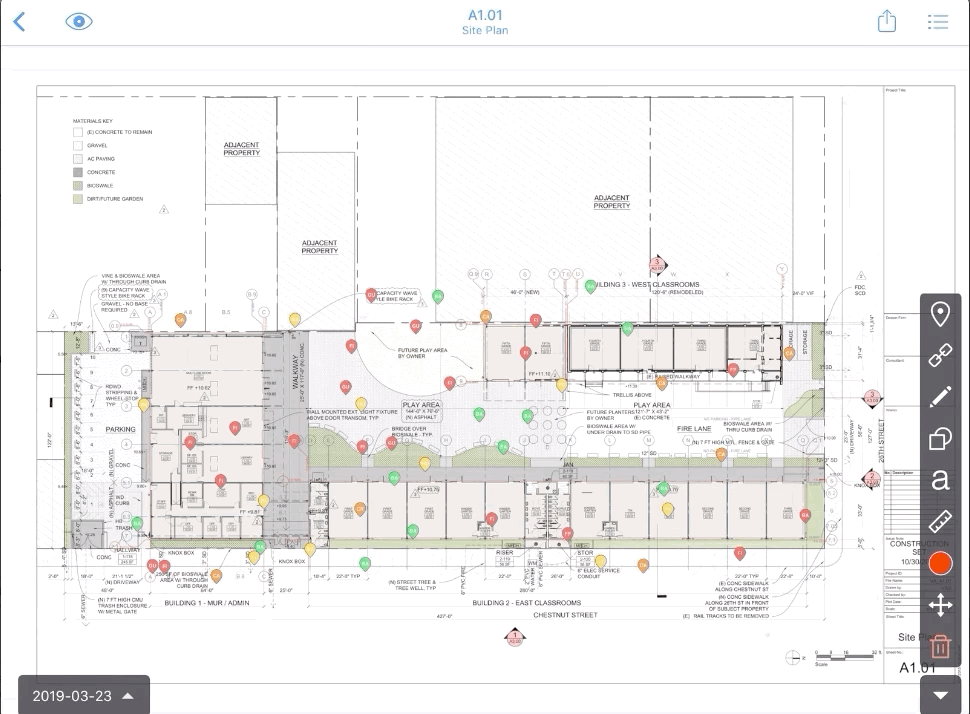 Give your Task a title that clearly states the issue, then select the corresponding Category: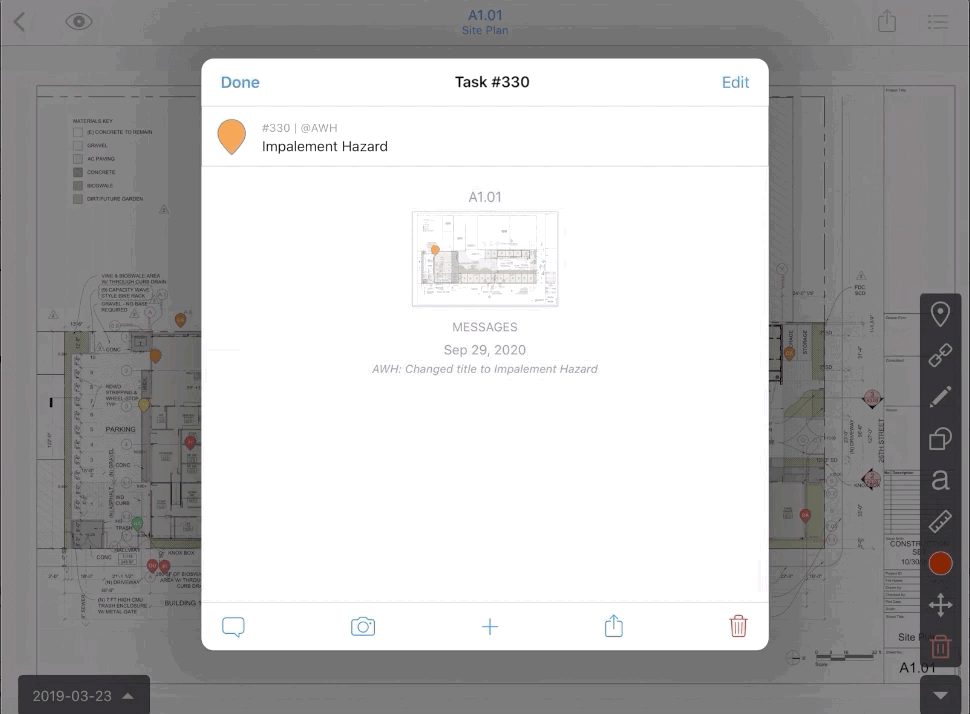 Add the responsible subcontractor Tags by writing a quick comment on the Task using the '#' symbol: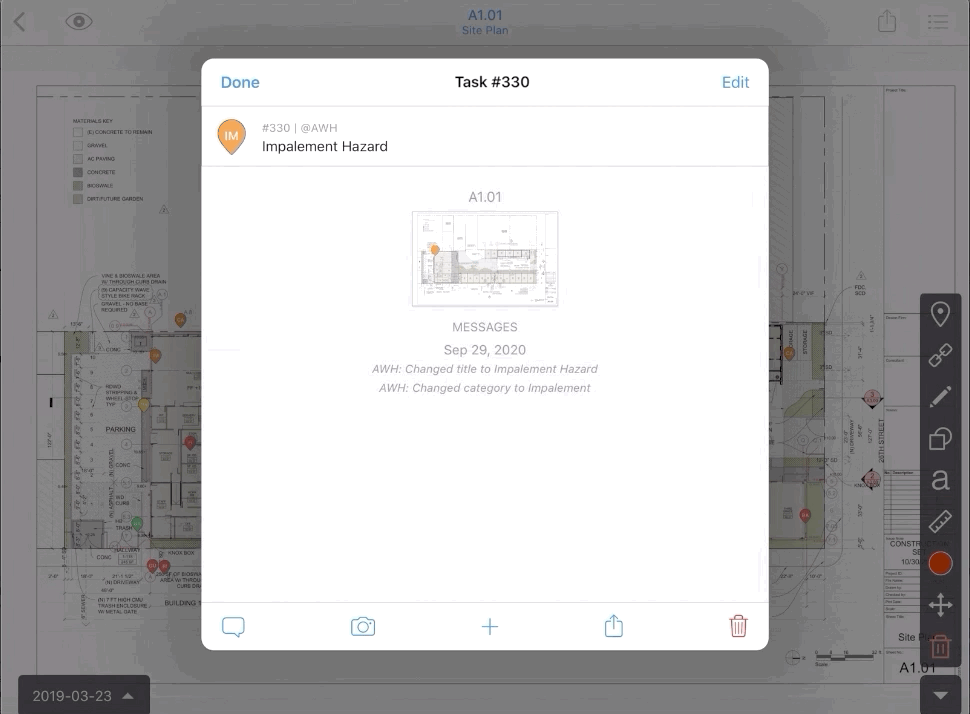 Select the 'Edit' option in the top-right corner to adjust the Task Status (i.e. Priority). Since this poses a high-threat, we'll set the status to P1: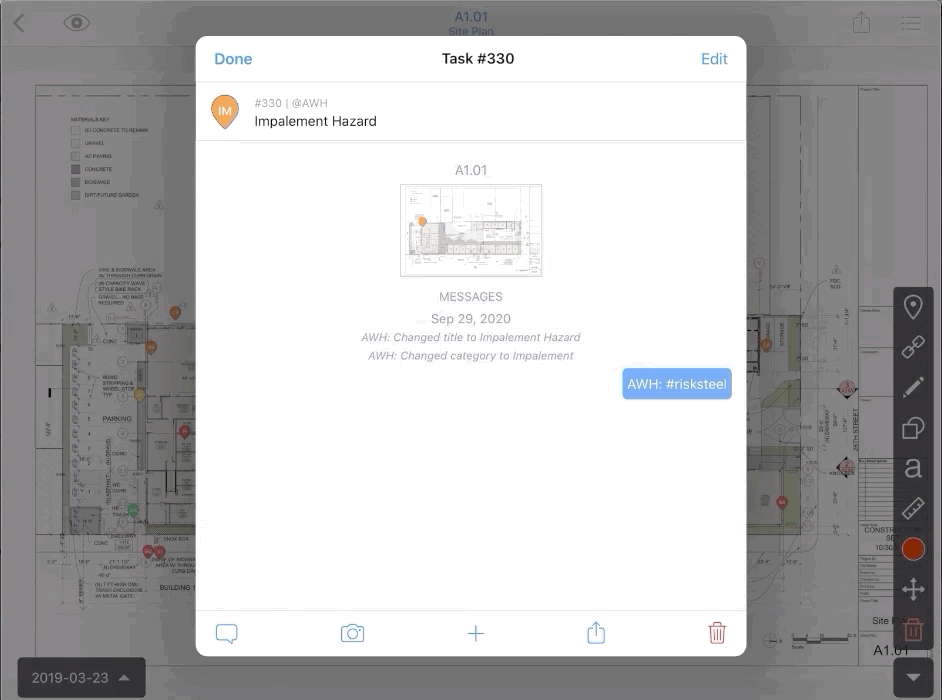 2b. Assign responsible parties and add necessary context

Once you've filled out a Task, set an internal team member or your subcontractor as the Assignee. Your assignee will be responsible for responding or resolving the issue, and they'll receive an automatic notification (via email and push notifications, if they're on their mobile device) when the assignment is made. Add anyone else you want to be automatically notified of updates to the Task as 'Watchers'. As the creator of the Task, you're automatically added as a Watcher, but you can remove yourself if you don't want notifications on its progress.

To quickly assign a task, type the '@' symbol, followed by the name of the Assignee. You can also add Watchers to the Task by entering their name with the '@' symbol once the assignee is set: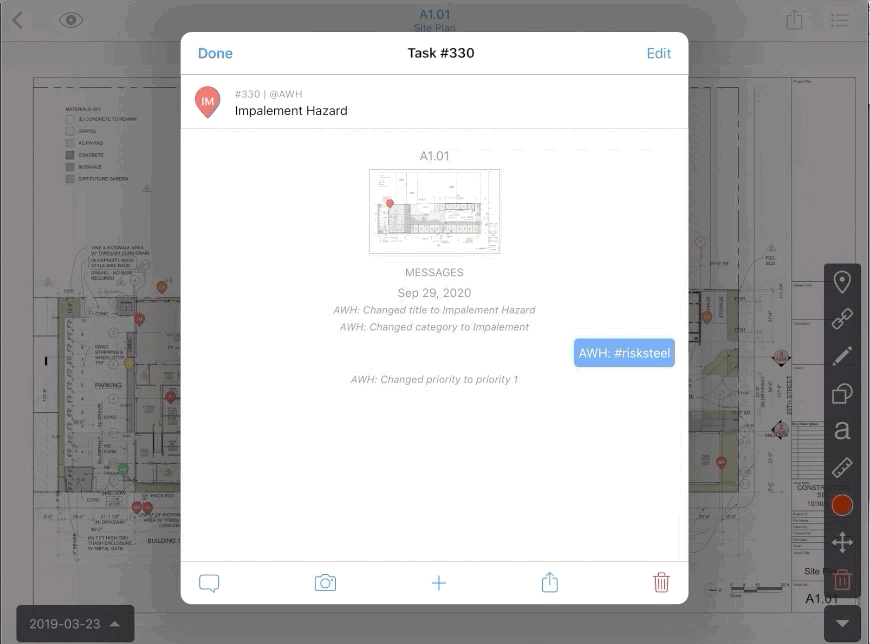 Add messages on the Task to collaborate and communicate with the assignee and watchers in real time: provide updates, ask questions, and document results to complete and verify the work.
Snap a Photo or two of the hazard for documentation and so there's no confusion as to what you're referring to when the Assignee resolve it. Add links to any of the safety/health documents you've uploaded in 'Files', all on the Task itself: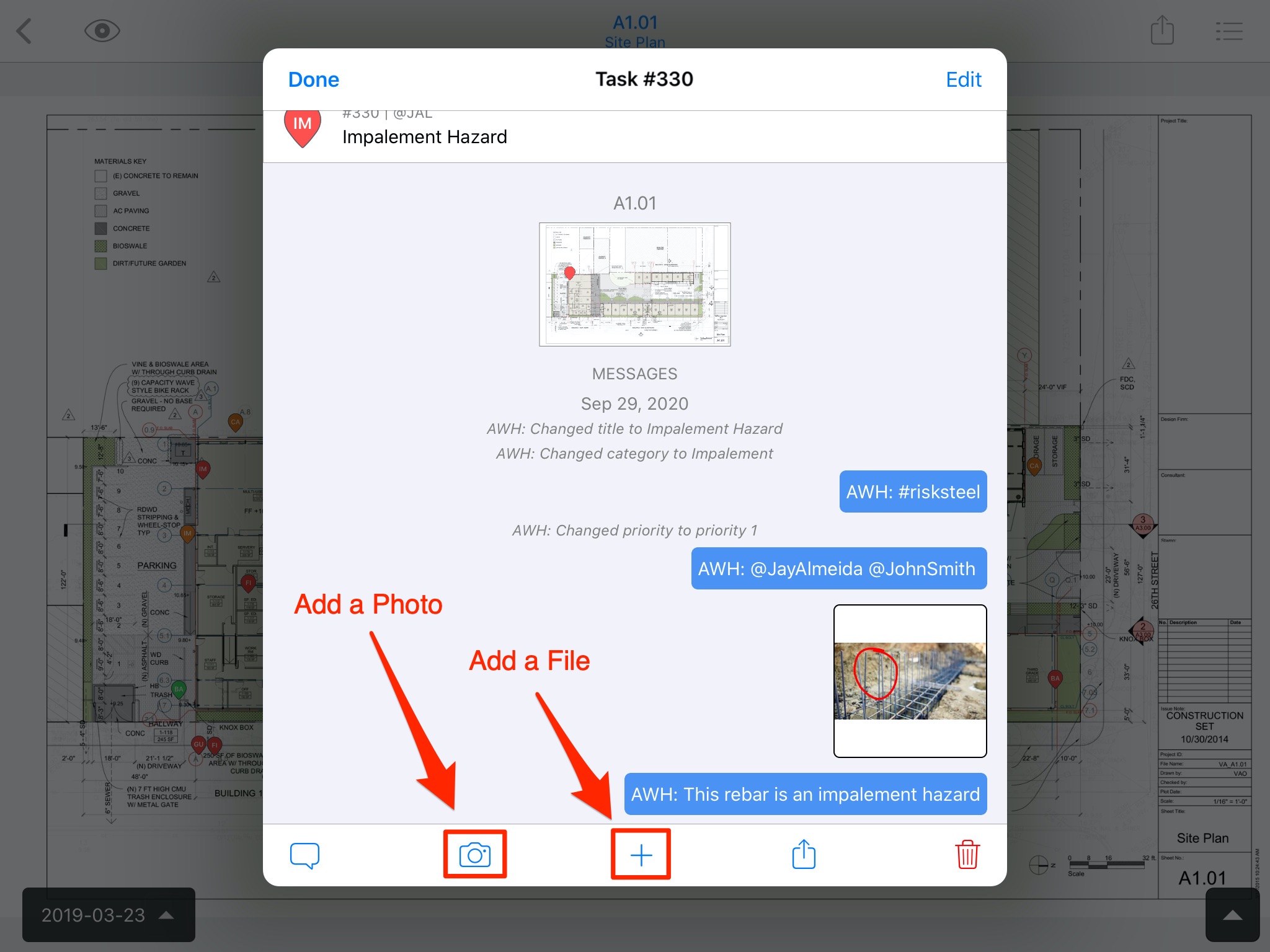 Tip: Tap any Photo on a Task to add markups directly to it!

More information on how to effectively leverage Tasks:

2c. Confirm with OSHA standards and other resources
Whenever confirmation on best practices or local occupational safety laws is needed, check your Files tab for quick access to OSHA regulations, MSDS sheets, etc; remember you can also link those directly on relevant Tasks and Plans for even quicker access.
Because all your pertinent documentation is in a single location, you won't have to worry about digging through your emails or heading back to the trailer to flip through a big binder. Make sure your whole team knows about this resource, accessible in the left menu at any time on both Fieldwire Web and our Mobil Apps: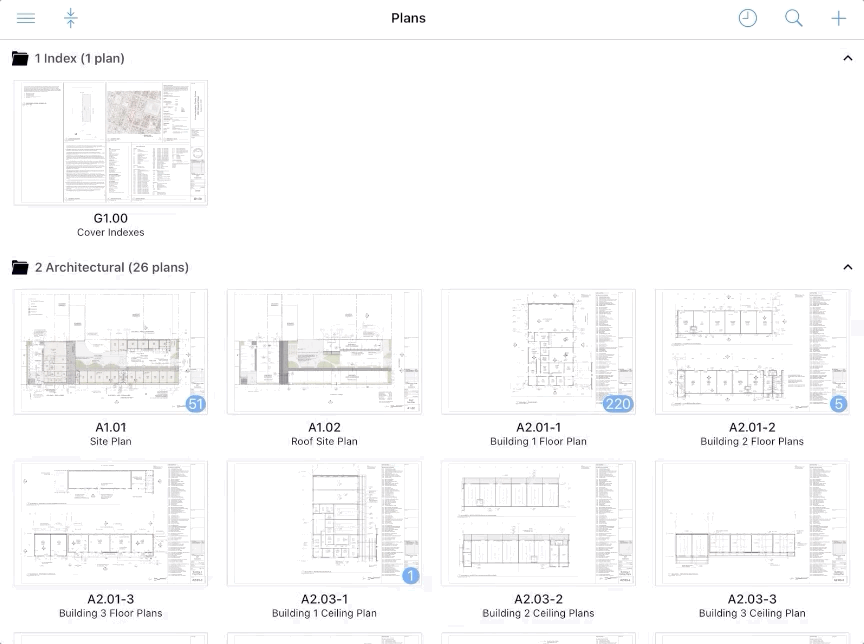 3. Identify trends in Safety issues and prevent them proactively
As you manage your safety Tasks in Fieldwire, you'll easily coordinate among all relevant stakeholders in real-time and more efficiently resolve issues.
Leverage Task dashboards and Reports to track the Status of your Tasks; make sure nothing falls through the cracks, and manually or automatically email reports to your key stakeholders at whatever cadence works best for you. You'll identify trends and patterns onsite which will be invaluable for prevention planning in the future.

3a.

Use Task Dashboards and Graphs to see trends in Categories and Tags
Fieldwire offers several powerful views on the Tasks tab. The default Kanban tab gives you a bird's eye view of the status of all safety tasks on your job and allows you to drag and drop Tasks to change their status and priority, automatically notifying your assignees of the change: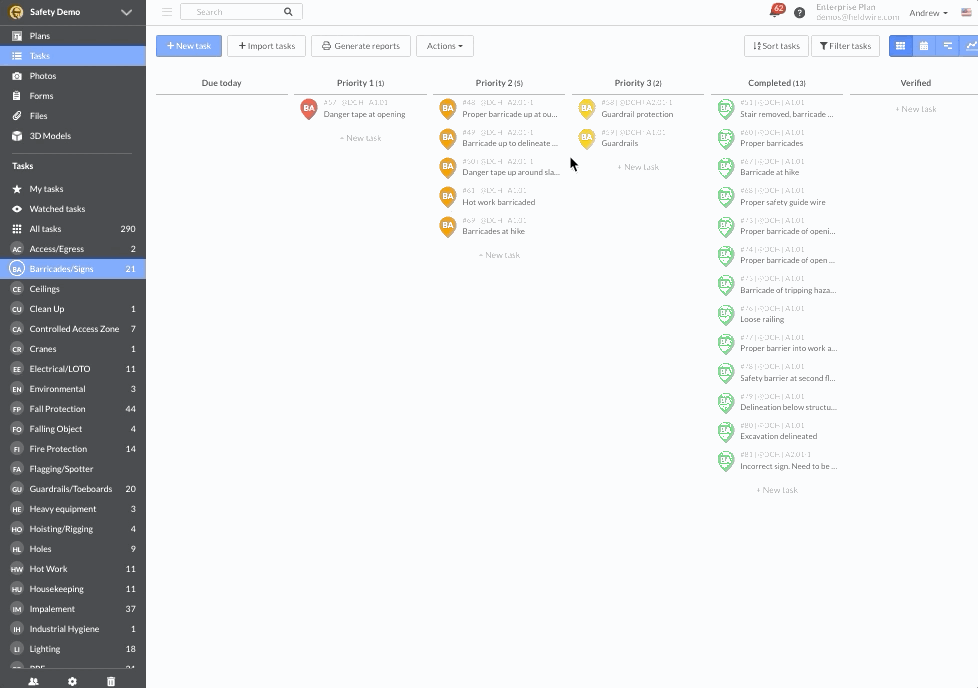 The Completed column displays all Tasks that have been marked as "Complete" by the Assignee but are waiting to be moved into "Verified" (by you or other Admins on the project). This 2-step verification process ensures no safety issue goes unresolved or unconfirmed.
More information on two-step verification:

The Graphs view visually highlights any safety trends occurring onsite to provide insight that informs the next steps. Safety incidents on this job related to Fall Protection occur the most frequently: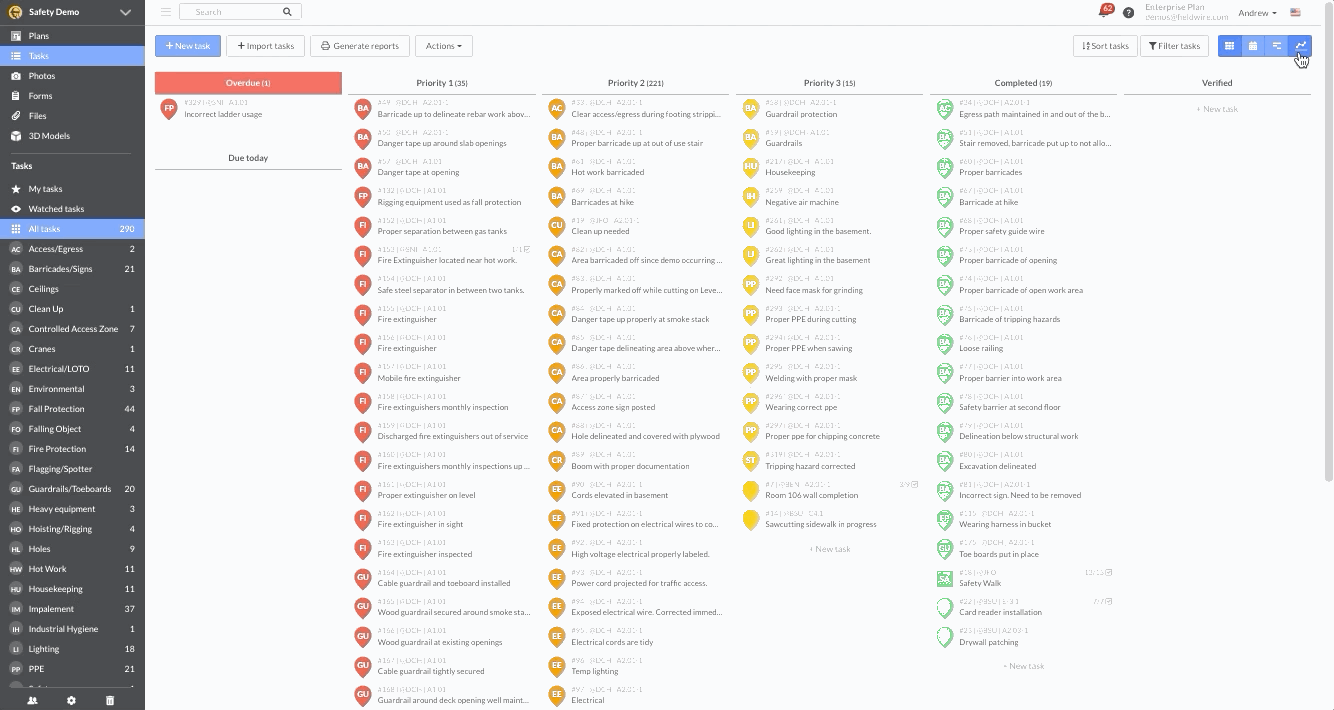 Knowing this, your project team can hold a safety stand-down or hang informational posters about fall protection to serve as reminders.

Likewise, the graphs showing Lifetime Tasks and In Progress can inform the project team about the rate at which they are addressing and closing out issues. So over time, you'll be able to track if fall protection related incidents were reduced by this effort.

On any Task view, you can also leverage the 'Filter' option. This is where you can leverage the subcontractor tags to view the frequency of when Subcontractors are mentioned in Safety incidents: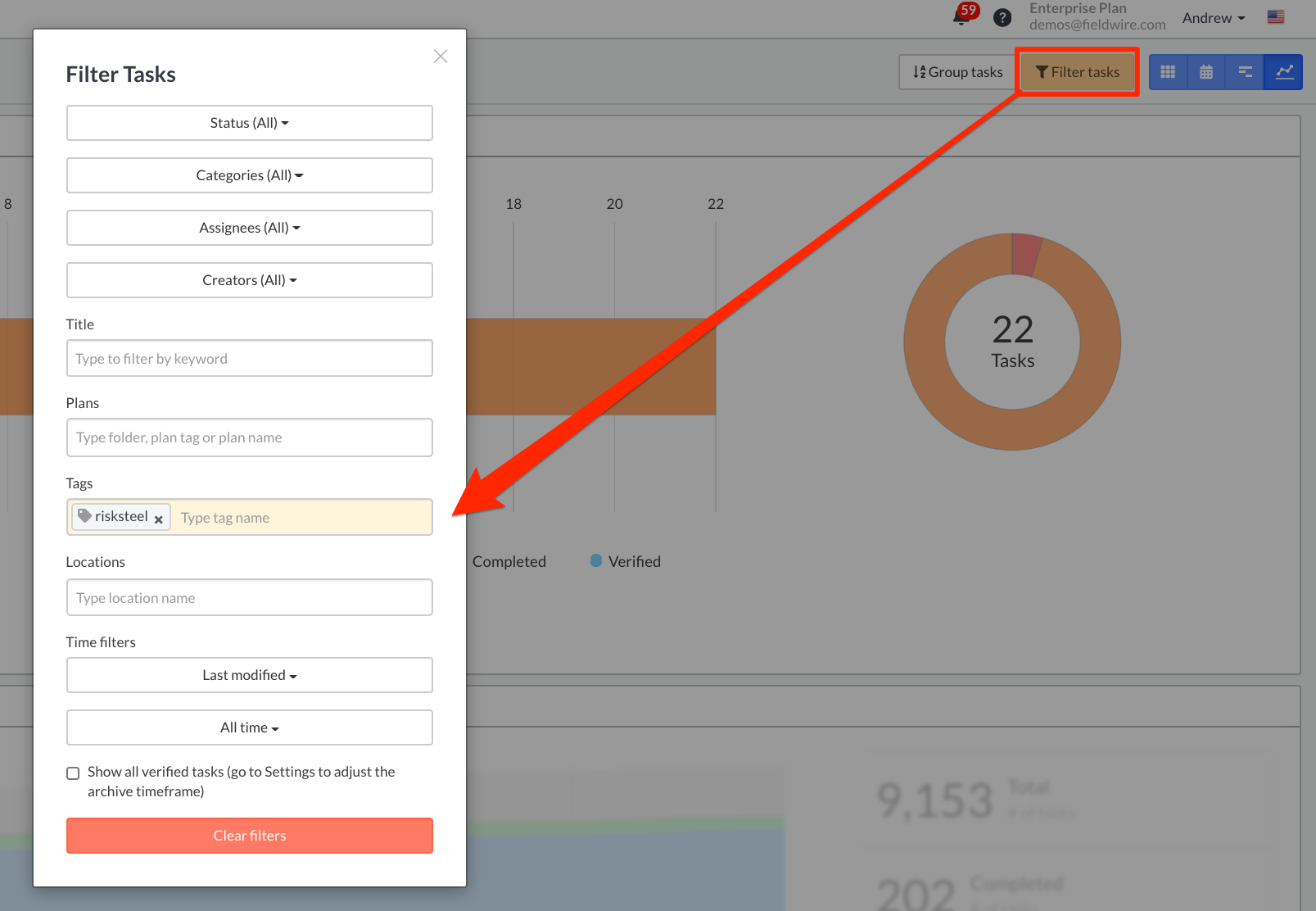 More information about the Task Analytics view:
3b. Use Project-Wide Notifications for a Safety Stand-down
The final step of using Fieldwire for tracking safety hazards is to actually implement the knowledge your team gathers into actionable initiatives. In the earlier example of recurring Impalement hazards, your team will want to host a Safety Stand-down for the whole project site.
A Safety Stand-down is a mandatory event involving a short break from work for employers to talk directly about safety. For more information on conducting a successful Stand-down, check out OSHA's suggestions here.
After you've prepared for the Stand-down, you can alert the entire team using Fieldwire Project-wide email notification from the web version of Fieldwire. Select the Notification bell icon while the relevant Project is open, and choose to 'Send project notification'. From there, determine which user groups will receive the notification and the Title and body of the message: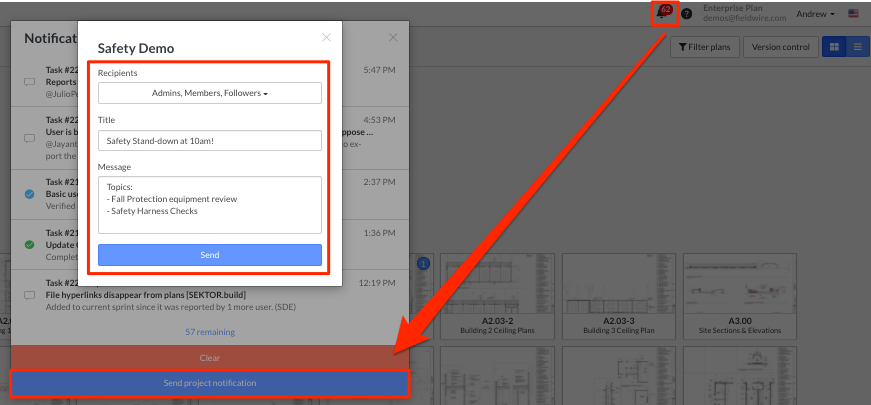 Set the Recipients to all Project team members and make sure to include the meeting location and time within the message, as well as a reminder notification 15 minutes beforehand.

Tip: You can use Project-wide Notifications for other safety-related announcements whether it's an alert for emergency evacuation of the site or communication of an incident that requires others to pause work.

Other Safety best practices
We've created some additional blog posts on how to conform to safety guidelines, prevent the spread of Covid-19 onsite, and stay up to date on OSHA's Stretch 'n' Flex guidelines. Feel free to leverage these in conjunction with these safety workflows in Fieldwire to help prevent on-site injury!
Have any feedback?