Overview & background

Everyone covered under an Account Owner's umbrella will appear on their main People Dashboard which you can view after logging into Fieldwire. There are three types of users that can be added to an account: Account Managers, Account Users, and Project Users.

The Account People tab


Account Managers

Account Managers can create/access/edit any project covered by the Owner's account. The projects that they create are automatically covered under the account's umbrella. They can also invite new Account Managers and Account Users. Account Managers can request an API Token. Account Managers can edit Account Form Templates and Account lists.

Account Users
Account Users can only access/edit their own projects. The projects that Account Users create are automatically covered under the account's umbrella and they will be able to invite Project Users to each of those. Any projects created prior to becoming an Account User will need to be manually transferred to the paying account holder if he/she wishes to own them.


Project Users


Project Users are users invited to individual projects covered by the Owner's account. While they are financially covered by the account, the projects that they create are not. Project Users will be designated as either Project Admins, Project Members, or Project Followers in their Projects; Project permissions are described in detail here.


Account user types and their various permissions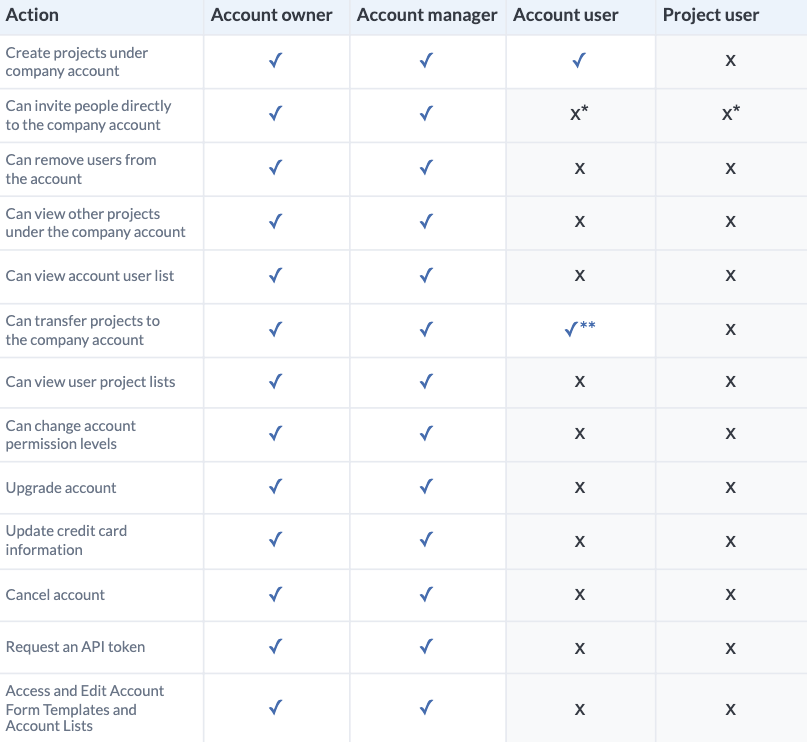 *An account user or project user cannot invite users directly to the Account, but they could invite users to Projects, depending on their project permissions.

**Whenever an Account User initiates a project transfer, an email is automatically sent to the Account Owner and all Account Managers for approval; the project transfer will complete as soon as ANY of them approve the request. Account Owners and Managers can transfer projects between accounts with no additional approval.

More Information


These are a few additional articles that explain other permissions sets in Fieldwire.
Tutorial video on Account Management
Managing your Team in Fieldwire