Overview
In Fieldwire, the Account Owner is usually responsible for payments, setting up projects, and managing User access. However, to prevent bottlenecks, you can have multiple Account Managers who can also manage payment information, set up projects, and manage User access. This article will go over what you need to know as an Account Owner/Manager.
Table of Content
1. Pricing & Account Management
2. Account vs Project-Based Roles
How to Add and Remove users from your Account and Projects
How to Gain Access to Projects in Your Account
Fieldwire Project Dashboard
Before getting started, take a look at the Project dashboard on the web version of Fieldwire. The dashboard has six distinct tabs for subscriptions: Projects, People, Account, Templates, Integrations and Tutorials.

The 'Project' tab is where all of the Projects, you start or are invited to, are accessible. In addition, as the Account Owner, or Manager, you'll have access to the projects other Account Managers and Account Users start.
The 'People' tab displays all of the covered users under your account. This also displays their Company and Phone Number, (if they have entered this upon sign-up, or from their Profile Settings), the Projects they have access to, and their respective Account Permissions. Account Owners and Managers will be able to add or remove users to the account or projects from this tab:

The 'Account' tab provides the Account Owner and Account Managers the option to review and edit their Subscription. Here, you can update your subscription, update your payment information and billing address, view and download previous invoices, and request API access: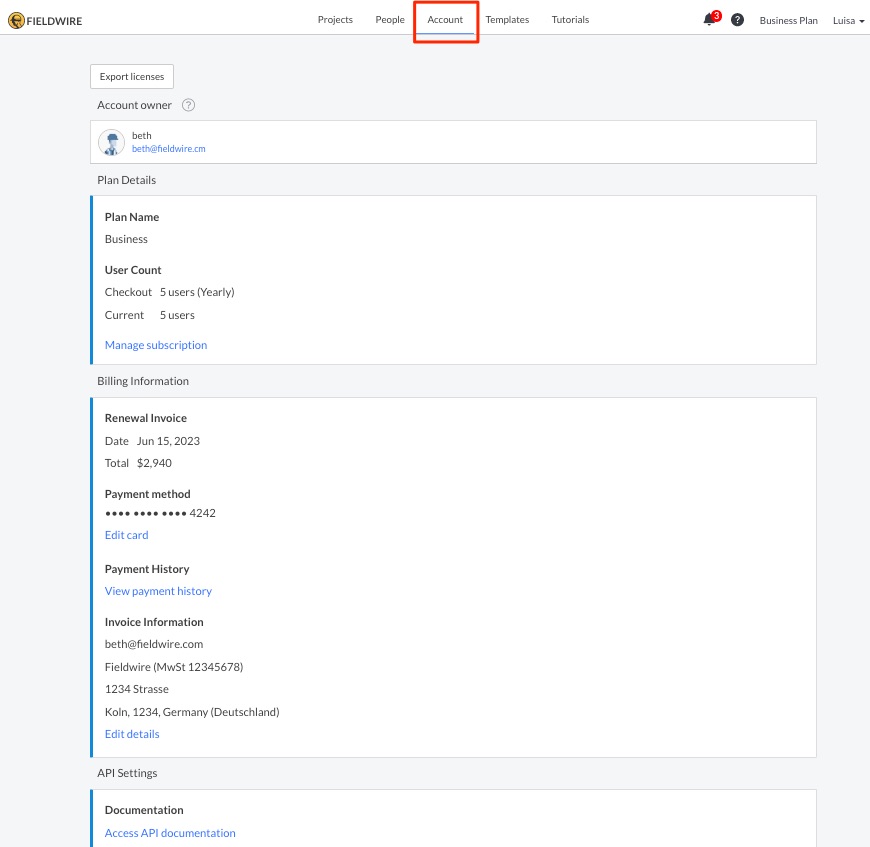 For Business subscriptions, the templates tab hosts account form templates or form templates that can be shared between projects. Account Owners and Managers can create and manage Form Templates associated with the account. Forms that Project Admins import from Projects will also appear under the Account Forms section.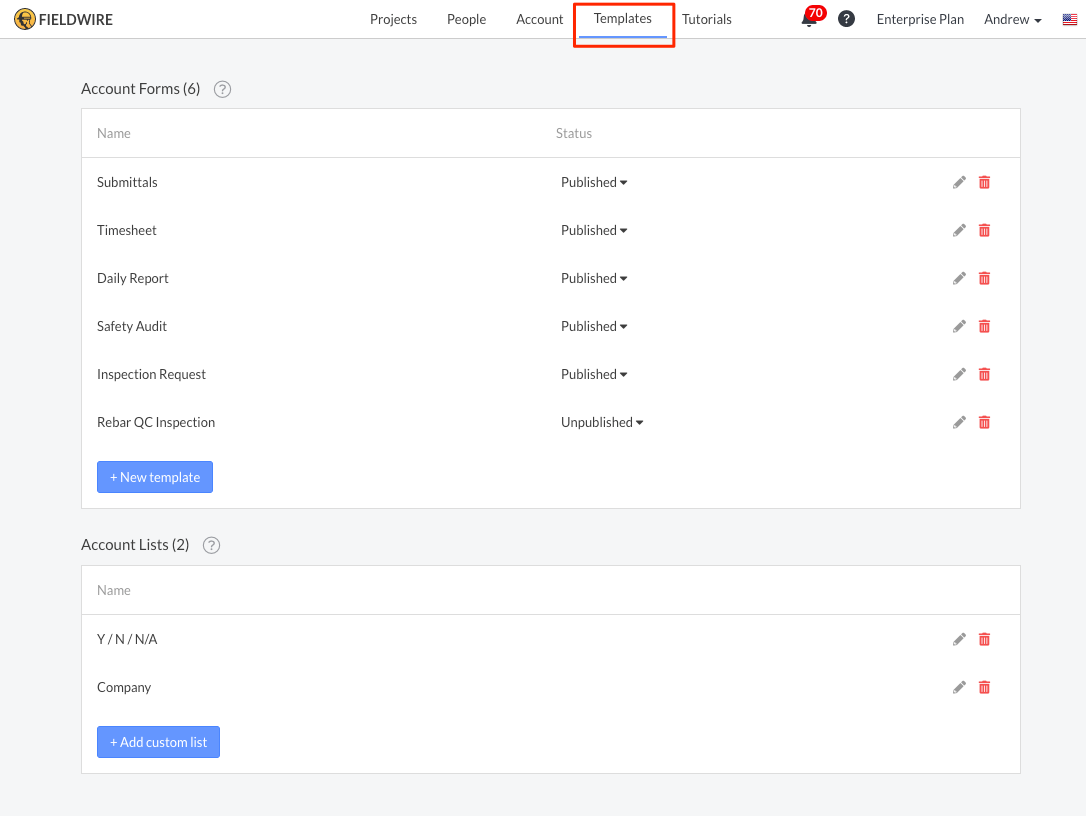 The Tutorials tab will redirect you to our help center where you'll be able to access video playlists for Account Managers, Project Admins, and Mobile Users. Even if you are neither a Project Admin nor an Account Manager, the videos provided on all of the playlists will re-affirm product overviews and best practices in Fieldwire: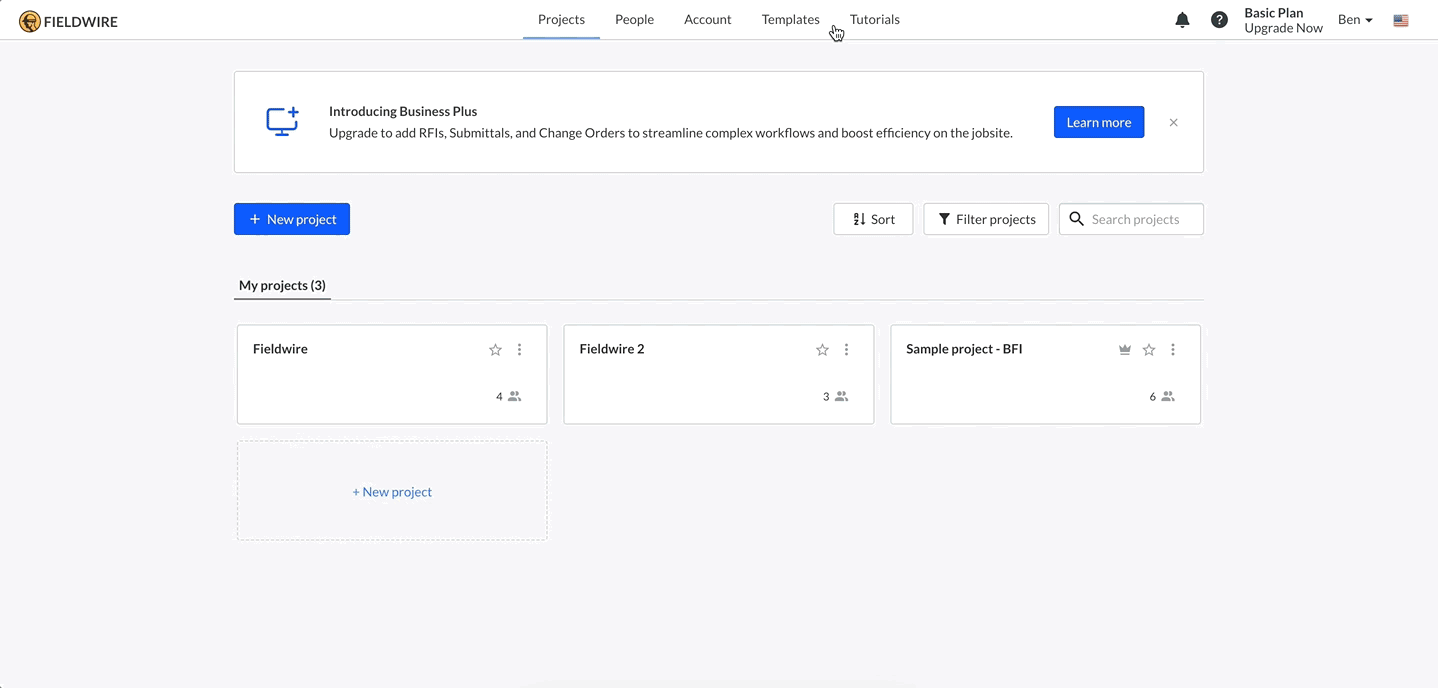 To learn more on the Projects Dashboard, please refer to the following article:
How can I create a project and use the Project Dashboard on Web
1. Pricing & Account Management
Fieldwire is priced on a per-user basis. This means the price of one's subscription is impacted by the number of users invited to the account or projects. Every user on the project and/or account will need to be covered under the Account Owner's subscription or have their own Fieldwire subscription.
As an Account Owner/Manager, understanding pricing and overages, and how they relate to User Management, ensures you'll have predictable and affordable charges.

The cost of the subscription is dependent on the plan you have chosen, each provide you with unique features you can leverage in Fieldwire. You can also opt to pay on a Monthly or Yearly cadence.


| | | |
| --- | --- | --- |
| Per Person Subscription | Price per User per Year | Price per User per Month |
| Pro Tier | $468 per user | $54 per user |
| Business Tier | $708 per user | $74 per user |
| Business Plus Tier | $948 per user | $94 per user |
Account Management
As a subscription-based service, you have the option to adjust or alter your subscription at any time. To avoid overages make sure that your license doesn't exceed your user count if you are under the yearly subscription plan. If you are under the monthly account, make sure to invite users on your monthly renewal date.
Most of these changes will be located in the Account Tab. From this page, you can see the Subscription Plan details, Billing Information, Payment History, Invoice information and API setting (Available with Premier plans).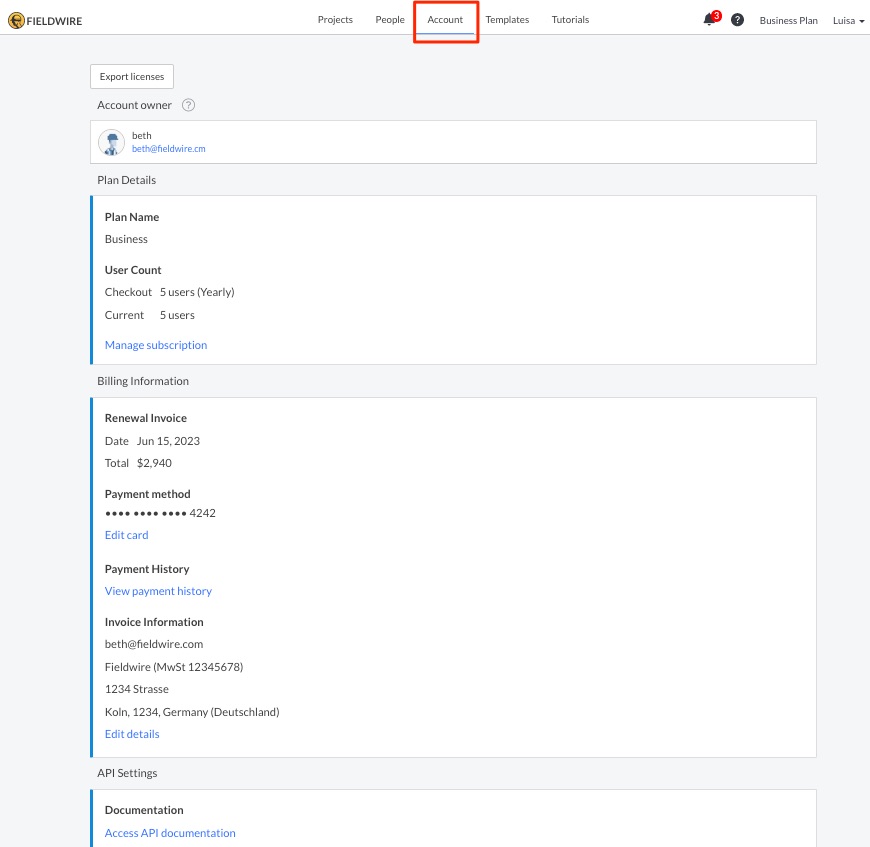 To learn how to manage your Fieldwire subscription, please see the following article:
How do I manage my Fieldwire subscription?
You will have the power to make changes in different areas of your account. To learn more of these abilities, please go over the following article:
Inviting Users & Overages
The section Account vs. Project Roles will go over the difference between an account and project-based roles. However, you must understand that account users and project users that are given admin permission on a project are able to invite users to projects that will be covered under your account. If one of your users invites another individual to a project who doesn't have a Fieldwire subscription, then the account owner will be responsible for that new user's subscription (prorated).
Whenever a user is invited to one of your covered projects, he is added to your account as a project user. Suppose that the user finished his job (for example, if he is a subcontractor or is no longer at the company) and he is removed from all projects under your account. The account will no longer incur overage charges for this user (if the number of users exceeds the number of licenses) or he will no longer hold one of the annual licenses (if the number of users equals the number of licenses purchased).
To avoid overages for extra users, you can purchase extra yearly licenses to cover any users invited to your account. Annual subscriptions don't have any association with any particular user, so this subscription revolves automatically. For example, if you have 15 yearly subscriptions and two of the subcontractors have finished their job, you can remove them from the account, and you have two available spots to invite someone else; they would be covered without any overages.
To learn more about pricing and overages please see the following article:
Fieldwire Pricing and Overages
Annual Overages
An Overage charge occurs when your user count doesn't match your Annual license count. An account will be charged for any additional users at the monthly rate on the first of the month following the month they were added. For example, you have a total of 18 users in January, but you have signed up for 15 annual subscriptions. On February 1st, you will be billed for the time the 3 users were in your project or account at the monthly rate.
Monthly Overages
Whenever a user is added to a project or account, the account owner will be charged the following Monday. On that Monday, the account owner is charged at a prorated monthly amount for the number of days the additional user was on the platform since the first Monday and the predicted usage of the user for the remainder of the month. If the user is removed before the end of the month a credit will be given to your account; this credit will be applied to any upcoming invoices.
2. Account vs. Project Roles
In Fieldwire, there are two different permission levels: account and project roles. Account roles will determine what authorization users have in the account overall. In comparison, project roles will determine what users can do and see in specific projects. Users can have different project roles in each of their projects, which do not impact their account role.
You will be able to see all the users under your account by going to the People Tab. Here you can manage their account roles, invite them to projects, and provide them with project roles.

Account Roles
Account Manager
There can only be one Account Owner per account; however, there can be multiple Account Managers. Account Managers have the same permissions as an Account Owner. If you'd like to watch videos about Account Managers and what they can do, check out the article below:
Account Manager Playlist (Web)
Account User vs Project User
The key difference between account users and project users is that the account users will be able to create their own projects that are covered under your account. In contrast, project users will only be allowed to the project you invite them to (the projects they create will not be covered under your plan). When a project user logs into Fieldwire, they will see Basic Plan in the top right corner, even if they are invited to Pro or Business projects.
Account user type and their various permissions
*An account user or project user cannot invite users directly to the Account, but they could invite users to Projects, depending on their project permissions.

**Whenever an Account User initiates a project transfer, an email is automatically sent to the Account Owner and all Account Managers for approval; the project transfer will complete as soon as ANY of them approve the request. Account Owners and Managers can transfer projects between accounts with no additional approval.
If a project user has started a project that you want to be covered under your account, it will need to be transferred. To transfer projects from a basic/free account to a paid account, please follow the following article:
To learn more about Account permissions, please read the following article:
Project-Based Roles
Project Roles are more complex. The role assigned to the user determines the actions that user can make and what the user can see in a project. There are three different roles Admins, Members, and Followers.
The administrators of a project will be able to invite any users to the projects without any consent from the account owner/managers. In contrast, project members and followers can invite a user to the project only after a project admin approves the invite. Also, members and followers can only invite users to a project with the same project permission they have. For example, a member of a project can invite another user to the project as a member. That invitation will only be sent after an admin approves the invite. An email and notification will be sent out to all admins of the project for transparency and approval.
Project roles will not be linked to the account role. For example, a project user (Account Role) can be a project admin in a project.
Project roles and permissions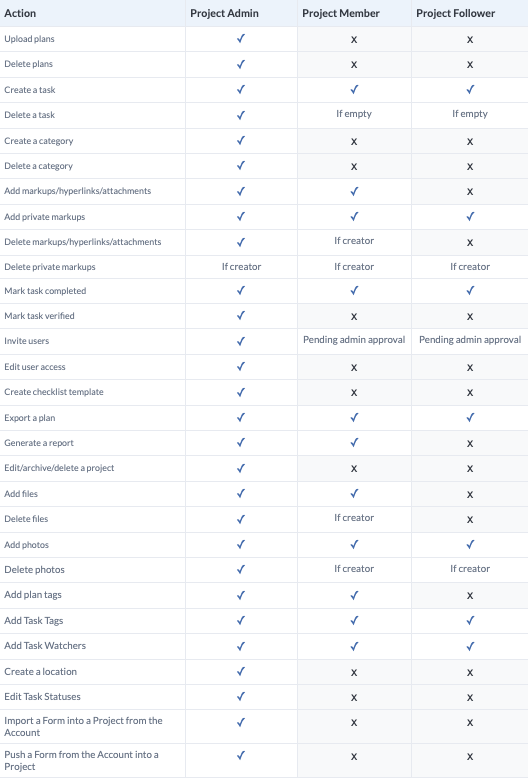 Project base roles will be given to a user when they are invited to a project via an invite from the Project People Tab. Project based roles can also be modified directly from the Account People tab as well.
To learn more, go over the following article:
3. How to Create Projects
Now that you understand the difference between account vs. project roles, it's time to learn how to create a project. Project set up can be completed within 5 minutes from the Projects tab. To set up a project, you will need to upload your drawings, set up categories, and invite your team members.

To learn more, go over the following article:
How to Add and Remove Users From Your Account and Projects
As an Account Owner/Manager, you will add users to the account and projects (even the projects created by other Account Managers or Account Users) from the People tab.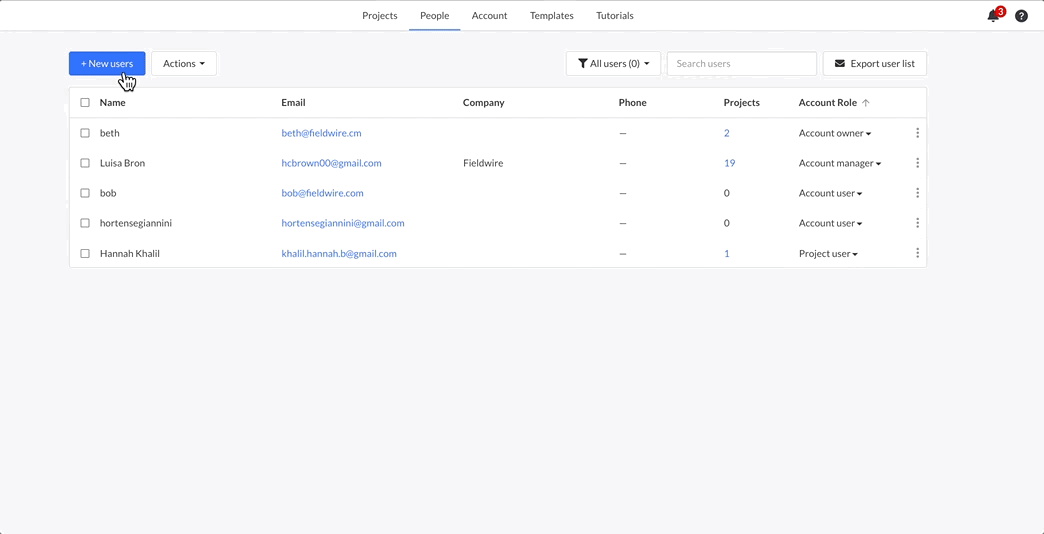 To learn more about inviting or removing users from your account or projects, please go over the following article:
How to Gain Access to Projects In Your Account
Account Owners/Managers and Account users can create projects that will fall under your account. For these projects, as an Account Owner/Manager, you can modify the project, archive the project, or provide other users access to them.
To learn how to gain access to projects under your account, go over the following article:
More Information
Here are a few additional articles that go into getting started: