Overview & background


As a task management platform, we feel it's important to let you choose which account plan is the best fit for your projects. 
Our pricing page explains each subscription. Pricing is ultimately dependent on the number of users per project. Fieldwire is free for small teams that do not exceed 3 total projects, 250 total sheets, and 5 unique users across all projects.
Once you go beyond any of those limits, you will receive an email notification from us and either need to upgrade to a premium account, or reduce the number of projects, sheets, and/or users back down to the set limits.

1. Features of each plan
3. Overage Charges - Annual Subscribers
4. Overage Charges - Monthly Subscribers
6. Credits on a Premium Account
Pro, Business, and Enterprise Features
 
Pro
Business
Enterprise
Features

Unlimited usage

Sheet comparison

As-Built Exports

Punch list reports

Project Archives

Email support

 

Forms

360º photos

Box 2-Way Sync

Dropbox 2-way Sync

Phone Support

 

 

 

Project /Company pricing

Multi-year Agreements

Training programs

API Access

Integration support

 

Keep in mind, that the Business Plan will include all features of the Pro Plan, and the Enterprise tier will include all features of the Business and Pro plans. 


Monthly and Yearly Subscriptions


Users who sign up for a premium Fieldwire subscription have the option to make a payment each month (monthly) or make a payment for twelve months at once (yearly). The rate of each is dependent on the plan you choose. As a subscription-based service, you have the option to adjust or alter your subscription at any time. 
| | | |
| --- | --- | --- |
|   | Price per year | Price per month |
| Pro-Tier | $348 per user | $39 per user |
| Business Tier | $468 per user | $49 per user |
Notes on Pricing
Pricing is prorated. If you have a project that has a number of revolving users, you will only be charged for the time the user was on the project. 
The Project Owner is the only person asked to pay. This person is responsible for managing other users on their project (Supers, PMs, Foremen, Subs, etc)
If you add a user to your project who already has their own premium account, you won't have to pay for that user being on your project (since that user will already be paying for their own premium presence).
There are no long-term contracts. To adjust your account plan, just go to the subscription page and select the plan you want. You can make updates at any time. 
In the interest of fairness, we will only charge you for your unique users across your projects. For instance, let's say you have two projects. Project A has 10 people and Project B has 15 people. However, 8 of the people on Project A are also on Project B. That means you only have 17 unique users and therefore only need 17 licenses, not 25.  This is calculated automatically for you on the subscription page. 


Overage Charges- Annual subscription


Every time you invite someone to the account/project they are automatically added as a monthly license to your account. The account owner is charged on the 1st of each month for the additional users added the previous month.
The amount will be the monthly rate for the selected tier. The account owner will continue to receive overage charges on the 1st of each month if they leave users on a monthly license (i.e. do not purchase another annual license)
The following is an example of how overage costs could be calculated for an account owner who purchased 9 yearly pro licenses. Keep in mind that overage charges are calculated based on the amount of time that a user is on an account/project. The example below is for users that were on the account/project for exactly one month. If a user is on the account/project for a shorter amount of time, then the overage charge will be less than the monthly rate. 


| | | | | | |
| --- | --- | --- | --- | --- | --- |
|   | User Count | Users who have yearly licenses | Extra user count | Monthly rate | Overage total  |
| May | 9 | 9 | 0 | $39.00 | $0.00 |
| June | 10 | 9 | 1 | $39.00 | $39.00 |
| July | 12 | 9 | 3 | $39.00 | $117.00 |
| August | 9 | 9 | 0 | $39.00 | $0.00 |


Overage Charges- Monthly Subscription

The account owner will receive an overage charge the following Monday after additional users are added to an account/project. On that Monday, the account owner is charged at a prorated monthly amount for the number of days the additional user was on the Platform since the first Monday, and the predicted usage of the user for the remainder of the month. 

Example: 

The initial signup date for the user below was on December 30th, where they purchased three Business licenses paid Monthly. On December 30th, they were charged $147 for the three $49 Business licenses. This covers the predicted usage for three users throughout January. 

On January 2nd, an Admin on a Project invited an additional user. On the Following Monday, the Account Owner was charged $47.04 in overage fees on January 8th for the additional user's usage from January 2nd to January 7th, and for the predicted usage of that user throughout January 30th. 

The $47.04 is reflective of the Monthly charge for the Business account subtracted by the amount of time the user was not on the account. Since the user was not on the account on January 1st, $1.96 was taken from the $49 (the regular charge for the Business Subscription, paid monthly).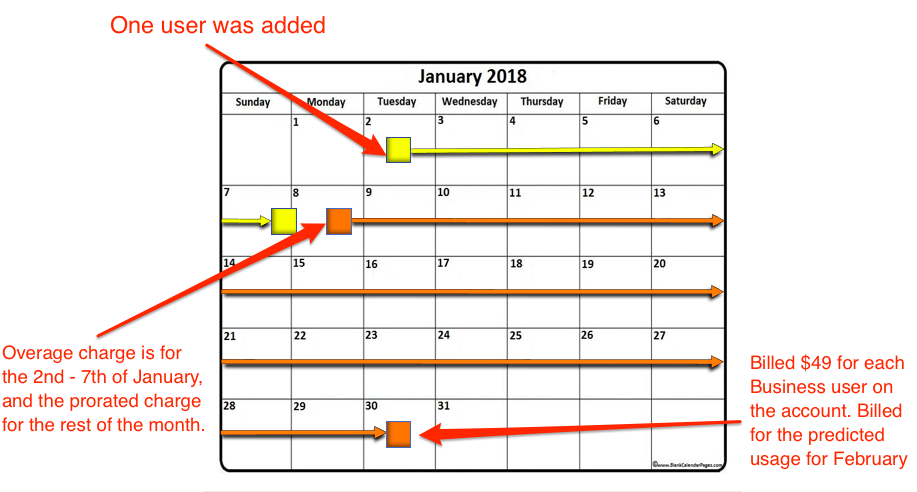 On January 30th, the account owner will be billed $196 for the predicted usage throughout February of four users on a Business subscription that is paid monthly. 


Credits on a Premium Account


If a user is removed after a payment has been made (either the monthly payment or the overage charge), an auto-adjustment will be automatically issued to their account which will apply to the next payment.


Example for an Annual Subscription: 

There are 3 users on a Business account that is paid annually every November 1st. On October 1st, the Account Owner removes a user. The Account Owner then receives a credit of $39 for the unused time for the removed user. 


| | | | |
| --- | --- | --- | --- |
|   | User Count | Yearly License Count | Credit |
| September | 3 | 3 | $0 |
| October | 2 | 2 | $39 (for unused time) |
| November | 2 | 2 | $39 is applied towards annual invoice paid on November 1st. |


Example for a Monthly Subscription:
There are 10 users on a Pro Account paid monthly. The Account Owner removes 3 users one week after the monthly payment of $390 was made. On the next Invoice, on February 4th, The account owner will receive a credit of roughly $90.
The calculation can be explained below:
There are 24 unused days for 3 users who are charged at $39. $39 divided by 31 days roughly equals $1.25 for every day of service. 24 days of unused service times multiplied by $1.25 is $30. $30 for each user removed brings us to the $90 credit towards the account owner.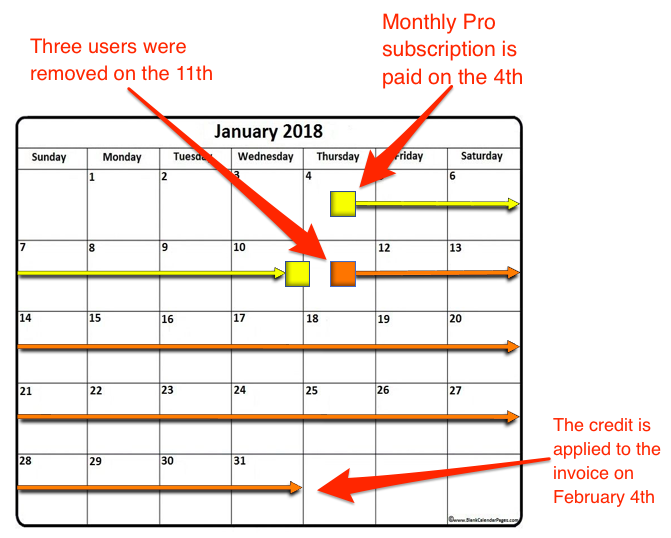 On an account that is paid annually, removing any users will go towards the next annual charge. (Or the next overage charge). However, this is calculated monthly-- 

Additional information and FAQs