Overview & background
If you already have a paid plan, but want to purchase additional licenses (or switch from monthly to yearly), all you have to do is go back to the checkout screen to update your subscription.
Note: This article provides an overview of how to adjust your paid license count. The steps outlined in this article apply to all the scenarios below:
Add or remove users to your Annual plan


Add or remove users to your Monthly plan


Change from Monthly to Annual (and vice-versa)

How to manage your paid licenses on an Annual plan.


Step 1:

With www.fieldwire.com open on your computer navigate to 'Pro/Business Plan' in the upper right corner of the screen.

Step 2:

You will be directed to the 'Account' page. Next, select 'Click here to manage your subscription'.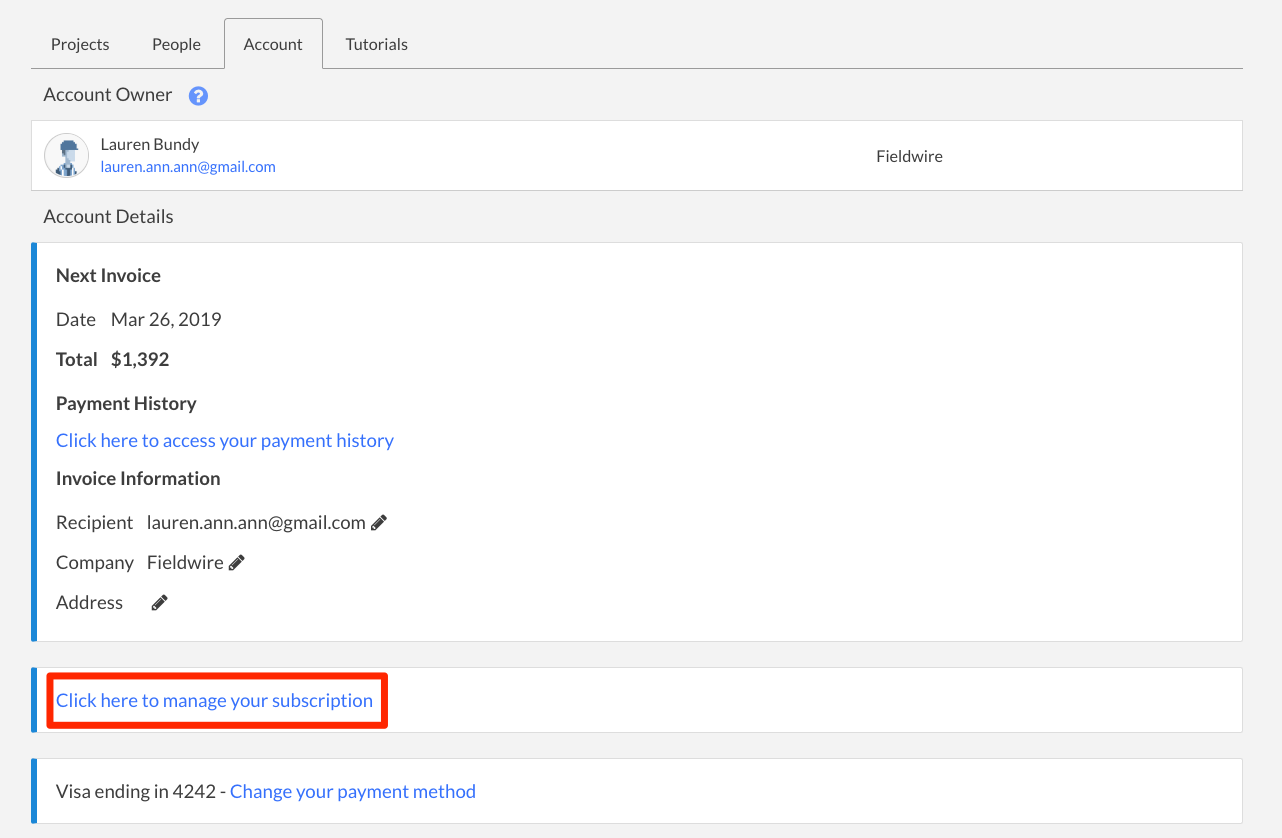 Step 3:

Click on the link at the top to update your subscription, or click on the Pro or Business pricing tile. Either option will take you to the checkout page.
Note: This page is very similar to our Pricing Page, which will show you your current subscription set-up.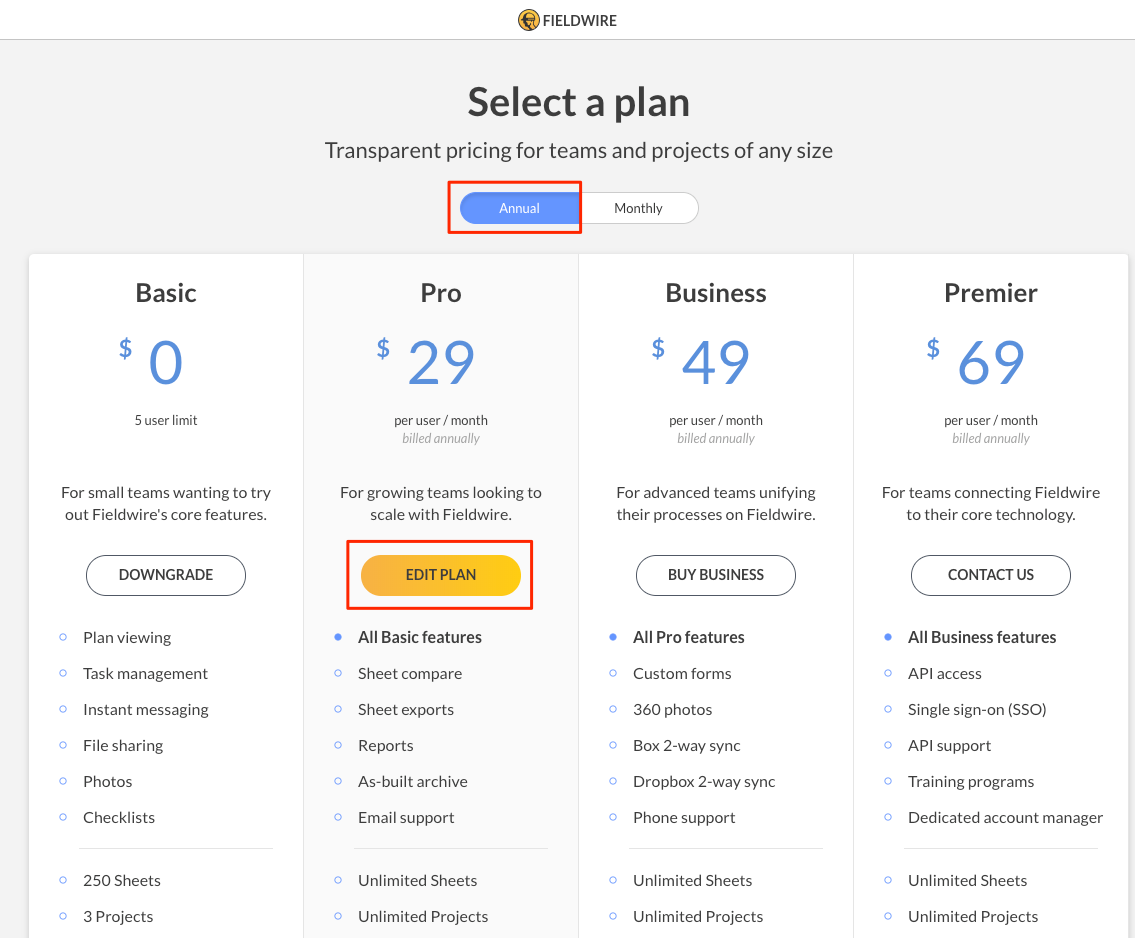 Step 4:

Select the type of additional licenses you wish to purchase - Monthly or Yearly. Then add the appropriate number of licenses to your current subscription.
Tip: Be sure that everything is to your liking before clicking the "Subscribe" button. Once you do click that button, your subscription will be updated based on your checkout selections.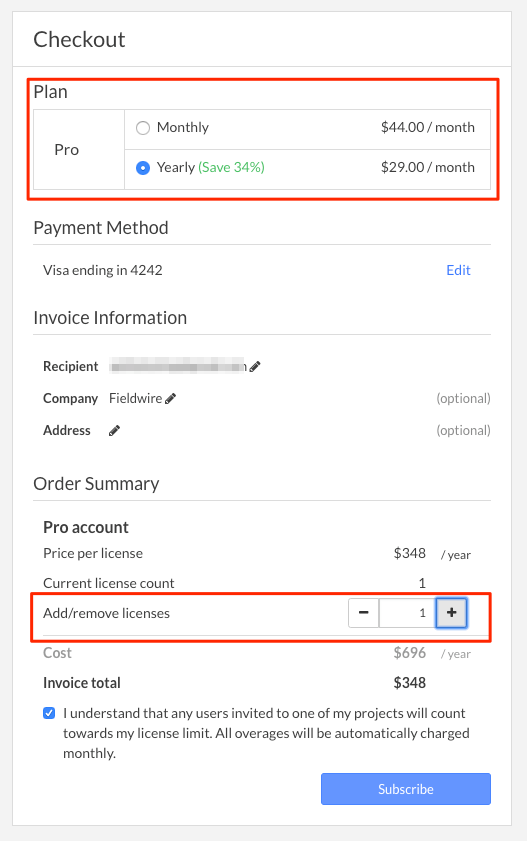 Note: If you had a yearly Pro subscription and are switching to a yearly Business subscription, you'll be pro-rated on the remainder of your billing term to make up the difference in price.


You can preview the amount you will be billed by reviewing the 'Invoice total'.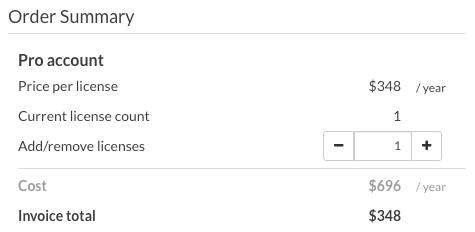 Tip: Please look for an 'Invoice' email from Fieldwire confirming the subscription change. The email will be sent to the email address associated with the paying account.
Overview - How to manage your paid licenses on a Monthly Account
After you select your subscription type from the Pricing page, you can monitor how many users you are paying for.

Note: Fieldwire will automatically adjust your Monthly invoice based on the user count on your Account and Projects. If you add or remove a user to your Premium Monthly subscription, your monthly invoice will reflect this.
Example:
I have invited one other individual to my Pro - Monthly Fieldwire account/project. Therefore, I will be fiscally responsible for myself and the one user I invited to my account/project which totals 2 monthly users.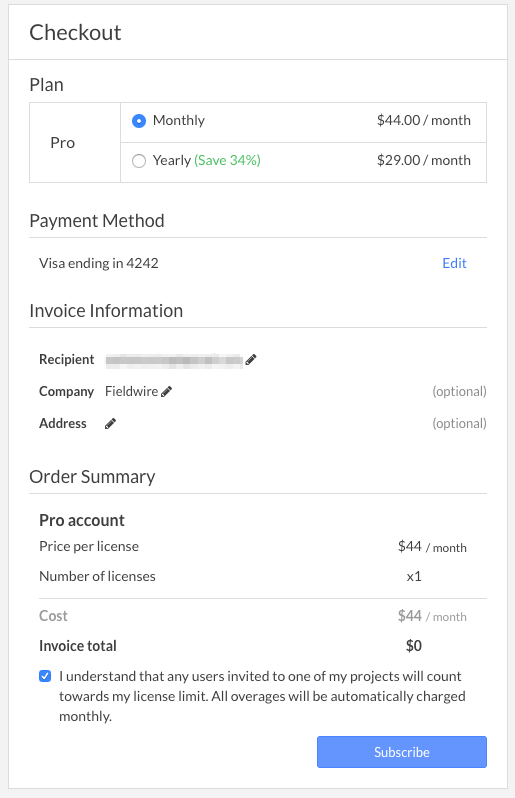 I can confirm the two users I have invited under the "People" tab on my Project. Keep in mind, the Blue dollar ($) sign icon means the Account Owner is fiscally responsible for the user's premium presence. The Grey dollar ($) sign icon means that this user has their own premium account, or their premium presence is covered by another user.




If I want to adjust my invoice amount I can either remove a user I am fiscally responsible for, or the user can purchase their own premium subscription.

More Information

These articles explain more about pricing and user permissions in Fieldwire.
Tutorial video on Account Management




Tutorial Video on Managing your Team on Fieldwire