Overview & background


This article has step-by-step instructions on how to change the Credit Card associated with your account, how to change the invoice recipient email address, and how to view and download previous payment statements. You'll find all these settings in the 'Account' tab of your Fieldwire account's home page.
How to update your account's credit card information
If the card linked to your paid subscription expires or if you otherwise need to update the card on file or any of its details, follow these steps:


1. Click on the 'Account' tab or the paid subscription plan in the upper right corner of the screen: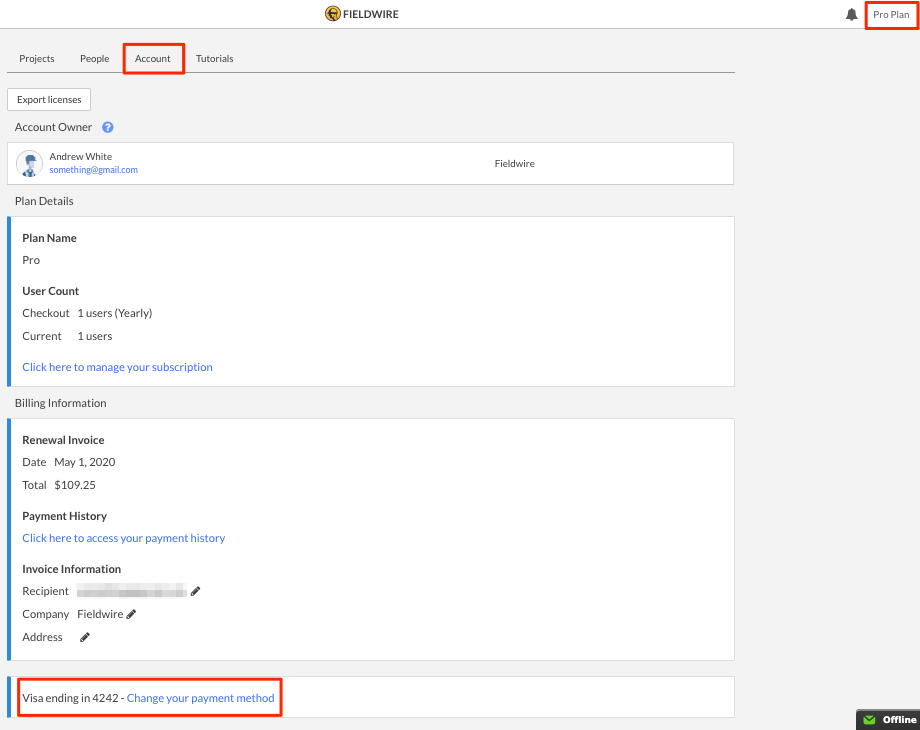 2. Click 'Change your payment method'.


3. Enter your new credit card information: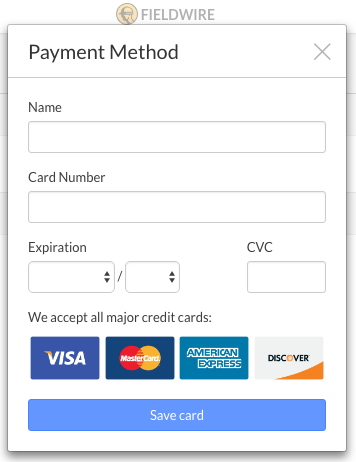 4. Click 'Save card'. Your new payment information is now stored in your account for all future charges.
How to change who receives receipt emails & view payment history
The account owner or any account manager can also change the email address that receives all receipt (invoice) emails to another individual e.g. your accounting department, under the 'Account' tab.
Just scroll down to the 'Billing Information' section and click the Pencil icon to edit the email address of the 'Recipient' under 'Invoice Information':

You can also edit the name of the Company and Address under this section. This information will appear on all the receipts that you receive from Fieldwire.

To view your previous invoices and payment history
Finally, if you click the 'Click here to access your payment history' link in the 'Billing Information' section, a new window will pop up with the option to download PDFs of your past invoice receipts:


Note: In addition to the Company and Address, All invoice receipts will automatically contain:
A Unique Receipt #
The Date the Invoice was paid.
The last four digits of the card on file.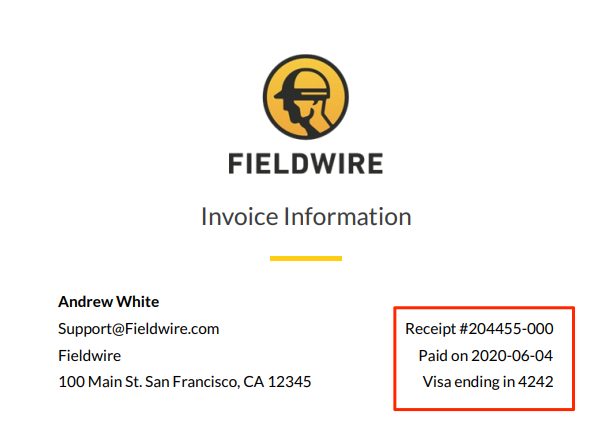 Your Accounting Department can leverage this information to help keep a clear record of all your Fieldwire charges for a given account. Please email support@fieldwire.com if you have any questions or feedback about these features.


Additional Resources