Overview & background


Fieldwire offers a "Forms" module for the Business and Premier tiers. Within this module, we do offer pre-made Form templates such as Timesheet, RFI's, Inspection Request, Safety Audit, Time & Material Tag, and Daily Report forms as well as the option to create your own Custom forms on the account.
Whether you are online, offline, in the office or on site, you can use the Fieldwire app to record your hours in a simple timesheet. Within Fieldwire's Timesheet Form you can:
Create and complete timesheets on the fly.
Track individual employees hours.
Build an accurate digital history of hours spent on a project.
Timesheet form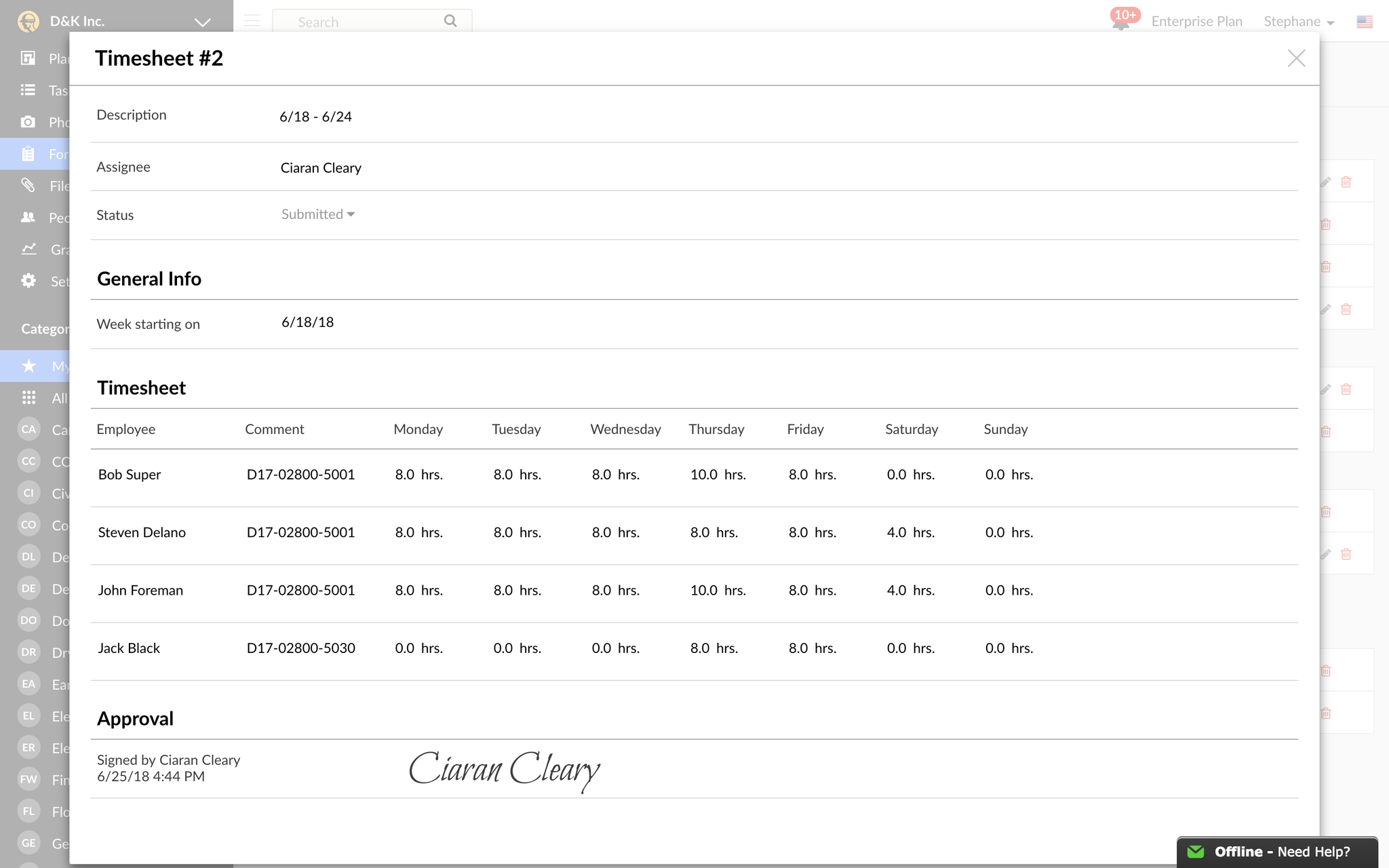 Completing a Timesheet Form

Form attributes
Timesheet Number (#) - Fieldwire automatically generates a Form number which cannot be edited.
Description - A freeform section which allows you to customize the timesheet title. For example, if you would like to label your Timesheets by date, you could enter the date range (e.g. "6/11 - 6/17") as the description.
Assignee - The person who is responsible for filling out the timesheet at a given time. You have the option to re-assign the timesheet to someone you might need input from.
Status - When creating a timesheet, the status will default to "Draft". Once completed, the timesheet can be submitted by selecting "Submitted" from the drop-down.
General Info
Week starting on - Select the beginning of the work week you want to track.
Timesheet
In this section, add a line item per employee by selecting "+ Add Entry".
Employee - A mandatory field to record the name of the employee whose hours are being documented.
Comment - In this section, you can record any notes to describe the activities or add its cost code. For Example: "Concrete formwork setup for wall W102."
Monday / Tuesday / Wednesday / Thursday / Friday / Saturday / Sunday - Within each cell you can record hours completed per day. Monday - Sunday is the default week and cannot be changed.
Approval
Signature - All Timesheets must be signed before they are submitted. For traceability, Fieldwire will automatically display the time and day of which the form was signed.


Submitting forms

Once the mandatory fields are entered and the timesheet is signed, you can submit the form by changing the "Status" to "Submitted". After the form has been submitted, it cannot be edited unless a Project Admin changes the status back to "Draft".
The form creator, assignee, and last editor will receive a notification when the form has been submitted. If you would like to send the completed timesheet as a PDF, you can download the form on the web. If you need more information on submitting forms take a look at this article.

More information
Refer to this article for information about notifications.

If you're experiencing error messages due to unsynced or missing information, refer to this article.
If you're interested in learning about Fieldwire's other Form options, check out this article.