Overview
Checklists can be inserted into Fieldwire tasks to document a process or inspection on site. Fieldwire tracks who and when checked off a line item. From this point, you can generate a fully timestamped report which, in addition to checklists, will document all relevant images, crop plans, markups, and messages.
Table of Contents
Existing Projects
To add, delete, and edit your checklist templates, you can add checklists to your project (or make changes to existing checklist templates) within your Project Settings.
Step 1: Open any Project and click the 'Settings' gear at the bottom of the left menu. Scroll down to the 'Templates' section and click 'Manage checklists':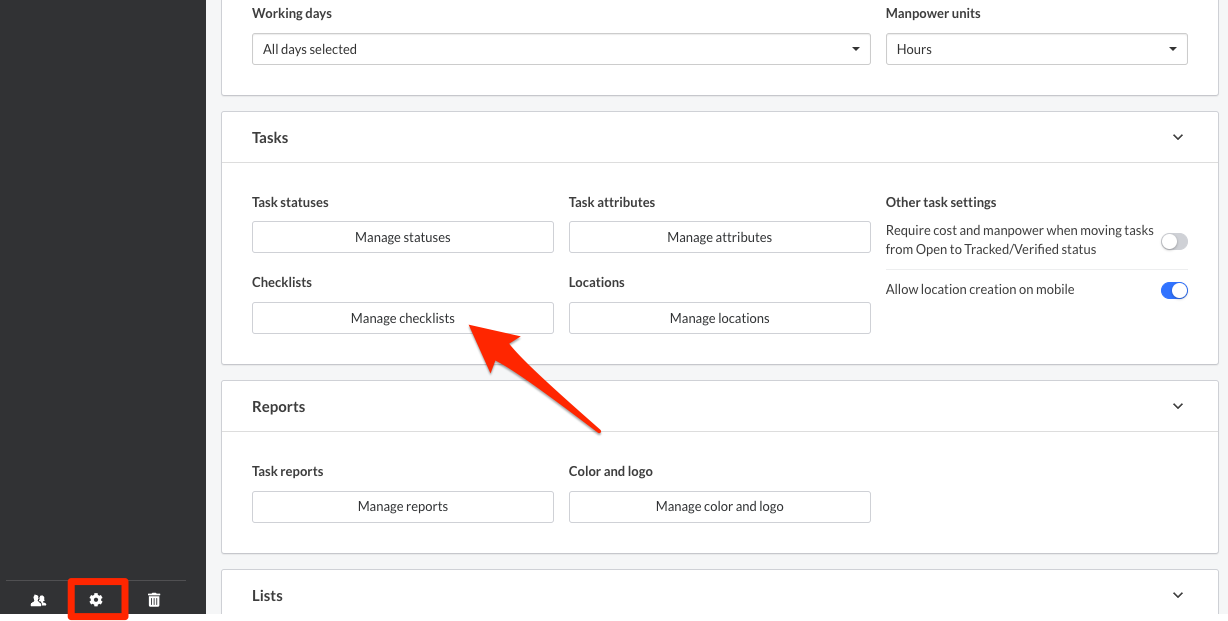 Step 2: Click on the name of the checklist to edit the contents of that template or create a new checklist or import a checklist from your account:

Import an Existing Checklist from one Project to another
Fieldwire checklists are set up so that you can simply copy and paste the content from an existing spreadsheet or from another Fieldwire project whenever you like. If you already have a spreadsheet of your standard checklists prior to adopting Fieldwire, you can quickly paste them into your Fieldwire projects. If not, you can easily copy checklists from one existing Fieldwire project to another whenever you like.
How to copy a checklist from one project to another:


| | |
| --- | --- |
| 1. Open the existing checklist, select the contents and copy (control + c). | |
| 2. Create a new checklist in the new project. | |
| 3. Paste the contents (control + v) and save. | |
New Projects
You can also clone checklist templates from existing projects into a new project. When creating a new project, you can clone checklist templates from an existing project, making project set-up a breeze.
Simply select '+ New Project' and choose the project you'd like to clone. By selecting 'Copy Checklists', all checklist templates will be copied from your selected (existing) project to the new one: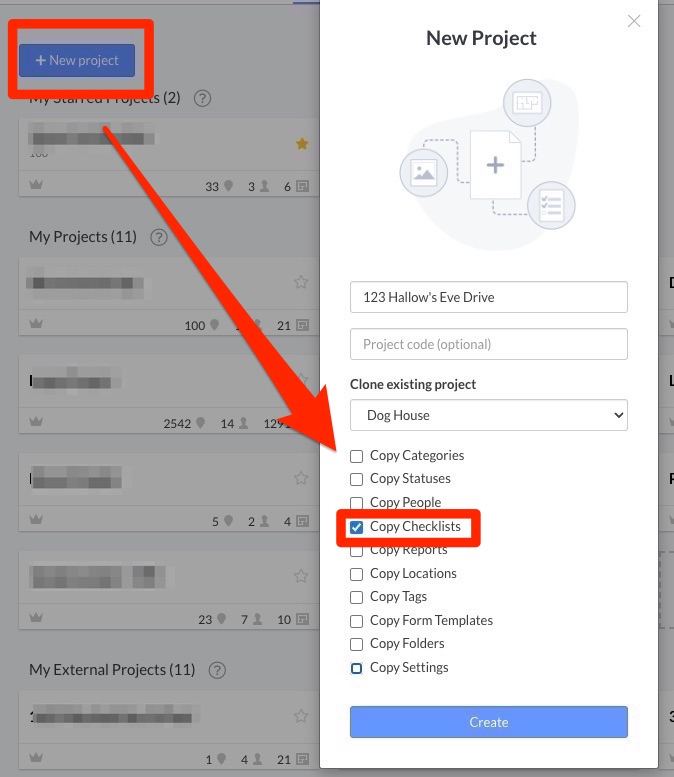 Account Checklists
If you forgot to click the checkbox to "Copy Checklists" while cloning a project, you can now easily add these checklists at the account-level, which then allows you to pull those checklists into any project. In addition, this allows you to easily standardize your checklists across your Fieldwire Projects.
If you are on a Business or Business Plus subscription, you'll have access to the Templates tab, which has previously given you access to Account Form Templates and Account Lists. Now, on that same tab, if you scroll to the bottom of the page, you'll see the option to add new account checklists.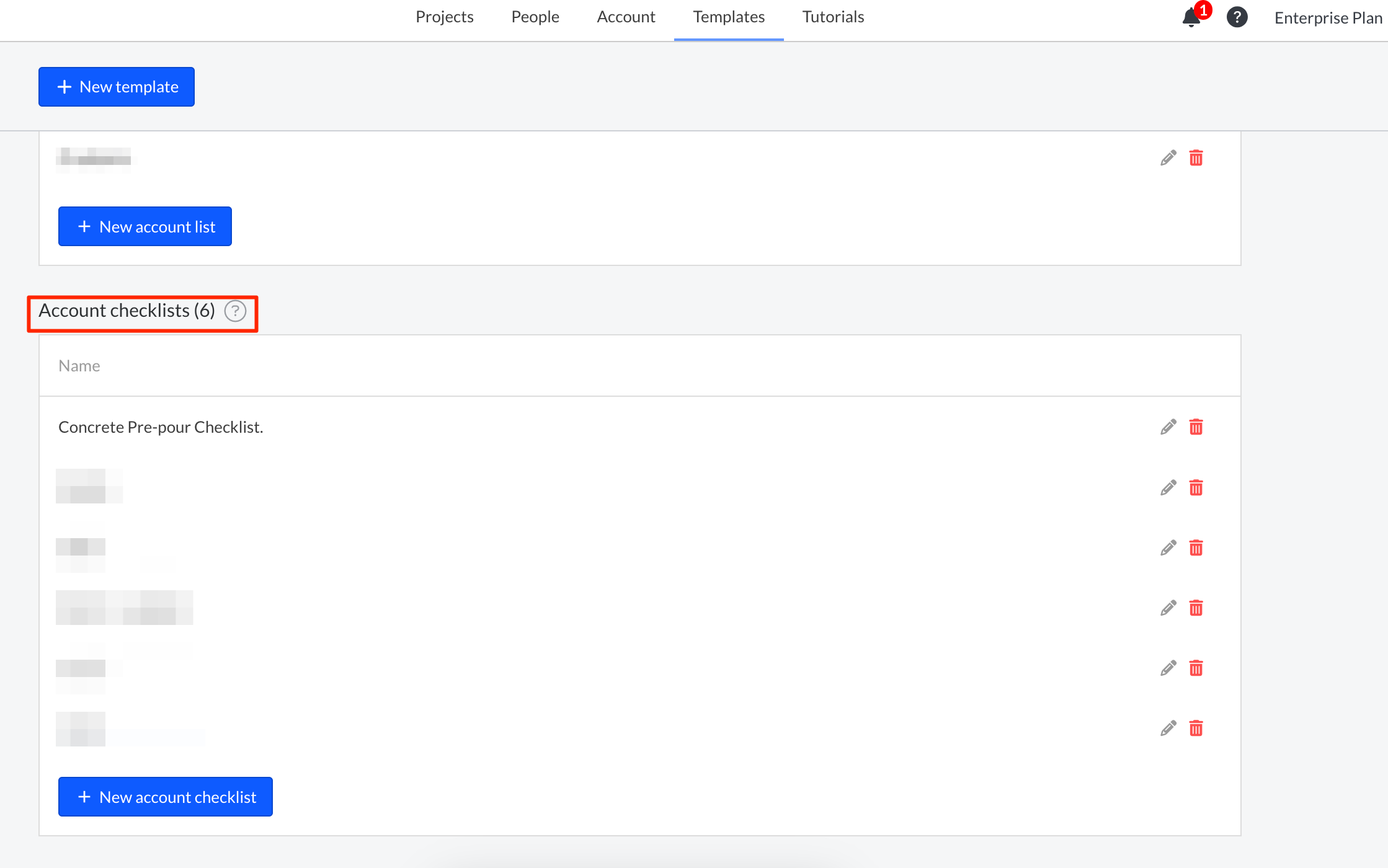 Once you're ready, you can click the blue "+ New account checklist" button, and you'll see a new pop-up allowing you to create a new checklist just as if you were creating one in your project.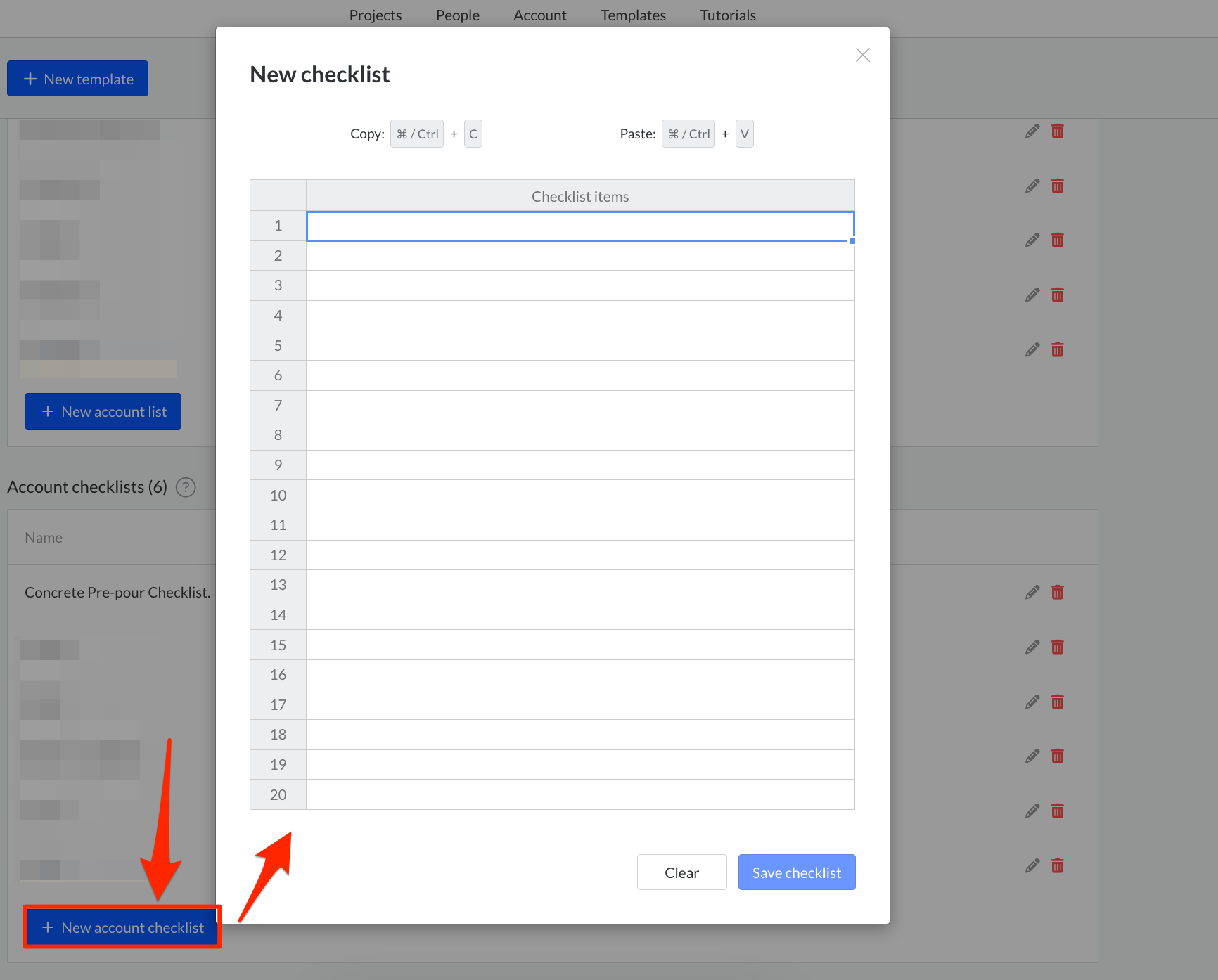 Once your new checklist is completed, you'll be able to pull that checklist into any project you own. First, start by going to the Settings tab on the relevant project. Next, click on the "Manage checklists" button. Then, you'll see the checklists you already have on your project, the button to "Create new checklist", as well as the button to "Import account checklist". Next, click on "Import account checklist", and you'll see all of the checklists that are on the Templates tab mentioned above. Finally, select the checklists you want to import into that project, and click "Import to project". You'll then see those checklists brought into your project under "Manage existing checklists".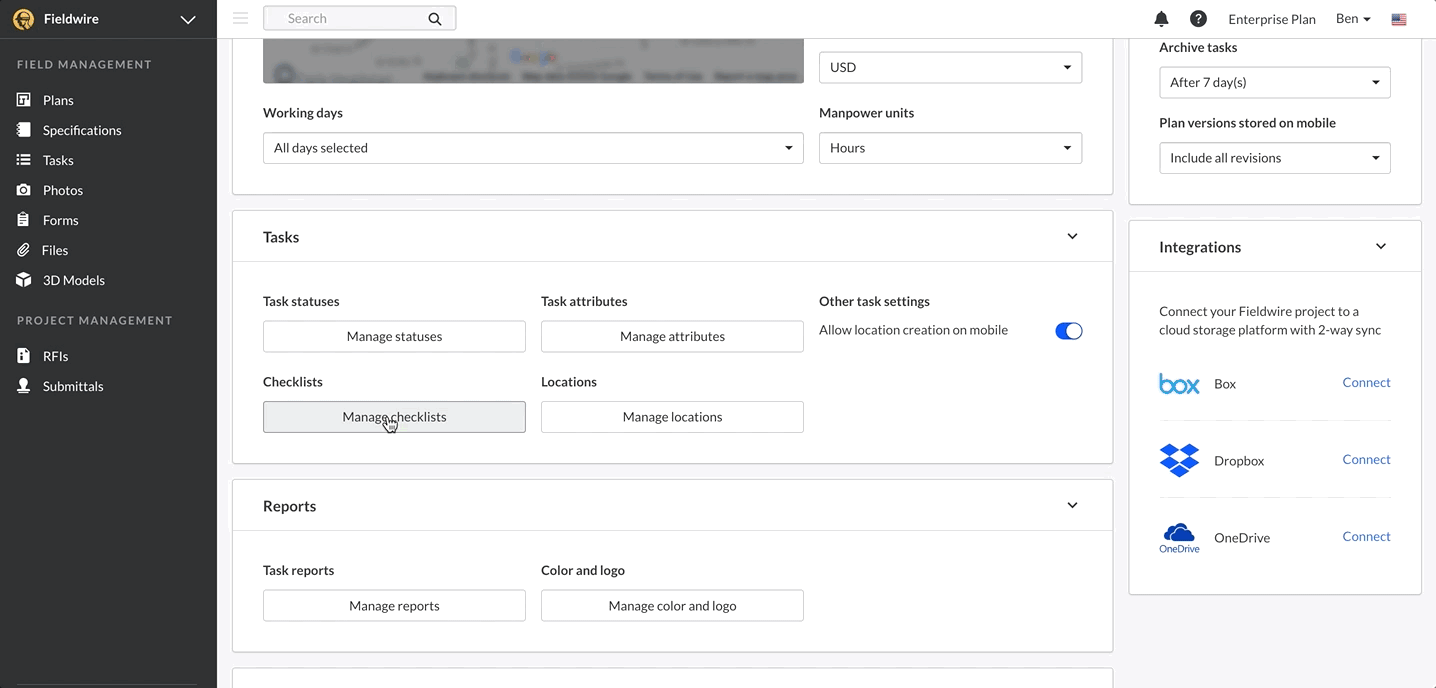 More Information
Duplicating tasks with checklists to speed up your inspections and punch walks.
Importing tasks (with checklists pre-loaded) in bulk so that project set-up is a breeze.