Overview & Background
Checklists can be inserted into tasks very quickly, allowing you to add structure to your site inspections or your workflows in the field. 
What you can do with checklists
Checklist basics on the web
Once you've created a new task, you can simply select "+ Add checklist".  Here you have the option to add a "new checklist" or an "existing checklist template".
Checklist templates can be set up within your Project Settings, and are the quickest way to insert a checklist into a task.  For now, let's choose this option:


Inserting a checklist template into a task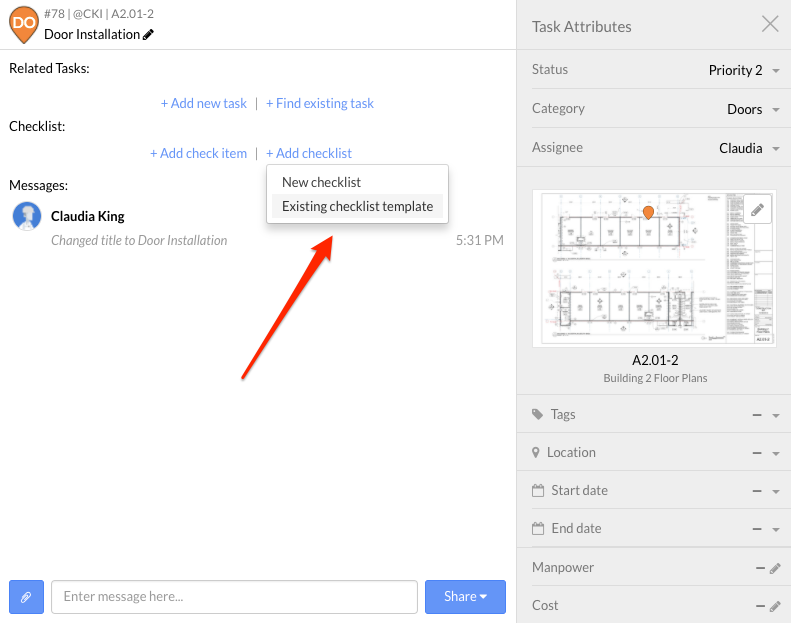 Selecting the checklist template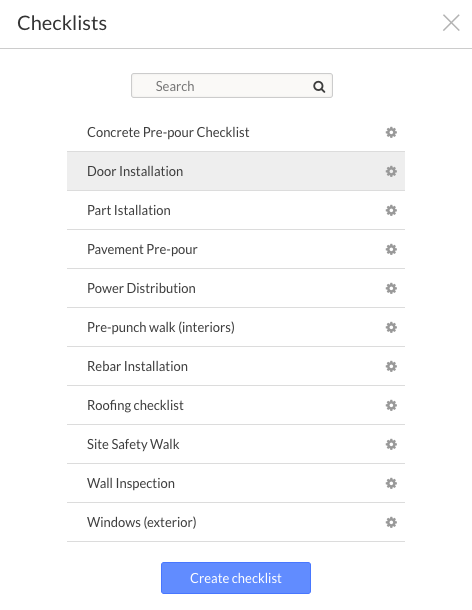 How checklist templates work

When I select one of my checklist templates, my task will be populated with a structured list of items which I can go ahead and check off as I complete each of them. You'll notice that Fieldwire tracks the information below.
The initials of the individual who ticked off each line item.
The date that the item was checked.
This timestamped information will also be contained in reports, allowing you to record a thorough history of the task.
 
What a checklist looks like in a task on the web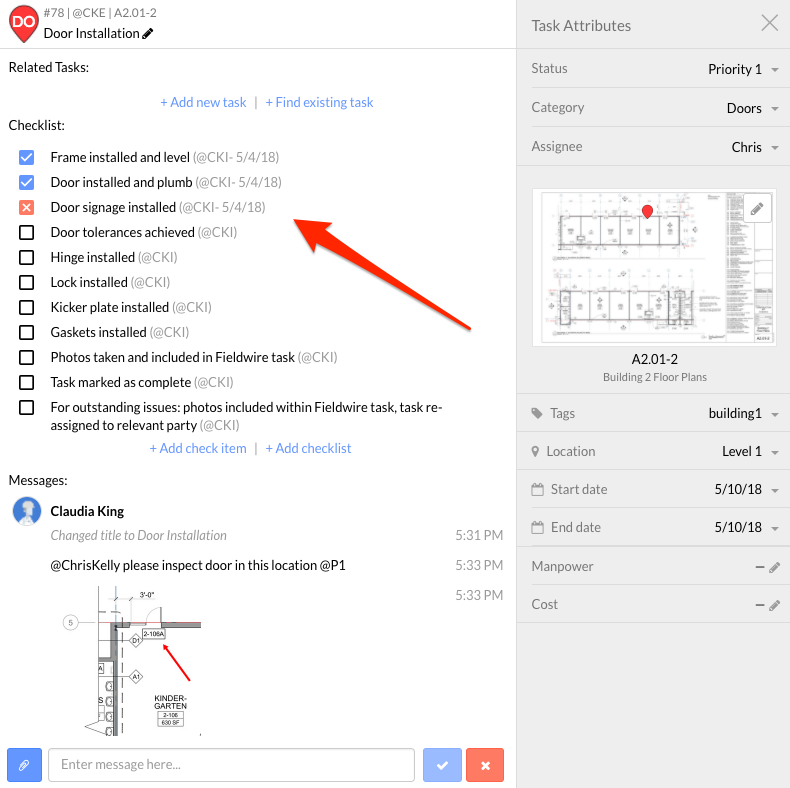 This checklist will also appear on your mobile device, where you can also check of items during your site walks.


Checklists on Mobile
The mobile view is extremely similar to the web view, with the same three check options.
Check options
Blue tick = complete.
Red cross = incomplete.
Grey line = not applicable.
Checklist on iPad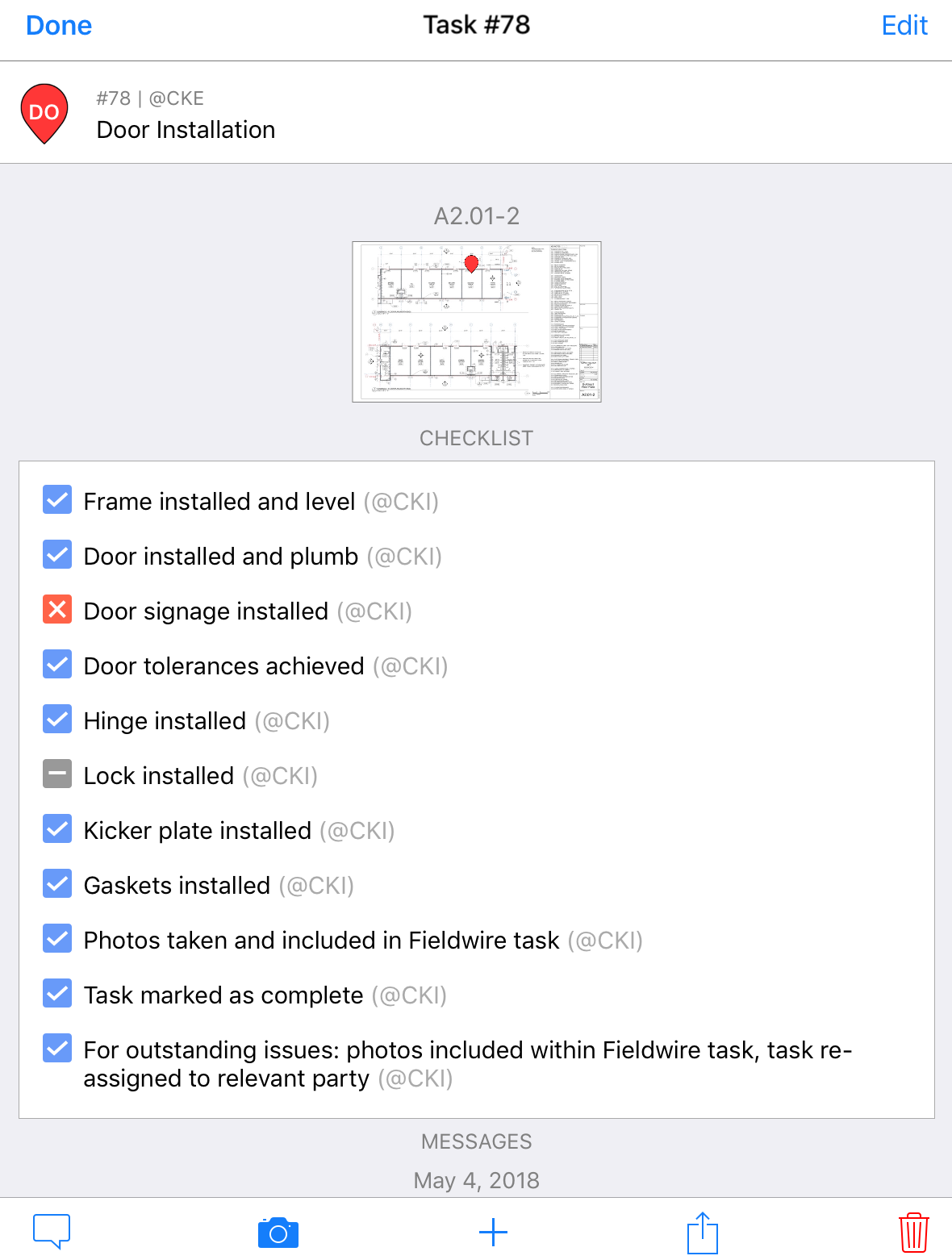 Note: Checklists on Android tablets look very similar to how checklists look on iPads.
How to add a checklist template on mobile
To add a checklist on mobile, create a new task and select the "+" sign at the bottom of the task.
Adding a checklist template on mobile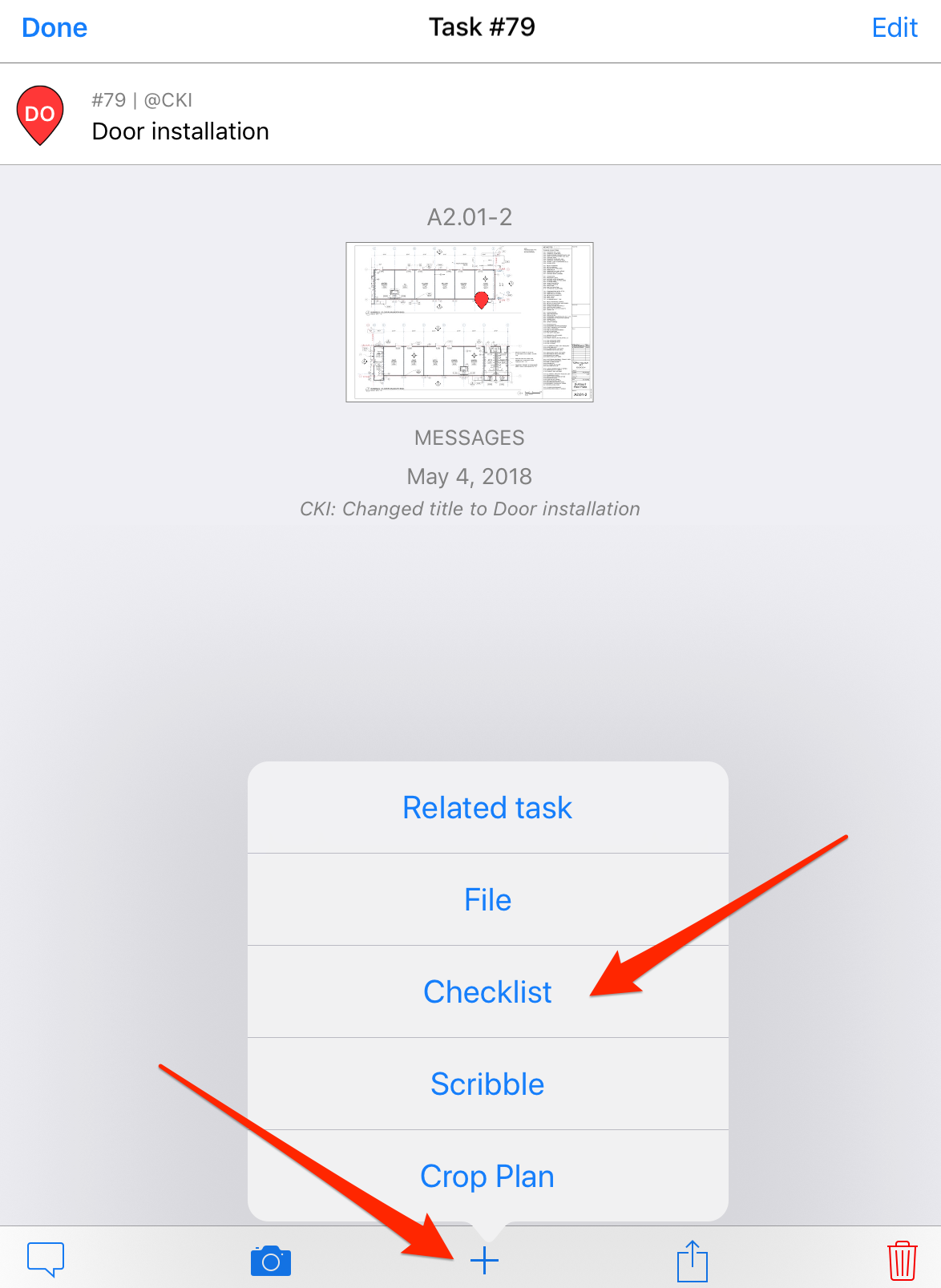 Note: You can then select the appropriate checklist from your list of checklist templates.
Selecting a checklist template that was created on the web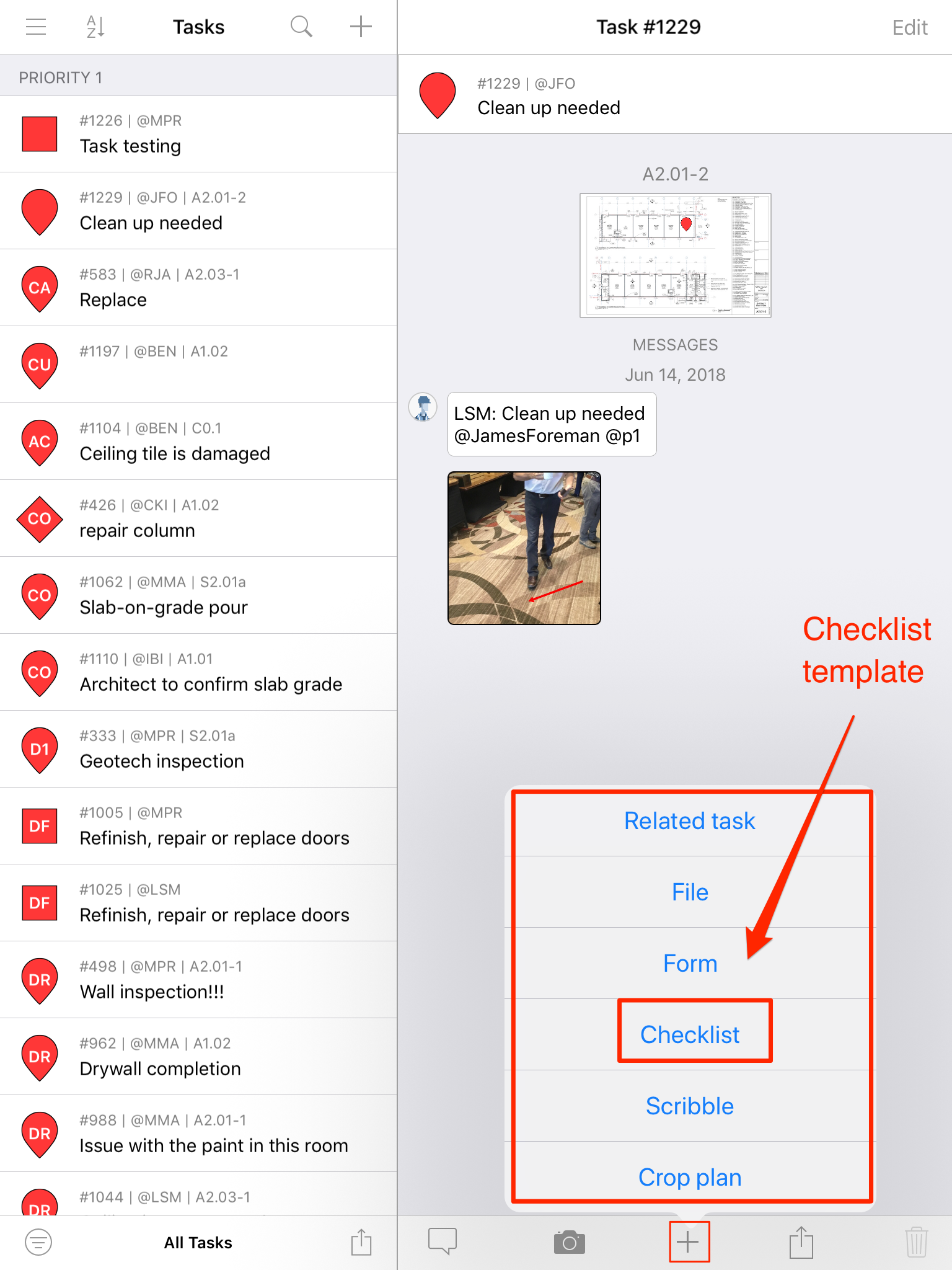 And you're ready to go, it's that simple!
Populated checklist on mobile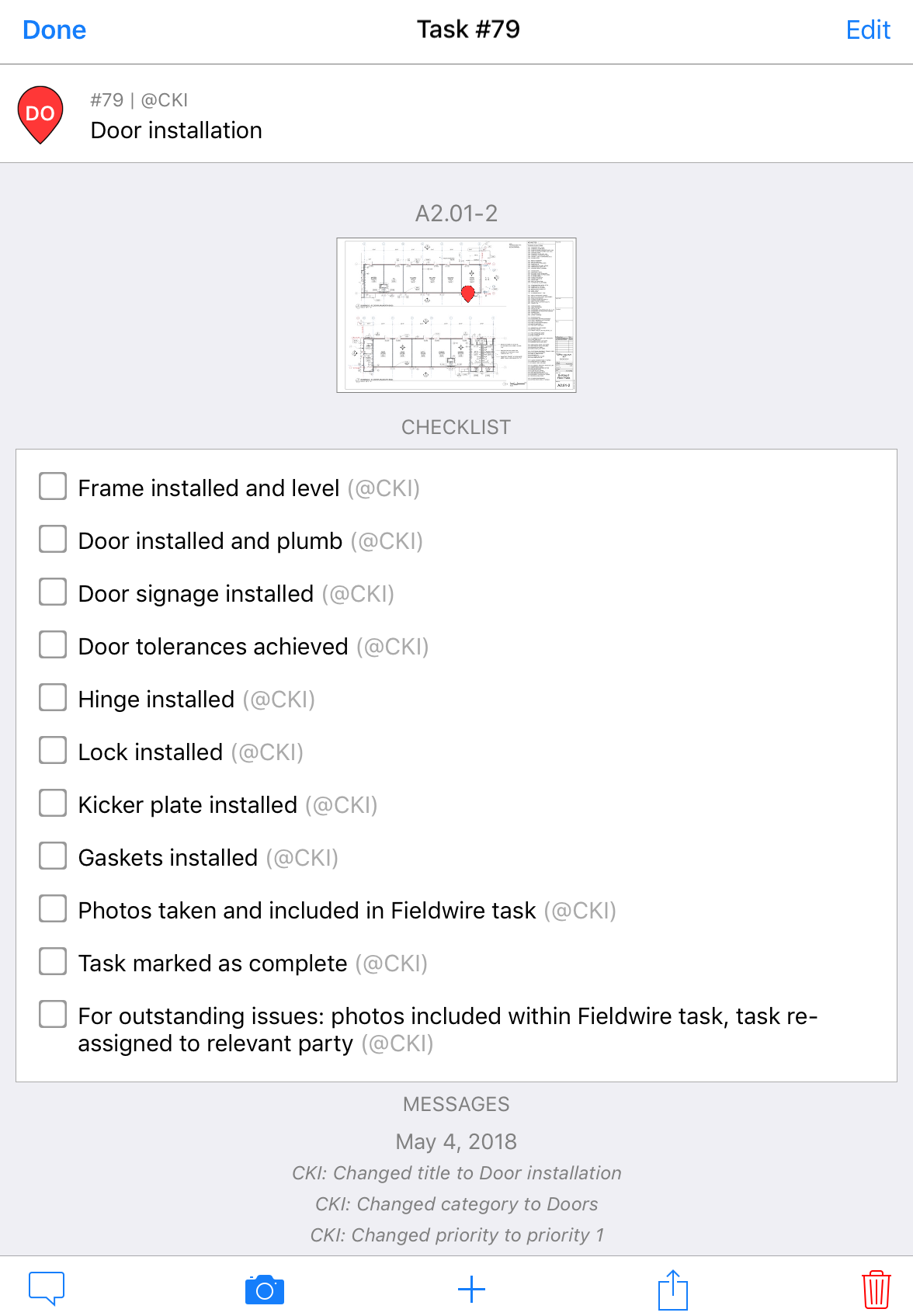 Note: View is similar to Android tablets.
More information
Once you've set up some checklists, you may then want to do the following.
Clone checklists between projects to standardize workflows
Duplicate tasks with checklists to speed up your inspections and punch walks
Import tasks (with checklists pre-loaded) in bulk so that project set-up is a breeze