In July 2018, Fieldwire released a "Forms" module in beta for all Business and Enterprise users. This is a new way of using Fieldwire, alongside the existing plans, tasks, and files. Below is an article which describes Fieldwire's Daily Report form.


Overview & background 

Daily Reports are designed to document your daily work activity in a convenient and straightforward manner. Using the Fieldwire app, you can fill out a daily report very quickly and conveniently on mobile or on web. Within the template, you can:
Populate information about conditions on site, equipment or materials used, and any work that was undertaken.
Attach a photo or a relevant file.
Sign the daily report, assign the form to the relevant person, then change the status to "Submitted".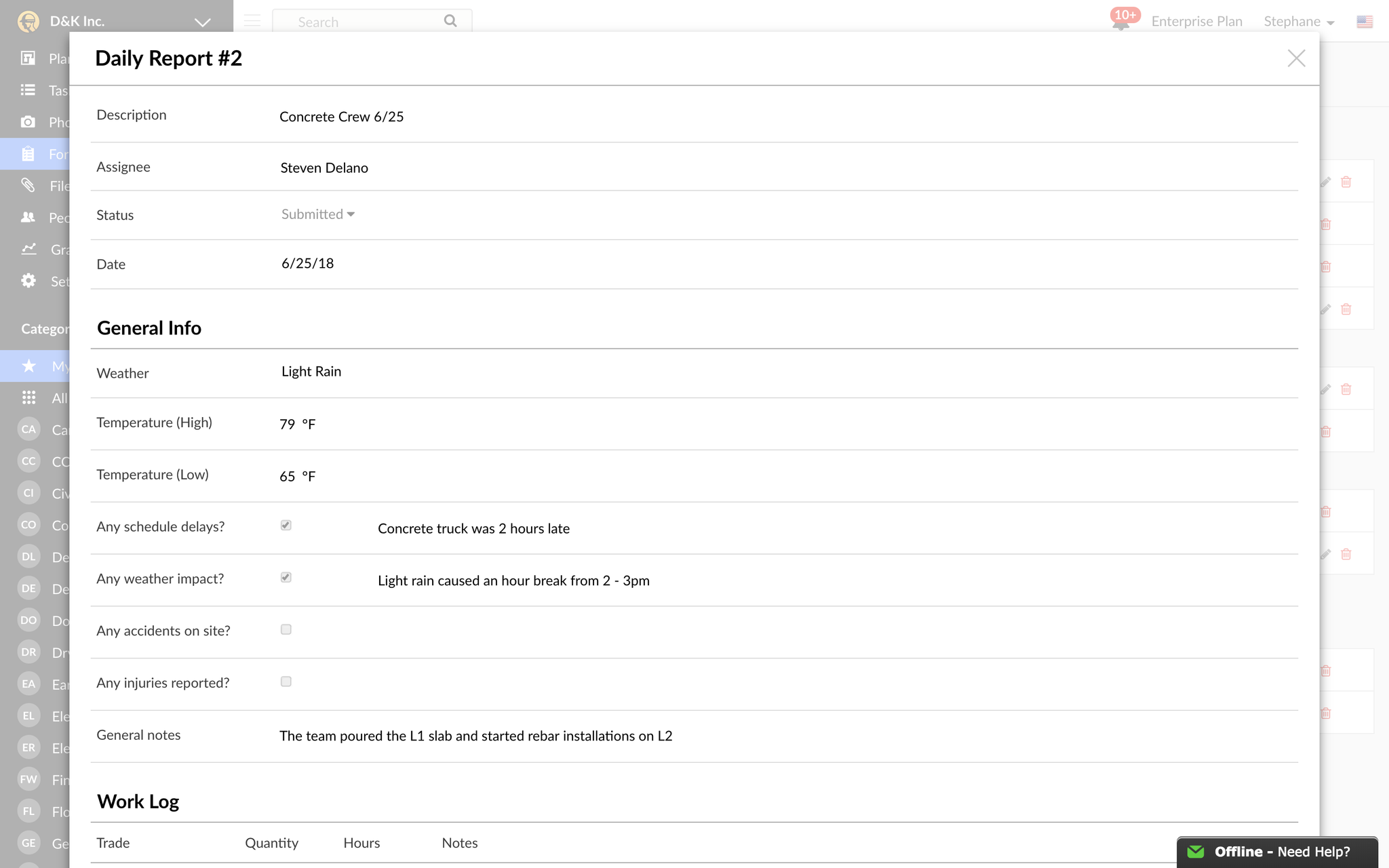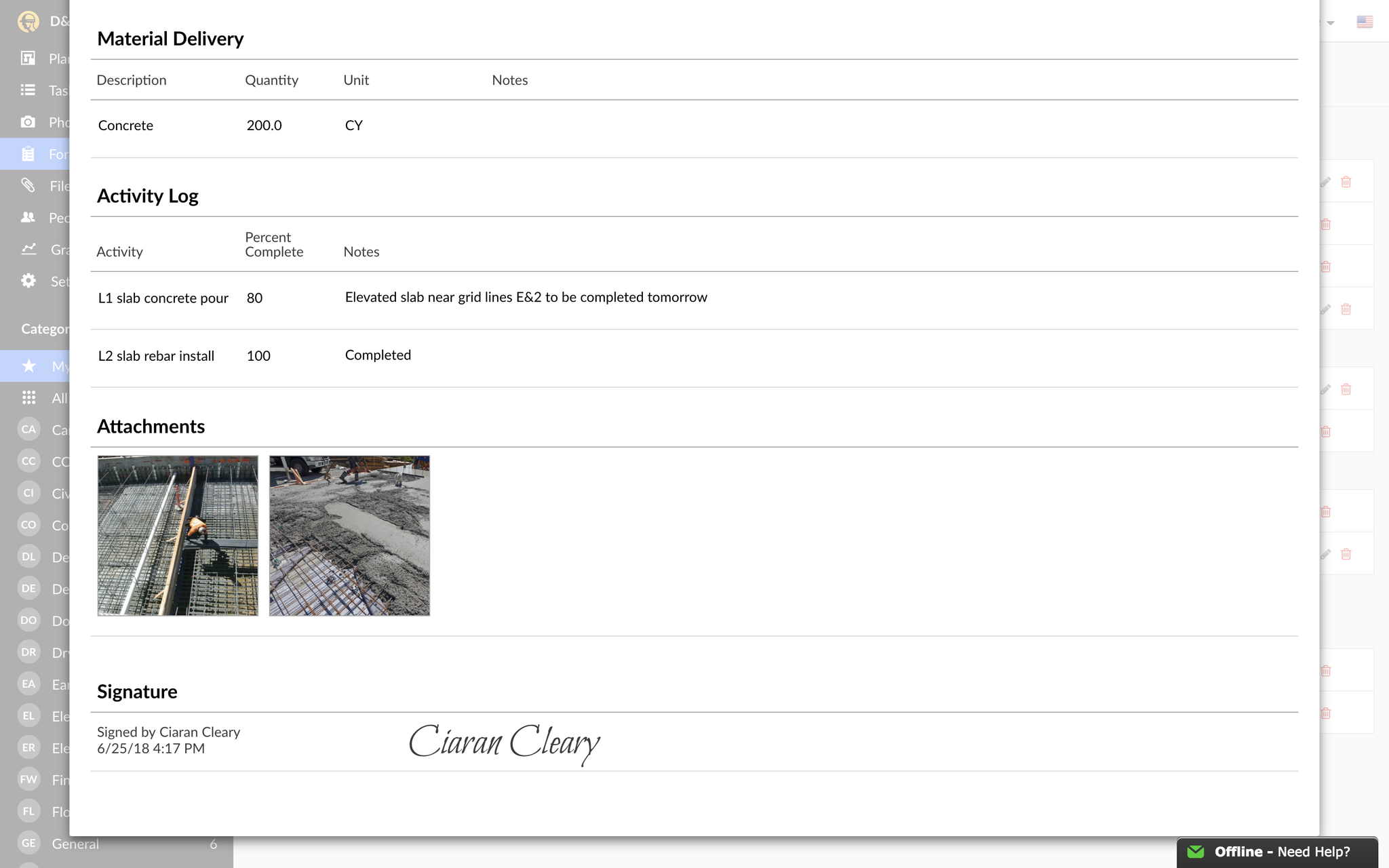 Completing a Daily Report form

Form attributes

Daily Report Number (#) - Fieldwire automatically generates a form number which cannot be edited.
Description - A freeform section which allows you to customize the daily report title. For example, if you would like to label your daily reports by date and crew, you could enter the date and crew (e.g. "6/15 Concrete Crew") as the description.
Assignee - The person responsible for filling out the daily report at a given time. You have the option to re-assign the daily report to someone you might need input from. The assignee will receive a notification that the report has been submitted.
Status - When creating a daily report, the status will default to "Draft". Once completed the daily report can be submitted by selecting "Submitted" from the dropdown.
Date - Fieldwire will automatically adopt the date that the form was created, however this can be edited. This date field should reflect the date that is described in the Daily Report.
General Info
Weather - Mandatory field with a drop-down of possible options. 
Temperature (high and low) - You can specify imperial or metric units in your project settings.
Schedule delays / weather impact / accidents on site / injuries - Optional sections with a checkbox and freeform space to write down relevant notes. For example, if the concrete truck is two hours late, check the "schedule delays" box and make a note of the delay. If the weather has no impact, do not check the box or add any notes. 
General notes - Use this space to give a general overview of what was accomplished that day.
Logs
In this section, add a line item by selecting "+ Add Entry".
Work log - In this section you can record who was working that day, how long they were working, and add additional notes. By selecting "+ Add Entry" you can break down the work by individual (Foreman, Laborer, Superintendent, etc) or by trade. 
Equipment log - In this section you can record the equipment used that day, how long it was there, and add any additional notes. For example, a tower crane was used for 2.5 hours; delivered at 9:30 am; Removed at 12:00 pm; and it was 1.5 hours late.
Material delivery - In this section you can record what material was delivered that day, the quantity, the unit, and any special notes. 
Activity log - In this section you can record the activity worked on that day, the percent completed, and other notes related to the activities. For example, L1 slab concrete pour is 80% complete, with a note that this will be completed tomorrow.
Attachments
Photo / File - Here you can upload a photo or file related to the day.
Existing file - This option allows you to link a file that is already uploaded into your project.
Crop plan - Here include a cropped section of the plan to highlight the exact location in question. For example, if most of the work was done in the bathroom on the first floor, you could crop that section of the plan.
Signature - All daily reports must be signed before they are submitted. For traceability, Fieldwire will automatically display the time and day of which the form was signed. 


Submitting Forms

Once the mandatory fields have been entered and the daily report has been signed, you can submit the form by changing the "Status" to "Submitted". After the form has been submitted, it cannot be edited unless a project Admin changes the status back to "Draft". 
The form creator, assignee, and last editor will receive a notification when the form has been submitted. If you would like to send the completed daily report as a PDF, you can download the form on web. If you need more information on submitting Forms, take a look at this article. 
 
Notifications


Refer to this article for information about notifications.


Error messages


If you're experiencing error messages due to unsynced or missing information, refer to this article.


More forms

If you're interested in learning about Fieldwire's other Form options, check out this article.