Overview & Background


The Safety Audit Form is designed to document safety conditions on-site. 
Through Fieldwire, you can fill out a Safety Audit very quickly and conveniently on mobile or on the web. Within the template, you can:
Populate information about safety observations on site.
Attach photos or relevant files.
Assign the form to the relevant person, sign off on the Safety Audit, and change the status to "Submitted".
The Safety Audit Form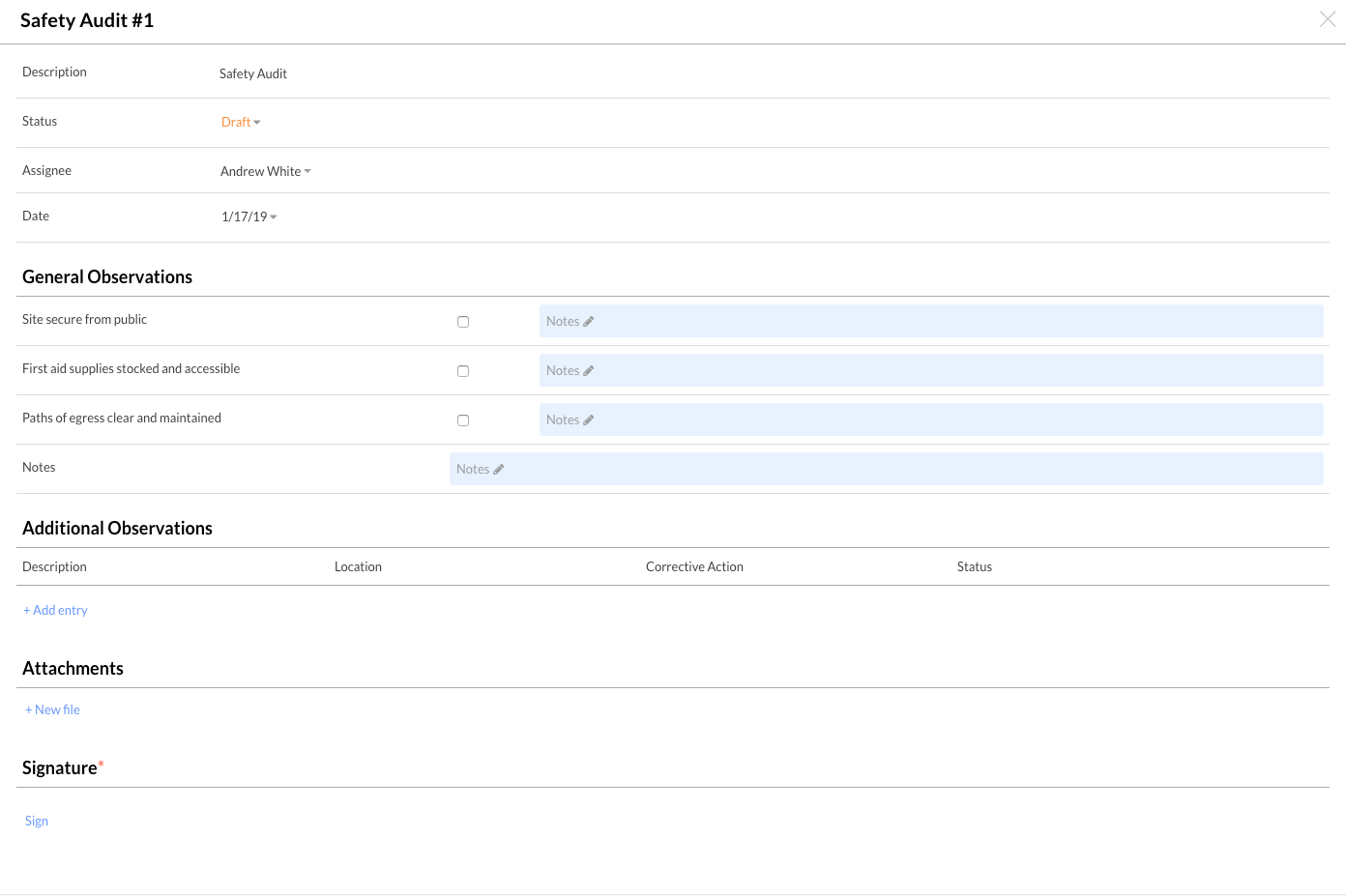 Form attributes

Safety Audit Number (#) - Fieldwire automatically generates a form number that cannot be edited.
Description - A freeform section that allows you to customize the Safety Audit title. For example, if you would like to label your Safety Audits by date and crew, you could enter the date as the description.
Assignee - The person responsible for filling out the Safety Audit at a given time. You have the option to re-assign a Safety Audit to someone you may need input from. The assignee receives a notification when the report has been submitted.
Status - When creating a Safety Audit, the status defaults to "Draft". Once complete, the Safety Audit can be submitted by selecting "Submitted" from the drop-down menu.
Date - Fieldwire automatically adopts the date that the form was created, however, this can be edited. 
Logs
General Observations - By default, Fieldwire will populate with four different sections. Users can check off common safety observations like if the site is secure from the public, first aid supplies are on-site, and if the path of egress is clear. There is also a free-form notes section for additional documentation.
Additional Observations - You are able to document various safety concerns, the location, corrective actions, and the status of the safety concern in this section. You can add as many entries as you see fit. 
Attachments
Photo / File - Here you can upload a photo or file related to the day.
Existing file - This option allows you to attach a file that has been uploaded into your project.
Crop plan - Here you can include a cropped section of the plan to highlight the exact location in question. For example, if an incident was recorded in a basement you could crop that section of the plan.
Signature - All Safety Audit must be signed before they are submitted. For traceability, Fieldwire automatically displays the time and day of when the form was signed. 
Submitting Forms

Once the mandatory fields are entered and the Safety Audit has been signed, you can submit the form by changing the "Status" to "Submitted". After the form is submitted, it cannot be edited unless a project Admin changes its status back to "Draft". 
The form creator, assignee, and last editor will receive a notification when the form has been submitted. If you would like to send the completed Safety Audit as a PDF, you can download the form on the web. If you need more information on submitting Forms, take a look at this article. 
More Information