Overview & background

The preconstruction phase of a project includes various forms of estimating, bidding, and purchasing, but perhaps the most important part of all is the coordination of design and constructability reviews that happen throughout all these stages. For a project to be successful, the more coordination between the Design team and contractors that occurs before breaking ground, the better! However, there are many stakeholders involved in constructability reviews: the GC, specialty contractors, architects, consultants, and more. So project teams need a single-source of truth to track questions and resolutions as well as documentation to look back at down the road when they're building.


How does Fieldwire improve the design review process?
Review drawings and add comments or questions directly on your plans and Table of Contents
Assign comments to specific parties with notifications and due dates to help hold team members accountable
Track the documentation of constructability comments to ensure they reach resolution
How to use this Practical Guide
Let's say we have an office building project, and our company has just won the bid. We want to begin the purchasing phase to award the subcontracts out to specialty trades as soon as possible. Before that, we need to make sure the drawings for the project are constructible and there are no design conflicts that could cause expensive issues or delays down the road. We'll want all stakeholders (GC, client, designers, consultants, etc.) to review the drawings and add their coordination comments. This practical guide will walk you through everything you need to know to streamline and document your design review process using Fieldwire Plans, Tasks, and a handful of specific configurations.

Table of Contents
1. Configure Fieldwire for Design Reviews
2. Identify Constructability Issues & Send Pre-bid RFIs
3. Monitor Issues to Resolution
1. Configure Fieldwire for Design Reviews

In our office building example, we have over 1,000 drawings to review, which means hundreds of coordination comments. With all those comments to manage on our project, we need to be able to isolate information at the click of a button.
1a. Create Categories based on trade scopes and CSI division
To begin your Project setup, you'll configure Task Categories, which keep related Tasks organized across the entire Fieldwire platform and provide a ton of shortcuts when leveraged to their full extent. Tasks are grouped and accessible by category with a single click in the main left menu of your Project at all times. When you create a new Project in Fieldwire, you can clone your categories from a previous Project, so you'll only have to do this part once to use it on all your future projects!
For a design review project in Fieldwire, create Categories by CSI division and scope. After the reviews are complete, these Categories will help you isolate the scopes for purchasing subcontracts.
Example CSI division and scope categories:
03 00 00 - Cast in Place Concrete
08 00 00 - Window Openings
Relevant Instructions:
1b. Create Tags based on consultants
To create additional groups of similar Tasks that you can filter for, both within and across your Categories, set up a few Task Tags next (you can always create more as you go). For the design phase, the most logical type of tags to start with are the consultant disciplines in your project. (If you already have a list of these disciplines in a spreadsheet, you can shortcut this process by importing tags from an existing list.) You'll add these Tags whenever constructability comments involve coordination between multiple disciplines to resolve.
Example Consultant Tags:
#structural
#landscape
#waterproofing
Relevant Instructions:
1c. Upload drawing/plan PDFs in the Fieldwire Plans Tab
Next, upload all of your design drawings and plans into the Plans module of your Fieldwire project. Fieldwire will automatically name the sheet with the file's name if it's a single page, or will scan the title blocks on your plans to automatically name them if you upload a multi page PDF.
Label your drawing sets in accordance to the naming convention given by the design team (e.g. 50% CD, 100% CD, etc.)
Relevant Instructions:
1d. Upload specifications files in the Specifications Tab
Upload all your specifications in the Fieldwire Specifications Tab.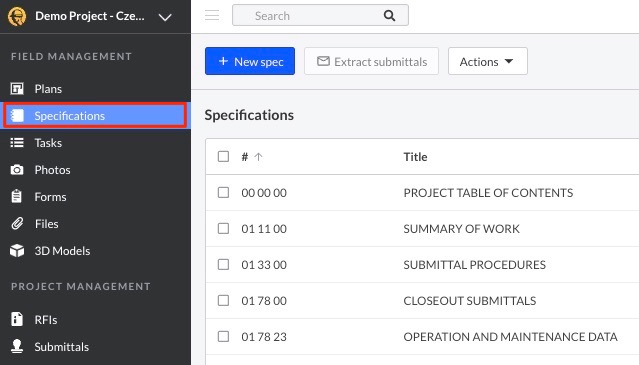 Once the specifications have been uploaded, they'll be read by our system, looking for the 6-digit spec number and spec title, which is based on the CSI MasterFormat widely used in the US. If the file name matches the [spec number] [spec title] formatting, we will automatically name and number the section with no need for confirmation.
If the file name does not match this formatting, you will need to confirm the section numbers and titles:

As seen in the screenshot above, you can review all uploads one after another by clicking on "Review all uploads", or jump to a specific file to review individually by clicking on "Review" next to the Spec file.

Upon upload, our system will automatically identify the different sections of the document if they are following the 6-digit CSI MasterFormat. You'll see these sections when clicking "Review" or "Review all uploads".
If you need to add a new version of the specifications later on, you can upload the new version with the same file name and Fieldwire will automatically replace the original file. If you'd like to keep both versions in Fieldwire for record, add a "Rev 1" or "Rev 2" to your file names so new versions don't automatically replace the originals when you upload them:
Relevant Instructions:
2. Identify Constructibility Issues & Send Pre-Bid RFIs

Once your Fieldwire project has been set up for a design review, you can get started! As you begin your review, you will find things in the drawings and specifications that you have questions about. Use Tasks to surface and assign these comments so your team to coordinate and update all in one place.
2a. Create Tasks to Identify Issues
Whether you're reviewing drawings in the Plans module or specifications in the Files module, when you realize there's a constructability issue you want your team to be notified of, create a Task in Fieldwire. You can pin Tasks directly on your documents in the Plans module, so if you have a note to add to the specs, go ahead and drop the Task near the corresponding spec section on your Table of Contents PDF.
Make sure the title of your Task clearly states the issue and includes the relevant CSI Category, consultant Tags, and any additional attributes you may deem important (e.g. costs). This will help you easily find and filter the Tasks later on.
Relevant Instructions:
2b. Assign responsible parties
Once you've filled out a Task with some identifying attributes, add the team member who will be responsible for responding or resolving the issue, such as the Architect of Record, as the Task Assignee. As the creator of the Task, you will automatically stay looped in as a "Watcher", and you can add also additional stakeholders as Watchers, such as your Owner's Rep or team members: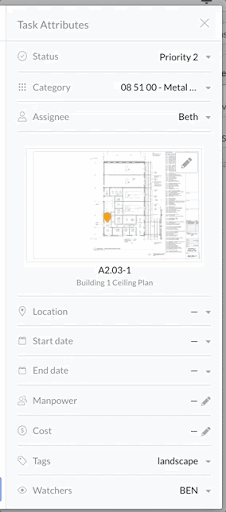 Both the Assignee and all Watchers will get notifications (via email and/or push notifications if they're logged in to Fieldwire on our mobile Apps) whenever the Task is updated.
Relevant Instructions:

2c. Use Messages and attachments to add context
Your team can collaborate in real time using Fieldwire Tasks' messages feature. Discuss the issue directly in the Task you created to track it, and provide additional context by attaching files like product information, related files, or photos: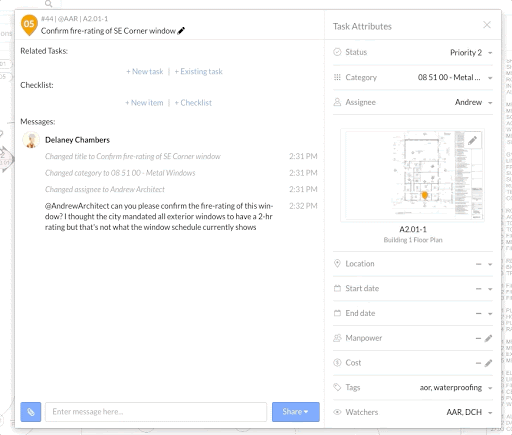 Because all the related information, drawing, and files are in a single location, you won't have to worry about digging through your emails or texts to remember the context. If you need pre-bid RFI documentation at any point, it will already be waiting for you on your relevant Task(s).
Relevant Instructions:

3. Monitor Issues to Resolution & Share Your Work

As you continue to do your reviews of the contract documents, you'll be able to coordinate among all relevant stakeholders to resolve your constructability issues in Fieldwire. Track the status of your Tasks to make sure nothing falls through the cracks, and use simple Task Reports to easily distribute important information as well as share progress to the relevant stakeholders on each.
3a. Track open status & view progress analytics on Fieldwire Task Dashboards
Fieldwire's Task module has three powerful dashboard views for your sorting convenience: the Kanban dashboard is a great place to get an overall view of the status of all the tasks in your project, allowing you to drag and drop Tasks to change their status/priority whenever you like. The 'Complete' column will show all Tasks that have been marked as 'Complete' by the Assignee but are waiting to be moved into 'Verified' by you or other Admins on the project. This 2-step verification process ensures no comment slips through the cracks.
Tip: If you want to edit multiple Tasks at once to include a new deadline for resolution or change an assignee, got to the Kanban dashboard, roll over the Tasks, select the checkbox that appears on the right side of each, click the "Actions" button in the top right, and select the Batch Edit option:

The Graphs view is also helpful for project teams, as it visually highlights any trends that may be occurring and provides insights that will inform your next steps.
For example, in the screenshot below, you can see the scope involving CSI division 09 20 00 has the most outstanding design comments. This may be a reason for the GC to schedule a meeting with the Architect, focusing solely on drywall scope to help run these issues to ground:
Likewise, the graphs on this dashboard showing 'Lifetime Tasks' and 'In Progress' can inform the project team about the rate at which they are addressing and closing out comments.
Relevant Instructions:

3b. Send out reports to show progress against design milestones
Lastly, you'll need to create a report to document all the open items you still need answered by the Design team. This report is handy to bring to Pre-Construction meetings with the architects and client and will also be helpful during construction, as a source of truth you can quickly reference. You can leverage any of the Categories, consultant Tags, and other attributes that you included in your Task creation if you want to make more specific reports for select recipients.
Select the relevant Assignees (architects and consultants) and only the open statuses (P1, P2, P3 by default). You can choose which components of the Tasks you'd like included in your report. Keep in mind that the more context provided, the easier it will be for the Design team to respond accordingly: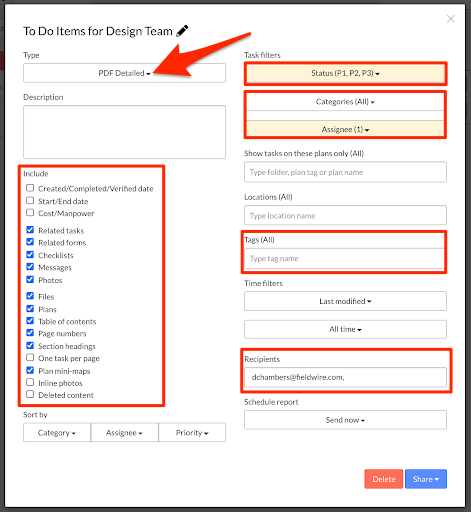 Add the email addresses of your Design team as well as your client to the recipients of this report - you can email reports to any email address you like, whether or not they're working on your Fieldwire Project with you. This increases visibility into the work your team is doing.
Relevant Instructions:
Have any feedback?