Overview & background
Fieldwire is highly customizable, allowing companies to mirror their day to day workflows onsite with their project configuration in our platform (and not the other way around). That being said, opening a new project with a blank slate and figuring out where to begin can be daunting.
Members of our Construction Team, myself included, come directly from the industry itself (mostly ex-PEs and PMs), and we work with a wide variety of teams across different phases and verticals of every type of project you can imagine.
This guide focuses on how I approach project set up through the lens of a General Contractor. If the workflows below align with some or all of what you're looking to get out of Fieldwire, please email support@fieldwire.com to request a copy of this template project (which we can create for you in any existing Fieldwire account!).
How to use this Practical Guide to Set up a Template Project for a GC
We'll walk you through the process of setting up a project 'Template', i.e. the bones of a configured project (that you can further customize at-will). Clone the template each time you start a project to reduce setup time and create standardized practices across your company.

Table of Contents
Related customer stories: How Other GCs are Using Fieldwire
Create a project

Any Account Owner, Manager, or User can create a Project. To create a new project click the big "+" button on the Project Dashboard on the web version of Fieldwire. Here, you have the option to clone an existing project. This will transfer over project settings and selected attributes:

Adjust Key Project Settings

Any Project Admins can adjust Project Settings, and most of the settings are fairly straightforward, however, adjusting project settings is a critical step to success.
One of the key things you'll first want to do is brand all of your task reports and form exports by uploading a company logo. Open your Project in Fieldwire and click the gear icon at the bottom of the main left menu, then click "Change logo":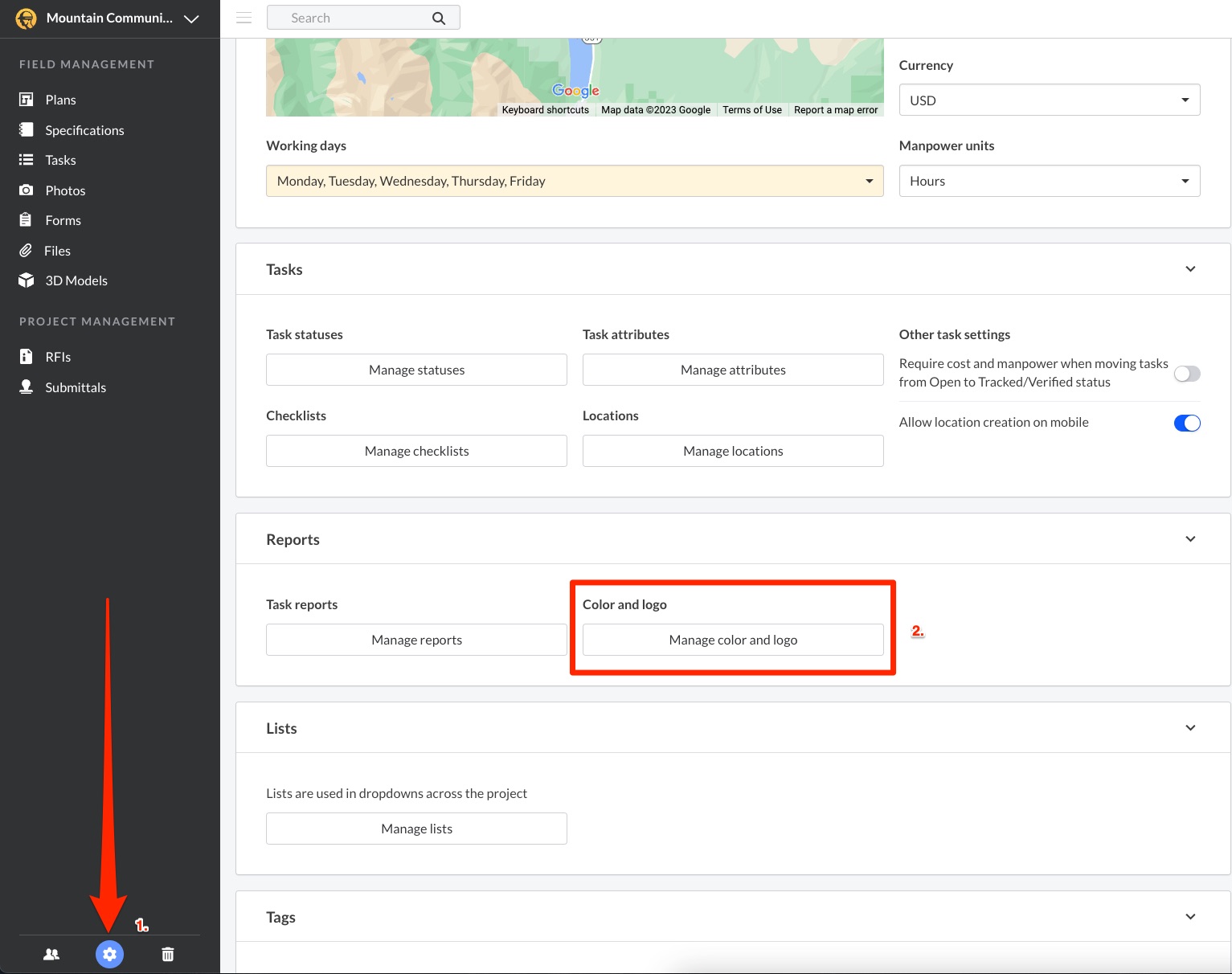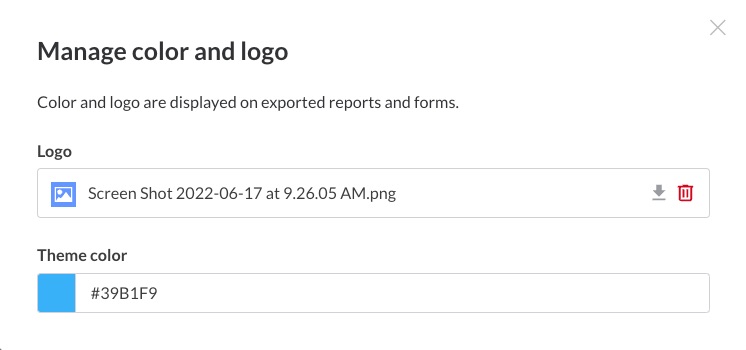 Download this link for an example report showing where your logo will appear.
Now let's tackle a couple more Project Settings that are relevant for Day 1.
Set Timeframe to Automatically Archive Verified Tasks

You probably don't need a defect from 2 years ago to be on your radar everyday. By adjusting the duration of the 'Archive Tasks' option, you can determine how long you want a verified task to be visible on your project dashboard.
Think about the duration of your project and the number of tasks you foresee this project having. This may include defects, punch lists, planned work, pre-task plans, etc. With timeline and quantity in mind, you want to ensure that only the highest priority tasks are on your Project Dashboard. Despite this, you can always go back and reference archived Tasks to create an indisputable record of work performed.

Optimize the Mobile Storage Setting

How long will your project last? How many drawing revisions are needed onsite with a mobile device? How many pages do you have on the project and how much mobile storage does your typical device have?
If you are on a 6-year project with 20+ revisions and on-sites, you really only need to know the current drawings to build off of. I recommend setting this to 1 or 2 revisions at most to help preserve storage space.
A single, average-sized Fieldwire plan file uses 6MB of mobile storage space (2MB-10MB is the typical range). If you have 200 plans in Fieldwire and each has 5 revisions uploaded, that project can take 6GB of mobile storage space if you don't leverage the mobile storage setting. Reducing how many plan revisions (versions) are synced to 'mobile storage' helps reduce the storage used on each device.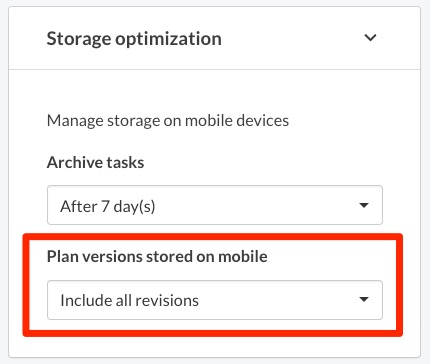 Create Preconfigured Checklists

What type of work will require repetitive steps? Typically GCs will manage punch lists and will have a repetitive list to review in each area of the building, unit, etc. GCs also mange the safety across the project, create a checklist to check all the relevant safety items.
Select 'Manage checklists':

Select 'Create checklist' and add lists for tasks that require repetitive steps: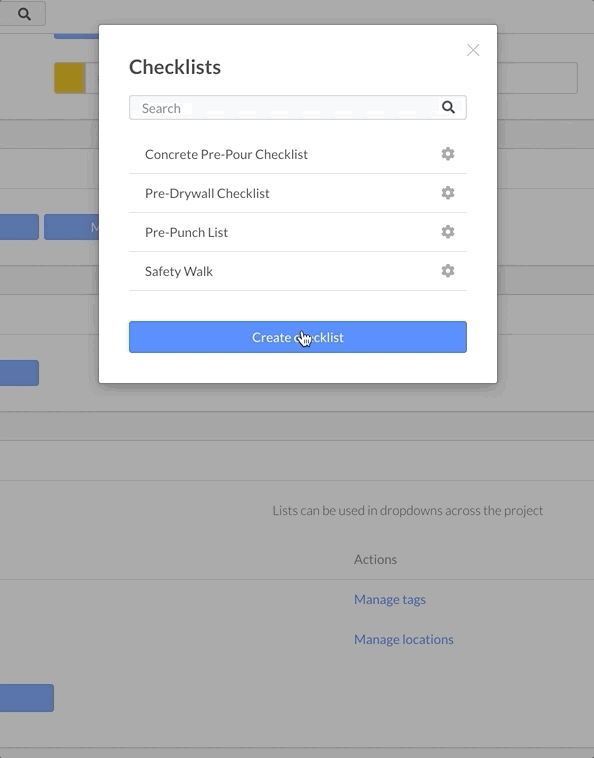 Create a Plan Folder Structure
Project Admins can create new plan folders by selecting the 'Plans' tab, then '+New Folder':

Most plan folder structures for General Contractors will match with the consultant drawing sets. Plan folders are naturally ordered with sequential numbers followed by alphabetical characters. Therefore, your typical 'Template' file structure will likely be similar to the following, where the folder structure reflects each discipline's drawing set:
Create a File Folder Structure
To create a new file folder, select the 'Files' tab then select '+New Folder'. Only Project Admins can create new file folders:

Most General Contractors have a file folder structure that matches all of the supplementary documentation needed to build the project.
Similar to plan folders, file folders are ordered naturally with sequential numbers followed by alphabetical characters.
Therefore, your typical 'Template' file structure will likely be similar to the following: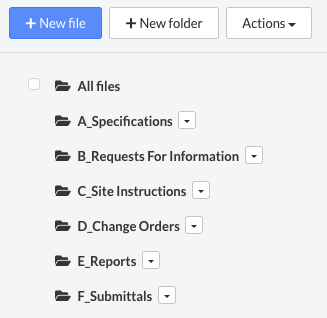 Create Categories

Project Admins can create categories by selecting the '+ New Category' option at the bottom of the categories list.
Categories are the primary means to sort and filter 'tasks' on your project. Tasks are punch items, defects, planned work, planned inspections, general to-do items, etc. For GC's categories are typically trades on the project. This way, tasks can be filtered by trades. You can also generate task reports for each trade.
A typical 'Template' category structure will likely be similar to the following:


Define Custom Task Statuses

There are two ways Project Admins can create a custom status:
Adjust from the Settings tab:
Adjust from the 'Tasks' tab: (note: this option is only available when there are 1 or more tasks on a project)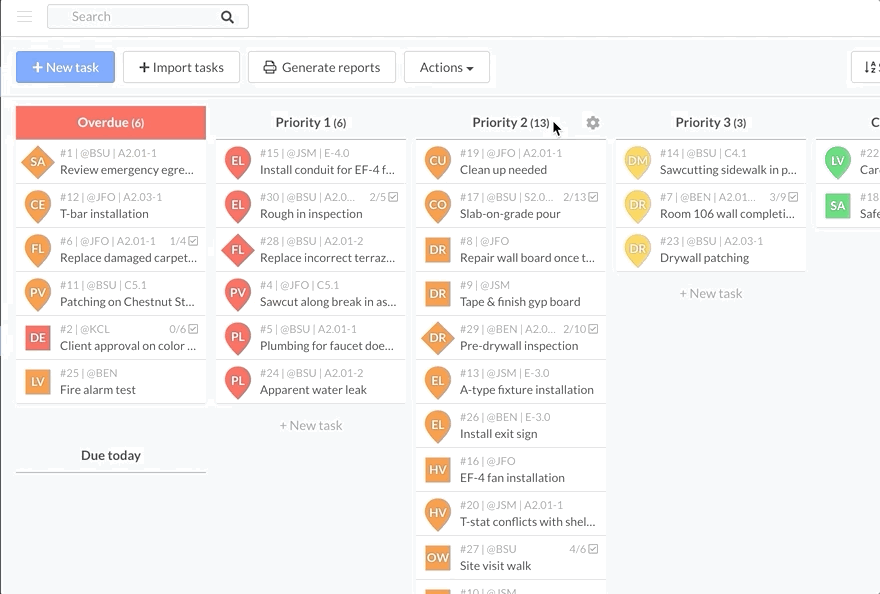 Custom Task Statuses align with your company's workflow. Custom Statuses enable more comprehensive visibility into how work is scheduled and completed. There are three status types: Open, Tracked and Verified.
Status 'Type'
Meaning
Significance for a GC
Open (Default)
Default task status a task will fall into when created

As a GC, I'll typically see defects captured on-site, so

my 'Open(default)' status is 'Defect'.

Open
Indicates any open work
As it sounds, what work hasn't yet be completed.
Tracked
Tasks that have been completed but not yet double checked for verification

Since the GC typically manages a few different trades,

the 'Tracked' type is mainly for subtrades to complete work.

Verified
Tasks that will be archived based off of the archive settings.
This work has been checked internally or by the QC team and is 100% complete.
With this in mind, a typical 'Template' Custom Task Status workflow is likely similar to the following: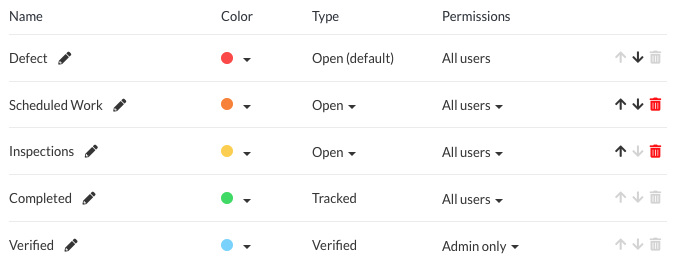 Set Up Report Templates

To set up a report, go to the 'Tasks' tab and select 'Generate Reports'. As mentioned in the creating categories section, reports can be set up to sort by category and send out reports per trade. Most commonly, GC's will send out punch reports to trades - here is a list of templates: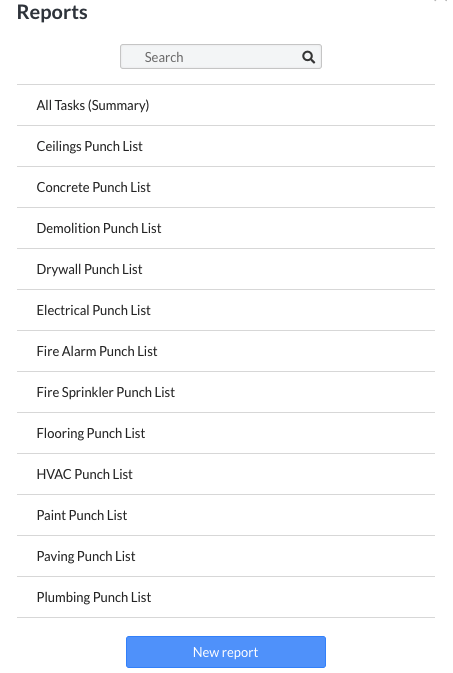 To create a punch report for each trade, select 'New Report' - Under 'Status', select the 'Defect' status, then under 'Category', select the specific trade, finally, under recipients, add in everyone that this report should be sent to: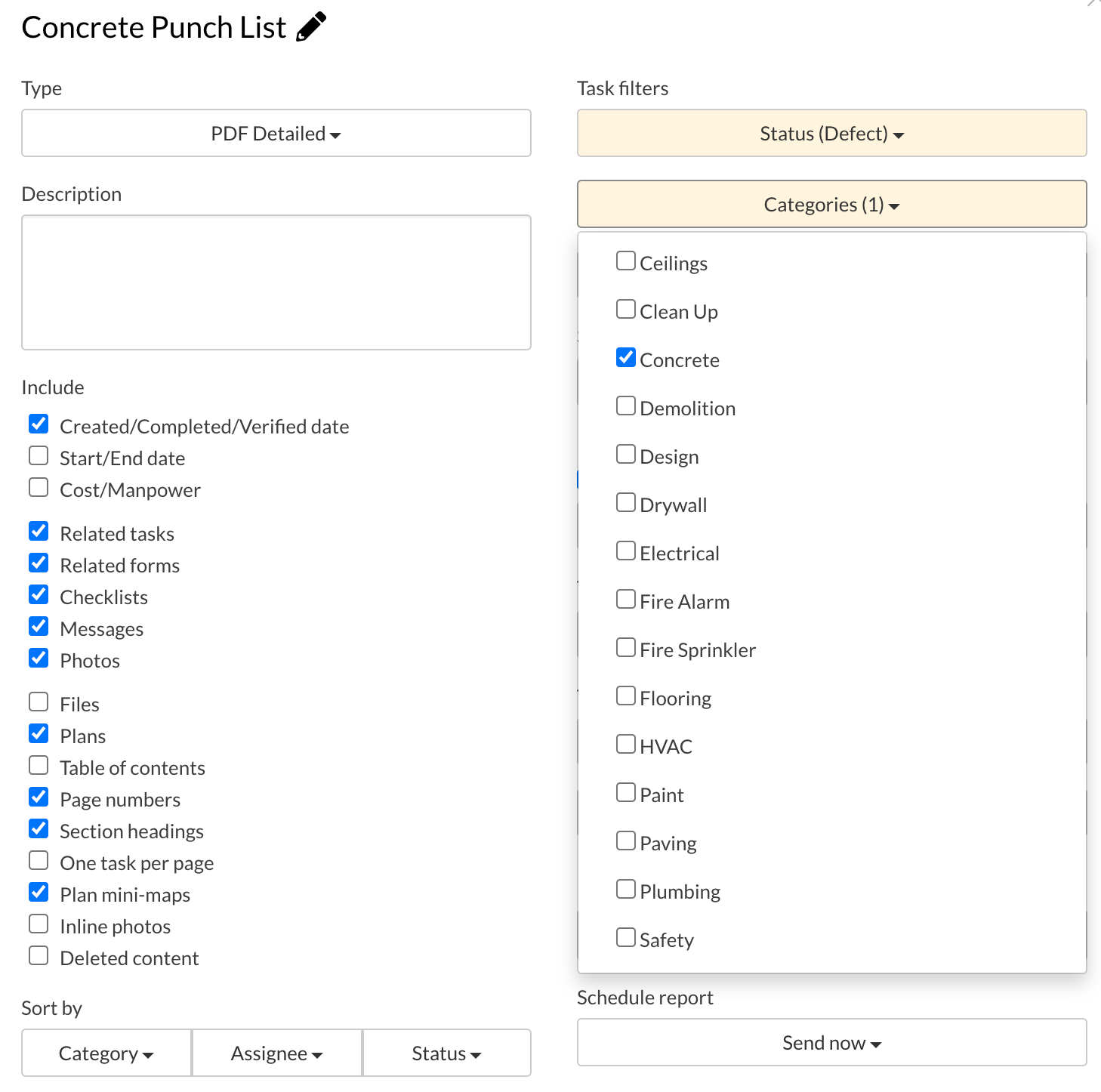 To duplicate your set up for another trade, hover over the report and select 'duplicate':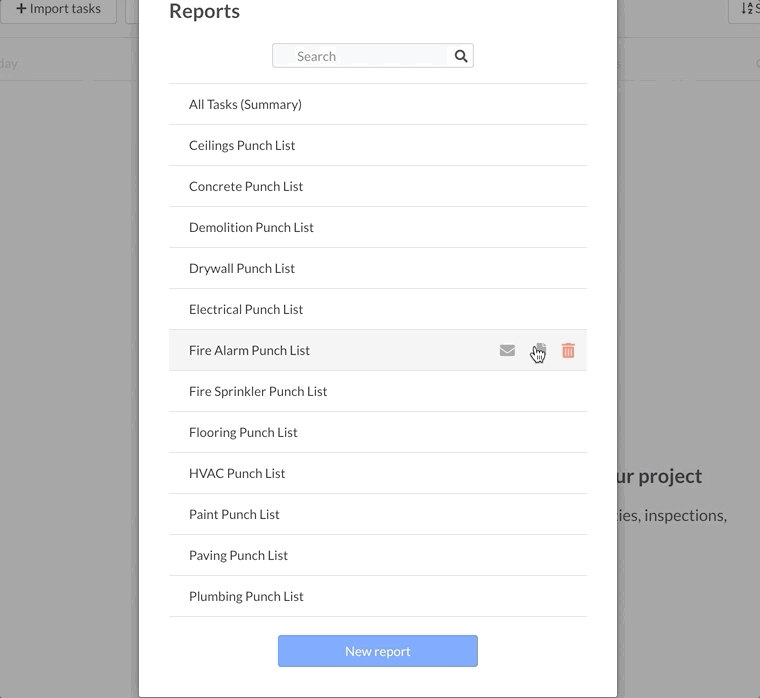 Set Up Forms

There are 6 out of the box form templates that likely cover 90% of your needs as a GC: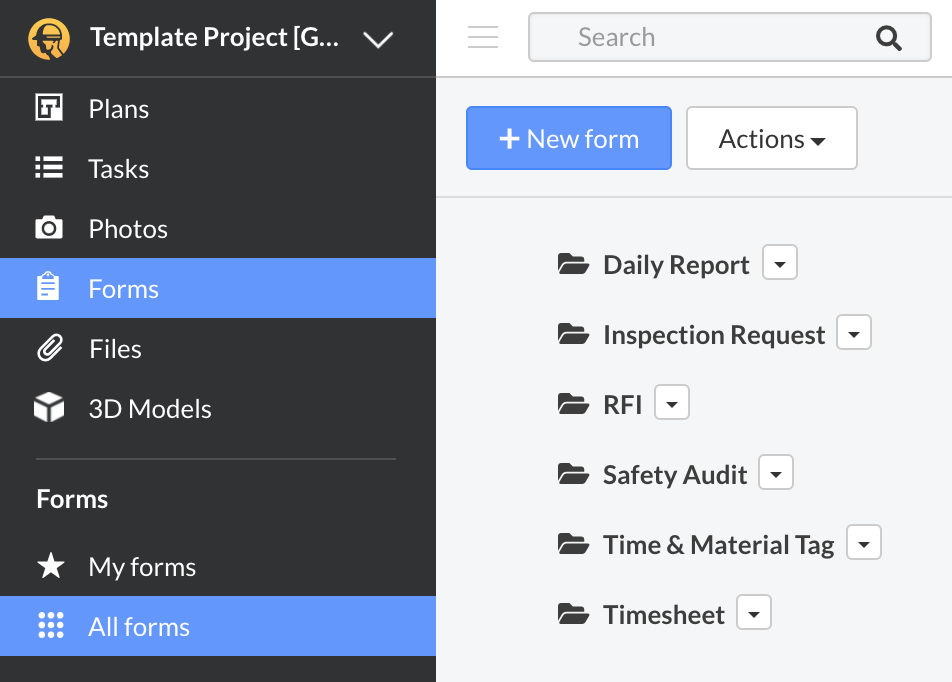 If need be, adjust these templates to your company standards or create any other forms your company uses:
Clone Your 'Template' Project

Now that we have configured the 'bones' of your project structure, you can clone the template project whenever a new project starts saving you time and creating standardized practices. We want to make sure we capture the time savings of the initial investment we just made. The next time you go to create a project, select your 'Template' project from the dropdown and make sure to Copy Categories, Copy Statuses, Copy Reports, Copy Forms, Copy Folders, and Copy Settings.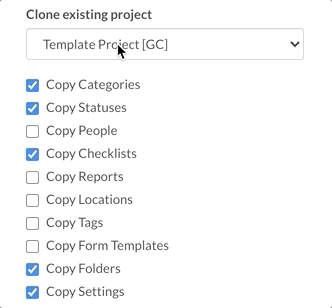 If you like this project set up or think it is a good starting point, please email support@fieldwire.com and request a copy of this template.
How other GCs are using Fieldwire

See how other GCs have used Fieldwire to streamline coordination and punch with the contractors on site. By using the template project above you can quickly test out these workflows to understand if there are benefits for your company as well.
Have any feedback?