Overview & background
Through the Project Dashboard on the web version of Fieldwire, you can create, clone, archive, and delete projects. This article demonstrates how to create a project and leverage project tab features.
Table of Contents:
If your company works across many small sites and/or jobs, you can either capture each job in one Fieldwire project or separate each job into multiple Fieldwire projects. Prior to creating a project, consider whether or not you'd like one large project or many small projects for your job.
Keep in mind, you can always archive, or hide projects from your users. You can also choose to 'clone' elements of existing projects when you create new ones. Keep these features in mind when you decide on having one large project, or multiple small projects.
One large project - the benefits
The main advantage to keeping all of your small jobs within one, single Fieldwire project is that your task dashboard (including calendar view) will show tasks across all of the jobs. You can then generate reports on these tasks. If you have the same team working across all of your jobs, putting them all in one Fieldwire project could be a good option as all of the information will be contained and displayed in one place.
One thing to keep in mind is that Fieldwire uses OCR Scanning to automatically name and slip sheet new versions of drawings. Please note, if drawing numbers are repeated across these jobs, then you will need to manually name the drawings to avoid Fieldwire's automatic versioning. Manually naming your drawings can be a time-consuming process so if you have many drawing sheets, you may instead consider setting up multiple Fieldwire projects.
Many small projects - the benefits
If you choose to separate your various jobs into individual Fieldwire projects, you can speed up project set-up by cloning your projects. Cloning allows you to quickly copy over your project settings, checklists, people, folder structure, and categories.
The main difference with this set-up will be the way that tasks are viewed. Project data is always kept separate from other project data, meaning if you want to view the tasks for one of your jobs, you'll need to open up that specific project to see them. However, you can copy standard tasks (not including the content within them) between projects by using the task importer.
In this set-up, you will be able to upload plans to the individual projects without any versioning errors, allowing you to make use of Fieldwire's automatic OCR scanning and versioning capabilities. If you have large quantities of drawing sheets, this will save you a bunch of time on your projects!
How to Create a Project
Creating a project is a simple, step-by-step process. From the web version of Fieldwire, add a new project (click the big "+" button on the Project Dashboard). Here, you have the option to clone an existing project. This will transfer over project settings and selected attributes.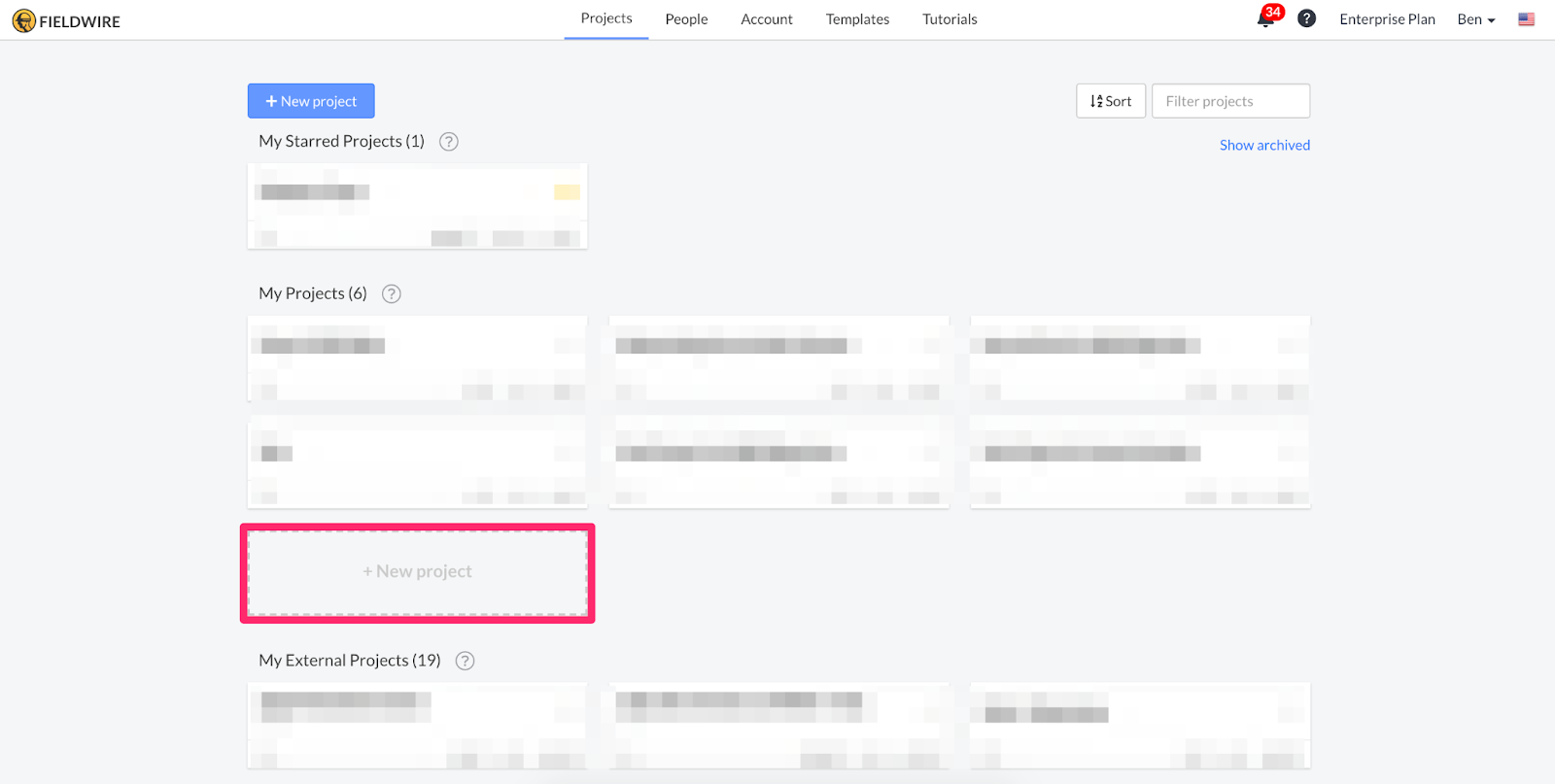 A prompt will help guide you through the process of uploading plans, adding categories, and inviting users. You can then begin to add tasks, plan markups, etc. as your project progresses. We recommend creating your new project and uploading plans from a web browser, as it will be faster to set up than on mobile.
Check out the tutorial video for a visual walkthrough of setting up your first project!
Note: Only the Account Owner, Account Managers, and Accounts Users can create projects. Project Users cannot create projects.
Project Tab Features
How do I clone Projects?
If you have similar projects, you can save time during the project set up by cloning an existing project. This will copy over the main project attributes so that all you need to do is upload your project documents, and your project is ready to go!
Use Case
To clone a project, select '+New Project' on the project dashboard then select the project that you'd like to clone. You can also select exactly which attributes (Categories, Custom Task Statuses (If on Pro/Business), People, Checklists, Reports, Locations, Tags, Form Templates (if Pro/Business level), Folders, and Settings) you'd like to copy into the new project:

Note: You will need to be a Project Admin or Member on the project you'd like to clone in order for it to appear on the contingent drop-down list. You will not be able to clone any projects that you are a Follower on.
Template Projects
If you anticipate that you'll be cloning projects frequently as you use the Fieldwire app, we suggest creating a template project which has been set up with the correct Categories, Task Statuses, People, Checklists, Folders, Form Templates, and Settings.
This has proven to be extremely useful for Fieldwire users who are working on many projects at one time, such as subcontractors and inspectors.

Tasks cannot be cloned from one project to another using the clone project feature.
Tip: You can refer to this article to learn how to copy tasks from one project to another using the CSV report and the task importer.
What is a Project Code?
Project Codes help to organize and sort your projects. Instead of inputting your Project code as part of the Project title, there is a dedicated space to input this.
How to add a Project Code
Whenever you create a new project, you have the option to add a project code.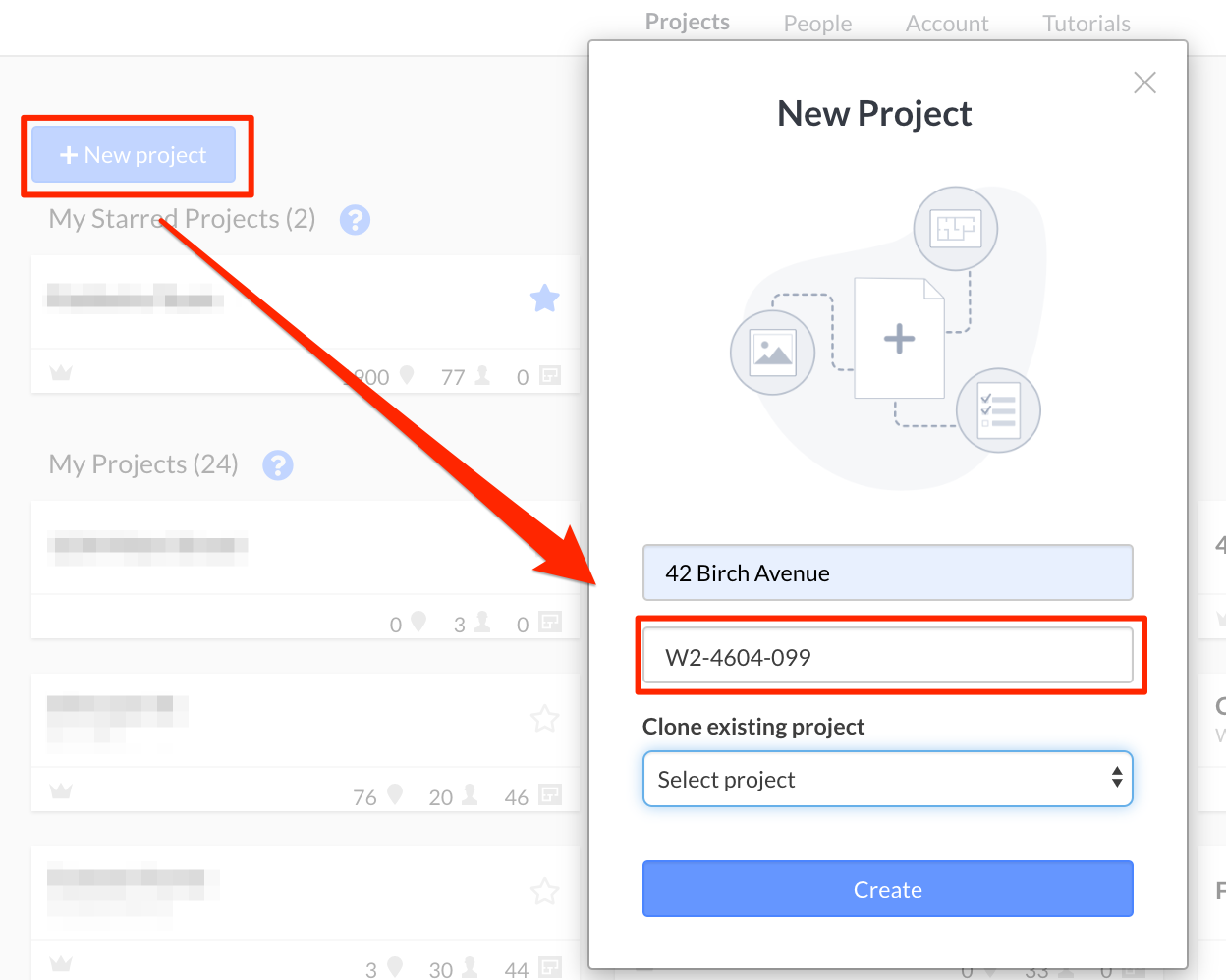 Project Admins can retroactively add or adjust a Project Code on the 'Settings' tab of the project.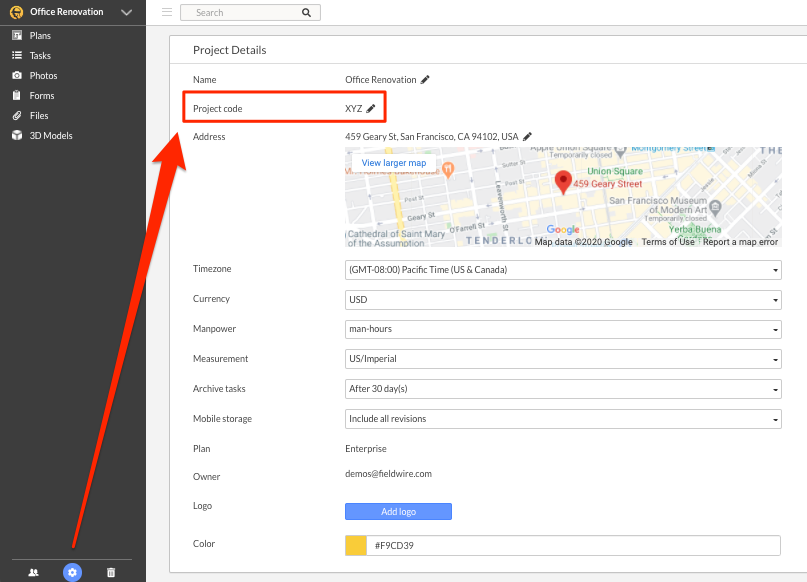 Sort by Project Code
In addition to sorting projects alpha-numerically (this is the default setting) you can also opt to sort the projects by project code:

What are starred Projects?
You can use Starred Projects to conveniently access your most active or favorite projects. This will only affect your own project dashboard and is a great way to customize your Fieldwire dashboard view.
How to 'star' a project
To 'star' a project and make it one of your favorites, simply select the star symbol on the project thumbnail and the project will be shifted to the top of your project list.

How to Manage your Projects
Where is my Archived Information
Projects that have been archived can be located on the Projects dashboard, which should be the first screen to appear upon signing in to your account.
Once a project is archived, any users on that project will not have access until the project is unarchived. Automated reports also will not be sent out. However, archiving a project does not remove users from your account. If you have users invited on an archived project, but not on any other project, your account will still be charged for these users.
How to view archived projects
On this page, when you look in the top right corner of the dashboard, you should be able to see a link that reads "Show archived." Click on that to reveal your completed projects from the past.
Note: When you archive a project, you are archiving the project for everyone who has access to the project.



How do I Delete or Remove a Project?
Sometimes there can be instances where you may need to delete a project from your Fieldwire account. Fortunately, we offer a way to delete a project from the Web version of Fieldwire.
Log on to Fieldwire and find your project on the Projects dashboard. Hover your cursor over the project's title, and you'll see a gear icon appear to the right of the title. Click on that and you'll see the delete option.


If you are already within your project, you can delete it by going to the Settings tab and clicking on the red "Delete" button in the top right corner.

Note: If you accidentally delete a project, please follow the steps in this article.
Note: Once a project has been deleted in Fieldwire, you are deleting the project for everyone who has access to the Project. Consider archiving a project if you would like to retain its content. You could also choose to export the content out of Fieldwire if you would like to retain a hard copy of the plans, tasks, etc.

Additionally, when a project is deleted, some users may be deleted from your account. However, if the project users are on any other project covered by your account, the account will still be financially responsible for these users. If you wish to remove certain users entirely from your account, you can remove them from each individual project or delete them on the Account People Tab.
More Information